There's something nostalgic about the vintage bikes and their retro bike light. The heavier steel frames and classic stylings of old beach cruisers and wartime messengers were all built to last forever.
If you're lucky enough to have one of these legacy bikes, you probably want to keep any attachments as close to the original style as possible.
That means old white walled tires, banana seats, and definitely retro bike lights.
You know the kind. Like silver bullets mounted on your head post and fender, gleaming in chrome, with sleek hooded brims, hot lights and heavy metal bodies.
But, it can be hard and expensive to find actual lights from the good old days.
Luckily, manufacturers today have adopted the classic styling, while upgrading the mechanisms to incorporate efficient LEDs and lighter materials.
Hundreds of options exist, but while many of them may have the look you want, they aren't all good values. Yet, you don't have to shop around.
The list below represents the best, most affordable vintage and retro style lights you can find.
You're sure to find the look you're after, and you may be surprised by the modern-day functionality hidden behind yesterday's designs.
| | | | | | |
| --- | --- | --- | --- | --- | --- |
| Retro Bike Light | Built For | Best Fit | Metal Body | Flash Mode | Amazon Link |
| GOODKSSOP Classic | Streets | Cruiser | ✓ | ✗ | |
| Vintage 6 Flashlight | Streets | Hybrid | ✓ | ✗ | |
| Vintage Retro Light | Off-roading | Mountain | ✓ | ✓ | |
| KiLEY LED Tail Light | Streets | Cruiser | ✓ | ✓ | |
| GAZOZ LED Tail Light | Streets | Cruiser | ✓ | ✓ | |
| 2Krmstr Metal Vintage | Off-roading | Mountain | ✓ | ✗ | |
| Vont 'Pyro' Bike Light | Off-roading | Hybrid | ✗ | ✓ | |
| GOODKSSOP Bright 3 | Streets | Cruiser | ✗ | ✗ | |
| BV Bike Light Set | Streets | Road | ✗ | ✓ | |
| Super Bright CREE LIght | Streets | Cruiser | ✓ | ✗ | |
| Lowrider Bike Tail Light | Off-roading | Cruiser | ✓ | ✗ | |
11 Awesome Vintage Retro Bike Lights To Try
1 ) GOODKSSOP Metal Chrome Silver Classical Bright Headlight
This headlight from GOODKSSOP could be the perfect finishing touch for your vintage bike build. It has an instantly recognizable retro look, from the circular, 8 cm diameter lens, to the wartime visor-like hood.
The bullet shaped body has a mirrored chrome finish the bulb isn't the only thing shining on this light.
Vintage styling is all in the looks, but that doesn't mean this lamp cuts corners when it comes to performance and convenience.
A simple press of a button opens the casing's 11 cm length to reveal the modern workings within.
The bulb is a white LED that brightly lights the road ahead and to the side. With 160 degrees coverage, this light ensures safe nighttime rides. It is also efficient, needing only 3 AAA batteries to run.
Attaching the light to your bike is made easy with the included bracket. Simply secure it to the head tube of your bike, using the screw located at the fork crown. Operation is as easy as flipping a rotary switch to turn the light on and off. This light is a no-nonsense callback to an earlier era.
GOODKSSOP Metal Chrome Silver Classical Bright Headlight: Check Its Price On Amazon!
2 ) Vintage 6 LED Retro Bicycle Front Light Flashlight
What if you want a round-faced headlamp with a sleek design straight out of the sixties, but without a pronounced hood? Then you should consider this retro bicycle front light, as it checks all of those boxes.
It also comes in two different finishes. Choose the electroplated silver for the metallic chrome effect, or opt for the smooth, matte black rubber paint finish for a more understated vibe.
That isn't the only choice that this product puts in your hands. You can mount it at the top or bottom of your head tube, using the included bracket.
If that's not enough, the headlight hinges where it connects to the bracket, giving you vertical directional control of the light so you can adjust to any terrain.
And, don't worry if you get caught in the rain this headlamp is waterproof.
The authentic exterior gives way to present day tech inside. Whereas an old timey light would have a single large bulb, this headlight has 6 LEDs, banishing darkness with the flip of a switch.
Even with all those bulbs, 3 AAA batteries keep this light going for 30 hours, so you can face a late ride with the confidence that you won't get caught in the dark.
Vintage 6 LED Retro Bicycle Front Light Flashlight: Check Price On Amazon!
3 ) Vintage Retro Bicycle Bike Front Light Lamp 7 LED
Another entry that exemplifies the sleek, bullet-shaped stylings of yesteryear, this headlamp from manufacturer Bluesunshine won't disappoint those searching for a throwback look.
Like the previous entry, it comes in two colors metallic silver and matte black with perfect circles for the lens.
Vertical directional control is also a feature on this light, accomplished with the help of an included bracket that, like the GOODSKSSOP, can be mounted to the headtube, or the top of the front brakes on your fixed gear bike.
This light has the right form, but what about its function?
Worry not, this headlamp will shine like a beacon. It has 7 LED lights, amplified by expertly designed reflectors and focused through a lens designed for night riding. 2 AA batteries provide all the power you need.
All of this is packed into a small form factor constructed of metal and sturdy ABS plastic. Each piece fits together so precisely, you can ride through a downpour and your light won't be affected. And, this is a product that you don't have to break the bank for, as it is surprisingly affordable given its variety of features.
Vintage Retro Bicycle Bike Front Light Lamp 7 LED: Check Its Price On Amazon!
4 ) KiLEY LED Rear Tail Light for Vintage Classic Bicycle
One of the joys of a vintage tour bike is riding through the city and showing it off. This rear tail light from KiLEY is just the sort of piece to stop traffic in more ways than one.
Its gorgeous chrome finish catches the eye, while its retro style red light makes sure you won't be invisible to drivers, especially at night.
Durable galvanized iron is just beneath the chrome plating this is no flimsy product. And it is further protected by an attractive minimalist grill.
Yet, with a weight of 90 g, your ride won't be affected. And, it's not just the material that will last a long time.
With 2 AAA batteries, the light will last for 70 hours when shining steadily, and an amazing 280 hours if you rely on the flash function. A mount is included in the package, allowing you to attach the light to your fender.
It's a simple task to replace existing reflectors with this more functional option, upgrading not only your safety but also your aesthetic. All that's left is to enjoy coasting along the avenue, in true retro style.
KiLEY LED Rear Tail Light for Vintage Classic Bicycle: Check Price On Amazon!
5 ) GAZOZ PERFORMANCE Bicycle Rear LED Tail Lights
This offering from GAZOZ gives the previous entry serious competition in the vintage tail light category. It's chrome plated metal body and textured red lens cover both scream vintage, and it wouldn't look out of place on a classic steel-frame touring or road bike.
Made to be installed on the mudguard or fender, the LED light is exceptionally bright when seen from directly behind. It can be switched between two settings, steady and blinking, with just the press of a button on the top of the shell.
This light matches the performance of the Kiley, lasting between 70 and 280 hours depending on the set while running on 2 AAA batteries.
It's a very affordable tail light, but, like the antique lights it mimics, it's also built to last. The metal body is small, but sturdy, and a wire cage will keep the light cover safe from impact damage in a fall or collision.
Switch it on before you mount up, and, whether it be night or day, for a retro take on traffic safety that won't go unnoticed on the road.
GAZOZ PERFORMANCE Bicycle Rear LED Tail Lights: Check Price On Amazon!
6 ) 2Krmstr Metal Chrome Silver Shell Bright Cool Vintage Light
If you're after a classic look, but need more than the usual brightness from your headlights, this vintage model from 2Krmstr may be exactly what you're looking for.
The blunt, bullet shape of the steel housing gives it a dynamic profile from decades past, and it's finished with polished chrome or scratch-resistant black paint whichever best suits your tastes.
The hooded brim on this model is not just a concession to old school good looks. It restricts the light from shining upward, which means it is as useful in fog as it is in darkness.
And, the LED bead, powered by 3 AAA batteries, is incredibly bright. It grants visibility far ahead, so you can easily navigate the roads at night.
As with the other headlamps on this list, a mounting bracket is included, and can be affixed to the front brake or lower head tube.
The light can smoothly swivel up or down as needed, and is operated with a simple rotary switch.
With such ease of use, it only takes minutes to set this light up, leaving your mind free to appreciate how well it compliments your vintage bike look.
2Krmstr Metal Chrome Silver Shell Bright Cool Vintage Light: Check Its Price On Amazon!
7 ) Vont 'Pyro' USB Rechargeable Super Bright Bicycle Light
The Pyro bicycle lights from Vont are a feature rich set of head and tail lights suitable for all bike styles. They sport a more modern, minimalist design, but with clear vintage inspiration in the circular lens shape and overall utilitarian styling.
These are the smallest and lightest entries on the list so far, a feat made possible by the rechargeable battery. Just connect the Pyro to a power source with a standard USB cable, and you can quickly build a charge that lasts for 10 hours of steady usage.
The 3 super bright LED beads can do a lot with that power. They have 4 settings: high and low brightness, and fast and slow strobe.
And, you can put these lights anywhere, thanks to an easy strap-based installation system, and they are tough enough to endure even off-road riding.
Vont used aircraft grade aluminum and ABS plastic for this product's construction, and made sure to shield the internal components behind excellent water resistant protection.
And these lights are just as affordable as anything else here. If you need something versatile, with modern capabilities and a timeless aesthetic, the Pyros definitely make the cut.
Vont 'Pyro' USB Rechargeable Super Bright Bicycle Light: Check Price On Amazon!
8 ) GOODKSSOP Bright 3 LED Classical Cool Cycling Headlight
For GOODKSSOP's second entry on this list, we return to the vintage tapered and rounded style of headlight housing, with a few notable twists.
At first glance, you'll notice that the circular lens is not smooth, but ribbed in the classic style. This feature not only enhances the retro styling, it diffuses the brightness of the light so that it doesn't blind other drivers.
And, it is a bright light. Three LEDs combine to ensure you can see clearly in all conditions. Set it to a steady beam, or switch to the pulse setting for longer battery life. The light uses 3 AAA batteries, installed within the housing which can be opened using a simple secure latch.
That housing is another feature that sets this light apart. The entire body is constructed of ABS plastic, with either a metallic silver or black paint finish.
The plastic is durable, and shaves a few pounds from an already featherlight design.
But, you'd never know this isn't a heavy gauge steel light salvaged from an older model bike based on its looks, which makes it a great accessory for any retro build.
GOODKSSOP Bright 3 LED Classical Cool Cycling Headlight: Check Its Price On Amazon!
9 ) BV Bike Light Set, Bicycle LED Headlight, and Taillight Set
If you need both front and rear lights for your bike, your best bet is to buy a set. These lights from BV are an excellent package deal, offering a pill shaped horizontal headlight and taillight that can be integrated into any retro look.
5 LEDs fill the length of each light, with 3 in the center and 2 on the sides for maximum light coverage and visibility. These lights have an incredible 1500 ft visible range, consistent across it's 3 operating modes: steady, flashing, and chasing. Mix and match settings as the situation requires.
A toolless mounting mechanism allows you to secure the lights to your handlebars and seat post, or a tail light hanger on your saddlebags.
And, they won't fail you in your time of need. Each light uses 2 AA batteries that promise to provide up to 65 hours of running time.
When you do need to change the batteries, you can pop open the light casing with a key, quarter, or any similar object. Just slot it into the convenient groove on the side of the light, and lever the casing apart.
When closed, these lights are not only well secured, they're weather-resistant too. A little water or snow won't leave you in the dark if you choose these versatile wonders.
BV Bike Light Set, Bicycle LED Headlight, and Taillight Set: Check Price On Amazon!
10 ) Super Bright Adopt CREE LED Chip 300Lumens Bike Light
What do you get when you take tried and true vintage styling and combine it with the best of the best in LED technology? Take a look at this light, and you have your answer.
You're familiar by now with the classic bullet shaping and pronounced hooded brim, and the silver and black color options are just what you've come to expect.
However, when you take a look through the crystal clear, round lens, the LED bead in the center of the reflector comes courtesy of industry leader CREE.
You can expect stunning brightness, clarity, and longevity from these lights. You'll feel confident riding at high speeds, even in darkness, with 300 lumens lighting your way.
Aluminum alloy construction makes this light able to endure all the bumps and scrapes that come with cycling. You can put it on your road bike to show off in the city, or on your mountain bike to safely. Installation takes 3 minutes or less with the included bracket, so you can easily move this between bikes if need be.
Super Bright Adopt CREE LED Chip 300Lumens Bike Light: Check Price On Amazon!
11 ) Lowrider Red Bullet Bike Bicycle Tail Light
So you chose a bullet style, hooded headlight, but now you need a tail light to match. Lowrider has just the product for you. This tail light expertly captures that classic design in an all metal, chrome plated body with a conical, convex red lens.
The old school vibes don't end there, however, as the light in this lamp is provided by a 12v10w incandescent bulb. No LEDs here, this is a fully authentic reproduction build. That also means there's no place for batteries within the casing, but Lowrider designed the tail lamp with this in mind.
Powering it is done old school as well, as it needs to be wired to an external power source.
This is most convenient when mounting the light on the recommended cruiser or Orange County Chopper, and e-bike batteries will work too. A simple battery pack will do the trick on an unpowered bike.
But, if you're mainly after achieving the perfect look, this light can be mounted without wiring it to anything. It works just fine as a solidly built retro adornment, ready to be powered up when you want to do it.
Lowrider Red Bullet Bike Bicycle Tail Light: Check Its Price On Amazon!
What Purpose Do Bicycle Lights Serve?
While the use of bicycle lights can be concluded to be using for illumination and signaling, but their main purpose remains to allow riders to see farther and clear in front of them.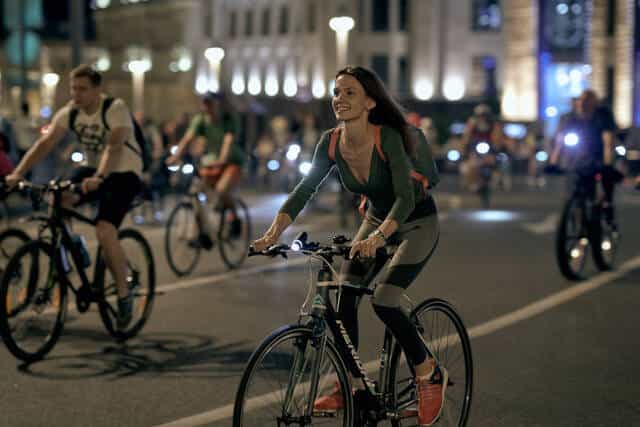 Having more visibility at night either in the form of street lights or bike light helps you avoid obstacle, prevent accidents and maintain speed even in pitch dark street/road.
These are one crucial safety measure every cyclist should have. A bike light not just provides you with security but also aids with riding experience on road especially at night.
Further they makes you visible in dark helping others avoid last moment emergency maneuvers. You can find them in all short of shape and size fitted with LED lights.
How To Choose The Best Retro Bike Light
There are many options to choose from when it comes to bicycle light options, but it depends on your cycling style, bike type, purpose and taste for style/design whether a retro bike light is worth your investment.
When you have a new or new bike installing a retro bike will add classic look to it. But there are a few major things one should always keep in his or her mind when buying one for himself.
Most bike lights that you see can be divided into either of these two types; a headlight and the tail or rear light. A headlight is the bright front light while the tail light is mostly small red light indicator at the rear that makes your bicycle visible to incoming vehicles at your back.
Their performance or quality can be measured in brightness, battery life, visibility range and certification. Since these are some of the few basic elements of bike light, we also consider many other aspects of bike light such as light modes, mount option, durability, construction, charge, price point etc.
In addition, I have personally looked at their structures, working and in which bike type they best fit in and whether they are safe for off-roading or limited to just streets.
Overall I have come up with a list well suited for all bikers with a love for retro bikes.
Also Read,
How To Put A Basket On Any Bike ( All Option Listed )
Best Cute and Stylish Bike Helmets 2022 | Review & Comparison
Can You Put Panniers On A Road Bike? | Road Bike Touring Guide