When you think about it, bike theft is a pretty big deal. Not only does the act leave victims with an expensive and difficult recovery process but also in many cases their bikes are never found!
This list will show which cities have some of the highest rates for bicycle-related crimes so that hopefully we can do our part by taking precautions when around these areas or traveling through them.
Table of Content – Bike Theft: The Top Ten Cities
The Top 10 Cities Where Bikes Are Most Stolen
| Top Cities For Bike Theft In USA | Top Cities For Bike Theft In UK |
| --- | --- |
| 1. New York City | 1. Greater London |
| 2. Philadelphia | 2. Cambridge |
| 3. Washington DC | 3. Cardiff |
| 4. Boston & Cambridge | 4. Oxford |
| 5. Chicago | 5. Liverpool |
| 6. Denver | 6. Reading |
| 7. Austin | 7. Newcastle upon Tyne |
| 8. San Francisco | 8. Leeds |
| 9. Portland | 9. Sheffield |
| 10. Seattle | 10. Southampton |
*List Complied after processing FBI Reports, Local Police Crime Data and News Articles in Sep 2022.
There are many reasons why these cities top the list. First, cycling is more popular in places like this than elsewhere; second, people ride bikes due to their accessibility and affordability.
They can go where others cars cannot easily reach or afford to buy one. Further, these cities have a higher crime rate in general, thus more bike theft.
Bike Theft: An Epidemic
Bicycle theft is a growing issue in the UK and USA due to increased bicycle usage in 2020–2022.
An NPR (National Public Radio) article highlights the increased wave of bike thefts that has coincided with increasing bike usage following the pandemic.
The article notes that the rising demand, increased ridership, and a growing shortage of available bikes have contributed to a rise in theft. Due to the absence of enforcement in the area, bike thieves are bolder than ever, and the chance of getting caught in their crosshairs is growing.
Be aware that there will be numerous bike thefts wherever you reside if there are many cyclists.
There are likely many individuals you can't see who want to take those bikes if you glance around and notice many people riding bicycles. So ensure your bike is adequately protected.
Surprisingly, their owners recover less than 5 % of stolen bikes. Bikes that have been stolen are often sold immediately. Once a bicycle has left the thief's possession, it is almost impossible to find.
Because many bicycle owners don't keep track of their serial numbers, identifying or verifying the owner can be challenging even though bikes are found, which adds to the staggering estimate of unrecorded thefts.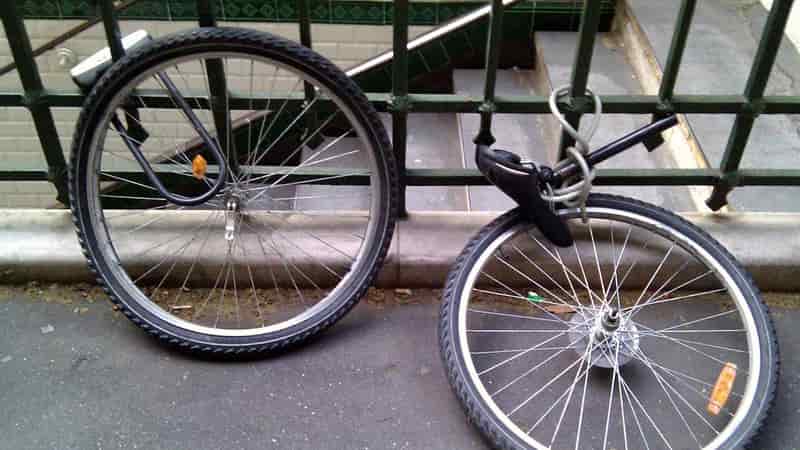 Top 10 Worst Cities in UK for Bicycle Theft
Greater London
Data shows that Greater London has the highest rate of bicycle theft per capita in the United Kingdom. However, because so few individuals reside there, the City of London sticks as an outlier.
It ranks significantly on top of the list, with 4347 bike thefts in the last one year. Based on the last 12 months crime data as reported on UK police website for greater London.
Cambridge
Cambridge has long been strongly associated with bikes and has excellent infrastructure for cyclists, earning it the title of "Cycling Capital of the UK."
On a larger scale, Cambridge, with 1487 thefts, is the city where your bicycle is most likely to be burglarized.
Through proactive patrols, bicycle marking with Immobilise, education, cycling awareness days, and tight collaboration with partners throughout the city, Cambridge police are actively battling this kind of theft.
Cardiff
Based on police records, it has been found that 1216 documented occurrences of theft have occurred in Cardiff during the past year. The most prominent location is Cardiff's Queen Street, the city's main commercial district, where numerous bicycles have been stolen recently.
Oxford
According to authorities, Oxford has seen an increase in bike thefts over the previous few months. 596 bicycles were reported missing to Oxford police in the previous year. Due to COVID-19 limits, travel rates were lower, and there were fewer students, but Oxford saw the largest number of bicycle thefts.
Liverpool
Numerous crimes are recorded each year in Liverpool. The crime rate in Liverpool is 108% higher than the national average. 1.0% of all robberies in the region that have been reported include bicycle theft. In the past year, there have been a total of 540 "bicycle theft crimes" reported.
Reading
Over the past year, a bike has been stolen in Reading on average once per day, according to new data. Within the last year, 459 bicycles were reported missing, according to police statistics.
The least amount was in the Thames area, where there were no bike thefts.
Newcastle upon Tyne
The number of crimes reported each year in Newcastle upon Tyne is 408. Newcastle's crime rate is said to be higher than the national average. From the crimes reported in that city, bicycle theft is in the list.
Compared to the previous year, the "bike theft crime" rate has gone up.
Leeds
According to the number of recorded thefts, some streets and public areas in Leeds are the worst for parking your bike. In the previous year, people stole roughly 401 bicycles in Leeds.
The numbers are based on information from police in the UK that local police departments have provided to the Post Office. It uses snap location information, in which the police approximate a position close to the scene of the outright fraud to trace the crime without naming the victims.
Sheffield
Sheffield, which was previously placed 12th in Britain's bicycle-friendly cities, is gaining recognition for its cycling community. People have looked at the figures for bicycle theft during the previous year in light of the millions of dollars set aside for "active travel schemes" throughout the city.
According to the most recent crime statistics available on the police in the UK site, Sheffield's bike theft within a year is 321. The city is divided into four enforcement districts: Sheffield North, Central, North West, South West, South East and Sheffield North East.
Southampton
In the Southampton area, there is one recorded crime for every 1000 people who work during the day. Southampton's rate of crime is higher than the national average.
1.9% of the crimes reported in the region involve bicycle theft. There have been 245 "bicycle theft crimes in the past year," an increase from the previous year.
More individuals typically pedal to soak up the sun when the weather worsens. Additionally, more bicycles will be left as you visit the stores, get ice cream, or even go to the bathroom because of this.
Top 10 Worst Cities in USA for Bicycle Theft
New York City
The nation's largest city, New York, is reportedly home to over 1.9 Million bike riders, 880,000 of whom ride regularly.
In 2020 during the pandemic, CBS News reported that bike thefts were up 30% from the previous year, with the total reported stolen over six months from March to September being over nearly 4,500.
Bicycle Habitat, a New York City bike shop that has been in business since 1978, reports that in a typical year, around 15,000 bikes are reported stolen, with the actual number being more.
A lack of bike parking, or places or designated places to store and lock up bikes while not in use, is a significant contributor to NYC's bicycle theft problem.
Philadelphia
The city of brotherly love, Philadelphia, is a notorious hotspot for bike thieves. Though the city reports a relatively small number of bike thefts (approx. 2,200 bikes were reported stolen from January 2021, to September 2022).
A result of despondency stemming from the lack of police attention given to stolen bicycles in a city ridden with violent crime, the actual number of thefts is much higher. According to the Philadelphia Inquirer, the prime areas prowling bike thieves target are University City and Center City.
Washington DC
The nation's capital Washington DC and the surrounding metro areas of Northern Virginia and Southern Maryland are extremely bike-friendly with over 150 miles of ridable trails and bike lanes.
Unfortunately, the DC metro area is also a hub for bicycle theft. As the city has promoted biking as a mode of alternative transportation, the city's number of stolen bicycles has increased alongside.
Theft numbers began rising in the early 2010s. A Washington Post article notes that the number of reported bicycle thefts in Arlington county increased by nearly 150 from 2012 to 2013; another adjacent DC county experienced a 43% increase during the same period.
During the pandemic, as in much of the country, bike thefts increased in DC, with residents reporting bikes being stolen from their back patios and mass thefts of locked bikes from semi private area.
Boston & Cambridge
Boston, Massachusetts, and nearby area across the Charles river, are havens for bike thieves. The high number of universities in the area floods it with bikes, making it an ample target for thieves.
In August 2020, thieves stole a reported 173 bikes, the highest monthly total in five years.
From January to August 2020, bicycle thefts in Boston were up 35%, mirroring the trend around the nation of more cyclists and stolen bicycles during the pandemic.
Cambridge, Mass., home to the prestigious Harvard University and Massachusetts Institute of Technology, has long had a problem with bicycle theft.
In 2021 bike thefts in Cambridge were up 39% from the prior five-year average according to Boston 25 News.
That same year a pair of armed men made the news when they stole a man's bike at gunpoint in the Central Square area of Cambridge.
Chicago
Chicago has long been associated with crime. People tend to think of infamous gangsters like Al Capone, Tony Accardo, and Larry Hoover, not bike thieves; however, the city has plenty of those.
The Chicago Sun-Times reported that the desperation of Covid-19 increased theft, with 208 bikes reported stolen to police per month, up from 195 per month reported the previous year.
The Chicago Stolen Bike Registry, a database that allows users to report information regarding their stolen bicycles, reported a nearly 50% increase during this same period.
A quick look at the database shows 38 bikes reported stolen during October 2022.
Denver
Denver is a cyclists' paradise with multiple bike parks and 196 miles of bike lanes traversing the entire city. According to the city's website, the Denver moves plan is actively adding 270 miles of bikeways and bike boulevards.
As with any city that has a tremendous biking culture and infrastructure, the theft of bicycles is relatively high. The Denver Post maintains an excellent database for reported bike thefts that is updated regularly.
According to the database, Denver has had 1346 bicycles stolen this year as of October 30th. The city has averaged 135 stolen bicycles a month and 4.4 a day in 2022, a decline from the previous two years.
In 2020 an average of 174 bikes were stolen a month, and in 2021, 154.8 were.
The database also notes that the busiest time for thefts is between 4:00 PM and 8:00 PM and that Tuesday and Thursday are tied as the days of the week when the most thefts occur.
Austin
Biking in Austin, Texas, is a cornerstone of the city, alongside live music, food trucks, and the University of Texas.
The city has been lauded by many publications, including Forbes Traveler and Bicycling Magazine, for its biking scene. Bike theft is also extensive.
The Austin Police Department reported that over two bicycles a day were stolen in 2021, while a total of 1,025 were reported stolen in 2021.
The number of bikes reported stolen increased each year; beginning in 2018 when the total number of bikes stolen was reported as 484, the number jumped to 727 in 2019 and then to 1,025 in 2020.
San Francisco
According to the San Francisco Police Department (SFPD), the city has a problem with bicycle theft. At least several thousand bicycles are stolen annually at a yearly cost that runs into the millions.
There are more bikes stolen than iPhones in the city by the bay. SFPD highlights the downtown core neighborhoods of Union Square, the Tenderloin, Market Street, Civic Center, along the Embarcadero, and South of Market as the hotspots for bicycle theft in San Francisco.
A new trend has emerged in San Francisco- the targeting of high-end, more valuable electronic bikes.
The San Francisco Chronicle wrote a recent story about career criminals who have recently apprehended trafficking in electronic bicycles, a new-fangled form of cycling which is growing in popularity throughout the country.
Portland
Portland, the rose city, is highly regarded by cyclists as one of the most bike-friendly cities in the country. Of course, the city also deals with steady bike theft.
Over one bike an hour is stolen in Portland, with approximately 10,000 bikes stolen in a year.
The Portland Police Bureau (PPB) notes that drug addiction and the drug trade are the primary causes for such heavy theft of bicycles, noting that "these thefts are often fueled by drug use and addiction– the bikes are sold to drug dealers in exchange for drugs."
The problem became so profound that the PPB set up a special unit for reducing bicycle theft in Portland.
This unit was known as the Bike Theft Task Force, and through its efforts, $100,000 worth of stolen bikes were recovered and returned to their owners.
Seattle
In 2021 Seattle, Washington had an average of 5.3 bicycles reported stolen every day, according to an article by KIRO 7 News. Most bikes stolen in rainy Seattle are eventually sold on online marketplaces like Craigslist, Facebook Marketplace, and especially OfferUp.
The problem has been long-running. In 2016, the Seattle Police Department reported that over 1,543 bikes were reported stolen in 2015, or a bike every six hours.
However, the estimated actual number of bikes stolen, reported or unreported, is far greater, at approximately one bicycle theft every hour.
Bicycle thefts in Seattle began rising dramatically around 2009, increasing by a percentage of 216.4% over the next eight years at an average annual rate of 18.3%.
Bike Theft Statistics: Timing, Pattern, Place, Cost
Theft is a serious problem all around the world, and bikes are no exception. In 2019 there were an estimated 5,086,096 larceny thefts across the United States.
According to a recent study, the vast majority of bike thefts take place during the daytime, with the early afternoon being the most popular time for thieves to strike.
This pattern is likely because many people leave their bikes unattended during the day, making them easy targets. The study also found that incidents of bike theft are more common in urban areas, likely because there are more bikes in these areas and more opportunities for theft.
According to the crime report data taken from UK police, more than 60% of bike theft happens within a short time of 6 hrs between 2 P.M. and 8 P.M.
Further most thefts target bikes from a semi-private area rather than private property. In recent years people have also started to pick bikes from public places and street parking.
( You can see complete data here )
Finally, the cost of stolen bikes can vary widely, depending on the make and model of the bike. However, on average, a stolen bike is worth about $500. This shows bike thieves in general go after the most common bikes that they can sell off easily rather than targeting high-end bikes.
This figure highlights the importance of taking measures to prevent bike theft, such as using a lock and keeping your bike in a secure location.
Also Read,
How Many Bicycles Are In The World? Bike Facts & Statistics
Top Cycling Trends To Look Out For In 2023
Tour De France Past Winners Complete List