Putting a mountain bike through its paces is one of the more exhilarating experiences a cyclist can have. Racing at high speeds over rocks and roots, navigating paths hemmed by trees, or bordered by steep drop-offs, leaves your heart pumping and adrenaline flowing.
You need skill and control to get the most out of riding a mountain trail, but there's one thing you need more than anything else: a mountain bike.
But, a mountain bike can be a steep investment. An experienced rider can easily pay thousands for a quality ride with cutting edge components.
That's a high barrier of entry, especially if you just want to ride for a day or weekend.
Renting a mountain bike may be a better option. Bike rentals are widely available, and much cheaper than the cost of buying, and maintaining, a bike and gear.
How much cheaper? Well, it varies. The rates to rent a mountain bike is determined by a number of variables, and it will serve you well to know them in advance.
Mountain Bike Rental Rates: How Much You Might Pay, and What You're Paying For
The average mountain bike rental cost for up to one day ranges between $45-$150. That's a broad spread, and you can't always opt for the cheaper option. The cost to rent a mountain bike, or any bike, is determined by several factors.
The Duration of the Rental Period
That $45 dollar price is what you can expect to pay to rent a basic mountain bike for half of a day, while $150 covers an entire day.
Keep in mind that a "half" or "full" day isn't necessarily a 12 or 24 hour period. Rental durations are defined by the rental shops, so make sure you understand how long you're actually paying for.
Usually, "day" in this context deals specifically with daylight hours, meaning roughly 8 hours for a full day, and 4 hours for half. However, full day rentals are usually measured in 24 hour periods when you arrange to have the bike for multiple days.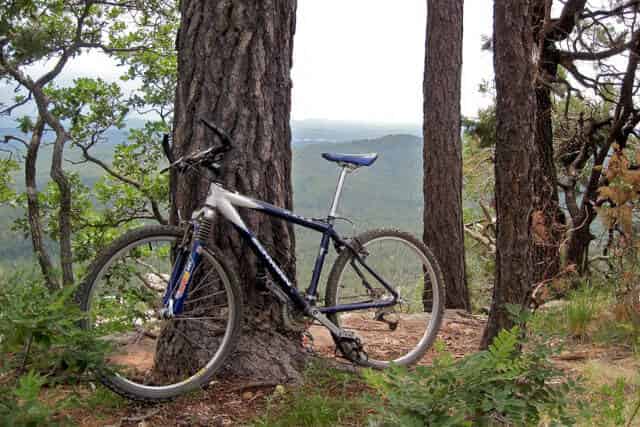 The Type of Bike You Need
Mountain bikes are pricier rentals than a single speed road bike, which is no surprise. Yet, even among mountain bikes there are more expensive variants.
Trail bikes, also often called standard mountain bikes, will be the cheaper option in this category. They will allow you to ride rough terrain, but aren't specialized, and don't include high-end components.
Enduro MTBs are a style of bike constructed to compete in Enduro racing, which means they can be ridden harder and will perform better, both uphill and down. Consequently, they are more expensive, as much as double the price as a standard mountain bike.
Downhill mountain bikes specialize in navigating the steepest downhill paths at high speeds. These bikes are for experienced riders and have pro-level components. Downhill MTBs will cost at least as much as an Enduro, if not more.
The Bike Brand
Which bike brand is the best will always be an arguable point. What can't be debated is that some bikes are constructed of higher quality materials, and feature components that have proven to be more dependable.
Pro brands will feature bikes with carbon fiber frames, integrated shifters, internally routed cables, high quality disc brakes, and more. If you choose one of these, your rental price can easily exceed the $150 mark.
However, these bikes would be far more expensive to purchase outright. This actually means that the rental price is a smaller percentage of the purchase price, compared to a cheaper bike. Renting a pro bike is technically the best deal, in terms of price and performance — but only if you can afford it.
Security Deposit
If the rental shop requires a security deposit, that may drastically restrict what you can afford. These deposits can actually equal the cost of the bike, meaning that you could be required to pay $2,500 in addition to $150 a day to rent a top tier bike.
The purpose of this is to dissuade theft, and that money is usually refunded in full once the bike is returned in good shape. However, don't assume that's how it will work in all cases.
Some bike shops don't refund the entire deposit. In others, if you cancel your rental, the deposit may not be returned to you if the renter can't find someone else to rent the bike in your stead.
Paying a high security deposit can result in rental costs that actually exceed what it would cost to buy the bike in question — at least until your security deposit is returned.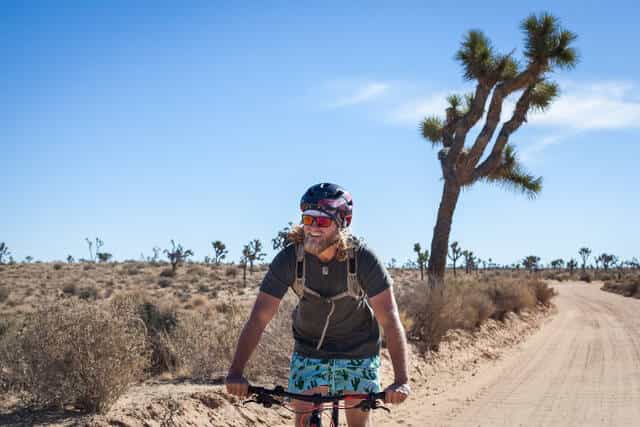 Protective Gear and Extra Equipment
In many cases, the cost of a helmet and pads will be included in your rental price automatically. If not, it will be optional, for those who have gear of their own. You can also expect to pay for an extra tube and portable pump, in case of a flat.
All told, this can add from $15-$50 to your total. The variance is due in part to the numerous configurations you could choose (helmet only, pads only, tube only, or any combination thereof).
However, some renters also include an insurance fee on these items. Usually, the helmet is the big ticket item here, and the cost of coverage can double its renting fee.
How Much Does It Cost to Rent A MTB? – USA
In my research I have found not all states have similar rates when it comes to bike rentals. Some states have more rentals than others; similarly many rentals prefer fixed price while others decide based on demand.
States like Utah, Colorado, Arizona and California have the largest number of bike rental companies, mostly for the idle condition for mountain biking.
Below is the list of mountain bike rental cost based on what I can found online in my extensive research.
| | | | |
| --- | --- | --- | --- |
| US State | Min Cost | Cost Per day | Source Link |
| Alaska | 3 hours $40 | $60/ day1 , $115/ day2 | |
| Alabama | $45 for 24 hrs | $60/ day1 , $75 24-Hour2 | |
| Arizona | 4 hours $75 | $90/ day1 , $115/ day2 | |
| Arkansas | 2 hours $35 | $60 / day | |
| California | 3 hours $40 | $80/ day1 , $75/ day2 | |
| Colorado | 4 hours $50 | $90/ day1 , $75/ day2 | |
| Idaho | 4 hours $40 | $139/ day1 , $60 24-Hour2 | |
| Montana | 2 hours $59 | $92/ day1 , $178/ day2 | |
| Nevada | 8 hours $90 | $149 / Day | |
| North Carolina | 6 hours $80 | $150 / Day | |
| Washington | 4 hours $45 | $90/ day1 , $75/ day2 | |
| Wyoming | $49 for half day | $85/ day1 , $79/ day2 | |
How To Rent A Mountain Bike, Best Practices
With costs subject to so many variables, you can easily overpay if you don't approach the rental process with a plan. If you go over your options methodically, you will be able to find the best deal.
Follow these steps when searching for the right renter.
Research Your Destination
Where are you going to be riding? Is it a mostly level trail, with only mildly rough terrain? If so, you can opt for the cheaper standard mountain bike.
Conversely, if you're headed for a steep, twisting, expert level riding situation, that will call for an Enduro or downhill option.
Knowing this in advance allows you to tailor your search for the kind of bike you actually need, which can save you money. More importantly, it increases your level of safety, and the potential for you to enjoy yourself.
Find Bike Shops Nearby
The closer to your destination the renter is, the more time you can spend riding. It can also be a hassle to transport bikes over a long distance, and can increase the chances of damage being caused in transit.
Usually, popular trails and riding locales are serviced by renters who offer bikes specifically tailored to the challenges of the location. This can extend down to the way the bikes are tuned.
Check Competing Rates
Don't choose the first bike shop in the area, even if the price seems right. Do some research online and over the phone first to narrow it down.
Remember to ask:
What kinds of bikes do they have available?
What is the rental rate for half/full day periods?
Are there discounts for multi-day rentals?
Is there a security deposit? If so, how much, and is it refunded?
What is the general refund policy?
How much is liability insurance?
Is the cost of gear and equipment included?
What years of bike models do they have?
Your choice should be the ones with the best balance of cost and stock. Prioritize renters with newer bike models. If you run into any that don't offer protective gear, choose someone else.
Anyone who would provide a mountain bike to someone without proper gear is not concerned for your safety, which may be reflected in the maintenance of the bikes themselves.
The Condition of the Bike
Once you narrow your choices down, it's time to visit the shop in person. This is the only way to actually know the condition the bikes are in, as every renter will say they are excellent over the phone.
Check for any visible issues, such as worn brake pads, balding tires, bent rims or frames, deep cuts, and worn grips. There should be no rust of any kind.
Test ride any bike you plan to rent. If the handling or tuning feels wrong, ask for a tune up or another bike. Any serious maintenance should be performed at no cost to you.
Regardless, don't ever leave the store with a bike in subpar condition, or that simply doesn't feel comfortable to you.
Damage Policy
On the same subject, you should ask how the renter assesses damages. Mountain biking is not a gentle pastime. It's very likely that your bike will suffer some nicks on the trail, besides general wear and tear.
What sort of damage will add to your total? Generally, only serious damage costs. If you crash and bend or break something, be expected to pay for that broken component.
However, sometimes cumulative small damage can result in a charge. It all depends on the renter.
To safeguard yourself, do a full damage assessment on any bike you choose before you leave the shop. Make sure you and the renter are aware of all existing damage, so that you are not held accountable for it.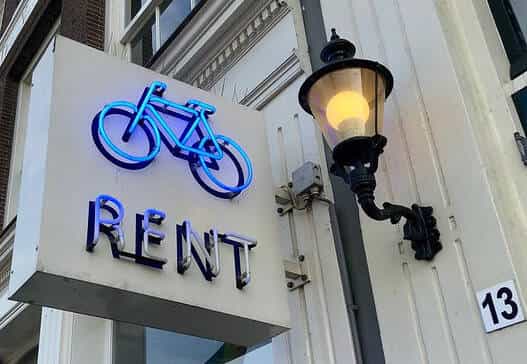 9 Questions To Ask Before You Rent A Mountain Bike
Now that you learned how much and what you be paying for when renting a mountain bike. It's time you ask a few things to get the best possible bike on rent.
The first thing to ask or look for in any bike is how often is it maintained. A few shop owners use the same bike for years without maintenance to rent. Even if they do maintain it the bare minimum they do, as for them the customer bothers least of maintenance as long as it did not break down.
This makes you pay for a bike that is not truly yours but what it used to be when it was purchased. So make sure you ask for their maintenance policies before you ride.
Another thing you must check is the age or manufacturing year of the bike in question. From what I have learned and found from experience; a life span of 1-2 years is decent for rental bikes.
For any reason if its more than 3 its truly in a bad condition unless all its parts been replaced with new one.
Then there are things to look for; does the seat post have quick release, tires condition, damage/wear/tear of any part or component, whether all parts are stock or been replaced, do they provide biking helmets etc.
Another major thing to look at is the security deposit they charge. Some shops charge at much as 100% of the bike cost while a few charge a nominal fee of $100 or 10-25% of the bike cost.
So, find out how much security they will charge you on the bike to avoid last-minute surprises. You can also get up to a 10% additional discount on these securities when negotiated.
For those looking for renting an electric mountain bike make sure the batteries are in good condition and is fully charged. Also ask for the class, speed and motor power.
The Best Places To Rent A Mountain Bike
Renting a mountain bike is a great way to check out the terrain in a new place or try out a bike you consider purchasing. Unfortunately when you are looking to rent a bike, it can be overwhelming.
Knowing where to rent a mountain bike is essential before you head out on your next trip.
There are two main ways to go about renting a mountain bike for your next adventure. The first is to choose a reputable bike shop in your destination and ask if they do rentals.
Many bike shops do. Another option is to use an online bike rental service.
These services will allow you to choose the bike you are looking for and your destination and set up a pickup point with you to get you your bike.
If you are planning on staying in the United States, you can rent a mountain bike in almost any state. The best places to rent a mountain bike include the following.
Moab, Utah
Crested Butte, Colorado
Lake Tahoe, California
Park City, Utah
Driggs, Idaho
Sedona, Arizona
Brevard, North Carolina
Bend, Oregon
If you are planning a trip outside of the United States, there are many places that you can rent a bike and access great trails. Some of the best places are listed here.
The Old Ghost Road, New Zealand
Mefjellet, Norway
Lupra Pass, Nepal
Achnashellach, Scotland
Slovenia
Tizi Mezzik Pass, Morocco
Cotopaxi, Ecuador
Spain
Mountain Hero Mine Trail, Yukon
Note: All of the locations listed here have many different bike shops that rent out mountain bikes buy the day and by the week.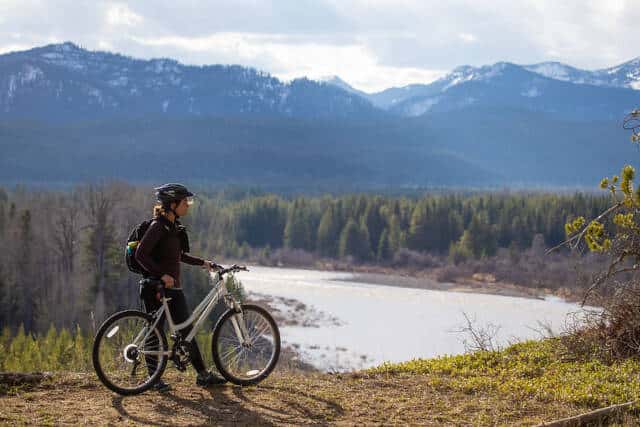 To Own or Rent A Mountain Bike – Pro's & Con's
There are many things to consider when planning a trip to a destination where you plan on mountain biking. Perhaps the most important is should you rent a mountain bike while you are there or bring your own. There are pros and cons to both decisions, and a few factors should be considered.
Related: How Much Does It Cost To Ship A Bike? – Shipping Guide
Peace of Mind Vs. Cheaper
Bringing your bike means that you will be able to save money, even if you are flying. While an airline will generally charge you about $50 each way for an oversized piece of luggage.
Renting a bike can cost just that much or max $180 per day, excluding the refundable security deposits and other charges like that from damage or renting biking gears.
On the other hand, bringing your bike with you means that you will have to take your bike apart, pack it, and hope for the best.
There are risks involved in this process, such as lost luggage or damages occurring during transport. Renting a bike eliminates these concerns. Renting is always better unless you plan to travel all cycling.
Recomended: Diamondback Overdrive Hardtail Mountain Bike ( Buy On Amazon! )
Tried and True Vs. Trying Something New
Your bike is one that you know inside and out. You know that your bike is suited to your style, and you know what it can do. Another advantage of using your bike is that if something goes wrong, chances are you already know how to fix it and are familiar with its quirks.
When you are renting a bike, you will have a chance to try out a bike that you might be eyeing. If you are in the market for a new bike, anyway, renting a bike can help you decide if the bike you are interested in rides the way you want it to.
The Bottom Line
Renting a mountain bike might sound troublesome, but in practice, it's a fast process.
Renters are usually very helpful, enthusiastic bikers themselves. It's more likely for you to find them eager to help you find your ideal bike, and to do what it takes to ensure you have a positive, safe, ride.
As long as you are proactive, and do your part as well, you will enjoy your chance to ride a quality bike for a fraction of the cost.
Also Read,
Are Mountain Bikes Good For Touring? Yes Here's Why!
Mountain Bikes: What Are The Different Types And Their Features