Are you on the look-out for an excellent mountain bike? If you're in two minds about whether to go for Giant or Trek, this article is sure to put your mind at rest.
Giant is a well-renowned brand that is popular among cycling enthusiasts and its suppliers. Trek is also an excellent brand and hones skills especially in the field of manufacturing and distributing.
Choosing to invest in a mountain bike is a tough decision, and getting your hands on an efficient one is of utmost importance. Mountain biking has a plethora of benefits, but finalizing on the right fit for yourself can be a daunting experience especially if you have to choose between giant and trek mountain bikes.
With each brand having different features, specifications, and specialties, making your final decision is not always a walk in the park ( especially when choosing between two good brands ).
So, to make your job a tad bit easy here's an article that is sure to help you make a more informed decision.
Difference Between Giant and Trek Mountain Bikes
Price Comparison
Like every brand differs in price margin, so does Giant and Trek. However, no matter what your budget is, you will be sure to get your hands on a top-notch mountain bike from either of these two brands.
The most expensive and the cheapest mountain bike from both brands fall in the same price range, thus confirming that the two are quite similarly priced.
Trek often falls on the slightly more expensive side, as it changes based on its features and what the bike has to offer. However, although Giant does this too, its manufacturing unit is close to its source of raw material, thus keeping the price range relatively lower.
Keeping this in mind, if you are operating on a strict budget, Giant may be the way to go.
The brand hosts a larger variety of mountain bikes in the low price range category as compared to Trek; thus giving you a plethora of bikes to choose from, that won't burn a hole in your pocket.
Brand Reputation
It is essential to gain some information about the reputation of the brand you are going in for when purchasing a mountain bike. While both brands have earned goodwill among the cycling community.
Giant's reputation is one that is truly unique, as the brand managing all its operations in-house itself. Right from ideation to manufacturing and production, Giant does not believe in out-sourcing any of its work.
The brand also turned heads when it came out with a special line of cycles for women in 2008, which were uniquely designed for the female body type.
Giant has also won the Bicycling Editor's Choice Award, consistently.
Trek on the other hand has an edge over Giant, as it has won the Tour de France six times. The Tour de France is a cycling race primarily for men.
It is hosted in France and spans 23 days with the race having 21 stages.
Both Giant and Trek have been in the business since the 1970s and it is safe to say that they both have reputations that precede them.
Range
Both, Trek and Giant have a wide range of mountain bikes to choose from, depending on the suspension, gears, price, etc. that you are looking for.
Speaking of Trek, the company offers users a plethora of bikes for all their needs. Be it leisure, commuting, or mountain biking, Trek has got you covered.
Apart from producing bikes for multiple purposes, Trek also offers different types and frames for women, depending on their body type and build. This feature makes Trek stand out as it has a wide range, spanning various criteria available to users.
However, when it comes to Giant, it focuses its approach, especially on mountain bikes. The company offers bikers a myriad of options to choose from in the mountain bike range.
As it focuses on manufacturing and perfecting mountain bikes, it does not host many other categories of bikes like Trek does. It also offers a slightly smaller pool to choose from when it comes to size and functionality.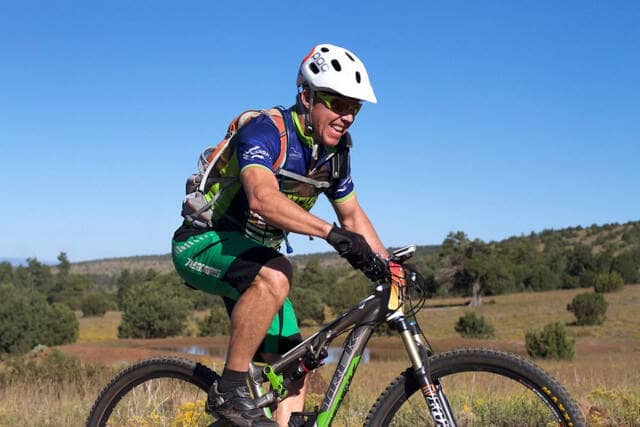 Components and material
The quality of components and materials used to manufacture mountain bikes are usually judged on the basis of the price of the finished product costs.
In other words, one would expect a bike in the high price range to be made with superior material as compared to one of a slightly lower price range.
However, this principle does not apply when it comes to comparing Trek and Giant. As mentioned above, Giant does not have a tough time when it comes to procuring its raw material, as the unit of manufacturing is close to the raw material source.
Hence, although it is more cost-effective, the material and components it hosts sets it apart from the rest. Made with high-performance aluminum, Giant offers its customers the best.
Trek on the other hand goes for components that are not always at the top of the line, so it can keep its cost reasonable and pocket friendly. However, Trek utilizes Alpha Aluminum technology that makes its bikes lightweight, durable, and conducive to all climates.
It also uses Carbon fibers, that help Trek reach their goal of being a lightweight mountain bike brand.
Performance
When looking to purchase a mountain bike, it is essential to gain knowledge about the performance of the bikes of each brand. This is an important step as if you invest in a bike; you should gain maximum performance efficiency with it.
Both Giant and Trek perform excellently; however, Trek offers different types of suspension.
This sets it apart from other mountain bike brands, as it can be used seamlessly by heavyweight riders and racers, who require high-performance bikes.
The Suspension is an important aspect to take into consideration, as it determines the performance of the bike. Better suspension directly means better performance and should not be taken lightly.
Usually, the higher the price of the bike, the better its performance will be.
If you wish to purchase a mountain bike of superior quality, it is advisable to go for a bike that falls in the higher price range but delivers on all its promises.
However, the performance of a mountain bike also depends on the style you are interested in purchasing.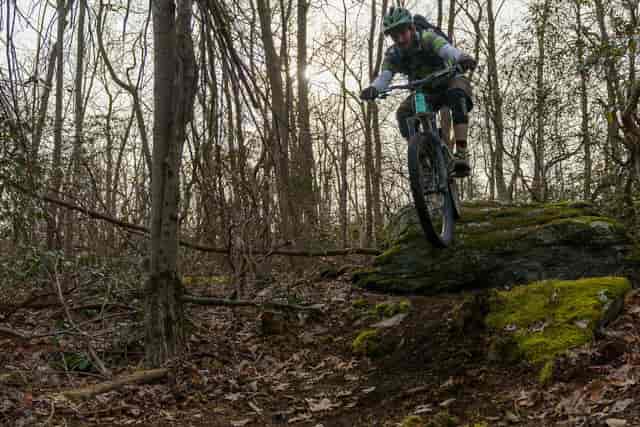 Rear suspension & Brakes
Trek and Giant both have excellent suspension technology that segregates the drive and pedal motion from the suspension; thus making tough climbs seem like a piece of cake.
Trek hosts an active braking pivot technology that allows for smooth braking and stopping.
With this technology, you will not get the feeling of jolting, which can be unpleasant and ruin your mountain biking experience. This technology that Trek hosts reduced jolting and engage the rear suspension when you pull the brake and helps you remain steady.
Trek also hosts a RE: Aktiv type of suspension that helps the peddling remain soft, even when the terrain is rocky or full of gravel. This technology allows for smooth transitions and makes sure you are ready for whatever tracks will be thrown at your mountain bike.
Giant's rear suspension technology gives riders control over their journey even on the rockiest of terrains.
This brand uses flexing suspension technology called FlexPoint that does not require the need for complex pivots, thus giving the rider a hassle-free experience.
Giant also has a Maestro suspension that gives you a smooth and adaptable ride, regardless of the terrain.
Design Features
Trek is a brand that gives a lot of importance to its aesthetic and looks through its design. Trek makes sure that each of their bikes has something unique to offer.
Each bike Trek sells has a unique design and there is definitely something in store for everyone here. It is true that everyone has different taste and the same design will not appeal to all; but with Trek, one can be sure that its pays more attention to design than any other brand in the market.
Depreciation and Resale value
In order to know more about depreciation when it comes to mountain bikes, it is essential to know what depreciation is and how it is calculated. What you need to do first is know the cost of the bike.
Once you know this, determine how long you think the life of the bike will be. Usually, bikes remain in usable condition for about five to seven years. Now all you need to do is divide the original cost by the life span on the bike and you will get the depreciation rate of the mountain bike.
Now, to get your head around the resale value of the bike, take the depreciation value you came to and subtract it from the original price of the bike.
Voila! There you have it. The resale value of the bike is now the value you obtained by subtracting the depreciation rate by the original price of the bike.
Overall both the trek and Giant bikes have comparatively similar depreciation and resale value, but I had personally found it easy to buy or sell used Trek Mountain Bikes than from the Giant brand.
About the brand: Giant vs Trek Bikes
Giant and Trek are both well-renowned brands in the mountain bike industry. They put in a lot of hard work and dedication to produce the very best products for their clients.
If you scan through the bikes of both companies, it is visible that they have an eye for detail and hold precision close to their heart.
With its headquarters in Taiwan, Giant is famously known as the world's largest bicycle manufacturer. It hosts a wide array of products, sports gear, and bicycles.
You are sure to find what you are looking for in Giant's extensive catalog.
Trek on the other hand has over 40 years of experience in the industry and produces quality products. It is also a trusted brand that has now taken it upon itself to manufacture eco-friendly products.
History of Giant Bikes
Giant, as a brand came into being in the year 1972 and has been producing the best equipment ever since. The brand was built from the group up by Tour de France racers and other biking enthusiasts.
The goal of the brand has always been to deliver the best mountain bikes to customers across the globe, irrespective of geography.
These bikes can travel through the roughest of terrains and without breaking down or giving way. This is all thanks to the aluminum Giant uses to build the frame of the bikes it produces.
Giant was also the first brand in the mountain bike industry to manufacture bikes made with carbon fiber. The brand completely revamped what a mountain bike looks like and set its products apart from the traditional mountain bikes in the market.
Apart from that, it also gives importance to the suspension and road technology it offers riders.
The brand is committed to delivering top-notch mountain bikes, in terms of design and functionality. Giant has always focused on producing reliable mountain bikes and offers users a mountain bike they can trust.
History of Trek Bikes
Trek was founded way back in 1975 by Richard Burke and Bevil Hogg, who sold bicycles from a barn. Today, Trek has its headquarters in Waterloo that expands across 26,000 sq. ft.
It is the largest bicycle company in the United States that prides itself on manufacturing products for the audience, irrespective of age.
Right from little children to experienced professional bikers, Trek has something in-store for them all.
Another aspect that makes Trek unique is the fact that it manufactures and produces a majority of its bikes domestically. The brand believes that this gives them far more control in the process of production.
Trek also came out with a one-of-a-kind bike made with carbon fiber that put it on the map for having produced an eco-friendly bike.
What also turned heads was when Trek manufactured bikes with materials used in the aerospace field. A major portion of the manufacturing of bikes at Trek is done by human hands, rather than machines.
The brand takes detailing and perfection very seriously and hires skilled and experienced technicians, so it can provide its clients with the best of the best.
My Experience Riding Trek & Giant Mountain Bikes
Are you planning to soon hit the trails? Here's my splendid off-road experience with a Trek Mountain Bike. When I rode a Trek Mountain Bike, I was in awe of its quick handling, and efficient pedaling technology. The bike was lighter than most bikes I have ridden.
It is meant for speed, with is faster-rolling tires, and shorter-travel suspension, which makes them a major requirement in case of riding light trails or racing.
Trek Mountain Bikes selection is gender-neutral, which gave me more options spanning various models to scan through. I have also had a great experience riding a Mountain Bike from Giant.
These bikes are of superior quality and have great components and design. I took the 2021 Giant TCR Advanced SL O Disc which is a ninth-generation TCR that was redesigned only to be stiffer, lighter, and aerodynamic; perfect for my riding experience.
Riding the bike gave me a beautiful experience; all thanks to its unique lightness, a captivating balance of stiffness that makes for efficient pedaling, with just the right touch of lateral flexion for turning sharp corners.
So Which One Should You Buy?
Giant offers maximum safety and ensures balance and control over speed, which is essential especially if you are into competitive racing.
With Giant, you can also get your hands on innovative and quality products. The brand also offers a smooth riding experience and handles all the strains and difficulties that come with mountain biking.
Trek on the other hand is technologically advanced and not only gives an aesthetic look but also maintains functionality. They hold quality as key to their production and ensure reliability.
With a modern rear suspension system and brakes, this is a well-renowned brand that delivers on all its promises. It has a premium build quality and takes a scientific approach to manufacturing.
Giant and Trek are both excellent mountain bike producers and offer the very best services and products. In order to decide which one to purchase, jot down a detailed list of the needs you want your bike to fulfill. Once this is done, analyze which bike will turn your vision into a reality.
Other Alternatives In Budget
Conclusion
Before you make a purchase, it is always essential to know more about the brand you wish to go for and its competitor. Giant and Trek are exceptional brands and offer the best products to their customers.
Each of them has their own set of advantages and work tirelessly to give their customers top-notch bikes. Now that you know more about Giant and Trek, you are ready to make an informed decision. So, what are you waiting for? Choose the bike that best fits your needs today!
Also Read,
Are Mountain Bikes Good For Touring? Yes Here's Why!
Trek vs Specialized Mountain Bikes | Which One is Better?
Giant vs Schwinn Bike Brand Comparison | Which One is Better?