Trek is one of the most trusted bicycle brands. Their ingenious range of bicycles has been a revolution in the cycling world but are trek bikes really good and produce quality bikes as they say?
How good are Trek bikes? How did the company come to be and keep up during so many times? Are they worth it considering their higher price point for average riders?
These are some of the questions we usually have. Get answers to all of your doubts before you finally try your first Trek bike. Let start with the beginning, where it all begins.
In the year 1976, Dick Burke and Bevill Hogg founded the company with the aim to deliver high-performance bikes with great aesthetics that resonate with your real personality.
Trek's advanced technologies ensure a smooth ride for both pro bikers and amateurs who love to explore new places on their bicycle to unhook themselves from their daily life stresses & worries.
Today they have a reputation as being the few bike brands that still maintain their quality standards. At present, Trek has over 1,700 stores throughout North America; their bikes are popular in several parts of the world, right from the Netherlands, China to Germany.
So What is Trek Bikes Reputation Today?
Trek has built a name for themselves since their humble beginnings over four decades ago. Today, they are considered to be a top tier bicycle brand, valued at over a billion dollars.
The Trek name has become synonymous with quality and innovation. Watch any professional cycling competitions, and you are guaranteed to spot this brand's logo among the best performers.
And, it doesn't matter if the race is on the road or on the trail. Trek makes every style of bike.
While being known for high end, competition-quality bikes is impressive enough, Trek isn't only for the pros. They offer bikes in all styles at a wide range of price points, so entry level and casual riders can actually afford to buy a bike that offers excellent performance and durability.
And this popularity isn't limited to the company's home turf. Though based in the U.S., 60% of Trek's revenue comes from international sales. There is perhaps a no better illustration of their sterling reputation than having their product adopted on a global scale.
Why Are Trek Bikes So Popular?
Trek Bikes Have Some of the Best Framesets
The frameset is the core of any bike, both physically and in terms of performance. So, it comes as no surprise that such a beloved brand has mastered the construction of this crucial component.
To begin with, Trek's framesets are fundamentally sound. They are light, strong, and attractive.
When suspension systems are incorporated, they are expertly installed and calibrated. At each price point, Trek frames are among the best.
But, Trek goes beyond the basics, providing internal cable routing, and even storage compartments integrated into the frame itself. And, their unique IsoSpeed frameset innovation actually challenges the basics by separating the seat post and head post from the rest of the frame.
This results in even smoother, more comfortable ride quality unmatched by traditional styles.
Better Design Geometry and Overall Feel
When it comes to evaluating frame geometry, things can get complicated, but Trek aims to simplify the process.
They offer frames with alpha sizing, so riders choose between small, medium, and large instead of calculating tube lengths to find the geometry that suits them.
This is possible because of the brand's commitment to building bikes suitable to the widest variety of riders. The frames are made to ensure it fits within a comfortable range for both male and female riders.
Such universal geometry means everyone has access to the full range of color and finish options.
Moreover, Trek knows how to tailor geometry to the rider. For instance, their Domane bike offers both endurance and pro style builds, supporting either an upright or aggressive riding position, depending what is needed.
Built for Performance
The point of all these tweaks and innovations to frameset and geometry is to eke out every performance advantage that can be found.
Whether the bike is an e-bike, road, or mountain model, it will reliably provide a comfortable ride and effective ride over its ideal terrain. Part of this is the emphasis on shaving off weight.
Trek road bikes are graceful, thin constructions, both light and rigid. Their mountain bikes are built of heavier materials to endure hard riding but are only as bulky as they need to be for complete safety and ideal handling.
But, performance isn't just about weight. Trek bikes are assembled using top of the line components. The brakes, drivetrain, shifters, and tires — every element that they don't make themselves is sourced from leading brands, and assembled with utmost care.
Popular Appeal
As with any product that has a reputation for reliability and performance, Trek bikes are loved by cyclists all over the globe. Their long history contributes to this, as a community has developed over the decades that supports the brand over all others.
It helps that the Trek name is likely to pop up anywhere that cycling is involved. The company contributes to community biking initiatives and encourages youth participation in cycling for healthy, wholesome fun. People have a positive view of this company for a reason.
And, any bike that shows up in practically every type of race, including the Tour de France itself, is going to garner a following.
As long as Trek continues to make bikes worthy of such lofty positions, they will remain popular.
Superior Build Quality
The material used to construct a bike's frame makes a tremendous difference in its longevity and ride quality. Trek knows this, and has pioneered the use of increasingly sophisticated materials and construction technologies to build better bikes.
Their carbon fiber frames are incredibly light, and also meet the stringent Optimum Compaction Low Void specifications. OCLV frames are constructed with such tight precision, they are considered aerospace quality.
Yet, it's not all about space age materials. Trek also makes bikes using aluminum. In keeping with their cutting edge identity, the manufacturer has developed Alpha Aluminum frames, which strategically vary rigidity and flexibility to increase comfort.
The aluminum is also hydroformed, which allows for exact control over the contours of each tube. This allows for frames to have optimized aerodynamic qualities from all angles.
Trek's "Invisible welding" makes for a bike without visible join points. Not only is this aesthetically pleasing, but it also contributes to structural integrity.
State of the Art Suspension System
Mountain bike suspension is arguably Trek's area of greatest innovation. Their patented Full Floater suspension system works in tandem with their other unique design components to give singular performance over even the roughest terrain.
Full Floater suspension is mounted separate from the frame itself. The shock is instead held between a point on the rocker link and swing arm. The result is suspension which seems to have endless travel, "floating" smoothly through its range.
Another Trek invention, the Active Braking Pivot, or ABP, also directly impacts the suspension.
Traditionally, braking can lock up suspension, forcing cyclists on hard trails to choose between jarring, bone-rattling stops, or risky high-speed riding.
ABP relocates the brakes and pivot point so that they don't interfere with suspension, so it continues to work even when stopping or slowing down.
The Sky's the Limit for Trek Mountain Bikes!
Trek holds every bike they manufacture to a standard of excellence, and it shows. Yet, it's the company's commitment to increasing the safety and performance of mountain bikes that has spawned many of the features that now set their brand apart.
From the IsoSpeed frameset, to the Full Floater suspension and EVO frame geometry, Trek has literally changed the shape of mountain bikes and redefined their limits.
And, within the Trek Performance Research Lab, they strive to improve even further. But, it's not just the future that brims with potential.
Trek mountain bikes offer industry-leading performance in the present, encouraging trail riders to tackle steeper slopes and rockier paths than lesser bikes would allow.
And, it's those same innovations that led to 7 Tour de France victors reaching the finish line astride a Trek bike.
With 1.6 million sales each year, and a growing customer base around the world, it's clear that Trek isn't slowing down. With their willingness to take on the risks inherent in forging a path away from the status quo, there's no predicting how far they'll go.
Company History in Brief
The Trek Bicycle Company began in the minds of Richard Burke and Bevil Hogg. In 1976, the idea became reality when they founded the company in Waterloo, Wisconsin, with an old barn serving as the base of operations.
That first year, they crafted 805 steel bike frames. Notably, they used silver braze for their welding instead of brass, an early example of their now-famous insistence on quality.
They met with immediate success, quickly expanding operations from their home state to far afield. By 1978 they were selling fully constructed bikes across the United States.
Their sales nearly doubled each year during the decade to follow, during which time they debuted their first mountain bike, the model 850, in 1983.
From there they continued to grow, adopting — and creating — new technologies and innovations along the way. Their first aluminum bike was released in 1985, followed by a carbon composite model in '86.
And crucially, they were, at the time, the only large bike manufacturer still making bikes in the U.S.A.
Today, Trek is a far cry from 5 guys building bikes in a barn. With 1,800 employees, selling bikes in over 1700 specialist shops across the US, and 90 countries worldwide, Trek is a juggernaut in the cycling industry.
Where are Trek Bikes Made?
Trek's American-made heritage served them well in their early years. For decades they maintained some level of production in the U.S., though more and more of the manufacturing process was taking place overseas.
By 2015, only 1% of Trek bikes were made in America — roughly 10 thousand bikes per year.
However, this came to an end in 2017, when the carbon fiber frames that were the last models produced wholly in Wisconsin began to be produced in China.
Today, Trek bikes are made in China, Germany, Holland, and Taiwan. The company's hometown pride had to give way to the hard realities of the cycling industry.
Major manufacturer Schwinn set the tone in the 1980s when they moved all production to China. Gradually, all major manufacturers had to follow suit to keep up with low prices, and Trek is no exception.
This does not mean, however, that nothing is being done in the warehouse in Waterloo and Whitewater. Frames welded in Taiwan may be painted in Wisconsin, for example. Parts can be fabricated in one country, while assembly occurs in another. Trek is a truly global manufacturer.
Is Giant or Specialized Bike Brand Better Than Trek?
You can't discuss Trek without the inevitable comparisons to other big names in the industry. Giant and Specialized in particular compete with Trek in practically all categories, from MTBs and e-bikes, to component manufacturing. So, which is the best?
The truth is, all three companies create quality bikes. Giant is the most wide ranging in price, offering some truly budget offerings that have fueled their product of over 6 million bikes a year.
Meanwhile, Specialized has less variety in their lineup but can edge out the other two in component quality on their entry-level offerings.
While each company has their own tweaks to frame geometry, and seeks to improve performance in different ways, Trek is the leader when it comes to innovation among them.
The brand's generally higher price point is explained by such cutting edge tech.
Yet, you can find comparable models among each brand. The choice ultimately comes down to personal preferences and needs, in terms of fit and finish, and design appeal.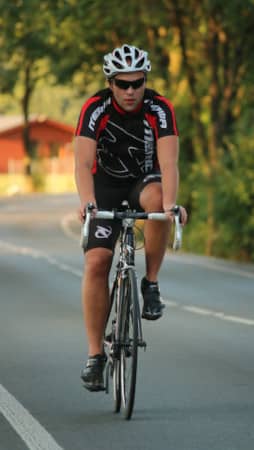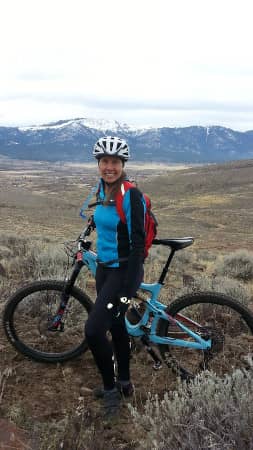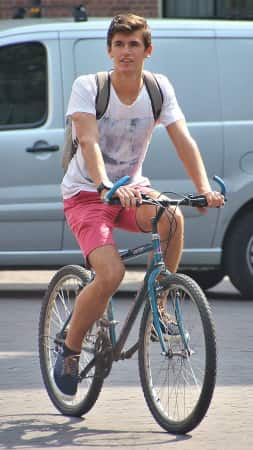 Bike Range
The Trek Bicycle Company is often lauded for their mountain bikes, perhaps because achieving high performance and comfort is most impressive when offroading.
But, Trek offers a full range of bicycle options, all of which are just as impressive as their MTBs. Remember, the company got its start with steel framed roads and touring bikes.
They have had over 4 decades to refine that riding experience while taking on new challenges such as MTBs, hybrids, and e-bikes along the way.
Trek Road Bikes
Trek road bikes are broadly grouped into 4 primary model designations, Emonda, Madone, Checkpoint, and Domane. There are other, older models that simply use numerical designations.
The Emonda is the high end model, built to the exacting standards of weight and aerodynamic qualities required by pros in competition.
These bikes are available with aluminum alloy or OCLV carbon fiber frames and feature top tier Shimano drive trains, tubeless-ready wheels, and hydraulic disc brakes.
Domane bikes represent the entry-level segment, with frames and bikes more affordable for the average buyer. Their aluminum alloy construction is calibrated for optimal performance. The included components are not top of the line, but still mid-range options from the same reputable manufacturers.
Trek Mountain Bikes
Of course, as the MTB industry leader, Trek has a wide selection of mountain bikes, all tooled to the max with innovative features. They offer their unique full suspension, classic hardtails with front fork shocks, and lighter bikes for trail and cross country.
The Slash is the pricey, cutting edge enduro model. It's equipped with floating RockShox suspension, durable aluminum alloy frame, and 29 in wheels. Meanwhile, the Roscoe model has a RE:aktiv damper for more responsive pedaling, and several similar features.
The entry level model for MTBs is the Marlin. It's a hardtail model, a change that allows for a significant price reduction compared to full suspension models, while still including high end features like internally routed cables and disc brakes.
Trek Electric Bikes
In recent years, e-bikes have exploded in popularity, and are credited with bringing thousands of new cyclists into the fold. Trek has not missed out on this trend, offering electric options in every category.
For road bikes, the Verve and Rail models offer the same aerodynamic frame geometry as regular bikes. Weights are higher, due to the addition of motors like the Bosch Active Line, and the requisite battery.
The Domane models are at the higher end of the spectrum, offering carbon fiber frames that help keep it among the lightest of e-bike options. At the other end is the Townie Go series.
These cruiser style e-bikes make allowances for casual riders, or those with mobility issues, sporting features like step-through frames and wider seats and tires.
Trek Hybrid Bikes
Trek's hybrid bikes marry the features of road and mountain bikes. They can also be electric or not, as the components, such as tires and drivetrain, define hybrids as much as the frame.
For instance, hybrids have wider tires, and while their frames are lighter than full MTBs, allowing them to handle mild offroading.
But, they also have larger tires that, along with more upright geometry, make them good for road riding as well. As for gears, they offer more than enough for either application.
Many Trek lines have hybrid entries, such as the Verve and Townie Go. There are also hybrid specific models, like the Dual Sport, FX, and Vale. And, for younger riders, there's the Precaliber bike line.
Top 3 Trek Bikes To Consider
1. Domane SLR 7
Topping the list is the Domane SLR 7 bike is the third-generation of the Trek's Domane range. It outperforms other bikes in the range in terms of on & off-road smoothness, practicality, comfort, and versatility.
Compared to its previous models, Domane SLR 7 has got more aerodynamics.
The bike also came with compliance-enhancing decouplers both front & rear to enhance rider's comfort and improved pedaling efficiency or handling.
The steering of the Domane SLR 7 is light, and its handling is precise, and the mellower edge provides more stability than a convocation road racing bike.
The Domane SLR 7 is also a stellar buy because of its class and sophisticated appeal that renders a premium feel to the bikers. In terms of pricing, Domane SLR 7 is a value for money.
What are the Pros?
Stylish look.
Robust enough to provide excellent stability on rough roads.
What are the Cons?
2. Émonda SLR 9 eTap
This specific bike model is manufactured mainly for the Trek's pro racers, and the company has marketed it as the "fastest climbing bike ever."
It features a power meter, aerodynamic frame with reliable disc brakes, and wireless electronics, all weighing less than 15 pounds. The bike is stiff, responsive, and delivers improved confident handling.
It is fully customizable to match your personality. The SRAM RED eTap AXS drivetrain ensures a smooth and quieter ride. The Ultralight wheels will help you push your performance beyond your limitations.
The Aeolus RSL 37 wheels are designed especially for climbing and faster on flat roads. Although the bike is light as a feather, it is as strong as a steel girder.
What are the Pros?
Light & better aerodynamics.
Proper handling during racing.
What are the Cons?
3. Trek Roscoe 7
Last but the least, we have the Roscoe 7 bike. The Roscoe 7 bike with 10-50t cassette & 30t chainring presents plenty of low range options to help you ease the pain of climbing steep hills.
The 27.5-inch wheels are highly maneuverable in tight terrains. The Roscoe 7 bike is stable for new riders and smooth for pro bikers. It has a shorter stem and a wider handlebar for better control, regardless of how rough the road ahead. The 27.5+ wide tires deliver more stability, traction, and confidence.
The bike is made out of a premium-quality Alpha Gold Aluminum frame that comes with internal routing for efficient cable protection and provides a clean and confidence-infusing look.
What are the Pros?
Better off-road handling.
Aesthetically pleasing.
What are the Cons?
Slightly on the heavier side.
Conclusion
I hope you found the article informative and worth reading before buying a mountain bike. As we illustrated earlier, there is significant variation between Trek models.
It is imperative to first decide on the features you want, your ride performance expectations, and above all, your budget before you commence with the search.
We also put forth the top-three selling mountain bikes from the house of Trek. And, don't forget to speak to a biker friend to give you the best recommendations for Trek bikes. Do you want to share your personal experience riding the Trek mountain bike, connect with us via the comment section below?
Also Read,
Giant vs Trek Mountain Bikes: Which One Is Better?
Trek vs Specialized Mountain Bikes | Which One is Better?
Is Orbea A Good Bike Brand? Know This Before Buying!
Are Specialized Bikes Any Good? Things You Should Know Before Buying!