Looking for the best bike for 60 year old woman? Senior-friendly step through bikes is all about comfort. These are designed in a way to put less stress on your joints and be easy on your back.
For women with serious back issues, there is also the option of semi-recumbent bikes.
Riding a bike gives us relief and freedom from the harsh realities of one's life. It is simple, easy to use, refreshing, and can be a good form of exercise.
Just because you are retired and reached the autumn of your life, doesn't mean you can no longer pursuit cycling as a hobby or part of your recreational life.
As we grew older people start to lose their strength and abilities. Cycling helps reduce those effects and maintain mobility. It's one of the best forms of exercise that you can do that is safe, fun and full of variations. You can also use them to commute from one place to another without any assistance.
For short and medium distance it's an efficient form of transportation for elder women.
When looking for the best bikes for seniors; it is sometimes hard to find a bike that meets their physical capabilities. As you can no longer use the same bike as you were used too when you were younger. Instead, you need a better bike that is senior-friendly and puts less stress on the body.
| | | | | |
| --- | --- | --- | --- | --- |
| Bike Name | Speed / Gear | Weight | Frame material | Product Link |
| Schwinn Discover Hybrid Bikes | 21 | 45 lbs | Aluminum | |
| Ride1UP 700 Series Electric Bike | 28 mph | 62 lbs | Alloy Metal | |
| sixthreezero EVRYjourney Women's Cruiser | 21 | 42 lbs | Aluminum | |
| Kent Springdale Women's Hybrid Bicycle | 21 | 35 lbs | Alloy Steel | |
| Pure City Classic Step-Through Bicycle | 8 | 35 lbs | Steel | |
| Retrospec Venus Dutch Step-Thru Bike | – | 33 lbs | Steel | |
| NAKTO 26″ 250W Cargo Electric Bicycle | 28 mph | 50 lbs | Carbon Steel | |
| Schwinn Mikko Step-Over Beach Cruiser | 7 | 45 lbs | Steel | |
| ANCHEER Commuting Electric Cruiser Bike | 15 mph | 50 lbs | Aluminum Alloy | |
| Ecotric Peacedove white electric city bike | 20 mph | 59 lbs | Steel | |
Looking for lightweight bikes? Check our Top 10 lightweight bicycle list.
Top 10 Best Bike For 60 Year Old Woman
1. Schwinn Discover Hybrid Bikes
First up is the women cruiser hybrid bike from Schwinn. Renowned for its quality and performance; the Schwinn discover hybrid bikes is an excellent choice for urban commuters.
Combined with 21-speed gears with a unique suspension fork to cushion the gear and shocks. It provides excellent and smooth-riding experience with full control over bike speed.
This comfortable hybrid bike features a built-in rack, autonomic grips and a comfortable sport seat with aluminum frame construction. It is quite balanced, rugged and can easily cope with rough trails.
Moreover, it includes Promax alloy linear brakes for excellent and smooth braking experience in hilly and urban settings. Although its quite heavy it is pretty comfortable for the long distance.
So ask your grandma to leave her chair and enjoy a short ride on this hybrid bike for health and enjoyment. I personally feel it is the best commuting bike for all age groups.
Some of the key strengths of this bike are; strong aluminum body, durable construction, suitable for all user types, beautiful retro looks, comfortable seats, and great braking system.
Overall, it's a strong bike for seniors who are still fit enough to take full advantage of its capabilities. Easy to assemble and upgrade it can be customized anytime to give a rather personal touch.
Schwinn Discover Hybrid Bikes: Check Its Price On Amazon!
2. Ride1UP 700 Series Electric Bike
The RIDE 1UP 500 deserves to be on this list of the best bike for 60 year old woman and you'll see why. It represents the quality, strength, and comfort of riding.
Be it the powerful motor, sleek design, long-range, superior battery life, quick charging, and strong construction it makes your transition a little more comfortable from a car to bike.
It's not the best bargain for the price neither do you have a long list of cool features. But when it comes to a nice dependable Electric bike for seniors it tops the chart with flying colors.
The RIDE 1UP 500 is among the few E-bikes which can cross the mark of 25 mph.
It makes it fast and great for leisure/daily commute; while the tires provide superior grip and control you need when going really fast. In addition, the mechanical disc brakes keep you safe.
One of the unique features of this bike is its three-level paddle assist system. It gives you more flexibility in terms of physical effort or workout potential.
This bike is pleasant to ride, is great for a daily commute and takes the least time to recharge. This means the average person needs to worry less about charging and focus more on themselves and their work.
It includes a 48V 10.4AH battery that lasts long and charges in just 3 hours.
Thanks to its attractive design its most appealing for those who want to switch from a car to bike for their daily commute to work. Overall it's a well-designed bike to meet the needs of seniors and daily commuters.
Ride1UP 700 Series Electric Bike: Check Its Price On Ride1UP Website!
3. Sixthreezero EVRY Journey Women's Cruiser
If you are looking for something reliable and satisfactory rather than another cheap bike; this step-through model with classic design is an ideal choice for women riders.
There is no doubt on its performance and satisfaction; whether be it upright riding position that ads up to comfort or its retro look with minimalist features that make it quite enjoyable.
Built with cruiser configuration it is easy to peddle and frame geometry helps take the tension off major joints.
Thus it offers shock-free riding experience making it one of the most comfortable bikes in the market. Its unique high-quality front suspension will allow a smooth shock-free ride on the bumpiest terrain.
After that, its 2-inch slick tires make it possible to go over common obstacles on a regular commute. The aluminum frame gives it a much lighter finish with rust-free capabilities.
Sixthreezero EVRYjourney is designed with senior women in mind. It features a shock absorption system that makes it exceptionally well on rough terrains. While the rear rack helps a ton with carrying capacity. Available in a variety of colors and styles it looks pretty attractive.
The lightweight aluminum frame with upright riding position enables a comfortable ride across flat terrain. While its raised handlebars and front fork helps with control on roads.
You'll be glad to know it came with an illustrative manual and is easy to assemble. Overall it is one among the nice step through bikes for the senior woman in between 50-60 age.
Sixthreezero EVRY Journey Women's Cruiser: Check Price On Amazon!
4. Kent Springdale Women's Hybrid Bicycle
The Kent Springdale Women's Hybrid Bicycle is surprisingly light with just 35 lbs weight. Made of an aluminum frame with float adjustable stem its light, durable, and efficient by design.
Fitted with 700x32c tires it can handle any terrain and provide a smooth ride with excellent traction. Technically Kent Springdale is one of the top quality mid-range hybrid bikes for senior women. This hybrid bike is a great fit for someone who wants to ride from A to B in style.
The bike came with an alloy quick release seat clamp mechanism that gives it the flexibility to adjust the seat for maximum comfort and satisfaction.
While the front and rear V-Brakes provides the best braking system for the price. The 21 shift gears give you more power and speed while keeping you safe at all times.
If you have no experience assembling bike it can be a hard one thanks to its poor and confusing instruction manual. But there are many YouTube videos to learn from and can always ask your mechanic for help.
It's upright siting position supports your back while the step through design makes it easier to hop onto. The fenders come in handy protecting from dust and water so it does not sprinkle to reach you. While the rear rack came in handy carrying load from point A to B.
On the downside, the bike came in one frame size making it unsuitable for riders below 5'3″. That is not much to complain about for average riders considering the joy and comfort it offers.
Kent Springdale Women's Hybrid Bicycle: Check Price On Amazon!
5. Pure City Classic Step-Through Bicycle
If you are going to biking after a long period of time; I would suggest this bike to you. Idle for 60 year old woman it is all about comfort with the power of the 8-speed gearing system.
Unlike other step-through bikes, it's very light, comfortable, and easy to ride. just 35 lbs in comparison with 45-55 lbs bikes mentioned above.
Available in four different styles it features a hi-tensile steel frame. This makes it light and durable. It is a well built lightweight bike that looks beautiful and modern.
Made especially for smooth riding; it is one of the most comfortable bikes for starters. Plus it is easy to assemble with no prior knowledge or skill. This also includes a metal rack for over the back fender.
The upright riding position with easy step-through access; make it suitable for seniors. This prevents you from having to lean over the handlebars; thus helps avoid unwanted neck and back pains.
Some of the key features of this bike are; comfortable and good looking, lightweight, true unisex bike, easy to hop on seats, adjustable handlebars, 8-speed gears, alloy brakes, ergonomics, and an all-purpose city bike.
For city commute or a casual ride around the neighborhood meeting friends; its the best versatile bike that you can get for an elderly woman in between the 50 to 60 age group.
Pure City Classic Step-Through Bicycle: Check Its Price On Amazon!
6. Retrospec Venus Dutch Step-Thru Bike
If you are looking for something basic but pretty solid; you should rather give this a try. It's a modern single-speed hybrid bike designed for the average urban rider.
The one who enjoys straight forward components, full customization, high-quality parts with a retro aesthetic.
The single-speed is just great for smooth cruising on flat road and busy traffic. While the rear coaster brakes make it simple and easy to operate. Above all, its lightweight step-through steel construction featuring a shock-absorbing system that works great with the elderly.
Thanks to its mustache handlebars, Deep-V rims, freestyle pedals, large comfortable seats, and vegan leather grips. It gives you a feel of beach cruiser; i.e: uninterrupted smooth ride with relaxed riding style.
The Retrospec Step-Thru Bike is straightforward when it came to assembly. It came with all the tools you need and it takes just common sense to know what to do next.
I have to admit, being a single-speed cycle it can be a little bothersome to take them to the hill.
But you don't need much more for a daily commute; especially when you have to deal with urban traffic. In addition, having a lightweight frame with 30mm deep-v rims; it is quite easy to control and balance.
Overall, when compared to the other great step though bikes; it definitely worth checking. Especially if you endure features like; smooth handling, premium quality, stylish retro look, and lightweight design.
Retrospec Step-Thru City Bike: Check Price On Amazon!
7. NAKTO 26″ 250W Cargo Electric Bicycle
It's a high-quality performance bike cruiser idle for casual riders. For a 60-year-old woman starting out can be really difficult especially if she has knee or back issues. But by using an electric bike like this can be made simpler. The pedal-assist system makes go faster for less effort and is gentle on your knees.
With a maximum speed of 30 mph, it's quite fast even for an E-bike. Powered by 250 W motor with a six gear transmission system; it offers greater flexibility in terms of speed control.
It includes a quick-release lithium battery that lasts long and is easy to charge. This bike takes around 5 hours to charge and usually go for the next 16 miles per charge. The bike weighs 50 lbs and can easily handle weight up to 300 lbs; quite decent for carrying the everyday load.
This bike can operate under two-mode; one fully automated e-bike and another assisted bicycle mode. The NAKTO 26″ features front V and rear expansion brakes.
The tires are anti-slip and wear-resistant offering better grip and control on road. In addition, it features a six gear transmission system; that offers greater flexibility in terms of speed control.
Some of the key features of this bike are; comfortable, easy to hop on and off, long battery life, rugged construction, durable, six gear transmission system, front V brake, adjustable handlebar, and seats.
Overall it's fun to ride, has fairly decent speed, has good power, and is good value for the price. A true hybrid bike that works great for old people. This bike can operate under three different modes work with and without peddling with full-auto, semi-auto, and manual mode.
NAKTO 26″ 250W Cargo Electric Bicycle: Check Its Price On Amazon!
8. Schwinn Mikko Step-Over Beach Cruiser
Schwinn is possibly the oldest and most reputable brand in the world. They are so reliable and unique in their own league; we consider it the standard of quality. The Schwinn Mikko Step-Over Bike is one of its series of high-performance hybrid Beach Cruiser to suit the needs of a 60 year old woman.
If you are looking for something reliable and satisfactory rather than another cheap bike; this step-through model with classic design is an ideal choice for women riders.
Its step-through design and great looks make it famous among female riders and the elderly. The lightweight steel construction and 26-inch tires make it suitable for medium and tall height fit.
It is designed with swept-back handlebars, comfortable sport seats, and ergonomic rubber grips for convenience. Further, it also includes Schwinn alloy crank and Schwinn suspension fork as their construction features. This makes it idle to explore long-distance with a wide range of riding tracks.
Its low swooping frame and step-through design make it easy to hop on and off irrespective of your dress. It's the sort of bike one would usually see for leisure commute, at beaches, and on a college campus.
The 7-speed drivetrain with twist shifter ensures fast and smooth gear shifting while its intuitive rear coaster brake provides great stopping power. Together you feel like keep cycling as it goes fast as you peddle and will stop right there you apply your coast brakes.
Overall the Schwinn Mikko Step-Over Beach Cruiser is a great machine optimized to ensure a comfortable riding experience with its ergonomic frame design, cushioned seats, and upright riding position.
Schwinn Mikko Step-Over Beach Cruiser: Check Price On Amazon!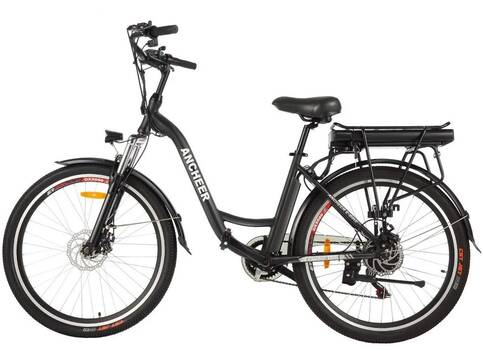 9. ANCHEER Commuting Electric Cruiser Bike
This 26 Inch electric cruiser is great if you are planning for a senior bike tour. Built for commuting in town this e-bike is high quality, sturdy and light made of 100% aluminum alloys.
When it comes to the best electric bikes for the price; there is no match to ANCHEER Commuting Electric Cruiser in functions, performance, and mileage.
Built around a lightweight and rugged aluminum alloy frame its durable, versatile, and feels easy to ride. Its unique sock absorption technique and front suspension fork provide unexpected riding comfort. While the curved handlebars with extended seams add to its cornering capabilities.
This bike has three modes which are normal bicycle, assisted bicycle and E-Bike. You can choose the E-bike to enjoy long leisure rides maxim assistance, with assist mode you got minimal pedal assistance and you better choose bicycle mode for exercise or every time you wish to use it as a regular bike.
Robust in design the aluminum frame made it light, strong and easy to maneuver while the carbon steel fork gave it additional strength to sustain heavy loads.
Designed to take 300 lbs load; It can easily take on as much as 400 lbs weight without breaking.
Furthermore, it includes a 36V 7.8Ah removable battery that powers the 350W gear motor. With a maximum speed of 20 mph, it gives an excellent range of 30 miles per charge.
ANCHEER Electric Cruiser Bike: Buy Directly From Manufacturer! or Check Price On Amazon
10. Ecotric Peacedove white Electric City Bike
Want to go out for a ride with your pug or need someplace to store a water bottle as you ride. This electric bike with a large upfront basket is idle for your daily biking needs.
The power assist mechanism makes it easier to ride, sweat less and travel longer distances. Well designed and sturdy it is fit for both on-road off-road experience.
The biggest strength of Ecotric Peacedove white Electric City Bike is that it works just fine. Equipped with 36v 10AH battery powering 36V 350W Rear Hub motor these are powerful and fun to ride. Be it paved road, dusty pavements, gravel or wet ground; it performs well and provides maximum power.
Thanks to hydraulic shocks and 7-speed Shimano gearing you will feel hooked riding regularly all over the place. And thanks to its powerful battery it will outlast your longest rides ( 25 miles per charge ).
The best part, the battery is removable, so you can take it in to charge between rides.
If you think whether it can climbs hills with ease; I must say its built like a tank; well made, durable, can take quite an abuse, keeps the shocks off your body, and feels super sturdy.
Overall it's a comfortable bike with good night visibility, fast charging, and lesser maintenance.
Ecotric Peacedove Electric City Bike: Buy Direct Form Manufacturer! or Check Price On Amazon
How To Choose The Best Bike For 50-60 Year Old Woman
When you are buying any new step-through bike to be used by elderly women. There are a few major things one should always keep in his or her mind.
In other words, to make an educated decision its important to know and ask what is your need? A woman who is just getting older ( 40+ ) has different needs than a senior ( 55+ ).
Will the large size enough for my height? , What material is the frame made from? , Can you sit straight up on this bike? , Is it the kind of bike fit for trips to the grocery store? , How comfortable is it?, Is it in your budget? , Its key features? , How much does it weigh? , Is the one worth with regards to durability/quality, etc.
These are some important questions you should ask yourself; before making any final decision.
We have thus reviewed and listed the above products based on these parameters. I personally research and tested each step through bikes on each parameter and ranked accordingly.
In addition, I have personally looked at their frame, comfort level, seats, suspension, power/charge ( in case of electric ) and fit before making our final list. Since they are some of the basic necessities of any modern bike. They were Our first priority while preparing the above list.
Our first priority while preparing the above list was its features then; durability, quality, comfort, sitting position/fit, suspension, gears, weight, speed, customization, cost, ease of assembly, construction material followed by all other aspects of a modern bike.
Overall I have come up with a list well suited for a senior woman between 50 to 70 years.
Benefits of Cycling For Seniors
With strokes, high blood pressure and heart attack being the common cause of death among seniors. Everyday cycling is a great way to boost your heart capabilities and reduce the risks. In fact most heath experts believe cycling to be the best exercise for seniors.
And I say; why not after all its an exercise that is fun to do, does not put stress on your joints/body, reduce the effects of aging and is a good way to commute.
Combined with other positive lifestyle changes this can be a real game-changer. One important finding published on www.cycleplan.co.uk states a simple act of cycling can help you make as many T-cells ( An integral part of the adaptive immune system triggered in response to antigens ) as younger individuals.
The best part cycling can enhance overall well being and give a sense of purpose in life. After all its second most thing after healthy lifestyle that can keep you happy and young at heart.
Further in a UK based study of 260,000 individuals have shown regular exercise such as cycling helps protects telomere length. Shortening of which can cause accelerated aging and cell death.
Plus, you get other exercise benefits too, like it reduce obesity, helps maintain body strength, is good for the memory, is a good way to socialize, improves balance and improve overall well-being.
Frequently Asked Questions?
Q.1. What size bike do you need?
Ans: To find the correct bike size for yourself you first need to measure your height. A bike is measured from its seat post to the crank. For the latter, you need to take your inside leg measurement. You can use either of these two methods and use bike size charts to find the idle size.
My personal favorite method for the same is by looking at its wheel size. A normal range for a 700c or 26-inch wheel is 5'3″ to 6'2″. Similarly, for a 24-inch wheel, the appropriate height is 4'6″ to 5'5″ and 4′ to 5′ for a 20-inch wheel without adjusting the default seat position.
Q.2. Is bike riding good for seniors?
Ans: If you are getting old or already crossed 60; you have seen a significant decline in your muscle and weakening of heart and lungs. If you are still physically active and want to improve your situation; riding a bicycle is your best option as unlike walking or jogging cycling does not stress the joints.
Riding bicycles came in easy that does not need the same effort as traditional workouts. It's comfortable, can be used for transportation, is fun to ride, preserve strength and helps maintain good health.
For this segment of the population more traditional bikes with an upright sitting position are well suited. Doing cycling on a regular basis can slow down the progression of aging.
Q.3. What type of bike is easiest to ride?
Ans: There is no doubt on this that an electric bike with a step-through design is easiest to start riding again in senior years. But not everyone believes they are equally beneficial considering they assist pedaling. So let's consider only the traditional bikes for a while.
Almost everyone knows cycling is good for our health. This low impact cardio workout is a great way to start especially if you do not want to go for more intense exercise at the beginning.
When it comes to fitness any form of biking will be a great option; be it traditional bike, road bike, hybrid or mountain bike. But since hybrid bikes have three gears in crank-set rather than two; it goes a little faster and feels more easier to ride than a typical mountain bike.
Q.4. Are Electric Bikes Good for Fitness?
Ans: Yes you can use your e-bike for fitness goals and it aren't cheating. On average 30% of senior who try regular bikes quit cycling after one week. An electric bike offers low to medium intensity workout that too without stressing your body or major joints.
Studies conducted across the years have now proved that e-bike riders go more on cycling than their non-electric counterparts. So even when you burn 25% less calories per ride on e-bike. You end up burning more in total by the end of the month that too with much more fun.
Using electric bikes is just like riding any other bike but with 30% less effort. So its a good way to exercise without worrying of muscles cramp or getting too tired.
Also Read,
7 Best Semi Recumbent Bike (For Old Rider) | Review & Comparison
Best Step Through Bikes For Seniors 2023 | Review & Comparison
Best Electric Bikes For Seniors in 2023 | Review & Comparison