The cruiser bikes are super-comfortable for both short and long rides. The big comfy seat and high handlebar give you a smooth ride even on a bumpy road. The best part of riding a cruiser bike is that it lets you sit upright and enjoy the views of nature all the way.
Typically, they come with fenders that allow riders to comfortably ride during or after a rainstorm without getting a black strip on the rider's back.
The cruiser bikes are quite versatile; you can ride them on a sandy beach, plain, or even gravel road without compromising the performance. Compared to other bike types, cruiser bikes are pocket-friendly.
This article will discuss the various aspects of a cruiser bike, right from things to consider before purchasing one, do they have gears, and recommend the top five cruiser bikes.
So, read on to find more about cruiser bikes:-
What is a Cruiser Bike?
Popularly known as the beach cruiser, a cruiser bike is an amalgam of balloon tires, a single-speed drivetrain, premium steel construction, upright seating position with aesthetically stylish exteriors.
As the name suggests, they are cruising at a relatively low speed. The frame of a cruiser bike is a bit larger than other bike types for a more leisurely ride.
The cruiser bikes are in high demand among vacationers and casual cyclists because they are easy to ride and quite stable. Another worth noting feature of cruiser bikes is that they are customized with features such as saddlebags, fenders, and lights.
These bikes are primarily manufactured for riding on paved roads, with moderate speed & distance.
The cruiser bikes were popular throughout the United States from early 1930 through the 1950s, and again enjoy renewed popularity with upgraded styles and features in the late 1990s.
These days, cruiser bikes are affordable, stylish, and comfortable to ride every day.
The seating is comfortable because they are well-cushioned & oversized; plus, it allows them to move and act like a shock absorber.
They also come with a dual-spring system for a great riding experience you dream of.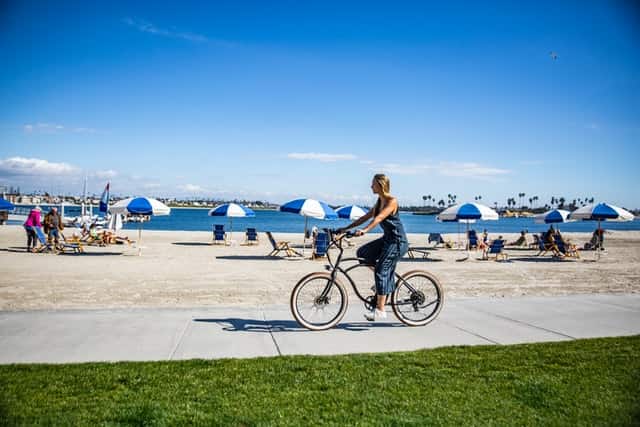 Do Cruiser Bikes Have Gears?
Yes, every cruiser bike has gears, at least one. Since gears are also known as speeds, one gear cruiser bike is commonly known as a single-speed cruiser.
Typically, the cruiser bikes come with seven gears that allow the biker to ride both up and down the hill without any discomfort as you adjust the hearts as per your convenience.
The multi-gear cruiser bikes are more efficient to use, as they can be accelerated effortlessly and move much faster. Thus delivering a reliable, smoother ride than a single-speed cruiser bike.
But a large number of cruiser bikes also comes with single speed gears. These are typically preferred for urban commute and recreational use they are easy to maintain and use.
If you are riding on hilly terrain or rough roads, you need more than one gear; others riding a single-speed bike will be one heck of a challenge.
The cruiser bikes with multi-gears don't require much maintenance, but when it does it's expensive as the wear & tear from riding is distributed among the multiple chainrings & gears.
What Are Cruiser Bikes Good For?
The cruiser bikes are best-suited for city riding and light trail excursions. They are highly recommended for a low-speed, low-impact ride on paved lanes and dirt paths.
These upright-style bikes are most recommended daily, and long rides always remain upright as your back. The padded, oversized seat lets you sit on it comfortably, even on a humid day.
The thick balloon tires are strong enough to roll over debris roads without punctures. Be it daily for workout or leisure rides on weekends, the cruiser bikes are versatile for multi-purpose use.
The wide tires make them perfect for riding on beach & gravel roads.
The cruiser bikes are a great way to stay active. Not only, it gives you a full-body workout, but it also increases flexibility, reduces mental blocks, and fights fatigue.
Most cruiser bikes come with at least a single gear, so you can ride both up and down the hills.
The cruiser bikes also provide extra space to install a bike rack, perfect to tag along with your summer essentials as you hit the seashores.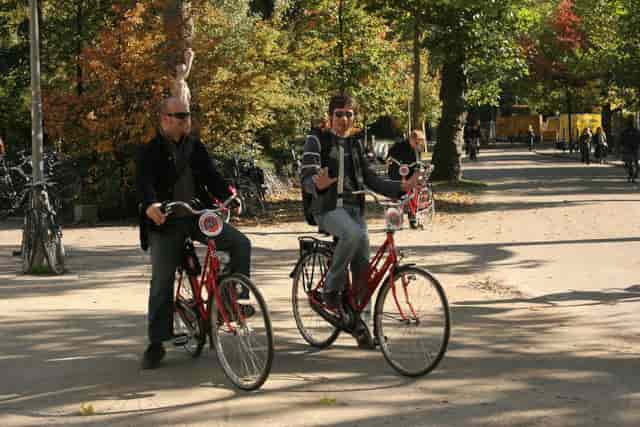 Cruiser vs. Comfort Bike: What's The Difference?
In comparison, the cruiser bikes are way more aesthetically-appealing and look premium. However, in terms of versatility, the comfort bikes hold the edge because of the suspension forks and extra speeds.
The cruiser bikes are highly recommended to maintain since they have fewer parts. Besides, the chain can be encased in an internal hub. Therefore, no maintenance is needed.
However, both bikes are quite comfortable and provide extra stability for newbies and pros. Both the cruiser and comfort bikes come with an upright position useful for gentle exercise or short errands.
Deciding between comfort or a cruiser bike depends on one's personal preference & needs. If you reside in a flat area or near a beach, the cruiser bike will perfectly suit your needs.
On the flip side, if you live in an area where there is varied terrain and travel faster for great distances, then a comfortable bike is the best-fit.
Are Cruiser Bikes Good For Hills?
Yes, cruiser bikes can go uphill but it won't be fast as you like them to be. If you generally ride up the hill, you need a multi-speed cruiser bike, as the gear can be shifted during the ride.
The cushioned seat with little movability allows the rider to feel the shock by absorbing it. The wide tires are strong to ride on a bumpy road with minimal discomfort.
Besides, compared to other bike types, the cruiser bikes require less maintenance, no matter how rough and tough your daily usage is, as these bikes come with fewer parts.
Make sure to check out our top recommendations, as these cruiser bikes are perfect for riding uphill. You can always talk to your biker friend to best advise you on choosing a cruiser bike that is best-suited for a hill ride.
Is a Cruiser Bike Easier To Ride?
Yes, the cruiser bikes are much easier to ride without a dilemma; they are tough, sturdy, and deliver a smoother & comfortable ride.
The cruiser bikes have a relaxed and a more distinctive look and have an upright seating position, so you won't return home with back pain after a ride.
The cruiser bikes are apt for casual cyclists, those who peddle for recreational purposes and prefer to travel slower, unlike a traditional road bike.
The cruiser bikes come with balloon tires heavier than the conventional road bikes.
Even if you're a beginner, you can easily learn to ride a bike and always feel confident & stable on a cruiser bike, no matter how rough the road ahead is.
The cruiser bikes are better best-suited for short, leisurely rides. These bikes are way more versatile than road bikes, as they can handle slick surfaces, gravel, and pavement fairly well.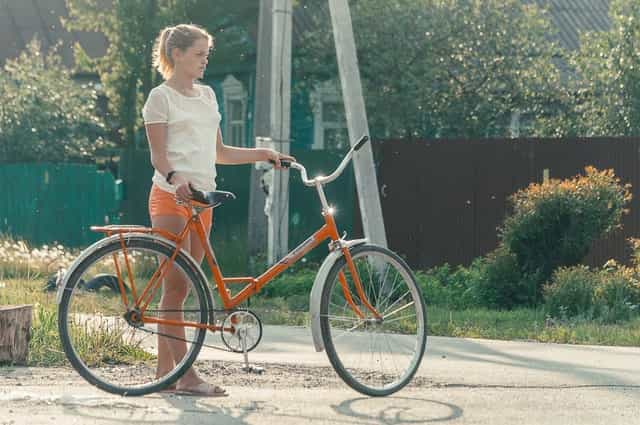 Are Cruiser Bikes Good For Beginners?
Yes, they are the best bikes available in the market for beginners because of their comfortable seat and widow tires that deliver a smooth and off-road experience.
They are excellent choices for diverse age groups as they can be ridden easily in various places, simple to learn & maintain. Be it the single or multi-gears, the cruiser bikes are super-easy for beginners, just pick up and ride, no rocket science involved.
Most of the beach cruiser bikes are easy-peasy to pedal forward to move ahead and pedal backward to stop; it's much like the first bike you rode in your childhood.
They are perfect for both beginners and expert bikers alike. The cruiser is simple to tune & adjust, doesn't get damaged, unlike the conventional carbon steel bike.
There are plenty of options for cruiser bikes; you can pick one that compliments your ride and is comfortable to ride. To know what things to consider when buying a cruiser bike, read on to find out.
How Fast Can Cruiser Bikes Go?
It depends upon a myriad of factors, right from the terrain you are riding on to the cyclist's weight. On average, the cruiser bike can go between three to fifteen miles per hour.
One thing to note is that cruiser bikes, compared to the traditional road bikes, are a bit heavier, therefore require extra legroom to constantly run at high speed.
Therefore, beginners find it difficult to travel at a very high speed initially.
But, on the bright side, you'll be building your leg muscles; it is one heck of a fun workout, you can do it daily to build your lower body strength.
You can fly on these bikes on flat terrain with no or minimal wind. If you want to ride faster, you keep an eye on the cruiser bike's weight when purchasing one.
What Should I Look For In a Beach Cruiser?
Here are key features you should consider if you are searching for a good cruiser bike.
Quality, Strong Frame
Without a dilemma, the last thing you want is the falling part of your bike frame in the middle of a ride; it is essentially important for long tours. Ensure the cruiser bike is made out of the finest quality of hi-tensile steel as the bike frame.
Multi-Speed Cruiser Bike
The best-selling cruiser bikes come with a multi-gear transmission system, making them versatile to ride smoothly on flat, rough, and hilly roads.
The multi-gear options make these bikes better for hilly terrain. Further, they are best because the biker needs not to pedal constantly. You can accelerate and ride fast without sweating.
The multi-gear cruiser bikes need minimal maintenance, as the weight is distributed across the chains and multiple gears. Compared to the single-speed gear, these bikes are way more resilient and less prone to wear and tear over time.
Comfy Saddle
The stock saddles can undoubtedly make anyone sore. These saddles are not comfortable and not designed for our body shape. Fortunately, with cruiser bikes, we get a wide comfort that will let the biker ease off your body pressure as you sit on it; this ultimately results in high quality of the ride.
Grips
When it comes to griping, each one has its preference. However, many prefer the thicker grips, as they are easier to handle. The most popular types of grips are gel, rubber, cork, alloy, or leather.
5 Best Cruiser Bikes For Daily use
1 ) Sixthreezero EVRYjourney Women's Hybrid Cruiser
The sixthreezero EVRYjourney Women's Hybrid Cruiser bike is an unmatched combination of timeless style and pure comfort. Its innovative step-thru design delivers a seamlessly smooth ride every time.
It also comes with several built-in accessory attachment options, so you can customize your bike according to your personality and requirements.
It has wide 26-inch wheels and a 19-inch strong aluminum frame; you can take this cruiser anywhere. The custom black dual-spring saddle seat is well-cushioned for best comfort.
This cruiser bike is carefully crafted with a low gravity center, has a sleek design, and ensures that your back remains upright and proper leg extension is maintained.
What are its Pros?
Robust and versatile aluminum frame design.
The aesthetics of this cruiser steals the show.
Ergonomic saddle design makes it easy to ride.
The tires & wheels of this bike ride smoothly.
The colors and aesthetics are top-notch.
What are its Cons?
Completing the assembly of the bike can be challenging.
Women Specific.
2 ) Firmstrong Urban Man Beach Cruiser Bike
This classic-looking, elegant Firmstrong Urban Man Beach Cruiser Bike is easier to ride if you want to have fun as you move around.
The cruiser bike comes in two frame sizes, one is 24-inch, and the other is the 26-inch frame. The 24-inch framed size is best-suited for not so tall men.
The 26-inch frame is ideal-size for taller men and women. The Firmstrong Urban Man Beach Cruiser Bike comes in three-speed variations; one is the single-speed, the other is three-speeds, and finally, seven speeds.
The rugged, steel-frame is resistant and durable to rust. Firmstrong Urban Man Beach Cruiser Bike's brakes enhance its versatility and maneuverability.
The rider sits upright, allowing the pressure to be taken off the back, thus saves you from lower back pain.
What are its Pros?
It comes with a soft & comfortable seat.
An impressive combination of classic & high-quality design.
The handlebars offer a foam grip.
Good riding speed of 3 to 15 miles per hour.
What are its Cons?
It was slightly challenging to shift gears.
Men Specific.
3 ) Sixthreezero Relaxed Body Recumbent Comfort Bike
Your search for the best cruiser bike is going to end at the sixthreezero Relaxed Body Recumbent Comfort Bike. It provides the ultimate comfort in riding every day.
As the name suggests, the bike keeps the body in an upright position, which is ergonomically correct, and with ease on muscles and joints.
The forward pedaling, low-stretched design will ensure proper leg extension. The handlebars adjust close to the body, so there is no need to strain, reach or stretch.
Thus, your elbows, hands, and shoulder will be in a position, which is entirely tension-free. This cruiser bike's aluminum frame is light in weight that ensures easy maneuvering.
The front and rear hand brakes deliver smooth stopping every time.
The seat height and stem is adjustable, which means the rider in the height group 5 to 6'4′ can easily find their ideal configuration for comfort. It is a true value for a money cruiser bike.
What are its Pros?
Uniquely designed relaxed frame.
Seven-speed gear system.
Linear pull brakes.
26-inch wide wheels.
Reduces joint and muscle tension.
What are its Cons?
Challenging to ride up hills
Women Specific.
4 ) Firmstrong Urban Lady Single Speed Cruiser
Firmstrong Urban Lady Single Speed Cruiser is a classy, sophisticated bike that is easy to ride and can withstand city riding rigors or changing terrain around the city.
It provides everything a woman wants in her bike, right from the great fee and look, comfortable riding, and comes with several customization options.
It is a top-tier cruiser bike that is carefully manufactured to perform on and off-road. The Firmstrong Urban Lady Single Speed Cruiser's oversized and wide seat provides you complete comfort, and dual springs support a soft and cozy ride, even on rough roads.
It is highly versatile and can be ridden on various pavement and even up the hill. The 17-inch steel frame of the Firmstrong Urban Lady Single Speed Cruise features a feminine-friendly top tube design.
What are its Pros?
Light in weight.
Female-friendly design.
A visually pleasing design.
The outstanding braking system.
5 ) Schwinn Disney Adult Classic Cruiser Bike
The Schwinn Disney Adult Classic Cruiser Bike is perfect for cruising around the neighborhood, hilly terrain, or busy city roads.
This bike comes with a rear coaster brake and single-speed drivetrain, making this bike easy to ride.
The Schwinn Disney Adult Classic Cruiser Bike features a larger cruiser spring saddle and low step-through frame for a smooth, luxurious ride.
The rise stems and laid-back seat post provide a comfortable ride. The bike fits riders 5 ft 4 inches to 6 ft 2 inches tall. It is a budget bike that presents you with all the features you expect in a cruiser bike.
Less maintenance, and durable enough to function optimally for years.
What are its Pros?
Levelers and transport wheels
Great-looking
Adjustable handlebars & seat position.
Speedometer and odometer.
Media holder for a mobile device or magazine.
What are its Cons?
Only seven resistance levels
Suitable For Disney Lovers Only.
Conclusion
I hope you liked the article; we discuss so many things about a cruiser bike, starting with what it is, does it have gears, are they good for riding on hills, how fast they can travel, and above all what to consider when you are purchasing a cruiser bike.
In this article, we also reviewed top-selling, most-recommended cruiser bikes to simplify buying.
We mentioned each cruiser bike's pros and cons, so all you've to do to first decide on your budget, know what features you want, weigh your options, and then make a well-informed decision.
Do you've anything to add to this list, do share it with us in the comment section below?
Happy Riding!
Also Read,
Are Cruiser Bikes Good for Long Distance Rides?
Best Electric Cruiser Bike For Summer 2023 | Review & Comparison
10 Best Cruiser Bike For Women in 2023 | Review & Comparison