With a seemingly endless range of bicycles available, it can be difficult to decipher exactly what kind of mountain bike best suits you and your cycling needs.
This abundance of options can be overwhelming, especially with terms like 'enduro', 'fat bike' and 'cross-country' being tossed around by blogs and sites like this one.
To help clarify the matter, we've broken down all the different types of mountain bikes that are available today – from trail and enduro to cross-country and downhill bikes to fat bikes, electric bikes and more!
Whether you're looking for speed on single track, tackling rugged climbs or planning an adventure off road—read on to discover which type is right for you!
Cross Country (XC) Mountain Bikes
Cross country mountain bikes, commonly known as XC bikes, cater to riders who prioritize pedaling performance and efficiency above all else.
These versatile machines are designed to be fast, lightweight, and maneuverable, making them the perfect choice for those planning to spend long hours pedaling and tackling challenging climbs.
As the emphasis is on uphill performance, XC bikes may sacrifice some downhill capabilities, but this trade-off is a conscious decision made with their primary riders in mind.
With a wide range of options available in the market, the more advanced and costly XC bikes make for ideal racing partners on a variety of mountain bike trails.
On the flip side, the more affordable models serve as excellent entry points for beginners or those looking to ride simple trails or roads.
Most commonly found in a hardtail configuration, featuring front suspension only, there is also a generous selection of full-suspension XC mountain bikes to cater to every rider's preference and needs.
Trail Mountain Bikes
Trail bikes undoubtedly reign supreme among mountain bike enthusiasts, as they encompass the perfect fusion of climbing prowess and descending capabilities.
Recognized as the quintessential all-rounder of mountain bikes, it's no wonder that they consistently top the sales charts in countries with impressive mountain ranges.
Although slightly bulkier and not as nimble as Cross Country mountain bikes, trail bikes compensate with their unparalleled stability and sturdiness while navigating downhill terrains.
The addition of both front and rear suspension, transforming them into Dual or Full Suspension mountain bikes, further amplifies their appeal.
Accompanied by a choice of either 27.5″ or 29″ wheels and suspension travel varying between 120 to 150 mm, trail bikes truly manifest the Swiss army knife spirit of mountain biking in all its glory.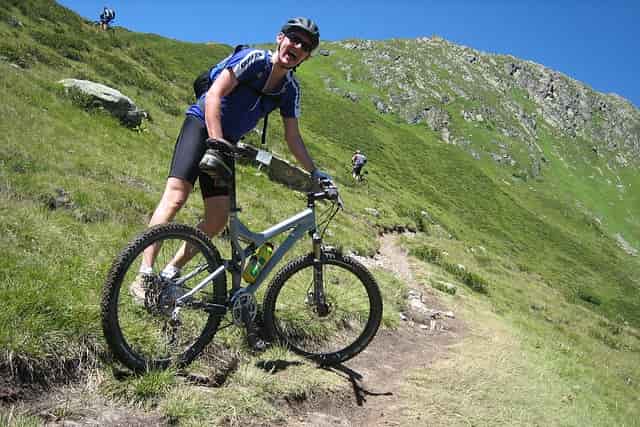 All Mountain or Enduro Mountain Bikes
Enduro Mountain Bikes, often referred to as the burly cousins of trail bikes, have been designed to navigate challenging and fast descents.
These all-mountain bikes have garnered immense popularity as the cornerstone of the racing format known as "Enduro," where riders need to climb but are only timed and scored on the thrilling downhill sections.
With 27.5″ or 29″ wheels, these bikes are tailored to elevate the downhill experience for adrenaline junkies. The front and rear suspension, with a travel range of 150 and 170 mm, ensure a smooth yet exhilarating ride.
Although the term "Enduro" may lead some to believe these bikes are meant for long mountain rides, that is not the case; riders embarking on mountain bike marathons should choose Cross Country bikes instead.
While trail bikes are versatile, Enduro mountain bikes stand out with their distinct inclination toward downhill performance, making them the perfect choice for those seeking thrilling off-road adventures.
Downhill Mountain Bikes
Downhill mountain bikes represent the epitome of adrenaline-fueled excitement in the world of cycling.
Specifically designed to conquer steep, rugged terrain with ease, these formidable machines enable riders to achieve staggering speeds and execute impressive jumps and drops.
The cutting-edge technology behind downhill bikes prioritizes speed and precision, allowing daredevils to traverse even the most treacherous terrain with the utmost confidence.
Boasting a sturdy and weighty construction, these mountain bikes possess an ideal saddle position for swift and uninterrupted descents.
Built to cater to adrenaline junkies who have no interest in cycling uphill and possess the requisite skill to navigate high-velocity situations, downhill mountain bikes are for those seeking thrilling biking experiences.
These bikes all have dual suspension i.e both in front and rear, with travel ranging between 170 and 210 mm. Further riders must arm themselves with full-face helmets riding them on trails.
Fat Tire Mountain Bike
Fat tire mountain bikes are the ultimate adventurers' companions, perfect for those who yearn for thrilling off-road experiences while being confidently in control.
These innovative bikes boast exceptionally wide tires, specifically designed to effortlessly conquer the most challenging terrains, from sandy dunes to snowy trails.
Their popularity is not only attributed to the remarkable adaptability, but also to the eye-catching rugged aesthetic, attracting both daring outdoorsmen and those seeking an exciting alternative to conventional cycling.
Remarkably, fat bikes are typically built without any suspension ( rigid mountain bikes ) as the substantial, cushioned tires provide ample shock absorption.
Mountain Bike Categories
All mountain bikes fall into one of these three categories:
1 ) Dual Suspension Mountain Bikes
Experience the ultimate comfort and control while conquering rugged terrains with dual suspension mountain bikes, a fantastic innovation in the world of cycling.
Boasting a suspension fork in the front and built-in suspension in the rear triangle, these full squish bikes alleviate the strain on your body from bumpy trails, providing a smoother, more enjoyable ride.
Their versatile design allows them to tackle a wide variety of landscapes, making them an excellent choice for adventure seekers who value both performance and ease.
Although dual suspension mountain bikes may have a slightly heavier frame and higher price tag due to advanced components and technology.
The trade-off is well worth it when you feel the exhilaration of navigating technical, bumpy downhills with increased control and finesse.
Recommended: Diamondback Full Suspension Mountain Bike ( Check Price On Amazon )
2 ) Rigid Mountain Bike
A rigid mountain bike is the complete opposite of the full-suspension mountain bike. These bikes come without any suspension and do not absorb the bumps you may encounter on difficult terrain.
However, they are extremely precise when it comes to handling and are perfect for riding across long distances. Moreover, their strong and rigid frame is sure to give you supreme control while riding.
Although this bike may cause you to have a less comfortable ride, its non-dynamic frame movement is sure to equip you well to take on a precise course.
Additionally, this bike will not burn a hole in your pocket and will ensure you can take on a detailed path with ease. These bikes are preferred by beginners biking on easy to moderate trails.
They can be further divided into classics mountain bike or fat mountain bike.
3 ) Hard Tail Mountain Bikes
For those who crave the thrill of off-road adventure, hardtail mountain bikes offer an exceptional combination of affordability and performance.
Unlike full-suspension bikes that feature shock absorption on both the front and rear, hardtails come equipped with shocks only on the front fork.
This design choice not only makes these bikes more economical, but it also provides an optimal balance of lightweight construction, agile handling, and versatile capability.
As a result, hardtail mountain bikes have become the most common MTB version among cycling enthusiasts, catering to riders of all skill levels – from novices to seasoned professionals.
Moreover, the superior maneuverability of hardtails over entry-level full-suspension bikes enables riders to navigate challenging terrains with ease and precision.
Recommended: Mongoose Tyax Comp Rigid Hardtail Mountain Bike ( Check Its Price On Amazon )
How To Choose the Right Mountain Bike
The first step to choosing the perfect mountain bike for you is to determine the purpose you wish for it to serve in your life. Once you have decided on that, it's smooth sailing from there.
It is essential to choose the right size when it comes to the frame as well as the wheels, as these directly impact your riding experience.
Additionally, test rides and research are the most important steps to follow while trying to get your hands on the best mountain bike out there.
Test Ride
When you first get on the saddle for your test ride, pretend you own the bike and try to lay your finger on what feels right and wrong. It makes sense to ride it like it's your own before you invest a large sum of your hard-earned money in it, doesn't it?
Try to adjust the bike based on your level of comfort and take it for a spin. Play around with the tilt of the handlebars and brakes, so that you can attain maximum levels of comfort.
Once you are comfortable with the adjustments you have made, ride it as your life depends on it.
Do not hold back or be afraid of ruining the bike. Try it out on easy terrain at first and then on a difficult one. Make sure you pay attention to how the bike makes you feel.
Do Some Research
With the internet being at our disposal 24×7, doing research is one of the easiest things to do.
So, why not use the wonders of technology to our advantage and read-up on the various types of mountain bikes out there before making a decision.
Once you know the type of bike you want and the features you wish to invest in, purchasing a mountain bike is one step away. Doing your research is sure to help you gain more insight into these bikes.
Reading other customers' reviews is also a part of doing your research, as this helps you make a more informed decision. I'm sure you've heard the phrase, "Life's a climb, but the view's great." Are you ready to make your decision and test it out for yourself?
Also Read,
Best Full Face MTB Helmets For Enduro & Trail Riding