There is nothing better than riding a bike but are folding bikes great too? Whether it's for commuting or fun, nothing beats the feeling of the wind in your hair as you zoom around. But people still doubt if a folding bike can match up to the traditional bike types.
Recently folding bikes are getting more attention thanks to their minamilistic design and ability to fold, carry and store. They look like a great option for commute to work or use within colledge campus.
By now, you must be curious about this type of bike, and you might be asking yourself what precisely a folding bike is? Should I get one? Is it worth the money?
These are all valid questions for anyone interesting in this unique mode of transportation.
In this article, we will talk about everything you need to know about a foldable bike. By the end of this, you will be able to decide if this bicycle is the right choice for you.
This article will discuss the pros and cons, durability, exercise capabilities, commuting capabilities, prices, long rides, benefits, and criteria for foldable bicycles. First, let's jump into the pros and cons of these bikes.
Advantages of Foldable Bikes
First off, let us look at all the good things about owning or using foldable bikes.
Storage: These bad boys can be stored so easily. Because they fold, you can fit them anywhere! Put it right in your bag, and no one will ever know; that is pretty cool.
Acceptable everywhere you go: Most places such as hotels prefer a foldable bike over a regular one; they don't leave as much of a mess. Traditional bicycles are oily and cumbersome, but with a foldable bike that is less of an issue. Plus, it's easier to ride on a bus, train, or plane with one of these.
Security: With foldable bikes, security is not an issue as you will always have it near you. Now you won't have to worry about locking your bike up on a bike rack and risking theft. This will put your mind at ease.
Adventure: Having a foldable bike on you always leaves you ready for an adventure at a moment's notice. You don't have to go home and grab your bike, haul it downstairs or strap it to your car. Just grab your foldable bike out of your bag and go!
Easy to transport: Foldable bikes fit almost anywhere. You can throw it in the back of your car or your bag. Either way, you will not have an issue transporting this bad boy around.
Lightweight: Did we mention this thing is light? A folding bike can weigh anywhere from 24 to 30lbs! Now you won't have to strain your back like you would with a regular bicycle.
Mount and Dismount: Getting on or off a foldable bicycle is easy. With the step frame design, the pedals are lower to the ground, causing the rider to step on and off the pedals with ease!
Mobility: These bikes are highly maneuverable, especially in traffic. A lot better than a traditional bicycle.
Easy to Fold: If this one does not convince you to get a foldable bike, nothing will. They fold in seconds so you can be on your way quickly. This is a massive plus with owning this fantastic mode of transportation.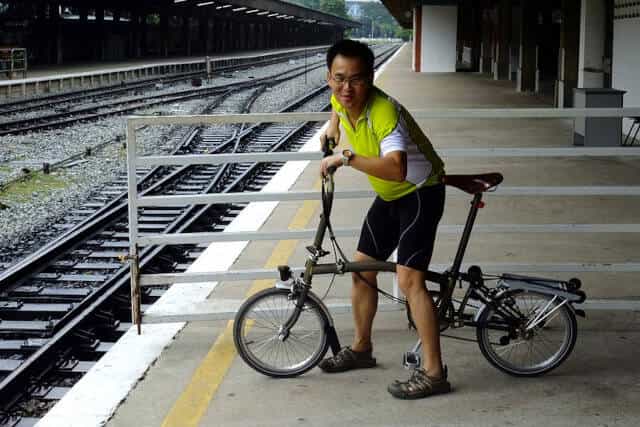 Disadvantages of Foldable Bikes
Now that we have looked at the pros, we will dive into the cons. Not everything glitters with gold.
Price: Unfortunately, these types of bicycles are not cheap. This is because they fold; it requires more construction than a standard bike.
Small Wheels: Smaller wheels are not suitable for bumps in the road. Watch out!
Size: If you are taller, you will look like one of those clowns in a circus riding a tiny bike. Overweight? These bikes can't hold a lot of weight. This also applies to adding items to carry around with you on the bike; it's not going to happen on a foldable bike.
Suspension: These bicycles do not come with a suspension system, so off-roading is off the table. Even riding on gravel will be a challenge.
Style: Foldable bikes are not the most fashionable; you will get some looks and unwanted attention riding one of these.
Fragile: Because the bikes can fold, this leaves them more fragile than a standard bike. A sacrifice for the foldable capability.
Speed: You're not going to go as fast on a foldable bike as you would on a regular bicycle. Some offer gears with better speed, but you must pay more for that.
Spare Parts: Many bike shops do not carry functions for a foldable bike; if something happens, you must go straight to a retailer. It's hard enough to find one of those near you. Good luck.
Pushing to the limit: Foldable bikes are less efficient than an ordinary bicycle. They require more energy to move, so peddle harder if you want to get somewhere.
The pros and cons listed above might leave you still on the fence about owning a foldable bike. But don't fret as there is a lot more ground to cover in this article. Let's talk durability.
Are Folding Bikes Durable?
After reading about these bikes' pros and cons, you might be wondering if they are durable. The answer is both yes and no. Foldable bikes have been known to break in half; this makes sense as you are continually folding the bike. Eventually, it will break.
But the same has happened even to a standard bicycle. Like anything else, the more you use it, the more it will wear down. But it's not only how much you use the bike; the brand or quality matters as well.
If you get a good brand or a better-quality folding bike, it will be more durable. The good thing is that foldable bikes consist of the same material as a regular bicycle.
A foldable bike is just as stable as a standard bike; it all comes down to quality and usage.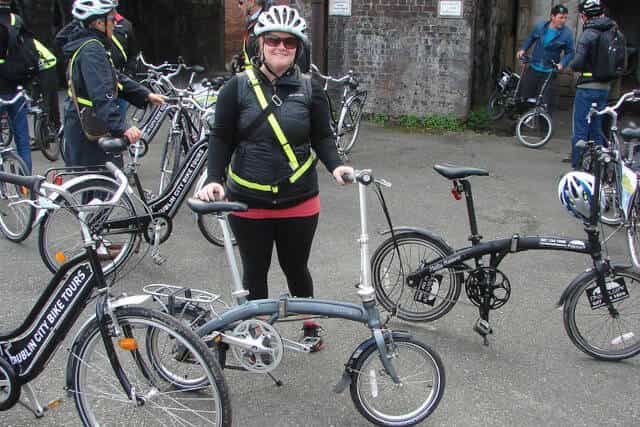 Are Folding Bikes Good for Exercise?
Yes, to put it simply. It is a bike, and riding one is a fantastic exercise in general. What makes a foldable bike great for training or exercise is that they are more compact, making you feel sturdier as you ride one.
The simple fact that you can take this bicycle anywhere with you gives you more opportunities to ride, which means more exercise for you!
Even the wheel size can work to your advantage. Smaller wheels mean less momentum as you ride. Because of this, you will have to pedal more to keep going; obviously, this will lead to better exercise.
But remember that you will burn your energy doing this, so if you're not up for that, maybe you should stick to a regular bike. Either way, you're going to get some fantastic exercise.
Are Folding Bikes Good for Commuting?
This question depends on you, the rider. For convenience, yes, foldable bikes are the best! They can be taken anywhere, so it is easy to get on public transportation with one of these.
You can ride part of the way to your job and then take a bus or train if need be; it's pretty easy. Folding the bike can be done in 30 seconds if you get used to it.
At first, you will struggle to get it folded or unfolded; you might even not get everything set up correctly. This can cause you to ride funny until you realize the handlebars are not straight and have to adjust.
There is a learning curve, but you can overcome that quickly.
Depending on how long your commute can be, you will get tired or even start to sweat a lot before your workday has begun. Remember, on a foldable bike, you will pedal more, causing you to use more energy or sweat. Keep that in mind for your commute to work.
Otherwise, it's effortless and convenient to use one of these; they are suitable for commuting.
Is it Worth Buying a Folding Bike?
Overall a foldable bike is worth the money. Anyone who lives in a big city needs to have one of these. You can take this on any public transportation without any fuss, plus when the bus or train gets packed, you are going to need the extra space that a foldable bike provides.
For convenience, it's worth buying a foldable bicycle.
Another reason you should buy a foldable bike is that you will get some good exercise. With the ability to take one of these everywhere you go, you can ride at any time, meaning you will get more exercise.
Hauling around an ordinary bike is a pain. With a foldable bike, you invest in a great exercise and a great bike in general, well worth the money.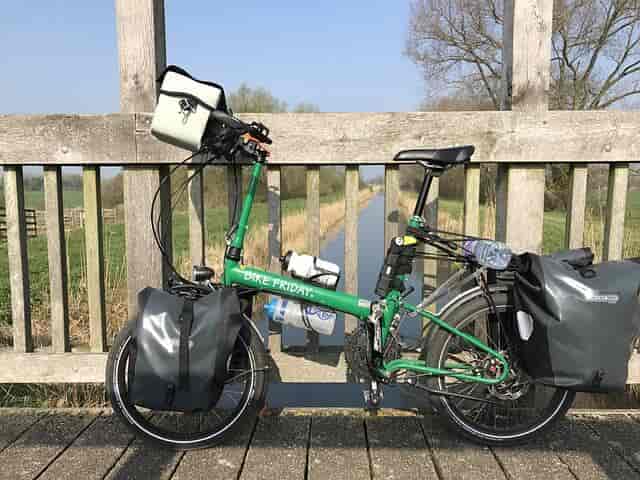 Can Folding Bikes be Taken on Long Rides?
For long or short rides, a foldable bike is ideal. The quality of the ride is the same as a regular bicycle. But once again, this depends on the brand or quality; the better the brand, the better the quality.
With a high-quality foldable bike, your long rides are a breeze; they can handle these types of rides. If you have a long commute or wish to ride for a long distance, consider using a foldable bike. You will not be disappointed, just look at the benefits.
Benefits of Using a Folding Bike for Long Distance
The benefits of using folding bikes for long-distance are numerous and impressive. Let's look at a few.
A foldable bike is the most convenient bike on the market. You can ride it any time and store it anywhere. For long distances, you can easily pack the bike and take public transportation when you get tired.
You can even take a break from riding and walk with your bike if you are tired. It's better than dragging a standard bike around when you are going far, sometimes you must take a break, and a foldable bicycle gives you a better way to do so.
If you love to zip and zoom through traffic or around a city, then a foldable bike is for you. These things are highly maneuverable and agile; they feel great riding around.
Maneuverability is vital for long-distance riding, and this is a fantastic benefit for using a foldable bike.
If you doubt its ability to perform, I must tell folding bikes are great for exercise. The exercise you get for riding one of these bad boys is lovely, especially for riding long distances. You will have to pedal more than a standard bike, but that's ok as the exercise you get from this is worth the energy spent.
If you want a good workout, then get yourself a foldable bike. If you go for long rides, then a foldable bicycle can give you more fulfillment than a regular bicycle. Take a chance and see the results.
Criteria to Look for When Buying Folding Bikes
Much like shopping for any bike, there are some criteria you should follow to buy folding bikes. Let us dive into what you should do before you buy one of these fantastic bikes.
Research, research, and research; This is probably the most important criterion when buying a foldable bike. It would be best if you did your research first and see your options regarding foldable bikes. Don't choose the first one you see, do your research, and go from there.
If you want a foldable bike, you must ask yourself why you want one in the first place. Are you using it for commuting? Do you want a bike that you can take anywhere? Once you figure this out, then you can make a sound decision on a foldable bike.
The other thing to look for when buying folding bikes is its folding method. Believe it or not, foldable bikes fold differently. Depending on the brand, you can have a bicycle that folds to a smaller size than another brand. It all comes down to our preference or convenience.
Size plays a significant factor in deciding what kind of foldable bike you want. From the frame size to the wheel size, you must find something that fits you or your lifestyle.
If you pick the wrong size, you will not enjoy your foldable bike. Be careful and decide what best suits you. At the end of the day, do your research and find the best foldable bike for you.
Look over your options and take your time. Once you find the right foldable bike, everything falls into place. So, grab your foldable bike and enjoy your ride! 20″
Top 3 Folding Bikes To Buy Under 500 Dollars
1. EuroMini ZiZZO Campo Folding Bike
Some people might say, it's a little too much, but there's no doubt, that the EuroMini Zizzo Campo folding bike, is an excellent looking ride and the most reliable inexpensive folding bike on the market.
The bike has a very simple and sleek design and is only 28.5 lbs light with max. weight of capacity of 240lbs. Although the aluminum frame is light, it is very durable at the same time and can be easily folded up in only a few seconds so, you can store it or carry when you are not riding it.
A big plus is foldable pedals, which make the size even more compact and easy to store. Due to its adjustable stem, the bike is suitable for cyclists of all heights.
The wheels are larger than on other folding bikes and the tires are thicker, which means it's pretty easier to ride on rough terrains.
It offers 7-speed choices and grip style shifters make it even accessible to ride rough terrains and inclined slopes.V-style brakes are reliable and afford the stopping power- They are made of aluminum alloy too, so they don't add a lot of extra weight.
EuroMini ZiZZO Campo is suitable for all ages and genders. If you wish for a durable and fast bike, want to enjoy a comfortable ride with a smooth gear and you don't want to spend a lot of money then this is the one.
Overall, this is a folding bike that you won't regret investing in.
EuroMini ZiZZO Campo Folding Bike: Check Its Price On Amazon!
2. Schwinn Hinge Folding Bike
If you're an urban rider, this bike is the perfect solution for you. It's easy to ride, fold and store. You can take everywhere with you to school, work, park rides as well as to camping.
Even though it is one of the cheapest folding bikes, for that money you will get a fully functioning bike with more basics, as you would expect.
Bikers will cherish the extremely cozy ride, with the changeable seat post and large handlebars. It has front and rear fenders and a rear cargo rack that provide cyclists to ride in any weather.
Schwinn Hinge has decent pull brakes so you will have no trouble coming to a halt at any point. It has an excellent frame and is lightweight (33lbs).
The 20″ alloy wheels with smooth street tires are perfect for commuting. You will also appreciate the rear carrier, which is perfect for hauling groceries. Additionally, this bike offers you a lot of pros such as low price, charming design, solid and stable steering, also carrying bag is included.
If you are looking for a folding bike from Schwinn that has an adorable look, great price and is useful, Schwinn 20-Inch Loop Folding Bike is the way to go.
Schwinn Hinge Folding Bike: Check Its Price On Amazon!
3. ECOTRIC 20″ New Fat Tire Folding Electric Bike
At first sight, you will notice that the Ecotric fat tire bike looks good, has style, and has great features that riders want. This portable folding e-bike will impress anyone who enjoys riding of the beaten path.
The Ecotric is an electric mountain bike with a rear powerful motor with 500W of power. Those fat tires are designed to get off-road terrain and defeating rough paths.
The motor works with a battery of 36v and reaches a maximum speed of up to 20 miles per hour. On a single charge of the battery, you can ride distances of about 20 miles.
The aluminum alloy frame is solid and the capacity of the weight is 260 pounds. Some of the key features of this bike include front and rear disc brakes, 20″ front and rear wheels, changeable speed control, a 1/2 Twist Throttle, Shimano 7 Speed gear, and LED 810 Display Panel to deliver you riding info.
This type is in a high price category, but it's definitely worth it. This mountain bike will last a long time and you can enjoy an amazing ride. It could easily replace electric dirt bikes.
In a conclusion, Ecotric is one of the better folding bikes you can get.
ECOTRIC 20″ New Fat Tire Folding Electric Bike: Check Its Price On Amazon!
Also Read,
What is a good distance to cycle? How far should a beginner go
Best Folding Bikes For Boating, Cruises & Sailing
9 Best Folding Electric Bikes For 2022 | Light Budget Portable Bike