If you already have an electric bike or are planning to buy one, you might already have a few queries regarding the working of e-bikes. In case you have owned an e-bike recently, many of your friends may likely have asked you sometimes that "Do Electric Bikes Charge As You Pedal?".
Well, you have landed in the right place; today, we'll answer such queries.
So, without any further delay, let's get started. First of all, you need to understand that it is a false notion that all electric bikes get recharged while you are peddling.
The manufacturers often advertise that the bikes rekindle while going down the mount or braking. Some e-bike models come with a recharging feature while you are breaking the bike.
In addition to this, you should note that such bikes that offer regeneration features are relatively harder to pedal owing to the complicated motor design.
In electric bike models with regenerative braking systems battery range extension up to 5-10%. Generally, these systems are more commonly found in electric cars (and less in electric bicycles).
You Can Charge Some Bikers By Pedaling
Regenerative braking involves harnessing kinetic energy. The kinetic energy is then converted into electric energy, and then it is fed into the main traction battery.
However, you will find significantly fewer e-bikes in the market that use regenerative braking.
Conserving the battery can be done by firstly plugging the battery into the wall, then the more you pedal the farther you can go.
Some e-bikes also allow the riders to charge by just peddling the e-bike in the backward direction. Also in several bikes, whenever you use the brake, the brake sensor is triggered to kick into reverse mode.
In this manner, the energy of the forward motion of the e-bike is utilized in charging its battery, this process is termed regenerative braking.
In the increasing range, the regenerative braking system is considered adequate.
However, the problem with regenerative braking systems is it returns less power.On an average, it will take around 10 Kms of pedalling in order to give 1 Km charge (this justifies why charging by pedaling is not efficient.
We advise all riders to fully charge the bike's battery once every few weeks so as to balance the cells.
Effectiveness of Regenerative Braking in E-Bikes
It's crucial to clarify that hydraulic pressure is used in traditional braking systems. In bikes that come with a regenerative braking system, almost 90% of the rider's efforts will be taken in pushing him through the air. The efficiency of regenerative braking is somewhere around 60-70%.
An efficiency of 70% indicates that during the braking process, 70% of the total kinetic energy can be converted into acceleration later.
However, it's worth mentioning here that the efficiency of regenerative braking systems in e-bikes differs for different batteries, vehicles, controllers, etc.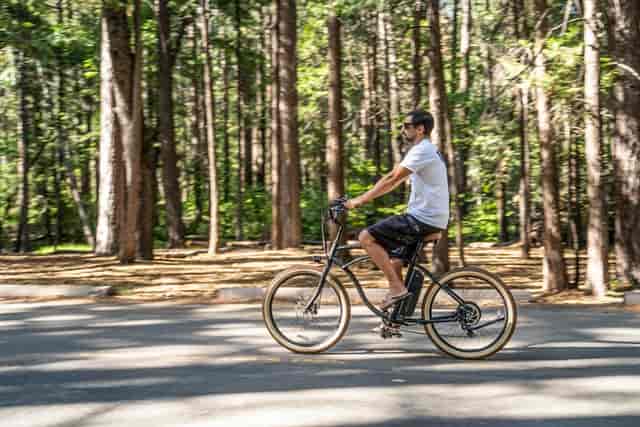 Rule of Thumb: Electricity Generated Will Always Be Less Than Calories Burnt
According to many studies, if you ride an electric bike instead of a standard bike, you will burn 20% fewer calories. No doubt riding a regular bicycle will help you burn more calories.
However, it's important to mention that, electric bikes on average helps you burn 440 calories per/hr.
If you decide to ride an electric bike regularly, it will help you burn a significant amount of calories daily (hence assisting those looking for weight loss).
There is another exciting research according to which those who bought an electric bike were able to cycle more miles at the end than those who used regular bikes. So, these studies point out that buying an electric bike can encourage you to hit the roads daily without any fail.
Also, riding on an e-bike regularly can help improve a person's cardiovascular health.
If you are not so physically active and feel challenged by regular cycling, which requires strenuous efforts, you should go for an electric bike.
The amount of electricity consumed by an electric bike depends on its battery capacity. Usually, to charge the battery, 500-800 watt-hours are consumed. This will last up to 20-80+ miles, and with an assumed rate of $0.10/kWh, it will cost you around 5-8 cents for a charge.
Remember that various factors determine how many calories you burn while riding the e-bike; some of them are speed of biking, time spent riding, the rider's weight, etc.
Most people prefer e-bikes over normal cycles because of the electric bikes' pedal assist mode.
Why is the Regenerative Braking System So Rare?
There are several reasons why regenerative braking systems are not commonly used in e-bikes. First of all, you should be aware that e-bikes that use regenerative braking systems offer tremendously less power.
In addition to this, there is no justifiable use-case for this braking system.
Also, regenerative brakes are considered impracticable for e-bikes (this can be attributed to the fact that the most practical drive variant for e-bikes is mid-drive.
On the other hand, regenerative braking is more practically applicable in electric cars. So, overall, it's not worthwhile to use such a braking system that offers minimal efficiency.
What Happens When E-bikes Battery Dies?
It is a ubiquitous question that comes to most beginners' minds regarding e-bikes. As soon as the battery of an e-bike dies, the e-bike will operate just like a regular pedal bike. Similarly, if the power-assist mode is enabled, the e-bike transforms into an ordinary bicycle.
If an e-bike rider does not want to face such a situation, it's always advisable to keep an eye on the battery charge of the e-bike on display.
Just when you start to notice that you are using up the charge too fast, you should shift to a low pedal assist (this will help you save your e-bike battery).
If you are pondering whether riding the e-bike without the battery causes any damage to its motor, then the answer is a big "No." However, after the battery dies, it will be harder for you to pedal, mainly when you ride up the hill or on extreme terrains.
How Long Battery Lasts on Electric Bikes?
When it comes to e-bikes, their battery usually lasts between 2 and 4 years.
However, how much the battery lasts depends on the degree of maintenance.
Usually, lithium batteries are expected to lose their capacity faster, even when not in much use. We want to suggest some things that will help you prolong the battery life of e-bikes.
After you get your new electric bike, make sure that you charge it completely for 12 hours. This initial charging is crucial to ensure that your e-bike's battery lasts longer than average.
Regular charging is very significant. You should ensure that you charge your e-bike regularly. With regular charging, your bike's battery will last longer.
It's always advised never to let the battery drain completely. Temperature extremes should be avoided at any cost. Moderate temperatures are considered to be suitable for e-bikes.
You should refrain from extreme temperatures (also, when you are charging the battery, avoid temperature extremes).
Electric Bikes That Can Self Charge as You Pedal
1. The VELLO Bike+ Ebike
Vello Bike+ is a highly innovative self-charging bike. If you were searching for a lightweight e-bike that charges itself, then Vello bike+ (the world's first self-charging foldable e-bike) will be the best choice for you.
Unlike the other foldable e-bikes, Vello bike+ is relatively light in weight so that you can enjoy a smooth ride. Note that the titanium model of Vello bike+ is 24 pounds.
On the other hand, Chromoly frame models' weight is 26 pounds. This foldable e-bike can be easily stored in small spaces. This foldable e-bike is very portable.
Vello bike+ features a patented magnetic release, making it easier to fold the bike. Overall, the design of this electric bike is quite user-friendly.
The design is a great innovative product, but it is quite visually appealing. During braking itself, the lithium-ion battery of this bike gets fully recharged.
Thus, it can be said that this bike delivers excellent performance, especially the self-charging feature is what makes this bike a top choice for advanced riders.
2. Rayvolt X One Self Charging Ebike
Rayvolt is one of the most notable new generation electric bikes ever. If you love riding in mountainous regions, this self-charging e-bike will be ideal for you.
The exterior looks of this bike are quite impressive. The most exciting and useful feature of this bike is the self-charging feature. Rayvolt X One features a portable battery.
The backpedal regenerative braking helps recharge the e-bike's battery by rolling the pedals in reverse. This electric bike is available in three color options. For fully charging the built-in battery, you will require four hours. This bike's sleep design makes it appealing to all bike riders.
3. NUA Electrica
Nua Electrica is such a lightweight electric bike (it weighs just 13 kg). No doubt riding this bike is like a breeze. Nua Electrica is a well known Barcelona-based bike manufacturer. It operates quietly, also note that this is the lightest single-speed bike ever.
This e-bike features a handlebar, seat post, fork made up of high-quality fatigue-resistant titanium. You can use Nua Electrica in various modes using an interesting app called the Zehus app.
This bike can be operated in six different cycling modes; the most fantastic model which most riders love is the "self-charging mode." As said earlier, there are relatively fewer charging stations available for e-bikes.
However, Nua electrica solves this issue of charging for you. This bike continuously charges itself to experience complete freedom while cycling.
This electric bike will never fail to impress you, even on extreme terrains. Besides, this bike comes with Gates carbon belt drive, a cutting-edge technology.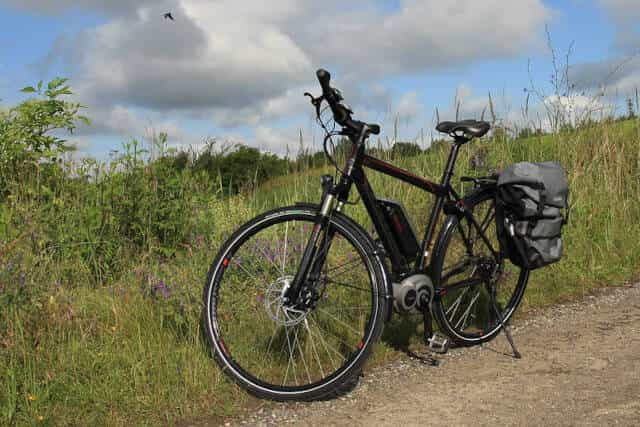 Advantages & limitations of Self Charging E-Bikes
This section will discuss the advantages and limitations of self-charging e-bikes.
Environmental-friendly It is a very well known fact that e-bikes are very eco-friendly since they run on electricity. Self-charging e-bikes do not emit dangerous emissions in the air. The eco-friendly nature of these self-charging e-bikes makes them a top preferable choice.
Stay Physically Active
There is no doubt that if you own an e-bike, you will be able to enjoy a smooth ride. Turning the pedals is considered beneficial for legs, arms, shoulders, core fitness, and body strength. Riding an e-bike is a great sporting activity.
Modern-Day Sporting
It is something we all will agree with, e-biking is a tremendous modern-day form of sport.
There is no doubt that using trendy self-charging e-bikes instead of regular bicycles is the new trend. The reason why e-bikes are so trendy may be attributed to the fact that they look not only fashionable (as per modern standards) but also are eco-friendly.
Climbing It's essential to understand that one of the most crucial e-bikes is that they make climbing on hills or traveling on extreme terrains much more comfortable.
In addition to this, self-charging e-bikes are known for withstanding forthcoming winds to make the ride smooth, easy, and comfortable.
It's a well-known thing that regular bicycles will require more strenuous efforts from your side to climb a mountain. Remember to top up the bike's battery before riding on any mountainous terrain.
Battery Range
Now, battery range may vary for different price ranges. Usually, recharging an e-bike consumes 3 to 4 hours. Every time you head for riding an e-bike, you will be required to make sure it is sufficiently charged.
Since there are very few charging stations, if your bike's battery runs out of power during the ride, this may be an issue for you. However, with self-charging e-bikes, this is not an issue at all. With self-charging e-bikes, the rider gets the ultimate freedom of continuously riding without any hindrance.
Customizing e-bike
Some e-bike brands offer a variety of extraordinary features. One such feature is being able to customize your e-bike. It is a beautiful feature as it helps the rider design the bike or makes amendments per their wish.
Speed
The motor assistance mode allows you to get up to 25 Km per hour (it's pretty fast), most suitable for urban bike riding. You will also find some e-bikes available in the market, reaching up to 20 miles per hour, 30 miles per hour, or more.
A Few Disadvantages
Self-charging e-bikes are usually more expensive than ordinary bicycles.
It's crucial to mention here that e-bikes are more challenging than standard bikes. In case the rider runs out of battery power, it becomes quite challenging to pedal up a hill.
In addition to this, some e-bikes take longer times to charge.
Conclusion
So, we hope that we could clear many of your misconceptions, doubts, or queries related to e-bikes. Of-course, you now know very well that e-bikes make it easier to ride.
As mentioned earlier, if you love riding on hills or steep terrains, make note that e-bikes are appropriate for hilly regions. For electric bikes that come with motors rated at 2.5 kW or higher, a license will be needed.
Overall, whether rainy or sunny, water-resistant electric bikes are an excellent choice for riding in various conditions. If you have any doubts or suggestions related to this article, then please feel free to write it down in the comment section. Stay Tuned
Also Read,
Health Benefits: 11 Reasons Mountain Biking is Good For You
Are Mountain Bikes Good For Touring? Yes Here's Why!
How To Take Your Dog On A Bike Ride ( 6 Easy Methods )