Are you looking to add an electric cruiser bike to your lifestyle?
Electric bicycles are becoming popular and offer a unique way for those who want to get around without having the hassle of finding street parking or dealing with traffic.
From being Eco-friendly, convenient, and affordable, electric cruiser bikes have become increasingly desired in recent years. If you're on the hunt for one of these sleek transportation options that won't break your budget, then look no further!
In this post we will be providing you with reviews of some of the best electric cruisers out there — all while staying within your spending limit.
So read on if you're interested in learning more about what kind of styles and features make a great money saving e-bike choice!
What Is An Electric Cruiser Bike
An electric cruiser bike combines the classic cruiser style with modern e-bike technology, prioritizing comfort and leisurely rides over speed and performance.
This style of e-bike offers a larger, more comfortable seat and curved handlebars, allowing riders to sit upright and maintain a relaxed posture with minimal strain on their wrists.
With a limited number of gears and wide tires, electric cruiser bikes are perfect for those who enjoy daily rides on paved roads, boardwalks, and flat terrains.
The suspension systems in the front of these bikes are designed to minimize impact shocks, ensuring a smooth and pleasant ride.
The popularity of electric cruiser bikes is rapidly growing among recreational bikers as they provide both the ultimate comfort and enjoyment for longer cycling sessions.
The Must-Have Features of an Electric Cruiser Bike
Wide, Flared Handlebars
Strong lightweight frame
large padded saddles
Motor Power Not More Than 750W
Shock-absorbent suspension.
Step through Design.
Forward pedal position
---
The Ride1UP 700 Series stands out as the premier choice for those seeking the ultimate cruiser electric bike experience.
With a focus on comfort, safety, and performance, this electric hybrid bike boasts a lightweight alloy frame designed to cater to your needs.
Powered by an impressive 750w geared hub motor, you can easily glide across city streets at speeds reaching up to 28mph, making it an excellent choice for both commuting and leisurely rides.
Notably, its 30-50 mile range allows for lengthy excursions, even through hilly terrain, without worrying about battery depletion.
Built using high-quality components, the 700 Series instills confidence while handling, providing a smooth and stable ride due in part to its high volume, fast-rolling tires, and 100mm suspension fork.
Additionally, riders can customize seat and handlebar height to ensure an optimal fit.
Overall, the Ride1UP 700 Series is undoubtedly one of the best electric cruiser bikes for the money, offering an unbeatable blend of performance and enjoyment.
| | | | | |
| --- | --- | --- | --- | --- |
| Height Range | Weight Capacity | Motor | Range | Max Speed |
| 5′-6'2″ | 300 lbs | 750W | 30-50 miles | 28 mph |
Click Here to buy now on Ride1UP!
Imagine gliding through the streets, feeling the wind in your hair, and enjoying a leisurely ride on a comfortable and stylish bicycle. The sixthreezero Electric-Bicycle EVRYjourney is designed to provide precisely this experience, prioritizing comfort and ease above all else.
The ultra-comfortable ergonomic frame ensures riders maintain an upright, relaxed position, making this electric bike perfect for leisure, cruise, and commute rides.
With a powerful 500-watt motor, you'll embark on journeys ranging from 18 to 40 miles in full-electric mode and 20 to 60 miles in pedal-assisted mode.
The EVRYjourney not only offers a smooth and enjoyable ride, but it also boasts a visually appealing retro look.
Many riders express their initial hesitation in trying electric bikes but quickly fall in love with the EVRYjourney's consistent performance, sturdiness, and solid battery.
Mounted on a rear rack, the battery further enhances the bike's visual appeal and functionality. Experience the joy of effortless riding with the sixthreezero Electric-Bicycles EVRYjourney.
| | | | | |
| --- | --- | --- | --- | --- |
| Height Range | Weight Capacity | Motor | Range | Max Speed |
| 5′-6'2″ | 300 lbs | 500W | 20-40 miles | 28 mph |
Click Here to buy now on Amazon!
VIVI Electric Commuter / City Cruiser
The VIVI Electric Commuter is an excellent choice for those new to e-bikes, particularly for urban cruising.
This stylish beach cruiser-inspired e-bike features a 48V 500W high-speed brushless motor, allowing riders to reach top speeds of up to 20 mph.
Constructed with a light yet sturdy carbon steel frame, this e-bike is built for durability and ease of use.
Its front and rear wheels are designed with double-layer aluminum alloy, offering greater longevity while also ensuring a faster ride with less drag.
The wide swept-back handlebar allows for a comfortable hold, while the front and rear disc brakes and 7-speed transmission system provide a smooth and controlled ride.
What truly sets the VIVI Electric Commuter apart from other e-bikes is its affordability without sacrificing appearance. Additionally, its folding feature makes storage and transportation a breeze.
Although the original seats may not be as comfortable as those on conventional cruiser bikes, upgrading to a cushier seat is a simple and worthwhile fix.
Overall, the VIVI Electric Commuter is a fantastic e-bike at a hard-to-beat price!
| | | | | |
| --- | --- | --- | --- | --- |
| Height Range | Weight Capacity | Motor | Range | Max Speed |
| 5′-6'4″ | 330 lbs | 500W | 25-45 miles | 20 mph |
Click Here to buy now on Amazon!
Himiway Cruiser Electric Bike
The Himiway Cruiser Electric Bike truly lives up to its reputation of providing insane value for its riders.
As soon as you start pedaling, the 750W Hub Motor's strength becomes apparent, whether you're using the throttle or pedal assist.
As you smoothly glide across terrains, the fat tires work effortlessly to ensure stability even at high speeds. While its 48V 17.5Ah battery ensures an impressive range of 45 to 60 miles, with a 350 LBS weight capacity.
Equipped with a Shimano 7-speed gear shift system and a Shimano Altus Derailleur that comes well-aligned out of the box, the Himiway Cruiser performs exceptionally on pavement, sand, and rocky terrain.
Although some customers have expressed dissatisfaction with the customer support.
The quality of the bike's components and its swift 25mph top speed make it a fantastic choice for those seeking a powerful, high-quality electric bike.
| | | | | |
| --- | --- | --- | --- | --- |
| Height Range | Weight Capacity | Motor | Range | Max Speed |
| 5'3″-6'2″ | 350 lbs | 750W | 45-60 miles | 25 mph |
Click Here to buy now on Amazon!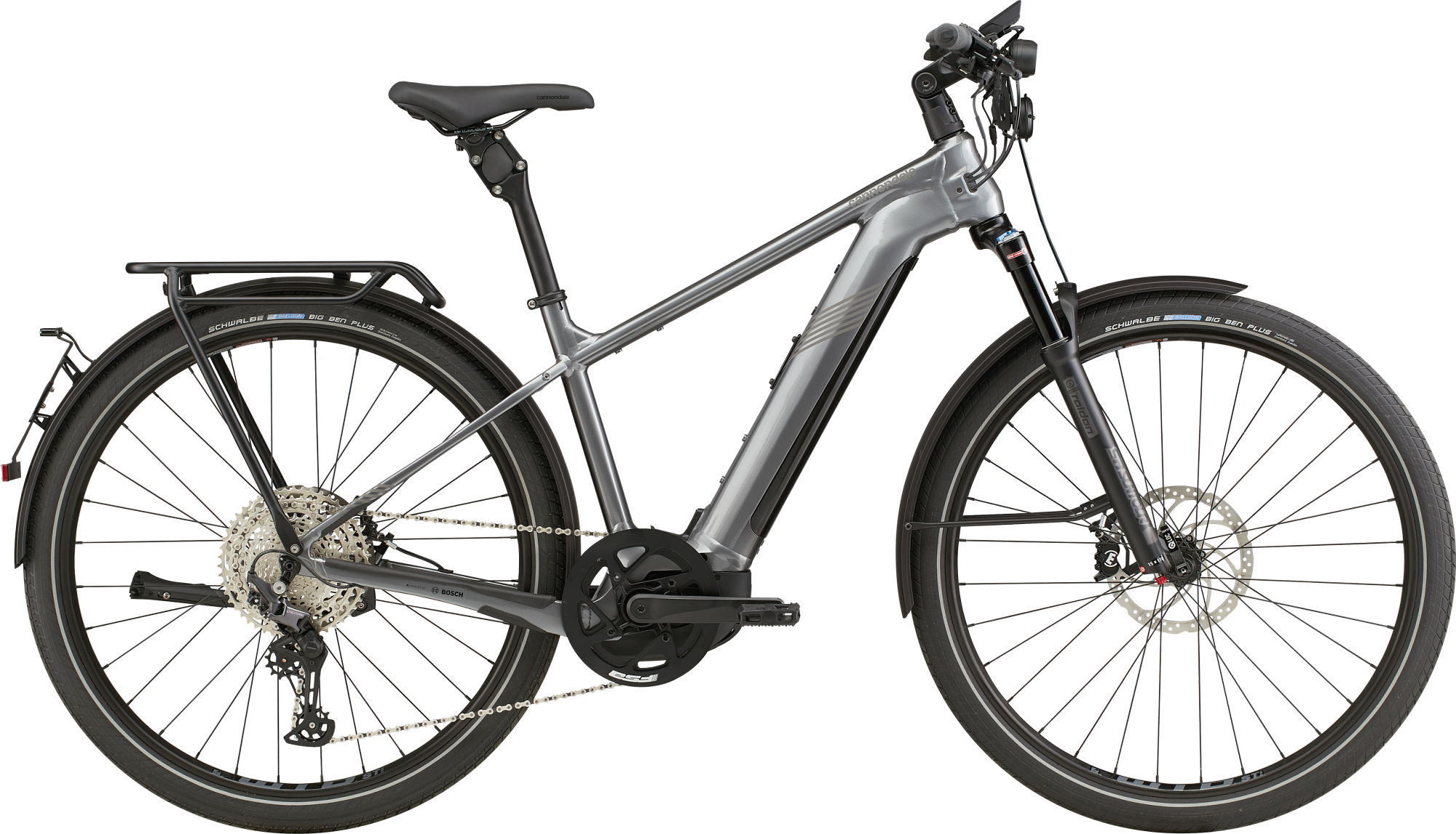 The Cannondale Tesoro Neo X is a remarkable electric bike, designed to effortlessly glide through city streets, town pathways, and open roads.
Its lightweight C1 Alloy step-thru frame ensures an easy-to-handle ride, while the Shimano Deore 12-speed shifting and hydraulic disc brakes guarantee a smooth and secure experience.
Powered by the most potent motor in its class – a 250W mid-drive setup – this e-bike reaches an impressive 28mph assisted speed, making it a suitable choice for everyday work commutes.
Not only does the Tesoro Neo X offer a range of up to 65 miles, but it's also equipped with an exceptional battery that's easy to recharge, ensuring an enjoyable ride every time.
One of the standout features of Cannondale is their dedication to the rider, with premium SmartForm C1 Alloy frames, an unmatched warranty, and exceptional styling that is bound to make heads turn.
This testament to superior engineering is what makes the Cannondale Tesoro Neo X a top choice for many cycling enthusiasts who prefer quality over budget.
| | | | | |
| --- | --- | --- | --- | --- |
| Height Range | Weight Capacity | Motor | Range | Max Speed |
| 5′-6'2″ | 300 lbs | 250W | 45-73 miles | 28 mph |
Click Here to buy now on Cannondale!
How to Choose Best Electric Cruiser Bike
When it comes to choosing the best electric cruiser bike in the market, what you first need to finalize is your need for the bike. These bikes are great for everything from leisurely rides to uphill climbs.
However, if you narrow down the use of your bike, it'll be easier for you to lay a finger on the bike that will best suit all your needs.
It is also essential to determine how many miles you wish to cover within a single charge, so you can look for an electric cruiser bike with the required a motor and battery accordingly.
The next step you need to focus on is doing your research.
Once you know the features you want, finding the perfect bike is only a few steps away. The reason research is important is so that you can have all the knowledge you need before you make a decision.
Another aspect to keep in mind is the budget and amount of money you wish to spend on the bike. There are bikes available in the market for all price ranges and each range has something special to offer you.
You must remember that buying an electric cruiser bike is an investment and it is necessary to ensure you make an informed decision.
Frequently Asked questions
Q.1 Why to Choose a Cruiser Bike
Cruiser bikes have become a popular choice for individuals who seek a stylish, comfortable, and low-impact cycling experience.
These bicycles are characterized by their distinctive, curvaceous frames and wide, plush seats.
The upright riding position, high handlebars, and lush balloon tires create a remarkably smooth ride, enabling you to effortlessly float over bumps, cracks, and other obstacles in your path.
Cruiser bikes have garnered attention not only for their chic design and retro appeal but also for their easy maneuverability, making them ideal for leisurely rides along scenic beachside paths, charming neighborhoods, or even a spin through the farmer's market.
Q.2 What Are Cruiser Bikes Good For?
Cruiser bikes offer a versatile and comfortable option for individuals seeking a laid-back, enjoyable cycling experience in various environments.
Perfectly suited for relaxed city riding, these bikes allow you to leisurely explore your urban surroundings while minimizing your impact on the pavement.
Venture beyond the concrete jungle, and you'll find that cruiser bikes are also aptly prepared for some light trail excursions, opening up a world of natural beauty to be discovered in national parks or local dirt paths.
Designed for low-speed, low-impact rides, cruiser bikes provide the ideal combination of functionality and leisure, allowing you to enjoy the best of both worlds – whether it be on paved bike lanes or scenic dirt trails.
Q. 3 Are Cruiser Bikes Good For Hills?
Cruiser bikes and their performance on hills can be a topic of great debate among biking enthusiasts.
While it is true that these bikes can be on the heavier side due to their premium components, this does not always hinder their ability to conquer moderate inclines.
In fact, excellent electric beach cruiser bikes are designed to tackle most standard-sized hills with ease.
Ultimately, it all comes down to the motor powering your cruiser bike. A powerful motor, combined with your pedaling efforts, can certainly provide a smoother experience for hill-climbing adventures.
So, whether you're traversing picturesque landscapes or simply taking a leisurely ride through your hilly neighborhood, a well-equipped cruiser bike may just be the perfect companion.
Also Read,
Is it OK for a Man to Ride a Step-through Bike?
Cruiser Bikes: 10 Things You Should Know Before Buying
10 Best Cruiser Bike For Women in 2023 | Review & Comparison
Best Step Through Bikes For Seniors 2023 | Review & Comparison