Women have taken to the roads like never before and if you're a female cyclist in search of the perfect cruiser bike, then look no further.
Whether you're looking for comfortable rides with wide handlebars or a light-weight model that won't bog you down on long trips, there are plenty of options out there designed specifically for women riders.
We've rounded up some of our favorite women's cruiser bikes to help make your search easier – these picks offer solid quality construction and some extra special features so you can enjoy cruising around town whether it's leisurely rides through the city streets or weekend getaways!
Read on to find out which models made it onto our list as well as what features sets them apart.
Why Women Should Consider Cruiser Bikes?
A cruiser bike is a great choice for someone that wants to casually enjoy the outdoors.
Women should consider riding one because they are easy to mount and maneuver, allowing you to enjoy and explore nature while avoiding the sweat and gear associated with other mountain bikes.
Cruiser bikes typically feature comfortable seating and handlebars that provide an upright riding position, allowing you to look forward rather than down like traditional mountain bikes.
The large tires in comparison offer stability, making it ideal for roads with potholes or dirt tracks.
Plus, the variety of colors, designs and accessories allows for a personalized experience that caters to your individual tastes. With all of these features combined, cruiser bikes make for an enjoyable biking experience any woman could love!
Key Features to Look For When Shopping for a Cruiser Bike
Shopping for a cruiser bike can be an exciting experience, but it's important that you choose one with the right key features. A steel frame will be sturdy and provide stability when riding, so this is essential to consider.
Look for a lightweight frame as well, as this makes getting on and off the bike much easier.
Features such as single speed or multi-speed gearing along with full suspension make riding more comfortable and smoother.
If you are someone who frequently carries belongings while riding, search for models with a rear cargo rack.
Lastly, examine the brakes; coaster brakes offer easy stopping power but if you live in a hilly area disc brakes may be preferable for better control on downhills.
Ask about frames sizes to ensure proper fitting, as an ill-fitted bike is neither comfortable nor safe to ride. With all of these tips in mind you are sure to find your ideal cruiser bike!
What Are the Best Cruiser Bikes for Women?
Sixthreezero EVRY Journey Women's Cruiser
For a comfortable and aesthetically pleasing ride, the Sixthreezero EVRYjourney is truly unmatched.
Equipped with customizable specs and up to 21 gears, this contemporary cruiser will always provide you with stability, regardless of terrain.
Apart from an attractive high gloss chrome finish and step-through frame made of sheen aluminum, the Seven-speed 26″ model features a low center design for women giving them optimal posture and pedaling extension.
Accompanied by a rear rack for extra storage capacity, this bike looks amazing and performs like magic.
If you're after luxurious craftsmanship on two wheels, then look no further than the Sixthreezero EVRYjourney – a classic beach cruiser with a modern twist.
| | | | | |
| --- | --- | --- | --- | --- |
| Frame | Speed | Wheel size | Brakes | Load Capacity |
| Aluminum | 1, 3, 7 | 26 inches | Front and Rear V-Brake | 300 pounds |
Click Here to buy now on Amazon!
Electra Townie 7D Step-Through Women's Bike
The Electra Townie 7D Step-Through Women's Bike is the perfect solution for anyone who doesn't feel comfortable riding a traditional cruiser bike.
With its low pressure and relaxed geometry, this cruiser is perfect for taking leisurely rides around town or through your neighborhood park.
Plus, with Shimano Tourney 7 speeds, you'll be able to traverse different types of terrain with ease.
I love Electra Townie 7D Step-Through Women's Bike – it is the most comfortable bike for its type and it handles like a dream! May be why its the best-selling cruiser in the market right now!
The best part? It put much less pressure and stress on wrists, as the seat now supports your weight instead.
There is one downside though, virtually impossible to purchase accessories as smoothly as other brands – but that's a small compromise in comparison with the mountain of benefits!
You couldn't be happier with this cruiser and highly recommend it to anyone looking for an enjoyable, long-lasting ride. So good even a beginner will feel very stable on the bike as well.
| | | | | |
| --- | --- | --- | --- | --- |
| Frame | Speed | Wheel size | Brakes | Load Capacity |
| Aluminum | 7 | 26 inches | Cold-forged alloy linear-pull | 300 pounds |
Click Here to buy now on Trek bikes!
The Public Bikes C1 is a great choice of bike for leisure riding, especially for women. Its cross bar design is almost too convenient to ignore. It's smooth and lightweight, making it simple to pedal and maintain.
This model runs on only one gear making it perfect for flat terrains, although there are other versions of Public bikes (the C7 and the C9) with multiple gears if you're expecting hilly terrain.
The 700c wheels deliver a better ride than traditional 26" rims with Kenda Kwest 35mm tires, which enhance the feeling of control and stability while you cycle.
The bike is equipped with the necessary components for added convenience – stylish fenders and eyelets included, in case you prefer to add a rear rack.
With its eye-catching retro style frame and classic metropolitan design, the Public Bikes C1 offers an incredibly comfortable experience on top of being incredibly stylish.
| | | | | |
| --- | --- | --- | --- | --- |
| Frame | Speed | Wheel size | Brakes | Load Capacity |
| Chromoly hi-tensile blend | Single-speed | 700c | dual-pivot caliper rim brakes | 250 pounds |
Click Here to buy now on Public Bikes!
Solé The Troy Coastal Cruiser
Solé The Troy Coastal Cruiser is an impressive bike that certainly looks the part. It is designed for performance, stability and most importantly, speed, with its lightweight frame and exceptional build quality.
This budget-friendly bike is as cool looking as it is practical and reliable. Not only is it stylish, but the smooth riding experience around town makes this bike an absolute pleasure to commute on.
Every detail has been thought of too – from the easily adjustable seat and handlebar height to the ability to clip on a basket or child seat – making this a great all rounder for family rides.
Most of all though it's just fun to ride; you'll be turning heads as you speed along the beachfront in style!
All in all, Solé The Troy Coastal Cruiser is a great choice when looking for a reliable, stylish bike option with added extras.
| | | | | |
| --- | --- | --- | --- | --- |
| Frame | Speed | Wheel size | Brakes | Load Capacity |
| Hi Tensile Steel | Single-speed | 26 inches | Coaster Brake | 275 pounds |
Click Here to buy now on Public Bikes!
DJ Electric 750W City Comfort Cruiser Bike
Manufactured by DJ Bikes in Canada, this 750-watt electric-powered Comfort Cruiser Bike is sure to give you the speed, ride comfort, and safety you need.
With a light-weight aluminum frame and a suite of high quality components like a LG rechargeable battery and a Mozo shock-absorbing suspension fork, this bike delivers unparalleled ride stability.
It's equally at home on city streets and light off-road trails. The Tektro disc brake assembly boosts your confidence when taking corners, while the 7-gear package helps you get up to 20 mph.
Moreover, the water-resistant battery pack can be easily detached so you can charge it at will in just 4 to 6 hours.
With all these features, this Comfort Cruiser Bike from DJ Bikes is the ultimate choice for any biking fan looking for supreme riding performance.
| | | | | |
| --- | --- | --- | --- | --- |
| Frame | Speed | Wheel size | Brakes | Load Capacity |
| Aluminum | 7 | 26 inches | JAK disc | 275 pounds |
Click Here to buy now on Amazon!
The Californian brand Linus has made a stylish statement with its European-style Dutchi cruisers. These bikes have a sleek, streamlined look with thin frame tubes and thoughtfully coordinated colorways.
The overall construction is clean, no bells and whistles – just well matched frame, fenders and chain guard in great colors with chrome-finished components.
Not to mention the super comfortable leather hand-stitched grips and luxe saddle with springs for city vibration dampening. The only issue with these bikes is that they are rather heavy, but this shouldn't be a major concern considering their overall quality and style.
Finally, the handlebar shape is ergonomic without being overly wide – all contributing to a lightweight and chic aesthetic that turns heads everywhere it goes.
There's no wonder why people can't help snapping pictures of this beauty on sight!
| | | | | |
| --- | --- | --- | --- | --- |
| Frame | Speed | Wheel size | Brakes | Load Capacity |
| Hi Tensile Steel | Single-speed | 700c | Coaster Brake | 250 pounds |
Click Here to buy now on Linus Bike!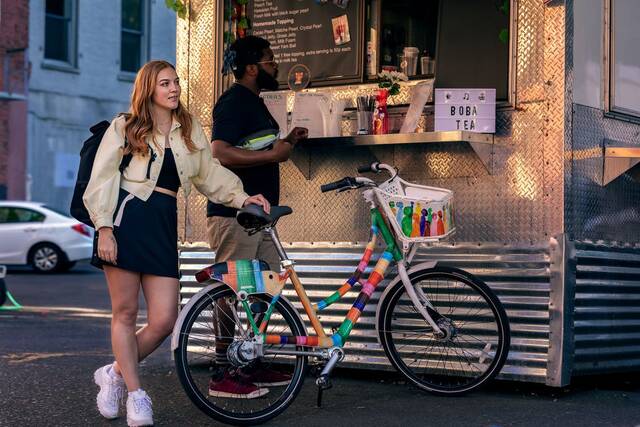 Beach Cruiser Bike Size Chart
Cruiser bikes for women are not one size fits all. You can ride bikes of different sizes does not mean they would be equally comfortable, easy and fun to ride.
Finding the right adjustment of saddle or handlebars takes time, but the result will be most comfortable and efficient ride you have ever experienced in life. Choosing a right size fit enables you to have greater enjoyment and smooth ride from your bike out of the box.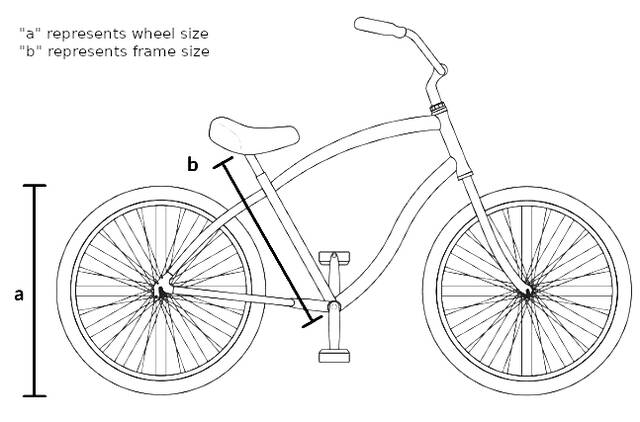 While the size of road and mountain bikes are measured in inches or centimeters. Cruiser bikes are mostly measured in their wheel size of diameter 700c, 24″, 26″.
Most of the cruiser bikes designed for woman features a 26″ wheel, as it is the size that fit most adults.
Consequently, bikes that feature a 26" wheel can accommodate most riders 5 to 6 feet tall. A cruiser with an extended frame and 26" wheel can accommodate 6′ And Over.
For children, teens, and adults under 5″ a 26-inch wheel will be too large for yourself. Therefore you should consider a cruiser bike with a 24″ wheel that fit heights of 4'4" to 5'6".
While 700c wheels are better suited for taller women, although they may also ride on 26 inch wheel.
For extended reading on this subject, I have found an illustrative guide on the sixthreezero websites on the topic "Proper bike fitting for women's cruiser bicycle".
Almost all bikes can be adjusted to meet one's personal needs. All it takes is to be open for changes moving the handlebar position, adjusting the seat, or changing the saddle. So feel free to make these simple changes on your own and find a good fit on a cruiser bike.
Frequently Asked Questions?
Is a cruiser bike easier to ride? ( Beginners Friendly )
Yes, Beach Cruisers Beginner-Friendly. They are more comfortable, sturdy, and smoother to ride than most other bikes. The best part they look attractive and are great to ride with a group of friends. It's a perfect choice for the casual cyclist who isn't looking for speed but a relaxed comfortable ride.

How much does a cruiser bicycle cost?
The cost of a cruiser bicycle can vary widely, depending on the type and features you choose. Generally speaking, basic cruiser bicycles start around $200, while more feature-packed models can cost upwards of $700. Cruiser bikes with electric motors and other high-end components may even cost more than $1,000. Additionally, there are often deals and discounts available if you look hard enough.

What is a good speed for a cruiser bicycle?
A good speed for a cruiser bicycle depends on the type of riding you plan to do. For leisurely rides, a typical speed can range from 3 to 8 mph. For recreational riders who want to go longer distances and be able to keep up with traffic, a speed of 10 to 15 mph is recommended. Single speed cruisers are better suited for flat surface or city while on hilly terrain 3 to 7 gears bikes do better.

Are cruiser bikes good for long rides?
Cruisers are the perfect companion for extended journeys, offering a smooth and comfortable ride across even terrain. While they may not be ideal in hilly areas, there is nothing like taking an adventure with your beloved cruiser on a scenic route! With its laid-back position and relatively flat profile, cruisers give riders the ultimate experience when it comes to long rides.
Also Read,
Women's Bike Size Chart – Finding The Right Bike Frame Size
Best Electric Cruiser Bike For Summer 2023 | Review & Comparison