What's more fun than riding a cruiser bike? It's a perfect way to enjoy a day of adventure cruising bike down beach roads and beyond on any summer day.
Making some of my best memories chasing endless roads on a beach cruiser in my home town in Natal.
Cruiser bikes have been around for like forever since they first invented in 1931. Designed for casual rides these are great to move around the town and for exciting riding on the beach.
I believe a cruiser bike is the best piece of equipment you can bring on a summer trip.
You can take it on roads, use it to explore new areas, go to yoga classes, or just spend the whole day cruising along the boardwalk just for fun.
With extra-wide tires, an upright riding position, a studier retro frame with sweptback handlebars, and a cushioned seat it makes your ride more comfortable and safer.
That being said not all cruisers are the same or build equal. Some are light and easier to ride while there are also many which are notoriously heavy and difficult to peddle.
Not all cruiser bike models in the market today are built for females either. Women's cruiser bikes are well built and come with lightweight but thicker step-through frames having bright as well as softer colors.
Thus we have identified our 10 favorite cruiser bikes for the woman after researching over 50 odd bikes across different brands. These are not just stylish but are very well made and light.
| | | | | |
| --- | --- | --- | --- | --- |
| Bike Name | Gears | Weight | Electric-Assist | Amazon Link |
| Sixthreezero EVRY Journey Women's Cruiser | 21 | 39 lbs | No | |
| Schwinn Mikko Women Beach Cruiser Bike | 7 | 42 lbs | No | |
| sixthreezero Around The Block Beach Cruiser | 21 | 34 lbs | No | |
| DJ Electric 750W City Comfort Cruiser Bike | 7 | 57 lbs | Yes | |
| Schwinn Perla Womens Beach Cruiser Bike | 7 | 42 lbs | No | |
| ANCHEER 26″ Electric Step-Through City Bike | 21 | 35 lbs | Yes | |
| Firmstrong Urban Lady Beach Cruiser | – | 38 lbs | No | |
| Huffy 26″ Nel Lusso Women's Cruiser Bike | – | 48 lbs | No | |
| Schwinn Destiny Women's Beach Cruiser Bike | – | 42 lbs | No | |
| Margaritaville Coast Women's Beach Cruiser | 7 | 40 lbs | No | |
What Are the Best Cruiser Bikes for Women?
1 ) Sixthreezero EVRY Journey Women's Cruiser
The sixthreezero EVRY Journey Women's Cruiser is my favorite cruiser bike. Why? This 26-Inch 7-Speed machine had proved reliable and satisfactory to me riding through different terrains, height, and distance over the last three years. This means that you'll ride for years before it starts to wear out.
There is no doubt on its performance and satisfaction; whether be it upright riding position that ads up to comfort or its retro look with minimalist features that make it quite enjoyable.
It comes with a Shimano 21-speed derailleur that will help you tackle long-distance, uphill riding, demanding streets, or easily pull your child in the chariot bike trailer behind. Further its unique high-quality front suspension will allow a smooth shock-free ride on the bumpiest terrain.
This means you will find it easy to peddle with less tension on major joints. With an upright riding position, you worry less of back pain and enjoy a more comfortable ride across flat terrain.
It's mostly constructed from aluminum with a 17.5-inch swooping step-through frame that makes it feel easy to use and gives it a much lighter finish with rust-free capabilities.
After that, It features a built-in rack, autonomic grips, and a comfortable sport seat. While its 2-inch slick tires make it possible to go over common obstacles on a regular commute.
You'll be glad to know it came with an illustrative manual and is easy to assemble. Overall it's a beautiful bike with wider cruiser handlebars built to last for years.
Sixthreezero EVRY Journey Women's Cruiser: Check Its Price On Amazon!
2 ) Schwinn Mikko Women Beach Cruiser Bike
Schwinn is possibly the oldest and most reputable brand in the world. They are so reliable and unique in their own league; we consider it the standard of quality. The Schwinn Mikko Step-Over Bike is one of its series of high-performance hybrid Beach Cruisers to maneuver around the city in style and confidence.
If you are looking for something reliable and satisfactory rather than another cheap bike; this step-through model with classic design is an ideal choice for women riders.
Its step-through design and great looks make it famous among female riders and the elderly. The lightweight steel construction and 26-inch tires make it suitable for medium and tall height fit.
It is designed with swept-back handlebars, comfortable sport seats, and ergonomic rubber grips for convenience. Further, it also includes Schwinn alloy crank and Schwinn suspension fork as their construction features. This makes it idle to explore long-distance with a wide range of riding tracks.
Its low swooping frame and step-through design make it easy to hop on and off irrespective of your dress. It's the sort of bike one would usually see for leisure commute, at beaches, and on a college campus.
The 7-speed drivetrain with twist shifter ensures fast and smooth gear shifting while its intuitive rear coaster brake provides great stopping power. Together you feel like keep cycling as it goes fast as you peddle and will stop right there you apply your coast brakes.
Overall the Schwinn Mikko women Beach Cruiser is a great machine optimized to ensure a comfortable riding experience with its ergonomic frame design, cushioned seats, and upright riding position.
Schwinn Mikko Women Beach Cruiser Bike: Check Price On Amazon!
3 ) sixthreezero Around The Block Beach Cruiser
Another great bike from sixthreezero this classic cruiser bike is is extremely comfortable and comes in in a variety of pretty colors. Whether you are riding around the neighborhood or go long distance, its upright riding position ensure you had your back and shoulders in good care.
Depending on how fast or long you want to go with this bike you can choose from a single-speed, 3-speed, 7-speed, and 21-speed gear like the many other sixthreezero products.
Built on a sturdy aluminum frame it provides you with a strong and durable bike. Its wide cruiser handlebar with foam grips ensure you always ride with control and confidence.
While a 26-inch wheel with large waffle tread tires provides a cushioned ride on beaches, country tracks, and other similar terrains. The bike has synchronized seats and shocks that can share the load and make it the most stable women's bike that you can find on this list.
You'll be glad to know it came in almost assembled ( 85% ) and the rest is super easy to put together. Overall it's fun to ride, has fairly decent speed, has good power, and is good value for the price.
sixthreezero Around The Block Beach Cruiser: Check Its Price On Amazon!
4 ) DJ Electric 750W City Comfort Cruiser Bike
This 750-watt electric-powered, 26" Comfort Cruiser Bike is manufactured by DJ Bikes in Canada. It is made from high-quality components passing the highest safety and quality standard.
That includes LG re-chargeable battery, Mozo shock-absorbing suspension fork for a comfortable and smooth ride, Shimano Freewheel, 7-gear package, Tektro disc brake assembly, and a Bafang Brushless motor all built into a light-weight aluminum frame.
CST all-purpose tires and a full-comfort, suspension saddle offer an enjoyable ride on city streets, as well as light off-road trails. While the 750W strong motor gives you the speed you ever wanted.
In power-assist mode, it can travel up to 20 mph (32 km//h) and power up even long, steep hills with ease.
The battery pack is removable, able to charge anywhere in 4 to 6 hours, and protected from over-charging. The bike is also designed to be water-resistant and can be ridden through light rain or damp conditions.
Rider perks include an easy step-through mount, full-cover plastic fenders, and high-quality King Meter, J-LCD display with speed indicator, riding distance, backlight, and more.
The DJ Electric 750W City Comfort Cruiser comes with a one year warranty, free shipping to Canada or the U.S., and is competitively priced.
Overall the DJ Electric 750W City Comfort Cruiser is a comfortable, easy to operate, and user-friendly electric powered bike, which is designed to handle the diverse riding of city roads.
DJ Electric 750W City Comfort Cruiser Bike: Check Price On Amazon!
5 ) Schwinn Perla Womens Beach Cruiser Bike
As a leader in the bicycle industry for over 120 years, Schwinn has developed the Perla, which combines classic, vintage style with modern technology.
The Schwinn Perla Women's Beach Cruiser, built for leisurely rides offers a comfortable upright riding position, sweptback handlebars, a Schwinn quality, spring cushioned, quilted saddle, and full fenders which prevents road dirt and debris from flying onto the rider.
With 26" wheels and an 18" steel frame, this step-through cruiser comfortably fits riders 5'4" to 5'9".
The Shimano 7-speed twist gear shifter makes shifting a breeze and hills easily manageable, while the alloy linear, hand-breaking system allows for controlled stopping.
The Schwinn Perla comes in four trendy colors: yellow, pink, blue, and coral, and sports a color-coordinated bike rack over the back fender, and carries a Schwinn's warranty.
Overall the Schwinn Perla Women's Beach Cruiser offers upright comfort in an easy to operate, vintage-styled step-through frame. This recreational cruiser works well on paved roads and light off-road trails. The Perla weighs just 42 pounds (19 kg), easily assembled, and competitively priced.
Schwinn Perla Womens Beach Cruiser Bike: Check Its Price On Amazon!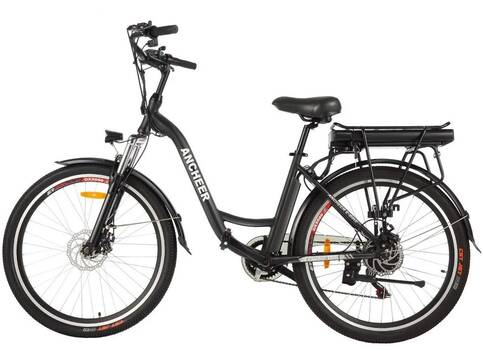 6 ) ANCHEER 26″ Electric Step-Through City Bike
Smooth yet powerful it is becoming the most popular female specific e-bikes on the market. With this you probably can't tackle the tallest of hills but is idle for urban environment such as cruising near beaches, leisurely commute in streets or commuting within cities.
Its one of few e-bikes that I personally used and liked spot on. First its pretty attractive by looks and is a clear winner when it comes to versatility, ease of use, and affordable price.
For a lower-end entry-level bike, you just can't get a better electric bike in the market. The ANCHEER Electric City Bike is the perfect bike for riding to work or to the library.
This beach cruiser E-bike is high quality, sturdy and light made of 100% aluminum alloys. It came with twin disc brakes, front suspension, bright led headlight, 26-inch wheel size, adjustable saddle, 21-speed gear, paddle assist and curved handlebars with extended seams.
Robust in design the aluminum frame made it light, strong and easy to maneuver while the carbon steel fork gave it additional strength to sustain heavy loads.
You'll be happy to know it came in almost assembled and the rest is also simple to complete. For its type it offers plenty of assist and last about 30 miles per charge.
ANCHEER 26″ Electric City Bike: Check Price On Amazon! or Buy Directly From Manufacturer!
7 ) Firmstrong Urban Lady Beach Cruiser
The Firmstrong Urban Lady Beach Cruiser is a vintage styled bike and comes in a single-speed, 3-speed, 7-speed, and 21-speed version. All four models have wide, white-wall tires and a spring supported, full-seat saddle, making for a smooth, comfortable ride.
All versions come in a variety of popular colors and have 26" wheels, and a 15" steel frame, with adjustable seat and handlebar height and tilt, which comfortably fits most riders 5 to 6 feet tall.
The single-speed model is designed for those looking for a simple, enjoyable ride without the fuss of complicated biking components, making it optimal for flat road surfaces at 3 to 15 mph.
The coaster braking system means riders can easily press-back on the foot pedal to stop.
The 3-speed, which has the same KT coaster brake as the single speed, has a Shimano internal hub gear shifter, making hills easier. The 7, and 21-speed versions have front and rear hand brakes, and Shimano gear shifts, for more riding options.
The Firmstrong Urban Lady Beach Cruiser has a six-month warranty on manufacturer's defects and workmanship and is comparatively priced.
On the downside, this is not a full step-through design, requiring a higher leg-swing on mounting. The single-speed version is not designed for hills, or riding surfaces other than flat. The 3, 7, and 21-speed versions are better equipped to handle hills.
At just 38 pounds, this bike is easy to maneuver and comes with simple assembly instructions. Matching fenders are available at extra cost in case you want one.
Firmstrong Urban Lady Beach Cruiser: Check Its Price On Amazon!
8 ) Huffy 26″ Nel Lusso Women's Cruiser Bike
Huffy's 26" Net Lusso is a popular, upright positioned, single-speed cruiser with a simple coaster braking system.
This trendy, classic, vintage style cruiser, comes in pale blue with complementary cream-colored tires, cupholder, and a full saddle, spring supported, easy release seat.
This bike is perfect for commuting or recreational, flat surface riding, offering a smooth pedaling system with the ease of a foot brake.
The bike comes with a front, handlebar basket, and rear fender bike rack, making carrying items a breeze. The color-matching fenders protect riders from road debris and dirt.
The Net Lusso carries Huffy's Limited Warranty.
The Net Lusso is less expensive when compared with other single-speed cruisers. Despite requiring a higher leg swing upon mounting, it is smooth and comfortable to ride over flat surfaces.
The single-speed makes hills difficult. But the basket and fender rack allow for transporting items. The bike only comes in blue with cream-colored components.
Huffy 26″ Nel Lusso Women's Cruiser Bike: Check Price On Amazon!
9 ) Schwinn Destiny Women's Beach Cruiser Bike
Schwinn's Destiny Woman's Beach Cruiser is a little slightly smaller version of the classic, vintage style bike with 24" wheels, fitting riders aged 8 and older, at heights of 4'8" to 5'6".
The frame is made of durable steel, with lightweight alloy wheel rims. It's single-speed pedaling system, and wider tires make it perfect for recreational riding on flat surfaces, while it's coaster-style breaking system, allows for easy, uncomplicated stops.
The bike comes in white with blue accents on the wheel rims, and chain guard, and a full padded cruiser saddle and lifted handlebars, for an easy upright posture.
Front and rear fenders protect the rider from road water and debris, and the front basket and rear fender bike rack allow for carrying needed items.
At 42 pounds, this bike is comparable weight-wise, against other cruisers, and is slightly less costly than other single-speed, coaster brake versions.
Overall Schwinn Destiny is an economical model of a classic, vintage-style cruiser.
While it is not considered an official step-through, it does have a lower leg-lift requirement than other non-step-through models. The simple pedaling and braking mechanism allows for easy riding on flat surfaces, but as all single-gear bikes, struggle with hills.
Schwinn Destiny Women's Beach Cruiser Bike: Check Its Price On Amazon!
10 ) Margaritaville Coast Women's Beach Cruiser
The Margaritaville Coast Woman's Beach Cruiser is not your typical 26" cruiser. The bike offers a Shimano 7-speed gear system with easy to use the twist, handle shifters, making hills no problem. Stops are smooth and accurate with front and rear alloy side pull handbrakes.
The lightweight, aluminum frame comes in both a bright blue or light green paint, with signature Margaritaville decals, and full fenders to protect from road splash.
A cushioned, full saddle and upright handlebars offer comfortable up-right positioned riding.
For storage, a front handlebar basket comes with the bike, along with an easy access cup holder, while the fun, signature parrot horn lets others know your presence.
At 40 pounds, this bike weighs slightly less than other cruiser-type bikes. It's gaining more and more attraction for its cool looks and decent features in recent times and worth checking.
The Margaritaville Coast is Clear is a reasonably priced vintage-style cruiser. It is not a step-through mounted bike and does require a higher leg swing to mount.
It's a 7-speed gear package, and the hand braking system allows riders the versatility to manage hills and quick stops. Those looking for a fun, recreational cruising bike will enjoy the whimsical style of this bike.
Margaritaville Coast Women's Beach Cruiser: Check Price On Amazon!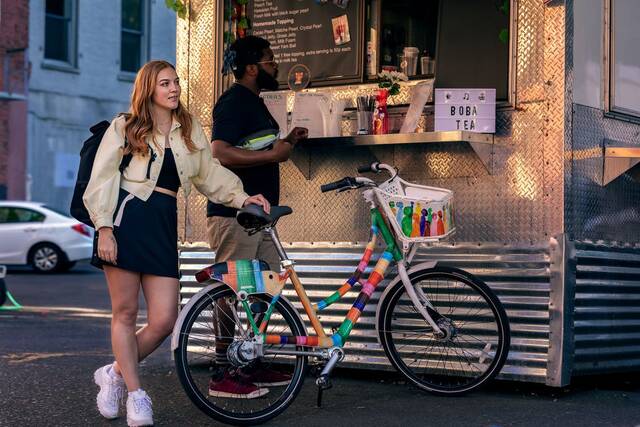 How to Choose the Best Cruiser Bikes for Women
When you are buying any new beach cruiser bike for yourself or loved ones. There are a few major things one should always keep in his or her mind.
In other words, to make an educated decision its important to know and ask what is your need? A woman who is just getting 25 has different needs and preferences than one at 35 or 40.
Look through this shortlist of important points to consider while choosing an ideal cruiser for you. This will ensure you always enjoy a more comfortable, more fun and relaxed rides.
Will the large size enough for my height? , What material is the frame made from? , Can you sit straight up on this bike? , Is it the kind of bike fit for trips to the grocery store? , How comfortable is it?, Is it in your budget? , Its key features? , How much does it weigh? , Is the one worth with regards to durability/quality, etc.
These are some important questions you should ask yourself; before making any final decision.
We have thus reviewed and listed the above products based on these parameters. I personally research and tested each step through bikes on each parameter and ranked accordingly.
In addition, I have personally looked at their frame, comfort level, seats, suspension, power/charge ( in case of electric ), and assembly before making our final list. Since they are some of the basic necessities of any modern bike. They were Our first priority while preparing the above list.
Our first priority while preparing the above list was its features then; durability, quality, comfort, sitting position/fit, suspension, tire width, gears, weight, speed, customization, cost, ease of assembly, construction material followed by all other aspects of a modern cruiser bike.
Overall I have come up with a list you'll probably feel excited to pick your favorite one.
Beach Cruiser Bike Size Chart
Cruiser bikes for women are not one size fits all. You can ride bikes of different sizes does not mean they would be equally comfortable, easy and fun to ride.
Finding the right adjustment of saddle or handlebars takes time, but the result will be most comfortable and efficient ride you have ever experienced in life. Choosing a right size fit enables you to have greater enjoyment and smooth ride from your bike out of the box.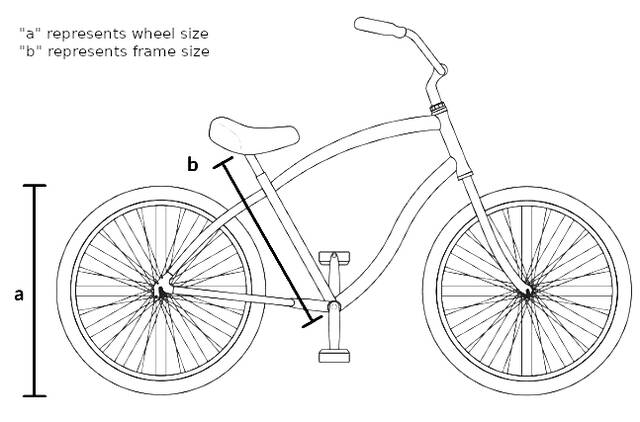 While the size of road and mountain bikes are measured in inches or centimeters. Cruiser bikes are mostly measured in their wheel size of diameter 20″, 24″, 26″.
Most of the cruiser bikes designed for woman features a 26″ wheel, as it is the size that fit most adults.
Consequently, bikes that feature a 26" wheel can accommodate most riders 5 to 6 feet tall. A cruiser with an extended frame and 26" wheel can accommodate 6′ And Over.
For children, teens, and adults under 5″ a 26-inch wheel will be too large for yourself. Therefore you should consider a cruiser bike with a 24″ wheel that fit heights of 4'4" to 5'6".
For extended reading on this subject, I have found an illustrative guide on the sixthreezero websites on the topic "Proper bike fitting for women's cruiser bicycle".
Almost all bikes can be adjusted to meet one's personal needs. All it takes is to be open for changes moving the handlebar position, adjusting the seat, or changing the saddle. So feel free to make these simple changes on your own and find a good fit on a cruiser bike.
Frequently Asked Questions?
Is a cruiser bike easier to ride? ( Beginners Friendly )
Yes, Beach Cruisers Beginner-Friendly. They are more comfortable, sturdy, and smoother to ride than most other bikes. The best part they look attractive and are great to ride with a group of friends. It's a perfect choice for the casual cyclist who isn't looking for speed but a relaxed comfortable ride.
What's the difference between women's cruiser bikes and men's cruiser?
Both men's and women's beach cruiser differs in terms of size and design features. It is so because women have narrower shoulders and shorter hands. Thus men's bikes are by design larger and run horizontally to adjust for a longer torso and shorter legs. Women bikes have narrower handlebars with shorter grips and a sloped top tube to accommodate longer legs and skirts.
What is a cruiser bike best for?
Cruiser bikes are just the more comfortable hybrid bikes with sweptback handlebars. Since they usually have low to no gears they are ideal for most city rides and mild trail excursions. They offer comfortable seats and an upright position that makes it easier to commute in cities.
I had personally ridden for more than 15 miles on a cruiser and it was easy and fun. Although on challenging trails and mountain you need heavy gears or at least electrical assist. You would also require decent suspension and shock absorbers in hills.
How does it differ from a comfort bike?
While cruisers are more durable, comfort-oriented, and simple in design. A comfort bike features a hybrid bike like handlebars, stretched frame design with suspension, and extra gearing. They offer premium comfort at a premium price; while cruiser requires less maintenance.
Also Read,
Women's Bike Size Chart – Finding The Right Bike Frame Size
Best Fat Tire Bikes For Women 2022 | Review & Comparison
Best Electric Cruiser Bike For Summer 2022 | Review & Comparison