Step through bikes is getting popular these days among seniors and starters. Riding a bike gives us relief and freedom from the harsh realities of one's life. It is simple, easy to use, refreshing and can be a good form of exercise.
But, as we grew older people start to lose their strength and abilities. This can be seen as a reduction in mobility; obesity, knee pain, back pain, and other health issues.
Thus it becomes difficult for senior citizens to commute from one place to another without any assistance.
This is where bicycles came in handy for seniors as their preferred mode of transportation. While there are many alternatives like cars and motorbike but; many elders still prefer to use bicycles.
For short and medium distance it's an efficient form of transportation. The one that helps keeps your elders in good physical shape. The best part is they are mostly senior-friendly and put less stress on the body.
When looking for the best bikes for seniors; it is sometimes hard to find a bike that meets their physical capabilities.
Thus we came with this helpful guide reviewing only the best step through bikes for seniors tested by our own team of experts. To makes things easier I have gathered the best bicycles for seniors on the market in this list.
Step Through Bikes For Seniors – Comparison Table
| | | | | |
| --- | --- | --- | --- | --- |
| Bike Name | Speed / Gear | Weight | Frame material | Amazon Link |
| Schwinn Discover Hybrid Bikes | 21 | 45 lbs | Aluminum | |
| sixthreezero Alloy Beach Cruiser | 21 | 42 lbs | Aluminum | |
| Schwinn Meridian Adult Tricycle | Single Speed | 70 lbs | Aluminum | |
| ANCHEER Electric Bike | 24 | 58 lbs | Aluminum Alloy | |
| NAKTO 26″ 250W Cargo Electric Bicycle | 6 | 50 lbs | Carbon Steel | |
| Nakto City Electric Bicycle | 6 | 59 lbs | Carbon Steel | |
| Pure City Classic Step-Through Bicycle | 8 | 35 lbs | Steel | |
| Retrospec Step-Thru City Bike | Single Speed | 33 lbs | Steel | |
| Huffy Hardtail Mountain Bike | 21 | 43 lbs | Steel | |
| SXL Expressway Urban Fixie Bike | Single Speed | 28 lbs | Aluminum | |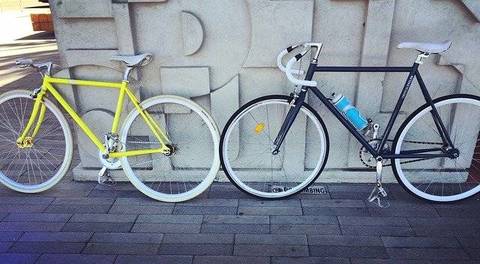 10 Best Step Through Bicycles For Seniors
1 ) Schwinn Discover Hybrid Bikes
Renowned for its quality and performance; the Schwinn discover hybrid bikes is an excellent choice for urban commuters.
Combined with 21-speed gears with a unique suspension fork to cushion the gear and shocks. It provides excellent and smooth-riding experience with full control over bike speed.
This comfortable hybrid bike features a built-in rack, autonomic grips and a comfortable sport seat with aluminum frame construction. It is quite balanced, rugged and can easily cope with rough trails.
Moreover, it includes Promax alloy linear brakes for excellent and smooth braking experience in hilly and urban settings. Although its quite heavy it is pretty comfortable for the long distance.
So ask your grandpa to leave his chair and enjoy a short ride on this hybrid bike for health and enjoyment. I personally feel it is the best commuting bike for all age groups.
Being a hybrid bike it is idle for persons of different heights and sexes. In addition, it has swept up handlebars which are great for people with heavyweight or larger hights.
Some of the key strengths of this bike are; strong aluminum body, durable construction, suitable for all user types, beautiful retro looks, comfortable seats, and great braking system.
Overall, it's a strong bike for seniors who are still fit enough to take full advantage of its capabilities. Easy to assemble and upgrade it can be customized anytime to give a rather personal touch.
Schwinn Discover Hybrid Bikes: Check Its Price On Amazon!
2 ) sixthreezero Alloy Beach Cruiser
Although promoted largely as a hybrid women bike. This sixthreezero beach cruiser is idle for both sexes especially elders. While there are mixed reviews to whether it is okay for senior men to use a bike marketed for women.
There is no doubt on its performance and satisfaction; whether be it upright riding position that ads up to comfort or its retro look with minimalist features that make it quite enjoyable.
Built with cruiser configuration it is easy to peddle and frame geometry helps take the tension off major joints.
Thus it offers shock-free riding experience making it one of the most comfortable bikes in the market. Its unique high-quality front suspension will allow a smooth shock-free ride on the bumpiest terrain.
After that, its 2-inch slick tires make it possible to go over common obstacles on a regular commute. The aluminum frame gives it a much lighter finish with rust-free capabilities.
Available in a variety of colors and styles; its relatively small size can make it difficult for tall people. Came with an illustrative manual it is easy to assemble.
One can assemble it in an hour with no prior knowledge of how to do so. It is definitely not a light bike but its stable design; comfortable seats, easy step-thru entry, and unique pedal placement are helpful to seniors.
Overall it is one among nice step through bikes for women and seniors. It's forward pedaling position and well-cushioned seats; that helps stay upright without ever need to bend forward.
Sixthreezero Alloy Beach Cruiser: Check Price On Amazon!
3 ) Schwinn Meridian Adult Tricycle
I rather enjoy this step-through adult tricycle for transportation than any wheelchair. A wheelchair is great but they do not provide a sense of dignity and self-reliance.
I see many elders who struggle to recover or simply keep their head high in society. All because they now feel they are dependent on others not by choice but compulsion.
It is simple in design, easy to assemble and most important; elders know and understand how it works.
If you are overweight and your doctor has asked you to ride a bicycle. There can be a no better option than this tricycle; as it's hard to ride regular bikes in both extremes; too heavy and too weak.
Since it features a large storage space you can take it to shop with ease. The Schwinn meridian adult tricycle has a super low stand-over aluminum frame. This allows for easy step-through access with a nice clean look.
Its pretty rugged construction with classic swept-back handles you can depend on. Overall you get a smooth ride with an upright riding position; offering a relaxed and comfortable ride.
Some of the key features of this bike are; naturally balanced design, extra padded saddles, large storage space ( rear basket ), lightweight design, easy step through access, etc.
If you are looking for a slow cruiser without losing your balance. This is a great tricycle for adults and seniors with difficulties or balance problems. It is well worth its price tag considering the joy and comfort it offers.
Schwinn Meridian Adult Tricycle: Check Its Price On Amazon!
4 ) ANCHEER Adult Electric Bike – 24 Speed Gear
Yes, it is shocking for many adults who want to gift a bike to their father or any elder. But trust me many old employees prefer to take an e-bike to work; rather than pedaling for 20-30 minutes.
While it may be just okay to ride for 30 minutes under normal condition. But pedaling uphill can be really challenging and believe or not "It Hurts!".
Thus e-bike like this is great for elders with greater responsibilities. Whether you need to reach the local market or attend work; its a perfect daily commute at an affordable price range.
Although it's not quite a step through bikes; it is quite comfortable and straight forward with the convenience of the folding frame. Above all, its pedal-assist system help maintains the same speed; while it feels like you actually did the exercise.
So add on to some quick bicycle exercise on the way as you ride your e-bike. The bike is really fun to ride with 24-speed gear; averaging a speed of 20 mph on hilly and normal road conditions.
Constructed out of aluminum alloy, its rugged and almost rust free.
Some of the key features of this e-bike are; powerfull motor ( 36 V, 350W ), comfortable low-step frame ( idle for seniors ), long battery life ( mileage of 40km ), 330 lbs load capacity, and excellent shock absorption.
Looking at its affordable price its a great quality. Topped off with Front and mechanical disc brakes it offers you control and flexibility when commuting across traffic in the city.
ANCHEER Adult Electric Bike: Check Its Price On Amazon!
5 ) NAKTO 26″ 250W Cargo Electric Bicycle
One of the true electric step through bikes idle for seniors. It's a high-quality performance bike cruiser idle for casual riders.
The NAKTO group has time and delivered high-quality products but at affordable prices. It features High-strength Carbon Steel Frame with comfort shock absorption.
This makes it an epitome of strength and durability but at the cost of increased weight. Having a low step frame construction it offers easy to hop on construction preferred by seniors.
This ensures it not just look modern and stylish; but also can handle large load i.e 300 lbs capacity. The NAKTO 26″ 250W came with a 36V, 250 W motor; powered by 36V 10AH lithium battery.
In addition, it features a six gear transmission system; that offers greater flexibility in terms of speed control. The maximum speed for this e-bike is around 18 to 20 mph.
This bike can operate under two-mode; one fully automated e-bike and another assisted bicycle mode. This Assisted bicycle mode helps you exercise along the way while boosting bike performance.
Some of the key features of this bike are; comfortable, easy to hop on and off, long battery life, rugged construction, durable, six gear transmission system, front V brake, adjustable handlebar, and seats.
Overall it's fun to ride, has fairly decent speed, has good power and is good value for the price. A true hybrid bike that works great for old people. It can work with and without peddling with full-auto, semi-auto and manual mode.
NAKTO 26″ 250W Cargo Electric Bicycle: Check Its Price On Amazon!
6 ) NAKTO City Electric Bicycle
Another product line from NAKTO; which produce excellent step through bikes for city use. The NAKTO city electric has a 250W rear hub brushless motor generating high torque.
It's slick, weighs just 70 lbs with battery and offers an easy on and off. Although its the cheapest of all e-bike out there; the company tries to provide a pretty solid bike for the price.
Its speed up to 20-24 mph and can easily last for 25 miles or more for 4 hours of a single charge.
Made from the high carbon steel frame it's pretty much rock solid with excellent durability. The 6-Speed Transmission system with comfort shock absorbs gives you a smooth riding experience.
Unlike other bikes in which you have to assemble pretty much everything. This NAKTO city electric bicycle came in half assembled. So put on the handlebar, tires, adjustable brakes, battery, and basket; now its done and ready to go.
If you are looking for a bike just for city commute; its more than perfect in terms of its capabilities, outstanding stability, and overall comfort. Although I must say some of its parts do look of cheap quality; ex: front light.
Some of the key features of this bike are; nice front basket, easy to hop on ( true step-through design), 250 lbs load capacity, Suspension fork, rear expansion brakes, 36V*10Ah Large capacity battery, and 1-year product warranty.
Overall, it is a remarkable acquisition for seniors who want a better commute; that is not just easy to ride but also stupidly simple to understand, operate and maintain.
NAKTO City Electric Bicycle: Check Price On Amazon!
7 ) Pure City Classic Step-Through Bicycle
If you are going to biking after a long period of time; I would suggest this bike to you. Idle for seniors it is all about comfort with the power of the 8-speed gearing system.
Unlike another step through bikes, it's very light. just 40 lbs in comparison with 45-55 lbs bikes mentioned above.
Available in four different styles it features a hi-tensile steel frame. This makes it light and durable. It is a well built lightweight bike that looks beautiful and modern.
Made especially for smooth riding; it is one of the most comfortable bikes for starters. Plus it is easy to assemble with no prior knowledge or skill. This also includes a metal rack for over the back fender.
The upright riding position with easy step-through access; make it suitable for seniors. This prevents you from having to lean over the handlebars; thus helps avoid unwanted neck and back pains.
I must also tell you that its a true unisex bike. Meaning it is great for seniors of both genders. This was important for those who had a hard time riding a bike tagged for women.
Some of the key features of this bike are; comfortable and good looking, lightweight, true unisex bike, easy to hop on seats, adjustable handlebars, 8-speed gears, alloy brakes, ergonomics, and an all-purpose city bike.
Pure City Classic Step-Through Bicycle: Check Its Price On Amazon!
8 ) Retrospec Step-Thru City Bike
If you are looking for something basic but pretty solid; you should rather give this a try. It's a modern single-speed hybrid bike designed for the average urban rider.
The one who enjoys straight forward components, full customization, high-quality parts with a retro aesthetic.
The single-speed is just great for smooth cruising on flat road and busy traffic. While the rear coaster brakes make it simple and easy to operate. Above all, its lightweight step-through steel construction that works great with seniors.
Thanks to its mustache handlebars, Deep-V rims, freestyle pedals, large comfortable seats, and vegan leather grips. It gives you a feel of beach cruiser; i.e: uninterrupted smooth ride with relaxed riding style.
The Retrospec Step-Thru Bike is straightforward when it came to assembly. It came with all the tools you need and it takes just common sense to know what to do next.
I have to admit, being a single-speed cycle it can be a little bothersome to take them to the hill.
But you don't need much more for a daily commute; especially when you have to deal with urban traffic. In addition, having a lightweight frame with 30mm deep-v rims; it is quite easy to control and balance.
Overall, when compared to the other great step though bikes; it definitely worth checking. Especially if you endure features like; smooth handling, premium quality, stylish retro look, and lightweight design.
Retrospec Step-Thru City Bike: Check Price On Amazon!
9 ) Huffy Hardtail Mountain Bike
If you are comfortable and confident about assembling your bike; it's easy otherwise its instruction manual will make you scratch your head. So you may need to spend a little more buck to get it done locally.
Otherwise, this is a great bike to have when you love adventure and the feeling associated with riding. The huffy hardtail mountain bike is quite sturdy and responsive.
It's quite powerful and stylish for the price with 21-speed gears. Whether you are riding on a rough track, bumpy pathways or a flat surface. It stands out in suspension, ergonomics, overall experience and brakes.
The bike includes a removable rear derailleur guard that ensures smooth and consistent gear operation.
On the downturn, this particular bike has some quality issues. But it's fair to say you get what you pay for. If features go up but the price doesn't either quality or the manufacturer suffers.
Thankfully it durable enough to handle day to day ride. Its frame is built to absorb much of the shocks and stress. While its smooth cruiser configuration makes it easy and fun to peddle.
Of different step though bikes mentioned above; its one that is most optimized for the least price. So one can give it a shot if he or she is tight on budget.
Huffy Hardtail Mountain Bike: Check Its Price On Amazon!
10 ) SXL Expressway Urban Fixie Bike
This is a bike that has an all-positive review whether in terms of; budget, performance, style, accessibility, and quality. But people have mixed experience on whether it is easy or hard to assemble.
I personally find no instruction manual but simple to assemble; provided I have assembled bikes before. But for some, this can be a total mess that can take quite some time to come to a solution.
However, this can be easily overcome with a little help from a professional mechanic or a well explained youtube video.
Going to the bike it's super light ( just 28 lbs ), easy to handle, well designed, comfortable and good looking. There is no doubt, when it comes to single speed budget bikes there is no match to it.
Built from the aluminum frame it has design and feature of a road bike, but the strength of a hybrid mountain bike.
This bike is equipped with 700x25c tires; but its Wide fork and clearance frame can support tires up to 700x32c. In addition, it also includes Deep V 30mm wheels that help minimize on-road vibrations.
This bike is mostly recommended to seniors below 65-70; as it is not among one true step through bikes. Not only that, it holds well on rough roads and is relatively easy to handle.
Some of the key features of this bike are; leather grips, stylish design, lightweight design, adjustable handlebar, radius brakes, single speed, rugged construction, and smooth handling.
SXL Expressway Urban Fixie Bike: Check Price On Amazon!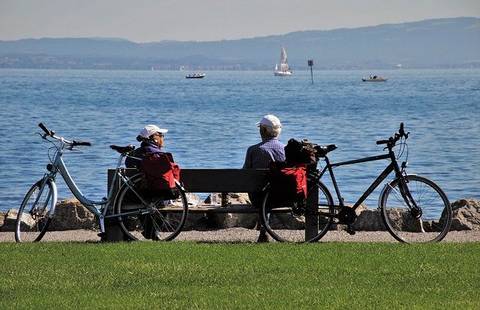 How To Choose The Best Step Through Bikes For Seniors
When you are buying any new step through bikes to be used by seniors. There are a few major things one should always keep in his or her mind.
In other words, to make an educated decision its important to know and ask what is your need? A person that is getting older ( 45+ ) has different needs than a senior ( 65+ ).
Will the large size enough for my height? , Can you sit straight up on this bike? , How comfortable is it?, Is it in your budget? , Its key features? , How much does it weigh? , Is the one worth with regards to durability/quality, etc.
These are some important questions you should ask yourself; before making any final decision.
We have thus reviewed and listed the above products based on these parameters. I personally research and tested each step through bikes on each parameter and ranked accordingly.
In addition, I have personally looked at their frame, comfort level, seats, suspension and fit before making our final list. Since they are some of the basic necessities of any modern bike. They were Our first priority while preparing the above list.
Our first priority while preparing the above list was its features then; durability, quality, comfort, sitting position/fit, suspension, gears, weight, speed, customization, cost, ease of assembly, construction material followed by all other aspects of a modern bike.
Overall I have come up with a list well suited for all seniors; irrespective of their current physical condition and sex.
Frequently Asked Questions?
Q.1. How is bike riding good for seniors?
Ans: If you are getting old or already crossed 60; you have seen a significant decline in your muscle and weakening of heart and lungs. If you are still physically active and want to improve your situation; riding a bicycle is your best option.
Riding bicycles came in easy that does not need the same effort as traditional workouts. It's comfortable, can be used for transportation, is fun to ride, preserve strength and helps maintain good health.
For this segment of the population more traditional bikes with an upright sitting position are well suited. Doing cycling on a regular basis can slow down the progression of aging.
Q.2. What is a good speed for a bike to ride?
Ans: The average speed for cycling among adults is between 10-15 mph. Among professionals its seen in between 12-18 mph. But if you are riding for just fun any speed between 6-9 mph is a good one to ride.
Riding speed depends on a number of factors including; wind speed, wind direction, up or downhill condition, gear ratio, the weight of the bike and overall effort put into the riding.
That said, your average speed will gradually increase over time. This happens as your muscles strengthen and you become fitter. If you want to increase your average speed instantly; simply switch to a lighter bike.
Q.3. At what age should you stop riding a bike?
Ans: There is no such age at which one should stop riding a bike. In fact, one should ride a bike as long as the body permits. On the contrary, people who regularly ride bicycles maintain their body strength.
One should go for a comfortable lightweight bike at old age. If he or she is too weak to balance or have any medical issue; one should try tricycle for a short commute rather than being dependent on someone else.
Now as heart and lung function weakens with age it is advised not to ride mountain bikes after the age of 70. Similarly, it is preferred to go for a step-through bike for ease of use irrespective of the sex.
Q.4. Step-Through Vs Lightweight Design?
Ans: Traditionally step through bikes are known as women's bike; as it does not stretch or rips offs the cloth. These are just good when you are riding wearing a skirt.
But it has one major advantage that came in handy when it comes to old age. You do not need to lift your leg all the way up to sit on the seat. While it is not a big deal for adults its quite challenging for many elders.
Similarly, lightweight bikes are easy to ride and require much less effort. On the contrary step-through bikes are heavier but safer. Thus while both are great for seniors; when it comes to choosing between the two it's your priority that matters.
Also Read,
How Heavy Is A Lightweight Bike? | Get List
The Ultimate List of Best Gravel Bikes 2023 | Off-Road Ride
9 Best Fixed Gear Single Speed Bikes for Commuting