Gravel bikes are great all-around option that have finally gotten their due, but are still considered a niche product by many. Which means they tend to have high price tags.
But, as their popularity grows, so too do affordable options. The trouble is sorting through them all to find the worthy bargains.
Or at least, that was the trouble before you found this article.
Below you will find a list of 21 gravel bikes for 2023 and beyond. Each of them has been evaluated for quality of performance, and all of them would make a great choice for the right rider.
I've highlighted their inspirations and best features to make it easy for you to determine which of them best suits your individual cycling needs. Not sure what to look for?
I've broken down the important considerations at the end of the article.
Gravel Bike

Price
($ USD)

Weight

Drivetrain

Frame

Wheels

Reach
( cm )

Cannondale SuperSix EVO SE

5K +

14 lbs

1 x 12

Carbon

700 x 40c

37-39

Kona Rove AL 650

1K

27 lbs

2 x 8

Aluminum

650 x 47c

37-40

Specialized S-Works Crux Pro

8K

17 lbs

1 x 11

Carbon

700x33mm

–

CUBE NUROAD PRO

1K +

23 lbs

2 x 10

Aluminum

700 x 40

37-39

Cannondale Topstone 6

2K +

18 lbs

2 x 10

Carbon

700 x 37c

36-40

Giant Revolt 2

1K +

21 lbs

2 x 8

Aluminum

700x38c

37-40

Fuji Jari 2.5

1K

28 lbs

2 x 8

Aluminum

700x37c

36-40

DiamondBack Haanjo 4

1K +

22 lbs

2×10

Aluminum

700x37c

37-39

Salsa Journeyman Claris 650

1K

27 lbs

2 x 8

Aluminum

27.5 x 2.1″

36-39

Specialized Diverge Comp

4K +

21 lbs

1×11

Carbon

700 x 2.1″

–

Trek 2022 Domane SLR 7

8K +

19 lbs

1 x 12

Carbon

700x32c

36-38

Mongoose Elroy Adventure

1K

30 lbs

2 x 7

Aluminum

700 x 40c

–

Breezer RADAR Expert

1K

28 lbs

2 x 9

Steel

700c x 45c

39-42

Cannondale Topstone Neo SL

3K +

30 lbs

1×11

Carbon

700 x 42c

37-40

Specialized Turbo Creo SL

13K

27 lbs

1×11

Carbon

700x42mm

–

Giant Revolt Advanced Pro

5K

17 lbs

2 x 11

Carbon

700x40c

37-40

Trek 2021 Domane SL 6

4K

20 lbs

2×11

Carbon

700x32c

36-38

Diamond Back Haanjo 6C

2K+

21 lbs

1×11

Carbon

650×47

37-38

State Bicycle Co 4130

1K

–

1 x 11

Steel

700c x 38c

–

Trek Checkpoint ALR 5

2K

22 lbs

2 x11

Aluminum

700x40c

37-39

Fuji Cross 1.3

1 K +

21 lbs

1 x 11

Aluminum

700x33c

37-40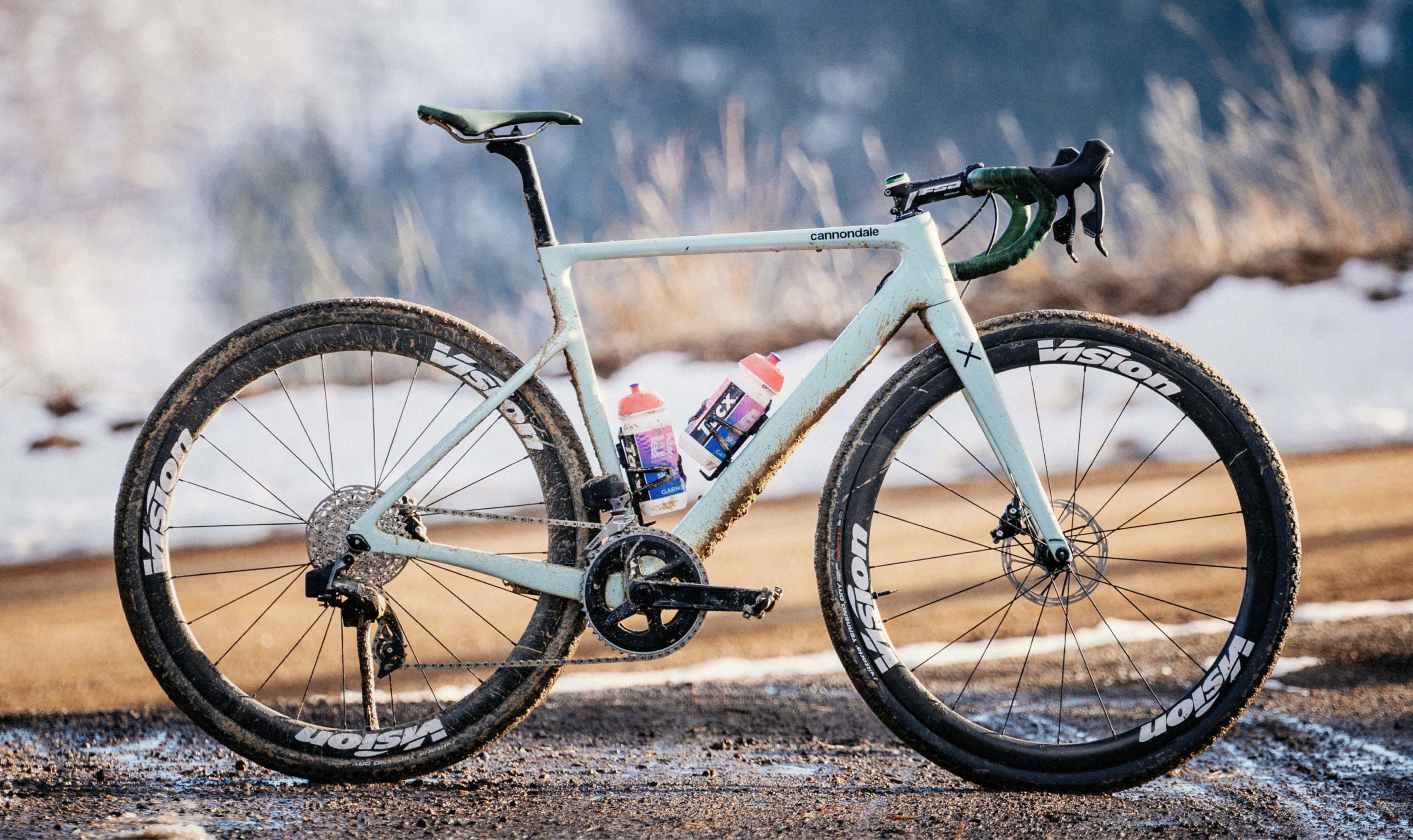 Cannondale SuperSix EVO SE
Cannondale's SuperSix line has a storied reputation as a racer, but with the EVO it evolves into an all-road contender.
The familiar sleek tube shapes are retained for a speedy, aerodynamic profile, and the carbon frameset keep things light while also providing the stiffness needed for rougher terrain.
Pair those features with a decidedly off-road geometry, and the EVO's identity as a gravel bike becomes more apparent.
OutFront Steering Geometry keeps you in control both climbing and rocking down steep descents. Fat tires fit the carbon fork comfortably, up to a width of 45 mm.
Bumps in the trail will disappear in the cushion of those plush wheels. SRAM Rival AXS wireless shifters mean no cables catching, and precise shifting.
Fearlessly rip the road or trail at speed — hydraulic disc brakes will bring you to a quick stop. The EVO comes in 5 sizes, and 2 classy pastel colorways, so find what suits you.
However, hitting the sub 2K price tag with this bike will likely mean buying the frame alone, as those high-end components will drive up the price.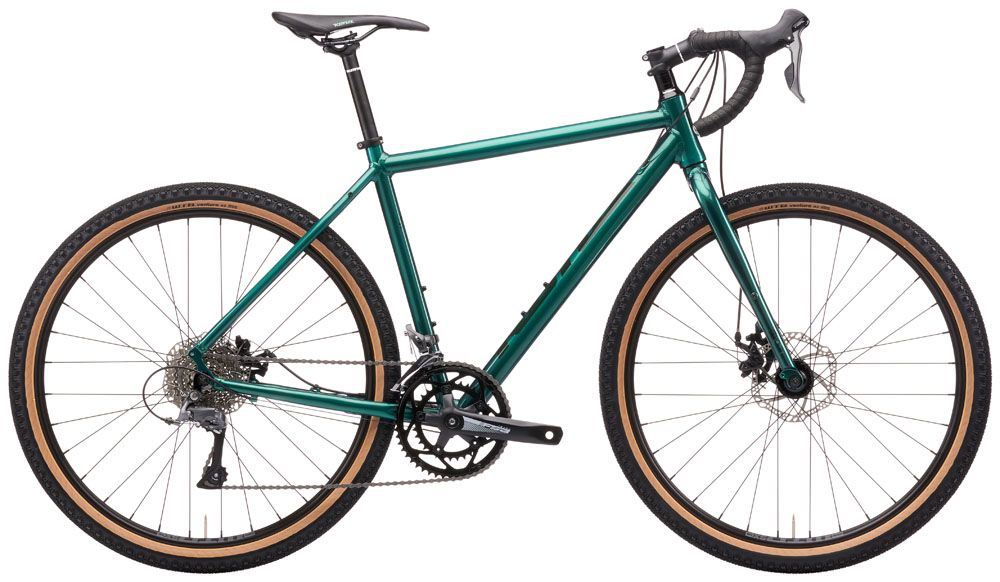 2021 Kona Rove AL 650
This model from Kona signals it's intentions as an all-terrain steed with both its name and number. You'll definitely be free to Rove, and the 650b tires will be up to the task wherever you find yourself.
The Rove's 6061 aluminum frame is a hefty 27 lbs, making it tanky and solid, particularly when riding off-road. That weight helps the tires achieve the grippy performance you want when the terrain is loose.
But, the Rove is also a good option for a city commute, performing well on pavement, but unafraid to hop a curb or take a rocky detour.
WTB Venture tires mirror the bike's stolid feel.
They are tough, providing rigid stability and excellent traction in wet conditions, and thanks to generous tire clearance, they can be wide enough to cushion the rigid suspension.
Comfy geometry keeps you feeling fresh in the saddle even over long rides. The Rove can carry you to work, or on a touring adventure, and do both equally well.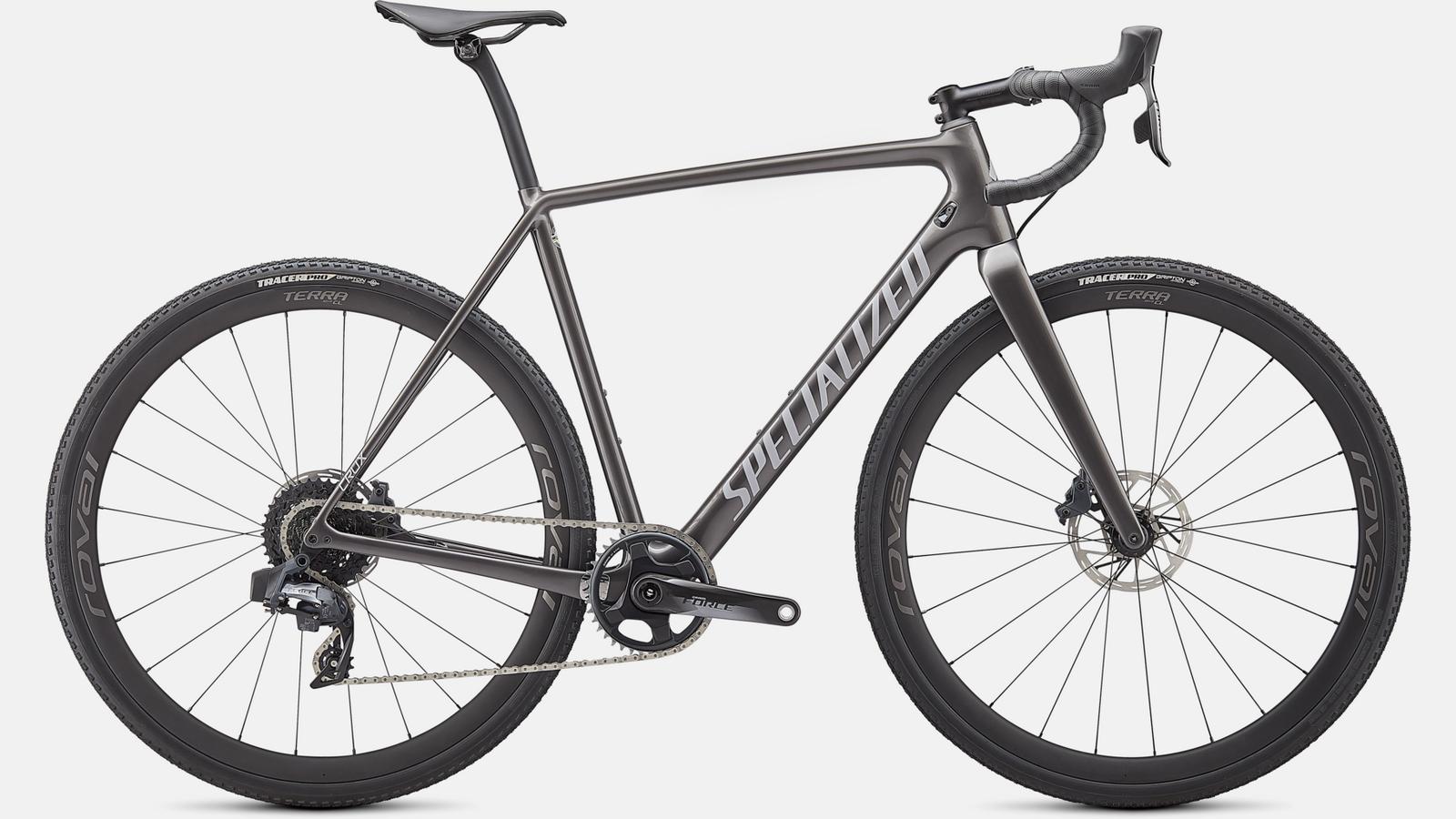 Specialized S-Works Crux Pro
Another juggernaut in the cycling world, Specialized bikes come with a lineage. The Crux model is a cyclocross racing legend, which means it already has offroading chops.
Fine tuning it for gravel bike style versatility only required a few tweaks to the frame geometry, meaning that the race-worthy heritage is still clear to see.
The FACT 12r carbon frame is exceptionally light. At just 15.9 lbs, handling the bike takes minimal exertion, and it responds to you snappily, as if it knows what you want.
Wide diameter 700c delivers a road bike's easy cadence and pedaling efficiency on flat terrain, though the 30 mm max clearance means the frame compliance has to do most of the work absorbing impacts.
It's no surprise that the Crux is UCI-approved for competition. With a long reach and low stack, this bike controls with superior agility, putting you into an aggressive, competitive riding position.
You can use it to run errands, or have fun on a park trail, but you'll look like you're in a race either way.
2021 CUBE NUROAD PRO
The NUROAD wants to be your everyday rider Whether you're cruising city blocks, or crunching uphill on a gravel road, CUBE made sure this bike can meet the challenge, without breaking the bank.
This chunky 23.4 lbs aluminum frame gravel bike makes the most of its suite of mid-range components. A carbon fork provides much needed front end compliance, and helps the rigid suspension by absorbing vibes that would otherwise leave you sore.
The 700c wheels reveal the roadbike DNA, and will be appreciated on flat rides. The same can be said of the 20 speed drivetrain — you can shift to the most efficient gear for high speed or power.
And, no matter how swiftly you ride, you can depend on the mechanical disc brakes to bring you to a halt quickly. Available in 5 sizes, the NUROAD has broad appeal.
It isn't flashy, but it is fun, and gives you a stable ride no matter what's under your wheels.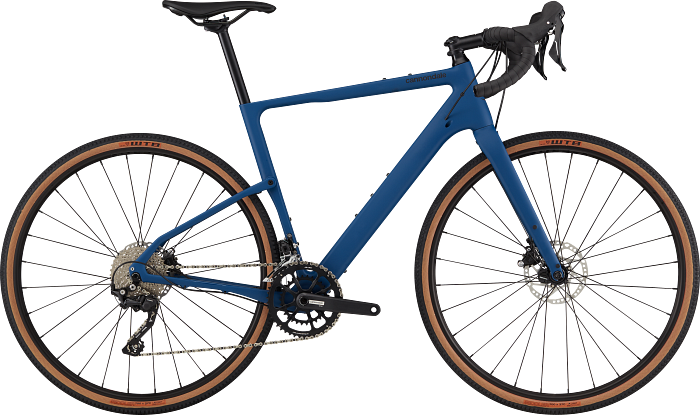 Cannondale Topstone Carbon 6
Unsurprisingly, Cannondale has more than one entry in the list — and this isn't the last of them. It is the first of the gravel bikes to feature an actual suspension system, however.
Cannondale's lauded Kingpin super-light suspension provides a healthy 30 mm of travel in the Topstone's rear, significantly smoothing the ride.
Another carbon frame bike, the Topstone's seatpost also utilizes the light, flexible material.
It has a smaller diameter than most, and more height, allowing it to further dampen turbulence before it can reach you in the saddle.
If it sounds too compliant, the large downtube and wider, flatter seat tube provide a rigid backbone for stability.
High-end components like the Shimano GRX 400 hydraulic disc brakes and 10 speed shifters can push this bike outside of the target price range.
But the frame alone is a budget buy for all it offers, and it comes in 5 sizes so you can make this the core of a bike that fits you.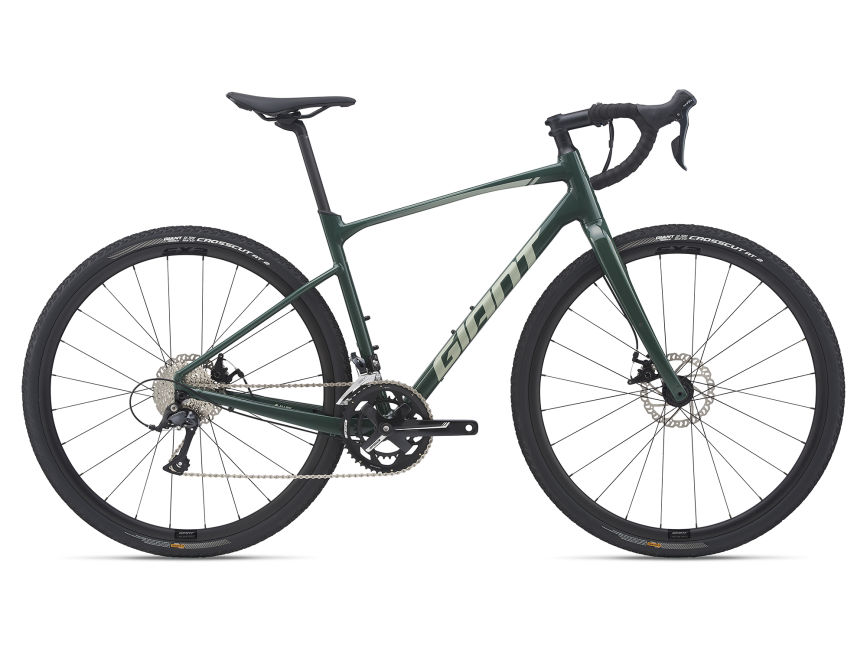 Giant Revolt 2 Gravel Bikes
Giant is well known for making budget bikes that hit above their weight, and the Revolt 2 carries on this tradition. This gravel bike adopts more of an endurance frame geometry than is common, with a shorter chainstay for improved handling, agility, and maneuvering control.
A light, ALUXX aluminum frame also helps, along with a composite fork.
Together, they provide a balance between stiff resilience and necessary compliance for a rigid suspension. The D-Fuse composite seatpost and Contac XRD-Fuse handlebars also make excellent shock absorbers.
Even bumpy roads won't throw off your control on the Revolt. With powerful disc brakes and clearance for thick 45 mm wide tires, you can take whatever road you want on this bike.
Pick your best match from 6 six sizes and 2 color schemes, and you'll find the Revolt to be a great example of a pick-up and go gravel bike that's competent and a joy to ride.
Fuji Jari 2.5 Gravel Bikes
With the Jari 2.5, Fuji endeavored to bring to market a truly budget gravel bike. They succeeded by making a few compromises, primarily on the frame material and choice of components.
Yet, the result is still a solid performer that does what you've come to expect from a gravel bike.
The Jari's steel frame saves money, but not weight. At 28.8 lbs, it's on the heavier side, but this helps with traction, stability, and off-road durability.
The bike still manages to feel spray on gravel, so much so that it's marketed for gravel racing.
But, if you're not the competitive sort, take the Jari out for light touring or weekend backpacking. The hardy frame bears loads like a champ.
In fact, the frame geometry skews more into the touring category, and the 700c wheels are made to eat up miles. Want to swap them out? Quick-release sealed hubs make the task simple.
Fuji offers this versatile ride in 7 sizes, which is more variety than most. If you're looking for a rock solid ride on shifty terrain, the Jari is worth a look.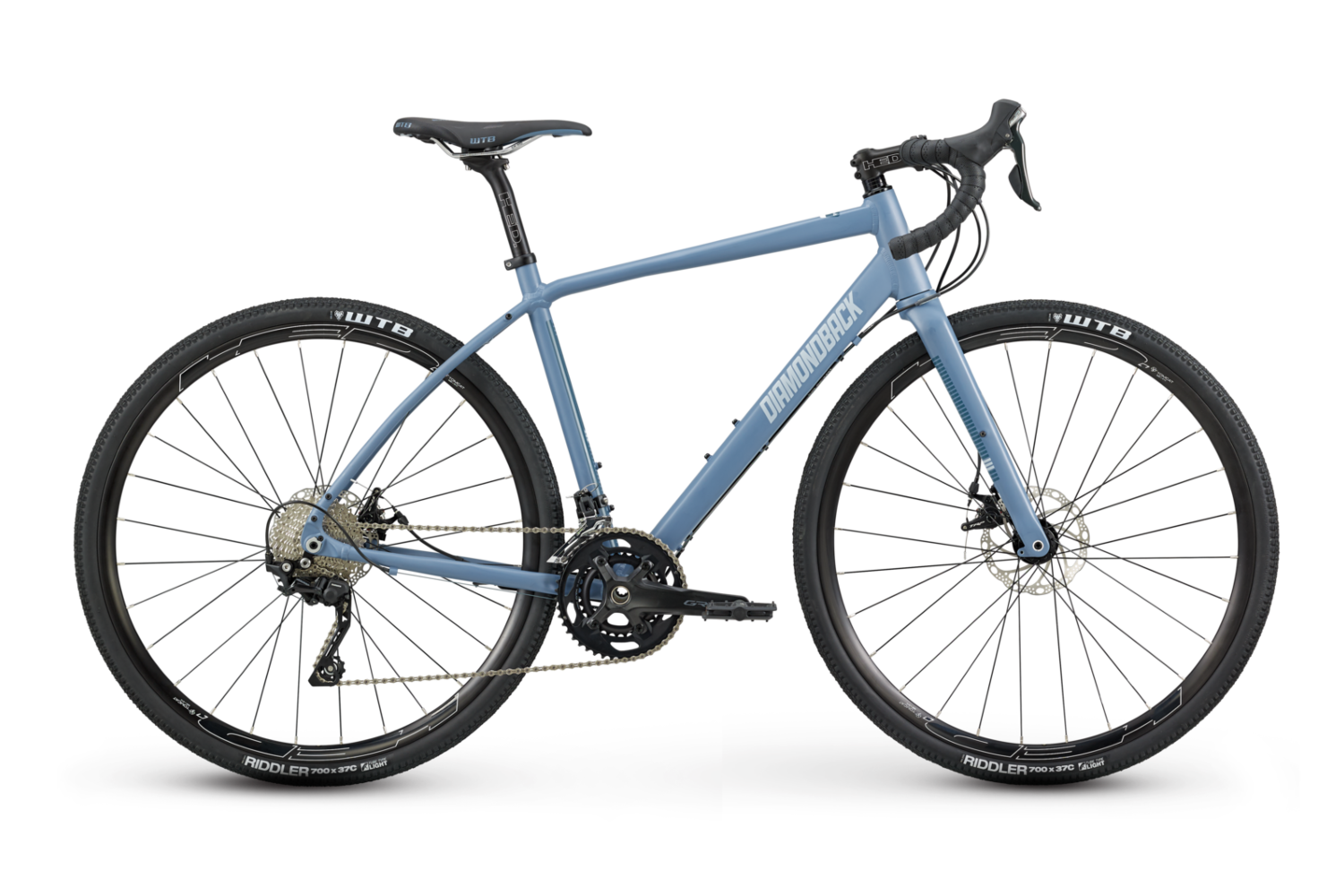 DiamondBack Haanjo 4
DiamondBack likes to characterise the Haanjo 4 as a road bike sporting an MTB's attitude.
That hybrid nature is what makes the Haanjo a gravel bike candidate. Lighter weight and nimble handling meet the more forward positioned, rough and tumble requirements of off-roading.
The bike's aluminum frame is light and stiff, while the carbon fork grants some flex on the front end.
You can ride over a washboard trail without the handlebars being shaken out of your hands, and navigate loose terrain with surety.
TRP Spyre C Flat Mount mechanical disc brakes and drivetrain allow for both smooth gear changes and stops.
The WTB Riddler 700x37c wheels are equipped with thru axles to bolster precision handling over unpredictable ground. The tires themselves yield a buttery ride on pavement, and feel reassuringly sticky off it.
The Haanjo 4 leans into DiamondBack's MTB heritage, and is at it's best when you give it a light to middling challenge.
Salsa Journeyman Claris 650 Bike
Salsa can be a fun, energetic dance, a condiment made of a medley of ingredients, or the name of a bike brand that seems to embody those qualities in their product.
At least, that's the case with the Claris 650, a fun ride that is more than the sum of its parts.
The "journeyman" in the name refers to Salsa's Journeyman style geometry. Meant to deliver consistent ride quality across different terrain types, the aluminum frame also provides plenty of customization options.
You can mount water bottle cages and racks, making the bike as capable as you need it to be.
The Claris has a fantail fork that accommodates tires up to 2.1 in wide, so it's a good candidate for riding on sand as well as gravel.
The cables for it's Promax disc brakes and 16 speed drivetrain are internally routed for a clean look and reduced snag potential. A bargain bike with high end aesthetic, the Claris is a worthy all-around contender.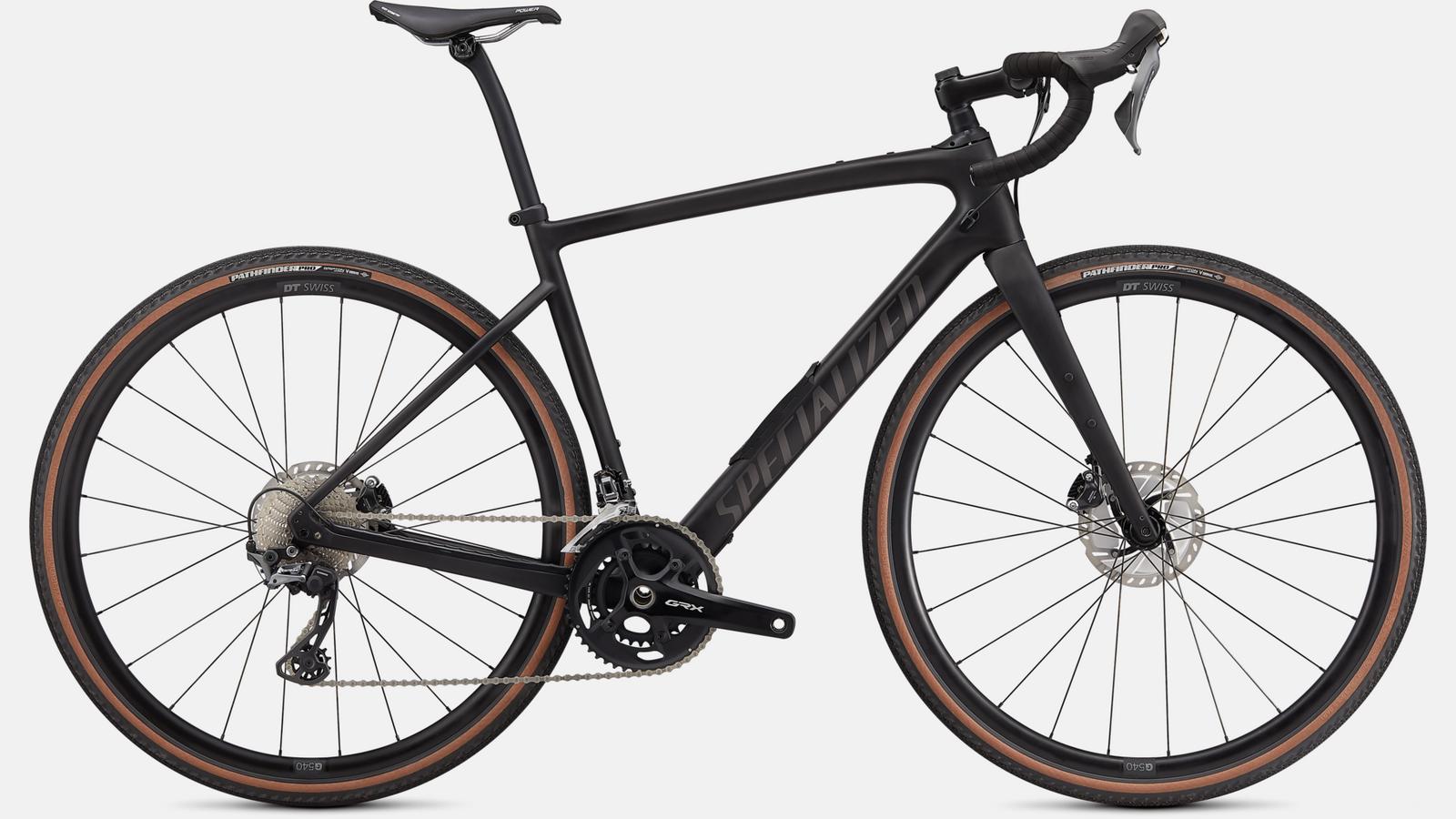 Specialized Diverge Comp Carbon
This next entry from Specialized represents another high-end frame that can be had for a good price. The carbon fiber Diverge Comp frame is longer than previous iterations, and slacker, with increased fork offset.
The changes skew more towards an MTB style, with a longer wheelbase and higher bottom bracket. Such geometry creates a bike that has a solid stance, and readily responds to your input.
It's the kind of control that leads you to get more adventurous with your routes, because of your confidence that the bike will do as you ask.
The innovative Future Shock 2.0 suspension system is located below the handlebars, and stops bumping and juddering from making it to your hands and throwing off your control.
It's a noticeable advantage, especially when compared to the usual all rigid suspension.
The Diverge rolls on 650b wheels, increasingly familiar on gravel and all-terrain bikes in general. It sports numerous mounts for bottle cages and accessories, and features integrated storage elegantly concealed in the downtube.
Trek 2022 Domane SLR 7
The Trek Domane SLR 7 aims to build on the success of previous models with the addition of some cutting edge tech and natural improvements to existing features.
As to be expected from Trek, this bike has premium components that you'll have to put off for later to keep the price down.
Tagged as "ultralight," the OCLV carbon frame provides high performance while barely tipping the scale.
It features Trek's IsoSpeed technology at the front and rear, which can adjust the frame's compliance to fit your preferences and the demands of the road.
The drivetrain is Shimano's Ultegra Di2 electronic model, a wireless variant of shifter that takes precision gear shifting to the next level.
You'll bounce between the 12 speeds effortlessly, assuring you always have the smoothest ride experience. With the wires out of the way, there's room for convenient internal storage in the down tube.
The Domane is not just cutting edge, it's practical too.
Mongoose Elroy Adventure Ride
With "adventure" in the name, you know exactly what the Elroy is meant for. Mongoose made this bike a trusty steed that can carry you over hills and across dales, down country lanes and forest trails.
"Adventure bike geometry" is just another name for an all-terrain bike build. The Elroy's alloy frame has the now familiar elongated wheelbase, and more aggressive rider positioning.
In an unusual twist, the fork is steel, trading compliance for stiffer control. The result is more feedback from the road, and precision maneuvering.
That steel fork is also a sturdy support for a large front rack, capable of carrying 2 panniers.
It also has an integrated bottle opener, in case you want to crack open something other than a water bottle on your adventure. Even without the rack installed, storage is not a problem.
A Stashpack storage bag, complete with an embroidered patch, runs the length of the top tube.
Breezer RADAR Expert Gravel Bikes
The RADAR Expert comes across as a no-nonsense, classically styled ride. Yet, hop into the saddle and you'll find it firmly belongs to the still-young gravel bike category. In fact, the RADAR is at it's best on gravel.
It does have some features that are more old-school however, namely the chromoly, aka steel, frame and the consequently hefty weight.
Breezer's compact geometry helps to shave off some pounds, while also boosting performance.
Down at the wheels, the Breeze-In dropouts simplify removal and installation of tires up to 2.1" in width. The fat tires take advantage of the overall weight, getting good spread and traction on loose ground.
The frame is tubeless compatible too, if that's your preference.
The bike's clean profile is jazzed up by an attractive cherry cola red paint job. Simple as the frame seems, it has enough mounts for 5 water bottles, and both front and rear racks.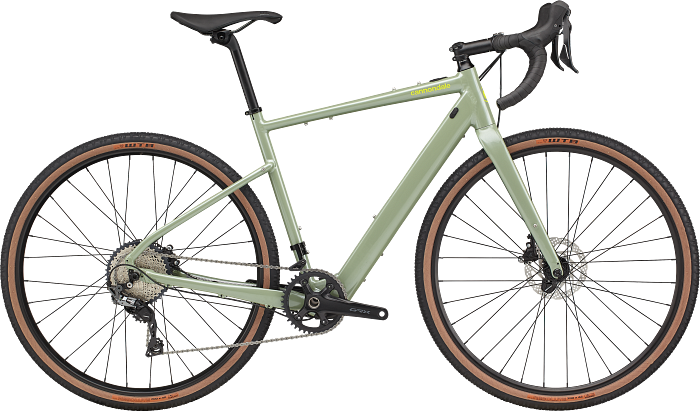 Cannondale Topstone Neo SL 1
The Topstone Neo SL 1 is what Cannondale considers to be a no frills bike, which says volumes about their design sensibility. To begin with, it's an ebike, which is as opposite "no frills" as you can get.
Yet, it manages to keep a low weight by eschewing any additional extras.
The aluminum frame, carbon fork combo is a familiar Cannondale design choice at this point, and it works it's usual magic here.
Even incorporating a battery with a 47 mi range into the frame doesn't throw off the balanced geometry. You'll still find yourself upright enough for comfort, but low and forward enough for easy speed.
The Mahle eBikemotion System is what provides the electric assistance to the 700c wheels. Practically invisible between the cranks, it can match your power input, granting twice as much speed and power.
The battery, hidden in the downtube, can be recharged from empty in just 3.5 hours so it's ready each time you take the bike out for a spin.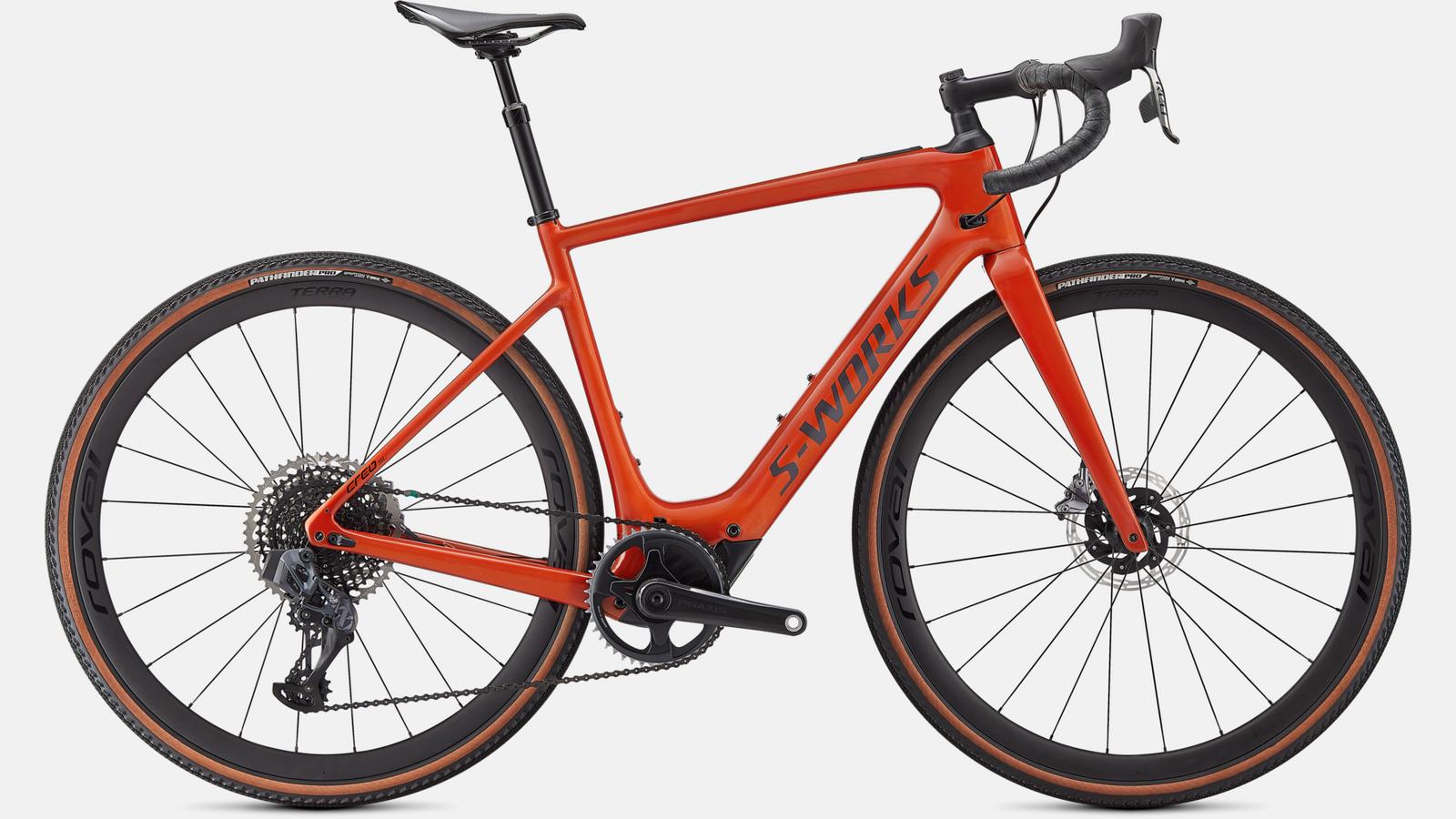 Specialized Turbo Creo SL EVO
The final Specialized entry in our list, the Turbo Creo SL EVO is the second gravel ebike to make the cut.
Take the fun of riding offroad and reduce the effort required to reach a truly exhilarating pace — that's the type of ride the Creo offers.
Fact 11r carbon fiber makes up the chassis, a trait that you'll also find on the high end S-Works variant. The Creo SL is the lightest ebike in its class thanks to that choice.
The Future Shock 2.0 under-handlebar suspension returns here as well.
The frame geometry makes for increased stability at high speeds, which are more likely with the assistance of the 240w SL 1.1 motor. With 80 mi of range per charge, you can ride all day without fear of a dead battery.
Even if it were to die, riding under your own power is no harder than normal, as the assist mechanism offers no resistance when not engaged.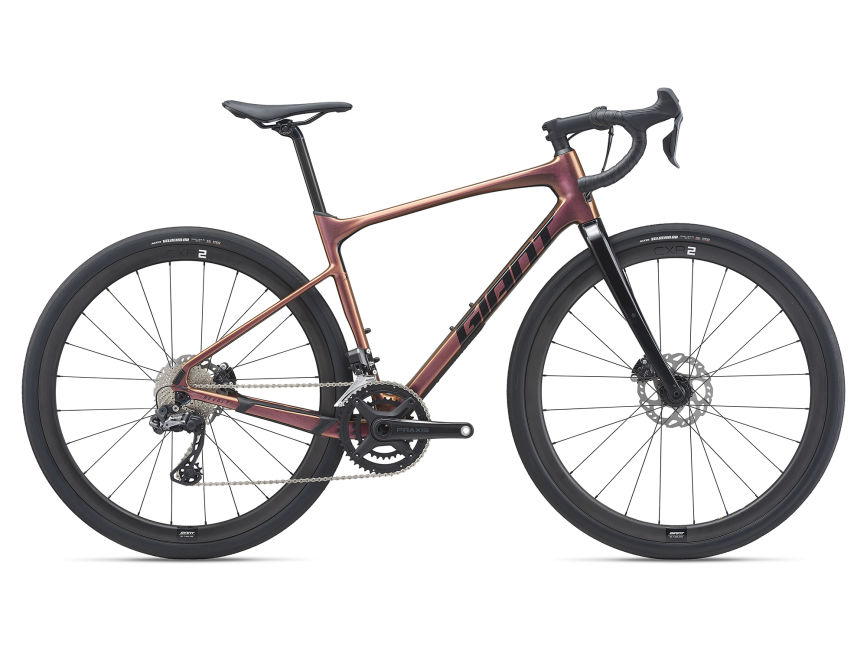 Giant Revolt Advanced Pro
The Advanced Pro has the sort of intimidating black colorway that proclaims it to be a no-nonsense ride.
With the name proclaiming it to be advanced, you might expect it to be full of technical quirks to learn, but instead, think of it as a bike that can meet the demands of an experienced rider.
For instance, the 2×12 cassette on the drivetrain means you get 24 gears. That's the kind of selection that only someone with time in the saddle will use effectively.
The D-Fuse seatpost is long and adept at absorbing shocks, but it bobs during a normal ride as well. It's something that takes some getting used to.
Still, the handling is well balanced, and the bike is stable overall. Giant's Smart Mount system has hidden mount points all over the front and back for racks and other accessories.
The Revolt seems to be a statement in favor of performance and preparedness, and is ready to serve the pros.
Trek 2021 Domane SL 6 Gravel Bikes
Another carbon fiber bike rides lightly into the list sporting a familiar brand and model name.
This Domane variant is carefully crafted from OCLV carbon fiber, and is a beauty whether you choose the dark colorway or the striking viper red paint job.
The front and rear IsoSpeed adjustable frame compliance system returns, allowing you to tune the carbon's flex for the best rigid suspension performance.
The Domane is a speedy ride, helped along by an easily manipulated weight of 20.5 lbs. It feels lively underneath you, but handles gravel with a sure tread.
The saddle and seatpost come courtesy of Bontrager, while Shimano provides the drivetrain and hydraulic disc brakes. The downtube houses a storage space, increasingly common on bikes in this category.
The Domane is meant to be taken on journeys, on and off-road, and is built to make sure you'll be prepared for all you encounter.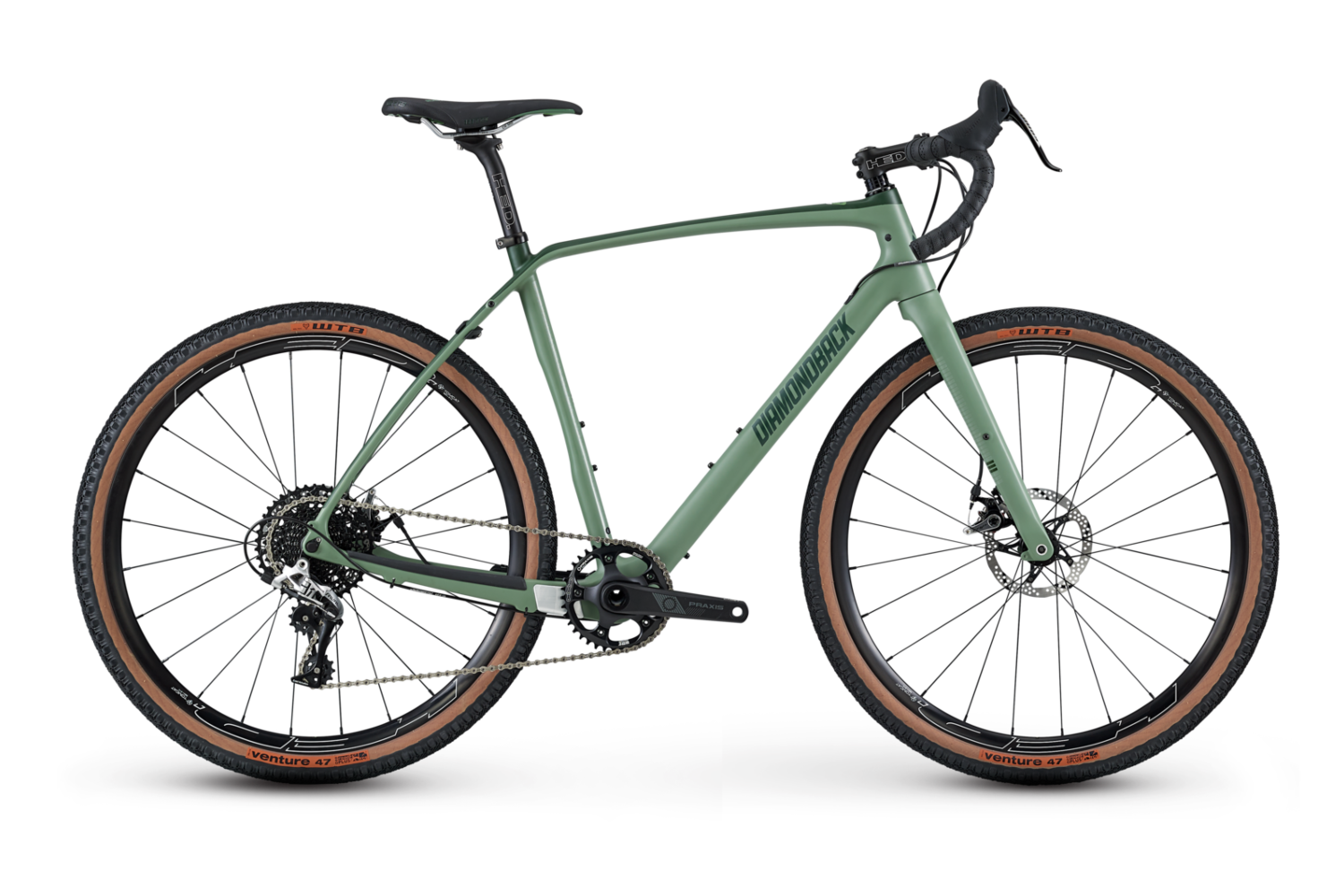 DiamondBack Haanjo 6C Carbon
DiamondBack's Haanjo is another of the brand's rough riding cycles. By now you're used to the carbon fiber frame being spritely and featherweight, and this is no different.
The Haanjo sports the endurance style geometry, with a particularly slack angle on the headtube. The wheels are the 650b x 47 variety, fitted with mechanical disc brakes to keep the bike from running away with you.
The Haanjo's thru-axles stiffen up those wheels for better handling, and you can feel it when things get rough. Or rather, you can't feel it, which is good.
This bike has excellent compliance when it comes to moderate bumps in the road. You'd be forgiven for thinking there was an actual suspension hidden somewhere in the design.
Instead, it's just an example of how well DiamondBack tunes their bikes for the trail.
2021 State Bicycle Co 4130 All-Road
The 4130 occupies the less flashy segment of our list. State Bicycle Co. focused on making a practical gravel bike with solid performance for a low price.
Though calling it a gravel bike only applies if the right wheels are fitted.
The wheels make a difference on any bike, but the 4130 comes with one set of 700c wheels with slick tires for on-road riding, and another 650b set with knobby tires for off-roading.
If you get one set only, your riding experience on the opposite style of terrain will suffer significantly.
It's a design choice that saves money, along with the decision to make the frame and fork out of 4130 Chromoly steel (with dropouts to make switching wheels less of an inconvenience).
There are several mounts on the frame, allowing a level of personalization, but otherwise the 4130 offers a utilitarian feature set. It is a solid, no-frills option.
Trek Checkpoint ALR 5 Gravel Bikes
Trek's final bicycle on the list is the most likely to come in under the price cap with all components included. The result is a modern gravel bike with a classic silhouette.
The design of the Checkpoint is more conventional, meaning there are less proprietary systems, allowing Trek's solid design fundamentals to shine.
That "back to basics" approach yields a rock solid ride, especially when steering over mixed terrain.
The aluminum frame's long top tube, steep head angle, and low bottom bracket are ideal for transferring your pedaling power into brisk speeds while off-roading.
Thankfully, the disc brakes bite in quick, granting precise control.
With rigid suspension, you can expect to feel the heavier bumps along the way. The wide tires help take the sting out, though. The Checkpoint rides well on pavement too.
It's mounts for cages, racks, and mudguards mean you can tailor it for commuting or adventure or anything in between.
Fuji Cross 1.3 Gravel Bikes
Our final entry comes from Fuji, and continues the trend of simple aesthetics paired with solid, reliable performance. The Cross is aptly named, as it takes many design cues from the cyclocross style.
The upright positioning and slack head and seat angles make for nimble handling, and the rearward center of gravity makes it easier to lift the front end over obstacles in your path.
The 35c max tire clearance isn't as wide as some others. This exchanges some ride comfort off-road for better, more balanced performance on pavement.
A carbon fork eases vibration on the front end, along with a tapered head tube that cuts down on drag.
With the option to mount fenders and racks, the Cross 1.3 can be converted to a daily commuter, or shed that weight for use as a racer on the weekend.
It does either well, and makes a good case for being your choice if you want an all-rounder that skews more towards the lighter sorts of mixed-terrain riding.
What to Expect From Modern Gravel Bikes
Gravel bikes are meant to be versatile, able to transition from easy, paved or packed terrain, to mixed terrain without trouble. The more expensive the bike, the more technologies can be brought to bear to make that happen.
As the price drops, you can expect the solutions to become simpler, and the resulting ride quality to be less consistent.
For instance, higher cost gravel bikes tend to opt for carbon fiber frames, or titanium frames at the top tier. This both sheds weight, and results in frames with more robust compliance, meaning an easier, smoother ride.
At the $1K-$2K mark, a fully outfitted gravel bike will likely have an aluminum frame without the precisely shaped tubing, or a cost effective steel frame.
You can expect these bikes to be heavier than their high end counterparts, and to experience more turbulence. Light carbon frames are only seen in bikes above $2K mark and above 4K mark in reputed brands.
Suspension systems are very unlikely to show up in a $1K- $2K gravel bike.
Even light suspension solutions like IsoSpeed or Future Shock drive the price up significantly, and getting a gravel bike with those features at a low price means buying the base model.
A gravel bike at this price point will have a narrowed focus. As you have seen, some are more suited for looser, small gravel, while others do better on chunkier terrain.
There are those that yield better on-road results, etc. Within that focus area, however, they can approach the performance of the high cost bikes. While the bikes above $4k generally show better off-road results.
Features To Consider When Buying Gravel Bikes
Frame & Fork Material
Gravel bikes can be made using any of the common bike construction materials, so the frame and fork combos available are plentiful.
The performance of each material varies, not just based on the material itself, but it's quality and mode of employment. Which is best for you depends on your riding preferences.
Aluminum is the cheapest option. It has stiffness on par with carbon fiber, but lower compliance. High quality aluminum performs better than low quality carbon.
Carbon fiber is stiff and flexible, and can be tuned to have variable levels of these qualities in exactly the right spots for superior performance.
Steel is heavier, but also very rigid. It provides less dampening than the other metals, but eliminates flex when you don't want it, making it a great choice for forks.
Titanium combines the best of all these features, though it is exorbitantly expensive.
Wheels & Tires
The type of wheels and tires chosen on a gravel bike give clues to their dominant identity. Will it have more of a road bike feel, or skew more towards an MTB?
Larger, skinnier tires are better on-road, while smaller, wider tires have improved off-road performance.
700c wheels are 29" in diameter, and are common on road bikes. The larger diameter makes it easier to cruise at high speeds. Their narrow profile lowers resistance on pavement and reduces pedaling effort.
650b wheels are the compromise wheel. Their 27.5" diameter lies between road and MTB style wheels, as does their thickness. They perform well in both conditions, which is why they are a popular choice.
26" and lower diameter wheels are meant for off-road riding more than anything. They will usually be equipped with knobby tires ill-suited for long riding on pavement, so are only a good choice if you will be doing mostly gravel riding.
Groupset & Drivetrain
The choice of groupset and drivetrain is mostly down to personal preference. While there are some objective advantages of one over another in terms of maintenance and simplicity, it's hard to say one style performs better.
2x drivetrains, with two chainrings forward and a small cassette at the rear, are the most common across bike types. They offer smaller gear increments, which is most useful if you'll be riding more on the pavement. With more parts, they are more prone to need repairs and replacements over time.
1x drivetrains have a single chain with a variable cassette size. They function simply, which is better in off-road conditions, and they are easier to install and repair. They are a popular choice for gravel bikes.
Brakes
You may have noticed that every bike in the list above had one thing in common: they all have disc brakes. Gravel bikes are fitted with disc brakes because of their superior performance in all riding conditions.
There are two main types to choose from:
Mechanical disc brakes use a steel cord to trigger the braking mechanism. You apply pressure to the lever, which pulls the cord and engages the brakes. This is a simple design that is easy to care for and repair, and is the more affordable of the two
Hydraulic disc brakes use a special fluid to trigger the brakes. They offer more braking power and lower weight. The whole system is sealed, so no dirt or debris can get in and cause malfunctions. However, if something does break, getting it repaired is complicated and requires special equipment.
Gear Shifting Method
There are several types of shifters available, and all of them can show up on a gravel bike. Each has its advantages, once again making the choice more about your preferences.
Trigger shifters are the most common. They use a simple mechanism activated by thumbing a lever, and are easiest to repair.
Twist shifters are integrated into the grips, allowing you to maintain a full hold on the handlebars when shifting gears. With no protruding levers, they are less likely to break.
Integrated shifters combine the shifter and brake controls. They use less real estate on your handlebars, but are more complicated to repair.
Electronic shifters are the cutting edge option. They remove the familiar shift cables, instead transmitting your shifting wirelessly. This means less cable management, but technical expertise is needed to diagnose and fix these. They are also the priciest option.
Geometry
Describing a definite gravel bike geometry is next to impossible. Cycling manufacturers are always looking for ways to tweak geometry to eke out more performance, or, as in the case with gravel bikes, to broaden a ride's capabilities.
A gravel bike most commonly borrows parts of it's form factor from road bikes and MTBs, though cyclocross, endurance, and touring elements can be integrated as well.
Because of the need for off-road performance, some consistent features will be a longer wheelbase for stability, and a slack head tube for better off-road handling at low speeds.
A shorter reach is also common, for a more upright posture and rearward center of gravity. This keeps the weight over the back tire, allowing the front to more easily get over obstacles.
Gear Ratio
The gear ratio is the number of revolutions of the back wheel you get for every revolution of the crank when you pedal. It is defined by the relationship of chainring length to sprocket size, and impacts how easily you can get up to speed or make climbs.
Lower gear ratios are better for gravel bikes generally, because they allow for greater transmission of power at lower speeds. This is useful when riding off-road, where your speed is reduced due to the terrain.
So, when choosing a gravel bike you should look for gear sets that can achieve 1:1 ratios or lower. At least one sprocket should have the same number of teeth as the chain.
Other Considerations
We've covered the main concerns, but there are other things you should consider before finalizing your new gravel bike purchase.
You should know what kind of riding you expect to do most often, and get a gravel bike that caters to that specific circumstance. Plan to commute? Look for a bike with more road DNA.
Want to backpack or tour? Make sure there are rack mounts so you have a place for your pannier.
And, while it isn't the most important thing, take time to check out the decorative options too. Buying a bike that you don't like the look of means you're less likely to ride it, no matter how good it is.
So check out those colorways and try to find something that fits your personality as well as your cycling needs.
Also Read,
Can I Convert Flat Bars To Drop Handlebars | Mountain Bike
Presta vs Schrader Valves – What Are The Differences?
Ultimate List Of Best Front Bike Racks For Touring & Bikepacking