As the popularity of bike-packing has grown, so has the wide variety of gear that bikers have available. Bike racks and the panniers make up one of the largest selections of bike equipment available to adventurers cyclist.
Without panniers and the racks that hold them, touring bikes would be severely limited in their utility for cyclists with a variety of different cargo needs.
Bike racks come in a range of different configurations designed to meet the many needs of bikers.
If you want a simple setup for your bike that allows you to commute and go grocery shopping with little effort, there's a lot of different options for you out there.
If you're looking to take your ride on the open road and beyond, there's plenty of heavy-duty options for you that will allow you to carry out your biking adventures across miles of country.
Though front bike racks seem to be less marketed, they are just as handy as rear racks. They are installed just above the front tyre and can be used to store your belongings as you cycle.
A correctly installed front rack will not move about during the ride, so all your items will be securely stowed away and the rack won't damage your frame.
Why use a rack at the front?
Front-facing bike racks are often a secondary option for folks who are traveling by bike, but it is an absolutely necessary piece of equipment for you if you're taking a lot on the road.
Heavy-duty front racks give your bike the capacity to be used for activities such as grocery shopping and can extend the range of your bike by hundreds of miles when you're touring.
Some folks are put off of front racks out of concern that the extra weight at the front can offset the steering and balance of your bike.
That, however, isn't a necessary sacrifice for mounting a front rack for your bike.
Front racks have been in style for over half a century, and a lot of work has been put into finding a variety of different solutions to keeping your bike stable while carrying a load of gear.
There are plenty of different designs for front racks that mitigate and blunt the effects of loading panniers on the front of your bike so that you can maintain a balanced and easy ride as you travel across the countryside.
12 Best Front Bike Racks For Touring & Bikepacking
Topeak TetraRack M1 Adjustable Front Rack
The Topeak TetraRack is a highly versatile front rack that's designed to work with a wide variety of bikes and bags. It comes with a top plate that you can attach to your bike regardless of fork angle.
This makes it easier to position the rack so that it maintains the right balance for a stable ride.
The TetraRack doubles down on this with a hook and loop strap mounting system that is especially secure and is compatible with a wide range of different bikes.
Topeak maintains its own selection of bags that fit onto its integrated quick-track system.
The system is designed so that you can easily fit any number of Topeak TrunkBags onto their rack and release them with the press of a button.
The rack is also compatible with a wide variety of other bags including KLICKfix system bags as well as RackTime Snapit and Vario system bags so that you can pick and choose from a variety of different bags to mount.
Topeak TetraRack M1 Adjustable Front Rack: Check Its Price on Amazon!
Tubus Cycle Rack's Tara Lowrider
The TARA lowrider is a simple and strong rack that's been around for over 25 years for its reliability, and it's only gotten stronger over time.
The TARA can fit onto a wide variety of bike frames without too much trouble to attach and the rack is close to the ground, which means that your bike will easily maintain its stability while reading, even while carrying heavier loads.
The TARA is a very affordable option that you can easily instal yourself and is well worth the purchase if you need a simple rack to get the job done.
It is important to note that you can't mount the TARA on spring or carbon forks without eyelets.
Eyelets are a small attachment that you can add to your bike so that you can mount a wider variety of bike racks and fenders. Not all bikes come with them anymore so make sure that yours does before purchasing the TARA.
Tubus Cycle Rack's Tara Lowrider: Check Price on Amazon!
Origin8 Rush Messenger Front Flat Rack
The origin 8 front flat bicycle rack is designed to carry a wide variety of different loads upfront while keeping your bike secure and balanced.
The origin 8 mounts onto the caliper hole and front axle, and has an integrated rear guard that keeps your cargo safe and away from your head tube and cables.
This rack can easily fit a basket onto it, as well as side-mounted panniers, bags, and other kinds of containers.
The heavy aluminium construction can hold up to 55 lbs. of gear, which makes it perfect for grocery shopping or supplementing a rear rack system.
It also comes with an adjustable fit that's compatible with most wheel sizes.
For all of these features, the Origin 8 is one of the cheapest options on this list and is perfect if your carrying needs are light or if you want to add to the carrying capacity that you already have.
This is especially true for city bikers, where adding a carrying basket can make commuting especially convenient.
Origin8 Rush Messenger Front Flat Rack: Check Its Price on Amazon!
Thule Pack 'N Pedal Tour Front Bike Racks
The Thule Pack 'n pedal is a sportier front rack that comes with a few features that are designed to keep you safe and light on your ride.
The Thule is designed with a reflective sheen so that other vehicles can see you while you're riding, which is essential if you're sticking to the road.
The rack also has a raised strut mounting point that offers you a better clearance rate.
The Thule comes with an adjustable slide and rail that can distribute weight and offer a wider clearance weight on the heel, as you can also mount this rack on the rear as well.
A rubberized grip ensures that your cargo remains stable as you extend the rail out, making this a light, but versatile rack for the gear you have to pack while cycling.
Thule Pack 'N Pedal Tour Front Bike Racks: Check Price on Amazon!
Origin8 Classique Cargo HD Front Bike Racks
The Classique is another affordable front rack from Origins 8 that can support a wide variety of different options.
It doesn't come with all of the security features like the rear guard of the Rush Messenger front flat, but it does maintain the same compatibility.
The Classique can fit onto most caliper frame bikes without issue and carries up to 50 Lbs of gear, using the same, sturdy aluminum construction.
Most wheel sizes will also work with the Classique, including 26″, 27.5″, 29″, and 700c wheels. The Classique is a reliable choice if you need a front rack to fill your basic traveling needs.
It will mount the same kinds of bags that the Messenger Front Flat does, which is to say almost all kinds, and is a great fit for sporty and city biking.
Origin8 Classique Cargo HD Front Bike Racks: Check Its Price on Amazon!
Origin8 Rush Messenger Basket Rack
The Messenger basket rack offers the same strength and reliability that you can expect from the Origin8 brand while offering some extra features to keep your cargo even more secure.
The cargo net of the basket rack removes the need for you to strap any of your equipment down yourself.
Their U-lock grip is also a particularly strong method of mounting that works towards the same goal of the cargo net so that your gear stays as snug and secure as possible while creating less work for you.
If you can mount the Classique then you can set up the basket rack as well since both attach to the caliper hole and front axle.
The basket rack carries about as much as the other Origin8 racks and comes with the same compatibility options.
The basket rack is a good choice if you're headed on rougher terrain and need to ensure that your gear stays exactly where it is.
The other Origin8 baskets are good for the city, but you can take their basket rack just about anywhere.
Origin8 Rush Messenger Basket Rack: Check Price on Amazon!
Wald Multi Fit Front Pizza Box Bicycle Basket
The Wald Pizza Box basket is a versatile, affordable option that you can use to carry minor loads. You can also create your own basket so that you don't need to worry about securing those light loads that you take with you.
The Wald pizza box works best in the city for commuting, but you can still mount some panniers on it for light trips away from home as well.
The pizza box basket mounts to the handlebars and can be adjusted to attach to the eyelets or fork axle.
The handlebar clamps also extend out to create some clearance between the shift and brake cables so that the basket stays out of your way.
The best thing about this rack is that it's very convenient if your only real concern is getting around town. It easily takes to a basket, easily mounts onto your bike, and doesn't cost much.
It's also very sturdy for the low price-point that it comes at.
Wald Multi Fit Front Pizza Box Bicycle Basket: Check Its Price on Amazon!
Bicycle Easy Mount Hang On Front Bike Racks
This rack is amazing for casual riders who just need something that can mount quickly and takes a basket or a few, small bags. This rack uses a crossbar and standoff bar that's easy to put on and adjusts in both locations.
The rack isn't very wide so it doesn't get in the way of handlebars or your shift and brake cables.
With better clearance and light design its perfect for your MTB's or hybrid bike. You can use them to either carry small load or carry small pet cycling.
This rack is only meant to support about 10 lbs., so keep in mind that you really can only use it for commuting and maybe some light grocery shopping.
That said, the ease of use and comfort are well worth the low price.
Bicycle Easy Mount Hang On Front Bike Racks: Check Price on Amazon!
Surely Long Ride Front Top Rack Cromoly
This rack is an excellent choice if you really need something heavy-duty to pack your stuff onto.
This rack comes with all the gear that you need to mount it onto most bikes and is compatible with most wheel types, all the way up to 29″.
The steel construction is heavy and its height adjustable so your bike can maintain a strong center of gravity.
The Cromoly holds up to 70 lbs. by itself which means that you could purchase this rack by itself and it could take care of most of your biking needs in and outside of the city.
This rack is designed for folks who are going to take their bikes on long adventures. Pick out this one if you need a rack that can withstand all sorts of conditions and keep your equipment on board.
Surely Long Ride Front Top Rack Cromoly: Check Its Price on Amazon!
Nitto Mini-Front 32F Upper Bike Racks
The Nitto mini is, as it says, really small, but great if you don't need a whole lot of carrying capacity for your bike. It only supports 4.4 lbs., but it's easily installed and takes well to a basket or a small bag.
If you want to start commuting to work on your bike, you can use this rack to pack your lunch and any other small items that you might need.
Any bike with a hole in the crown can take this rack and it's a great way to add a little bit of utility to your bike if you want to add some. It's made with stainless steel so the construction is sturdy and reliable.
It's recommended that you use a tether along with the standard mount system for an extra bit of security if you plan on getting this rack.
Nitto Mini-Front 32F Upper Bike Racks: Check Price on Rivbike.com
Roetelo Outdoor Cycling Bolt-On Front Basket
The Roetelo basket is compatible with basically every kind of bike out there, including children's bikes.
The basket attaches to the bike via a simple bolt that's easy to install on your bike and doesn't get in the way of your handlebars at all.
The basket is a simple, rust-resistant wire design that takes care of having to secure any bulky items.
The basket can store up to 20 lbs. It works well if you want to use it for some grocery shopping, commuting, and it's a nice addition to any other rack systems that you've already added to your bike.
This basket is especially nice for family activities like picnics.
Roetelo Outdoor Cycling Bolt-On Front Basket: Check Its Price on Amazon!
Blackburn Local Basket Front or Rear Bike Racks
The Blackburn Basket can attach to a lot of different bike systems using braze-on, brake bosses, or p-clamps, so it works for nearly any bike.
This rack can easily take a basket, but it also works with panniers, takes side bags, and other kinds of containers. it fits almost all wheel sizes as well, making it serviceable for a variety of needs.
The Blackburn also works with disk breaks and has a cargo net that secures all of your baggage.
The name of the game with this one is compatibility. If you need a rack that can do a little bit of everything, this is one of the best choices on the market for you.
Blackburn Local Basket Front or Rear Bike Racks: Check Price on Amazon!
How To Choose The Best Front Rack For Your Bike
With so many options, you'll have plenty of racks to choose from. But you want to make an informed choice so that the rack works well with the type of bike that you have.
Racks are typically made of either steel or aluminium, though you can also purchase carbon or titanium racks. Titanium is a fairly expensive material, with steel and aluminium being the more cost-effective options.
Both materials are reliable and sturdy, which will allow you to load them up with everything you need. You should choose a rack that isn't too big for your bike frame because this will be too heavy and won't fit properly.
Porteur front racks have a large surface if you are looking to bring bigger items with you on a ride. They work especially well on road and city bikes.
For a heavier bike with shock-absorbing forks, such as a mountain bike, you're better off choosing a shock-absorbing front rack to match.
These are harder to come by though, with the main company producing them being Faiv. But this front rack will work well with the system of your mountain bike.
Faiv racks are also one of the best choices for off-road cycling because of how securely they fit.
When it comes to selecting the right rack, it is all about knowing what it'll be used for. For heavier loads, choose a lowrider front rack because you don't want to disrupt the bike's handling.
If you aren't planning on carrying as much weight, a rack the sits above the wheel will work well. Always ask for advice if you aren't sure which rack to go for because there will always be someone to help you out.
Frequently Asked Questions
Q. Can Any Bike Have A Front Rack?
Though not every bike is designed to be a touring bike, most should be able to accommodate a front rack. If your bike has rack eyelets, you will be able to easily install a rack, but some bikes do not have them.
However, that doesn't mean that those bikes cannot have a front rack.
To install a front rack on a bike without eyelets, you should use P-clamps. Using rubber-coated P-clamps will keep your paintwork in the best condition and allow you to mount a rack.
It is possible to put a front rack on any bike because there are different types to fit different models, but it just takes more work to install one on a bike without eyelets.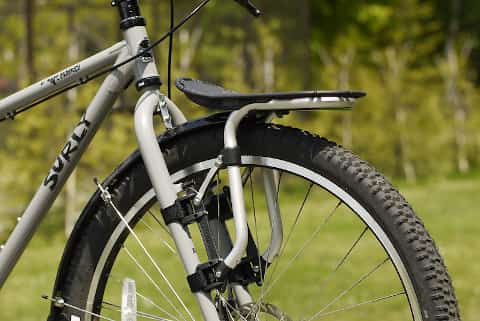 Q. How Do I Know If A Rack Will Fit My Bike?
Whether you've got a road bike or a mountain bike, there will be a rack to fit it.
The rack needs to complement all the other features of your bike because you don't want it to get in the way when you cycle, or risk it falling off during a ride.
If your bike has rack eyelets, you will be able to fit a rack to it, and you can buy the necessary equipment for a rack if you don't have eyelets.
But you'll know which rack is the best fit for your bike when you know how much weight it needs to hold and where you would like it to fit.
For instance, some people choose to mount racks on their front panniers, but others dislike this because they don't want items mounted on the wheel.
A lowrider rack will fit best for a bike carrying heavier weight, whereas a basket-style front rack works well for lighter loads and slimmer bike frames.
Q. Are Front Bike Racks Good For Dogs?
Basket-style front bike racks are the best choice for carrying dogs because the dog will be able to sit inside without the risk of falling out.
You can't use just a bike rack to carry a dog on your bike because a basket or carrier is required to make the ride more comfortable and much safer for the dog.
As you won't want to carry too much weight on the front of your bike, a front rack is most suitable for smaller dogs.
You should look for a dog carrier that is compatible with the front rack that you have and then check that it is solidly secured before attempting to ride with a pet.
Rear racks are also a good choice, but you can use a front rack with the appropriate carrier.
Also Read,
Can I Convert Flat Bars To Drop Handlebars | Mountain Bike
9 Best Bike Messenger Bags 2023 | Work + Travel + Leisure
Best Rear Bike Rack For Carrying Groceries, Travel & Commute
Best Car Racks For Electric Bike – Build Model Type Compared