Looking for a comfortable hybrid bike in the budget? Never go around searching as you have landed on the right page. Hybrid bikes are versatile, comfortable, lightweight, and are quite smooth to ride; bringing the best of a standard road bike and a mountain bike.
It's a perfect balance between the capacity and riding comfort. Thus targeting riders who prefer a bike not specific to just trails, grass or street.
Hybrid bikes are quite revolutionary and perhaps the next best thing after E-bikes that happens to this industry.
These lightweight bikes are quite compact and speedy idle for daily commute to your workplace; recreational activities, enjoying weekends traveling or reaching out for the nearest grocery store.
The best part is you can enjoy these bikes at any stage of your life.
Personally I have many of them in my garage. For some time I had gone over this crazy idea of testing some cheap bikes that I can get my hands on. It cost's me a ton but It was a great experience.
Today I have presented you the list of 10 bikes that I have used and found them to be worth mentioning. The majority of bikes on the list are still present in my garage while the rest I had sold out after testing.
Product Name

Material

Weight

Meant For Long
Distance Ride

Amazon Link

Vilano Diverse 3.0 Hybrid Road Bike

Hydroformed Alloy

26 lbs

Yes

Schwinn Discover Hybrid Bike

Aluminum

35.5 lbs

Yes

Retrospec Mantra V2 Commuter Bike

Steel

33 lbs

Yes

Schwinn Suburban Sport Hybrid Bike

Steel

37 lbs

Yes

Raleigh Bikes Talus Youth

H.Tensile Steel

36 lbs

Yes

Schwinn Wayfarer Hybrid Retro Bike

Steel

42 lbs

No

Diamondback St Dual Sport Bike

Aluminum Alloy

41 lbs

Yes

Giordano G7 Men's Hybrid Bike

Aluminum

40 lbs

Yes

Kent Springdale Women's Hybrid Bike

Aluminum

35 lbs

No

Kent Springdale Men's Hybrid Bike

Aluminum

36 lbs

No
10 Best Hybrid Bikes Under 300 Dollars
1 ) Vilano Diverse 3.0 Performance Hybrid Road Bike
If you are looking for a high-performance entry-level bicycle; then you should not look beyond this bike for the price range. The Valino Diverse 3.0 is not just attractive but is idle for city riding, long group rides or commuting. Combined with speed and comfort it includes features of bikes twice its price.
Made of hydro-formed aluminum alloy it weight just 26 lbs; one of the lowest among hybrid bicycles. Equipped with Shimano derailleurs it offers 24-Speed, integrated brake lever, and smooth gear shifts; that let you have more fun while you ride.
It also includes a 700c wheels that ensure better control on the toughest terrains while the secure disc brakes makes it reliable and secure with great stopping power.
Be careful when applying them for the first time as they are way too stronger and may easily lead to pitch overs if not careful. I find it quite easy to assemble even with inadequate instructions or skills. It takes not more than an hour to put together and ride.
While it may look like a traditional mountain bike by frame. It's upright handlebar and a ton of features makes it geared toward on-road off-road use.
Overall the Vilano 3.0 is a diverse bike that checks all boxes in terms of low price, performance, speed, control, comfort, durability and ease of use. Additionally, it includes integrated shifters that helps you maintain speed and control without sacrificing maneuverability.
Vilano Diverse 3.0 Performance Hybrid Road Bike: Check Its Price On Amazon!
2 ) Schwinn Discover Hybrid Bike for Men and Women
Schwinn is possibly the oldest and most reputable brand in the world. They are so reliable and unique in its own league; we consider it the standard of quality. The Schwinn Discover Hybrid Bike is one of its series of high-performance hybrid bikes to suit the needs of both male and female riders.
Its step-through design and great looks make it famous among female riders and elderly. The lightweight aluminum construction and 28-inch tires makes it suitable for medium and tall height fit.
It is designed with a built-in rack, comfortable sports seat and anatomic grips for convenience. Further, it also includes Schwinn alloy crank and Schwinn suspension fork as their construction features. This makes it idle to explore long-distance with a wide range of riding tracks.
The handlebars are upright with a back sweep and both axles have shock suspensions; which makes your ride smooth even on off-road bumpy tracks.
With 21 different speeds, it goes real fast giving you a more intense ride. While the effective Promax alloy linear braking system offers better control and excellent braking power. Its highly adaptable, light and sturdy offering great flexibility to first-time riders.
Further its black on white color gives it a classic look and wide tires great traction on road. The Schwinn Discover Hybrid Bike came with a limited lifetime warranty; making it a safe investment.
Schwinn Discover Hybrid Bike for Men and Women: Check Price On Amazon!
3 ) Retrospec Mantra V2 Urban Commuter Bike
An attractive balance between impressive performance and good looks; this V2 urban commuter bike is a classic example of what a truly good bike means. This hybrid commuter is an amazing value that combines good looks with quality components and excellent features.
Its lightweight steel frame is hand-built, tig-welded solid construction ensures durability without sacrificing on its control and maneuverability. This bike comes with a sealed cartridge bearing hubs that ensures a smooth transition between fixed gear and freewheel riding.
Further being sealed it's protected against water damage, muck, and grime. Thus ensuring less maintenance needed or lower cost of repairs if any.
Equipped with a lightweight steel frame, dual front brakes, FGFS Removable Velcro Straps, flip-flop hub and a complete top-shelf component set for versatile riding; this next generation commuter bike is idle for traveling, leisure, exercise and commute.
The UrbanComfort is built for comfort, precision, and efficiency. It handles well on roads, streets, and unpaved trails. This bike combines classic fixie look with its 12 different color options to appeal to all riders.
Overall its a great bike that proves true to the proverb "Great bang for the buck". Available in 5 different sizes its smooth and quite to operate and go a little more faster than a mountain bike. Although not a true hybrid bike it performs well on road, gravels and unpaved tracks.
Retrospec Mantra V2 Urban Commuter Bike: Check Its Price On Amazon!
4 ) Schwinn Suburban Sport Comfort Hybrid Bike
The next one from the product line of Schwinn it's sleek, good looking and high-performance bike. Equipped with a lightweight steel frame, moderate frame position, adjustable handlebars, and suspension fork; it offers a comfortable and responsive riding experience.
The 26 x 2.0 inches tires are a little too thick than your average road bikes. The 7-Speed Micro shift shifter makes it easy and quick gear changes.
When testing this bike on road this bike met all my expectations regarding control, speed, comfort, and maneuverability. Connected with the Schwinn tradition of comfortable riding position; it has adjustable handlebars that keep you upright and easy on your back.
On the downside, it's quite hard and frustrating to assemble on your own. But you can get this fixed for just $50 dollars by assembling it at your nearest bike shop.
In recent times Schwinn has introduced a lot of new superior quality bikes; making it look too bad and outdated. But still, for a price range below $300 it's still relevant; perhaps the most functional bike that can be used for a long-distance ride.
The bike is light and easy to ride while its wide tires makes it idle for different terrains. In addition, it includes an inbuilt strong shock-absorbing system; so you can ride it with confidence.
Schwinn Suburban Sport Comfort Hybrid Bike: Check Price On Amazon!
5 ) Raleigh Bikes Talus Youth Hybrid
The Raleigh Bikes Talus came in 5″ wheel size which has a step-through design suitable for women and elderly. It allows for an effortless mounting and dismounting so you do not need to worry about any cloth or trouble raising your legs to a height.
Available in 5 different colors its looks modern and stylish. Built for long-distance rides its highly durable and can withstand rough use, weather and different terrains. It features a high tensile steel frame that together with all its parts weight just 36 lbs.
The Mountain Plush Saddle offers a great riding position with excellent cushioning. This ensuring a comfortable ride that lasts really long.
Its upright handlebar position gives you a better grip giving better control on roads and trails. The 75 mm SR Sun tour Fork offers suspension thus smoothing the effects out of bumps. While the 21-speed gears with 7-speed shifters ensure smooth transition and offers more choice in terms of speed.
I find this bike to be extremely pleasant and comfortable to ride. In various tests it shows similar performance in city as well as while maneuvering the hill.
The Raleigh Bikes Talus is fitted with alloy wheels that provide both provide strength and stability without adding much weight. The price of this bike is undoubtedly the huge advantage other than its sporty look, durable construction and alloy V-Brakes that provides great stopping power.
Raleigh Bikes Talus Youth Hybrid: Check Its Price On Amazon!
6 ) Schwinn Wayfarer Mens and Womens Hybrid Retro Bike
The Schwinn Wayfarer Hybrid is designed to provide riding experience of a beach cruiser, the strength of a mountain bike, control/maneuverability of a commuter and speed of a road bike. This retro-styled steel frame is available in both step over ( 16-inch ) and step-through design ( 8-inch ).
It features an especially convenient seat and 700C alloy rims keeping your bike steady and comfortable across various terrains.
This bike is suitable for anyone between 5'4" to 6'2" and prefers a classic look with extra storage with the classic rear carrier. Although quite smooth and comfortable to ride; its heavyweight frame and thicker tires make it difficult for distance biking.
The 7-speed twist shifter lets you shift easily between gears and provide great speed. The bike provides an upward riding position with a handlebars tilted a little backward.
It's a perfect bike for touring, leisure and commute within city limits. The brakes are great and can stop your bike at no time. The handgrips are pretty standard and the saddle is nice, cushioned and comfortable. This bike has been tested for 250 lbs load but can easily carry as much as 300 lbs.
Overall it's a versatile bike that needs no maintenance at all, is quite sturdy and pleasant to ride. Further being one of the cheapest hybrid bikes on our list; its a great starting point.
Schwinn Wayfarer Mens and Womens Hybrid Retro Bike: Check Price On Amazon!
7 ) Diamondback Bicycles Trace St Dual Sport Bike
It's a dual-purpose sports speed bike designed with the best quality materials for men who like thrill and distance riding but at a cheaper rate. The bike largely consists of aluminum alloy making it sturdy and durable without sacrificing on weight.
It features a powerful alloy linear-pull brakes and a high tensile steel fork. This makes it easy to steer and gives an unparalleled stopping power in this price range. The Dual sport 700C tires helps with traction on city roads, pavements, trails, and mountain.
Available in four different sizes ( SM/16″, MD/18″, LG/20″ and XL/22″ ) its a great companion for anyone between 5'4″ to 6'4″.
The DB SL-7 wheels are durable and 21 speed Shimano with Revo grip shift offers quick and seamless gear shifting. This provides a smooth transition on a number of different terrains. If you want to use it for distance riding or just for the daily commute, you'll appreciate the confident feeling provided by its upright handlebar.
The Trace ST dual-sport hybrid bike offers the best of both worlds; comfortable riding position of a mountain bike and efficient operation of a road bike.
Overall it's an impressive bike for the money that came in completely assembled. The saddle is comfortable but could be a little more softer for additional comfort. I find this to be a great bike with a good mixture of road and mountain bike idle for one who wishes to get back into cycling.
Diamondback Bicycles Trace St Dual Sport Bike: Check Its Price On Amazon!
8 ) Giordano G7 Men's Hybrid Bike
The Giordano G7 Men's Hybrid Bike is a fine example of a performance hybrid bicycle in need of due attention. In my opinion, it is a classic example of products that fails because of a lack of attention. Designed with 700c wheels it has aluminum frame construction.
This not just makes it durable and sturdy but also lightweight by design. Its 700c x 35 wheels provide great traction and can handle a wide range of terrain conditions.
At such a low price, the quality of the frame and its welds are exceptional. With fine-tuned Seatpost and superior front suspension, the bike is quick, light and smooth to ride on road, trails, and mountains. In our list, it's the last hybrid bike in this range meant for long-distance ride.
The Giordano G7 Men's Hybrid Bike is solid and fast with better power transfer than most bikes in this range. Its 21 gears provide speed and Shimano Altus shifters ensure smooth transition between gears.
Further this bike is simple to use and has flat handlebars that helps with upright geometry. This not just add to comfort level but also makes you ride with less resistance on difficult terrains. The brakes seems to be functional but need a change each year; after extensive use.
Overall the bike looks good and feels fantastic. The seat appears to be adjustable so you can adjust its height just as you like the most.
Giordano G7 Men's Hybrid Bike: Check Price On Amazon!
9 ) Kent Springdale Women's Hybrid Bicycle
The Kent Springdale Women's Hybrid Bicycle is surprisingly light with just 35 lbs weight. Made of aluminum frame with float adjustable stem its light, durable and efficient by design. equipped with all the latest equipment and right features its idle for a leisurely ride around town.
Technically Kent Springdale is one of the top quality mid-range hybrid bikes for women. Its alloy wheels fitted with 700x32c tires gives it the strength and stability that you need.
While its simple step-through construction brings out a feminine appearance.
The bike came with an alloy quick release seat clamp mechanism that gives it the flexibility to adjust the seat for maximum comfort and satisfaction.
The front and rear V-Brakes provides the best braking system for the price. It's Anti-lock braking system prevents it from slipping on steep mountains and wet grounds.
The 21 shift gears gives you more power and speed while keeping you safe at all times.
The bike seems to perform quite well on-road and you do not feel pain or get tired riding. Its large tires and cushioned seat act as vibration damper; so as to absorb the effects of bumps on rough roads.
Overall all the bike seems quite impressive with its lightweight design, smooth riding experience, upright sitting position, excellent brakes and economical. Further, it also includes a rear rack that came in quite handy traveling or while commuting to work as a carrier.
Kent Springdale Women's Hybrid Bicycle: Check Its Price On Amazon!
10 ) Kent Springdale Men's Hybrid Bicycle
Yet another Kent Springdale but with step over construction, designed to cater men's need. It's an impressive bike designed for recreational use and traveling around the city. The Kent Springdale Men's Hybrid Bicycle features a 36 lbs lightweight aluminum construction.
Fitted with 700x32c tires it can handle any terrain and provide a smooth ride with excellent traction. These rugged tires are what that brings its control and maneuverability to the next level.
The bike came with an alloy quick release seat clamp mechanism that gives it the flexibility to adjust the seat for maximum comfort and satisfaction.
While the front and rear linear brakes provides excellent stopping power in all weather conditions.
The fenders come in handy protecting from dust and water so it does not sprinkle to reach you. Its lightweight design makes it easy to control and portable when you have to move to a different position.
On the down side the bike came in one frame size making it unsuitable for riders below 5 feet. Without seat adjustment it does not fit anyone below 6 feet. So yes you may need to adjust your seat right after the assembly. This bike is also equipped with rear derailleur and 21 speed gears.
Kent Springdale Men's Hybrid Bicycle: Check Price On Amazon!
How To Choose The Best Hybrid Bike Under 300 Dollars
When you are buying any new hybrid bike to be used for leisure, sports, and daily commute. There are a few major things one should always keep in his or her mind.
In other words, to make an educated decision its important to know and ask what is your need? A person that needs bike primarly for leisure has different needs than a person with need for commute.
Will the large size enough for my height? , Can you sit straight up on this bike? , How comfortable is it?, Is it in your budget? , Its key features? , How much does it weigh? , Is the one worth with regards to durability/quality, etc.
These are some important questions you should ask yourself; before making any final decision.
We have thus reviewed and listed the above products based on these parameters. I personally research and tested each hybrid bikes on each parameter and ranked accordingly.
In addition, I have personally looked at their frame, comfort level, seats, suspension and fit before making our final list. Since they are some of the basic necessities of any modern bike. They were Our first priority while preparing the above list.
Our first priority while preparing the above list was its features then; durability, quality, comfort, sitting position/fit, suspension, gears, weight, speed, customization, cost, ease of assembly, construction material followed by all other aspects of a modern hybrid bike.
Overall I have come up with a list well suited for all young, adults and seniors; irrespective of their current physical condition and sex.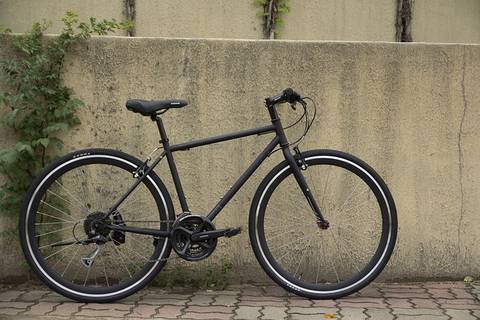 Frequently Asked Questions?
Q.1. What does it mean by hybrid?
Ans: A hybrid bicycle is exactly what it sounds; a nice blend of key features of a cruiser, road bike and a mountain bike. It's more of a general purpose bike that is jack of all but master of none. These bikes are light, smooth to ride and can handle different terrain.
A hybrid bike with its wider tires, upright sitting position, and cushioned saddles is idle for beginners looking for a bike for leisure, travailing around the town or commuting to work. With these bikes, versatility is the key as you can take them to Canal towpaths, offroad trails, forest road or move around the city.
Q.2. Are hybrid bikes any good?
Ans: A majority of bikes that you see for the budget are hybrid bikes. As they are compatibility cheap than most specific bikes, lightweight in construction, are simple to maintain and can be used anywhere. So it fits well to most users who do not need a bike for a specific use.
On the down side being a general-purpose bike it never that smooth on-road like a road bike or provide that much traction on mountains as with a mountain bike. If you want a bike just for a casual ride, to errands around town and short distance commuting; its an efficient bike that won't let you down.
Q.3. Should I buy a hybrid or mountain bike?
Ans: It depends on your needs as someone who needs to commute for work or prefer casual riding; a mountain bike won't be the best thing to have. It's not thought they are bad but would be too specific for a youngster who hardly go for the hills or off-road trails to ride.
Similarly, a hybrid bike won't be that appropriate for someone who lives on or around hills. As with hybrid bike, he would have to put extra effort uphill; and believe me, it's quite frustrating. In general, hybrid provide the most enjoyable and comfortable ride but mountain bikes let you safely ride through aggressive terrain.
Q.4. Are Hybrid Bikes Good for Fitness?
Ans: Almost everyone knows cycling is good for our health. Not just its great way to boost your cardiovascular health but relax mind, strengthen your legs and burn calories. This low impact cardio workout is a great way to start especially if you do not want to go for more intense exercise at the beginning.
When it comes to fitness any form of biking will be a great option; be it traditional bike, road bike, hybrid or mountain bike. But since hybrid bikes have three gears in crank-set rather than two; it goes a little faster and feels more easier to ride than a mountain bike.
Also Read,
15 Best Hybrid Bike Brands 2021 | Bicycle Guide
Best Schwinn Hybrid Bikes 2023 – Review & Comparison
Best Cyclocross Bike Under $500, $1000 | Review & Comparison