Bicycles are probably one of the most underrated and least appreciated items for college students.
This vehicle is not just an eco-conscious way of commuting but also a cost-effective and convenient method to shuttle across campus and even travel around the city. Owning a bicycle in college can also serve as the first common ground for establishing friendships and relationships.
Furthermore, having a bike on campus can help cut down on the morning rush and commute between classes and campus buildings allowing you to spend your time on things that matter more.
Bicycles are also easy to park and drive even on narrow roads and are less likely to cause traffic congestion. Ultimately, bikes are environment-friendly, convenient, cost-effective, and time-saving.
With the rising price of gas and the growing environmental impact of automobile vehicles, bicycles have become more in demand and essential than ever before. However, finding a bicycle that is fit for the busy schedule and demanding lifestyle of college students can be tough.
As a college student, you need to find a bicycle that is strong, easy to maintain, reliable, comfortable, affordable, and suitable for your style.
We understand how overwhelming that could get especially if you have tons of extracurricular work to do.
That's why we've already done the research and rounded up the Best Bikes for College Students in 2023 in this comprehensive list. These products went through our strict performance test and were reviewed according to unbiased customer reviews, specs, and informal interviews with many bike owners.
| | | | | |
| --- | --- | --- | --- | --- |
| Product Name | Terrain | Weight | Height | Product Link |
| Schwinn Discover Hybrid Bike for Men and Women | Flat / Sub-urban | 35.5 lb | 5'3″ | |
| Sole Bicycles the Duke II Fixie Bike | City | 26 lbs | 5'2″ | |
| sixthreezero EVRYjourney Women's Cruiser | Flat | 42.1 lbs | 4'6″ | |
| Vilano Diverse 3.0 Performance Hybrid Road Bike | Sub-urban | 41 lbs | 5'3″ | |
| Sole Bicycles Purple Cheetah Single Speed Bike | Flat / Sub-urban | 37.4 lbs | 5'3″ | |
| Vilano Step-Through City Bike 7 Speed | Sub-urban | 35 lbs | 5'4″ | |
| Tommaso Imola Endurance Aluminum Road Bike | Flat | 32 lbs | 5'6″ | |
| Huffy 21-Speed Hardtail Mountain Bike | Hilly | 43.4 lbs | 5'3″ | |
| Schwinn GTX Comfort Dual Sport Bicycle | Flat / Sub-urban | 35 lbs | 5'4″ | |
| Hiland 7 Speeds, 700C Hybrid Bike | Flat | 37 lbs | 5'6″ | |
* The given height in the table is the minimum suitable height of the rider for that bike.
10 Best Bikes For College Students In 2023
1. Schwinn Discover Hybrid Bike for Men and Women
The schwinn discover hybrid is an excellent bike with amazing features focused on performance. The bike is well suited for college students in plains or sub-urban terrain above 5'3″ in height.
Its lightweight aluminum construction makes it suitable for anybody to ride without much effort. The frame is durable and strong while it has a retro steel look that appears cheap. If you are not much into styles and look this can be a big plus as it will deceive most thieves.
This hybrid bike is a good fit for anyone looking for a strong and durable bike for his/her first year; that is comfortable to ride and most effective in the mid-price range.
Being a hybrid bike by design it features an uprigh siting position with back sweep handlebar. This makes it easy to ride and control while its rear carrier enables convince commuting between classes.
Combined with 21-speed shifting gears and wider tires it can easily adjust between the stability and balance of uphills and speed of decent and control as of road. Be it commuting within the campus, leisurely cruising, or speeding along the roads; Schwinn Discover Hybrid is ready for your weekdays and weekends routine.
The best part it comes in pretty much assembled ( 80% ) and the rest is also quite easy to complete. Overall it's a well-designed bike for cycling enthusiasts, college students, and daily commuters.
Schwinn Discover Hybrid Bike for Men and Women: Check Its Price On Amazon!
2. Sole Bicycles the Duke II Fixie Bike
Another excellent model sold by Sole Bicycles is their Duke II bike. As with the Overthrow II, the Duke II is also super lightweight and nimble, weighing just 26 lbs.
It has the brand's signature 'Gripmasters' as well to keep you secure at the bike's contact points. The light frame is a stylish white, though its hi tensile steel material is the best thing about it.
You'll find yourself as comfortable as can be on the brand's streamlined saddle too.
This retailer are really flexible and accommodating when it comes to different rider heights, so you'll be able to purchase the Duke II in four different frame sizes (49cm, 52cm, 55cm, and 59cm).
You may not have thought that you'd be able to maximize your comfort so well on a fixie, but Sole Bicycles have made that absolutely possible, so the Duke II should definitely be in your top choices when buying a new bike.
Sole Bicycles the Duke II Fixie Bike: Check Its Price on Amazon | Buy Direct on Solebicycles.com
3. sixthreezero EVRYjourney Women's Cruiser
If you are looking for something reliable and satisfactory rather than another cheap bike; this step-through model with classic design is an ideal choice for women riders.
In our informal interviews with many of these bikes owner, it is the bike which got the most love. The sixthreezero EVRYjourney Hybrid cruiser is available in two sizes that fit from people of small heights ( 4'6″ ) to tall riders up to 6'4″ with plenty of room for your legs and adjustable seats.
Sixthreezero EVRYjourney is degined with students and daily commuter in mind. The rear rack and fender helps a ton with carrying books, keep mud splashes at bay and improve its aesthetic appearance.
The lightweight aluminum frame with upright riding position enables a comfortable ride across flat terrain. While its raised handlebars and front fork helps with control on roads.
Its low swooping frame and step-through design make it easy to hop on and off irrespective of your dress. It's the sort of bike one would usually see for leisure commute, at beaches, and on a college campus. You can get this bike in 1,3,7 or 21-speed gears and two different sizes 24″ and 26″.
Looked at comparable bikes in stores it looks pretty attractive and is quite easy to assemble. The instructions are well laid and with no further experience it can take about an hour to assemble.
sixthreezero EVRYjourney Women's Cruiser: Check Its Price On Amazon!
4. Vilano Diverse 3.0 Performance Hybrid Road Bike
It's a stylish way to get around campus thanks to its appeal and flashiest looks. The Vilano Diverse 3.0 offers college students a high performance sleek sporty bike; that hold on to sub urban conditions.
It certainly has everything in place that makes it idle for college students; except for its saddle that needs to be replaced at earliest. It is easy to assemble at home/hostel, rides smoothly on pavement, accelerates quickly, looks attractive, has strong disc brakes, and trigger shifters.
As far as its looks go its quite attractive by design with its flashy polish color and sporty features. As far as its frame goes it is made of light aluminum to keep its weight down and keep it rust proof.
The Vilano Diverse 3.0 performance hybrid road bike features 700c x 35c Kenda tires idle for rough patchy roads in sub urban settings. This helps boost your performance on roads and bicycle tracks.
It shares the same riser handlebar design of the schwinn discover hybrid bike featured on our first list. The grips are comfortable and easy to work with. Together they allows for easy maneuverability around the corners. While its 24-speed cassette gives you more acceleration and speed.
The best part about valono; its pedals have contour to reduce slip as you speed up. Further its came in pretty much assembled and the customer support is nonparallel for the price tag.
Vilano Diverse 3.0 Performance Hybrid Road Bike: Check Price On Amazon!
5. Sole Bicycles Purple Cheetah Single Speed Bike
A third bike by Sole Bicycles makes this list, and with a name like Purple Cheetah, your expectations will be high. Luckily, this bike meets them and more.
Its vibrant white and purple frame and yellow KMC chain will have all eyes on your bike as you ride past, and the cheetah print saddle and handlebars are surprisingly comfortable.
The handlebars also have extra grips to help you steady yourself as you ride. The brand humorously describe this bike as "one fast cat", so the front and rear hand brakes are a necessary safety feature.
The "flip flop" hub allows you to cruise along on one speed or get more of a workout on the "fixed" mode. This is one standout bike that you'll be able to enjoy for its unique look and excellent speedy movements.
Sole Bicycles Purple Cheetah Single Speed Bike: Buy Direct on Solebicycles.com
6. Vilano Step-Through City Bike 7 Speed
If you are a fan of a retro classy look, then the Vilano Step-through City Bike will be your favorite. This bike's overall build screams retro urban style that is timeless and an eye-catcher within the univ grounds.
We particularly like the classic look of its easy-to-hold handlebars and matching comfortable suspension saddle. Its simple step-thru hi-ten steel frame is also functional, sturdy, and good-looking.
In addition to its spectacular design, the Vilano Step-through city bike also has impressive features and specs that are perfect for each student.
It features water bottle mounts that allow you to carry your bottled water for a long ride. There is also a twist grip shifter that effectively controls 7 gears for a smoother ride.
Moreover, it is equipped with 700c x 35c tires that are suitable for different road conditions. The linear-pull brakes offer great stopping power as well.
A locking kickstand is provided so you can easily park this bike too. This bike comes in a one-size frame that measures 50 cm and is a suitable choice for people who are 5'4″ tall and more.
The Vilano Step-Through City Bike is no doubt a great choice however it requires assembly and tuning.
While it comes with comprehensive assembly information, we highly recommend bringing it to a local bicycle mechanic shop for a safety check and proper tuning.
Vilano Step-Through City Bike 7 Speed: Check Its Price On Amazon!
7. Tommaso Imola Endurance Aluminum Road Bike
In our analysis, we have found this bike to be perfect for beginners and advanced riders looking for a dependable bike on campus if you wish to ignore its high price.
It is its high price tag that makes it unreachable to the average college student. If you are looking for nothing but the best bike in terms of speed, comfort, performance, and looks; you should look at this model at first. The frame is made of aluminum that makes it strong while keeping it light.
The front fork is of HCT carbon that keeps the vibration at a minimum. The compact frame geometry with shallow handlebar drop allows ample spacing, more comfort, and easy control.
For the average college student, it's within his budget only after saving for a while. Its unique body ease design fits you like a glove reducing stress on your body so you never feel cramped.
The 700c tires roll smoothly on roads but might needs a change after a year. Other than that everything else is built to last and can be taken to long distance. The bike came with exclusive Shimano's two-year warranty on a complete bike and a lifetime warranty on its frame.
Overall the bike looks good and feels fantastic to ride. It is one of few bikes for college that needs no maintenance at all during all time in the college.
Tommaso Imola Endurance Aluminum Road Bike: Check Price On Amazon!
8. Huffy 21-Speed Hardtail Mountain Bike
The Huffy Hardtail Mountain Bike is surprisingly light with just 35 lbs weight. Made of charcoal gloss hardtail frame with float adjustable stem its light, durable, and efficient by design.
Equipped with all the latest equipment and right features its idle for a leisurely ride around town. If you are looking for an entry-level bicycle for the campus at a much lower cost; this is the one you should give a look at. This 26-inch mountain bike is ready for outdoor adventures.
Available in three different sizes ( 20, 24 and 26 inch ) its a great companion for anyone between 5'3″ to 6'4″. It has a nice look and features 5 different color options to express yourself.
Being part of the exclusive huffy club of bikes it represents the long tradition of producing sports bike with game-changing technology as with famous Huffy Radio Bike.
Performance-wise this bike is nothing much spectacular but is quite solid and affordable. When it comes to bikes for college in the budget this is certainly a great choice for hilly terrains. Its 21 speeds twist shifters provide excellent performance on demand for both uphill and downhill rides.
These bikes might not be that dependable or light as huffy bikes used to be before the 2000's. Still they offer good value for money as a starter bike for students.
Huffy 21-Speed Hardtail Mountain Bike: Check Its Price On Amazon!
9. Schwinn GTX Comfort Dual Sport Bicycle
The versatility of the Schwinn GTX Comfort Adult Hybrid bike is nothing but remarkable. This bicycle is your best partner for all your campus commute, city tours, and even sports activities.
It offers versatile riding with its aluminum dual sport frame and suspension fork. It is equipped with a 700c wheel that offers both maintained speed and efficiency for beginner and long-term bikers.
These tires also offer good grip on or off-road for optimum safety.
The 21-speed shifters with rear derailleur of this bike provide precise gear changes at different speeds across varying road conditions or terrain.
Its alloy v breaks also give a great stopping power for added safety. Its overall build is lightweight, comfortable, durable, and simply striking. It is suitable for all riders that are 5'4″ to 6'2″ in height.
Furthermore, this bike comes with a limited lifetime warranty so you can enjoy riding your bicycle even if your school days are already over.
In addition to its great specs and looks, this bike is also easy to assemble and use. The assembly time for this bike took us a total of one hour and a half.
We also find the price reasonable for its great features and unmatched performance.
Schwinn GTX Comfort Dual Sport Bicycle: Check Price On Amazon!
10. Hiland 7 Speeds, 700C Hybrid Bike for Men Women
The Hiland Hybrid Bike combines powerful performance and functional parts that are designed to fit the lifestyle of every urban commuter.
It is built with high quality and long-lasting aluminum frame that is also lightweight to ensure comfort while biking.
The frame is also fully customizable allowing you to add racks, fenders, and accessories that can make your riding experience more convenient, fun, and personalized.
The brake system of this bike consists of double Caliper brakes that deliver better braking, stability, and control.
Additionally, it is equipped with SHIMANO 7-speed shifters that give you total control of the bike in every road condition and situation.
It also has 700c wheels that offer comfort in different riding conditions and efficient stable speed. Moreover, it has a thicker padded saddle for more comfort on the road.
The grip handlebars are made with eco-friendly materials and are designed to be ergonomic as well. Its 18-inch frame is suitable for riders that are 5'6″ to 6′ tall.
This bike is delivered in your footsteps and comes 85% pre-assembled. The next assembly steps are relatively easy to follow so you won't need to worry that much. It also comes with free installation tools and pedals.
Hiland 7 Speeds, 700C Hybrid Bike for Men Women: Check Its Price On Amazon!
How To Choose The Best Bikes For College Students
When you are buying any new bike for your college to be used for leisure, sports, and daily commute. There are a few major things one should always keep in his or her mind.
In other words, to make an educated decision its important to know and ask what is your need? A person that needs a bike for a flat college campus has different needs than a person on a hilly college campus. Then there is the personal choice for styles, gears, price, and use.
Will the large size enough for my height? , Can you sit straight up on this bike? , How comfortable is it?, Is it in your budget? , Its key features? , How much does it weigh? , Is the one worth with regards to durability/quality, fenders, does it have a rear rack for carrying books, etc.
These are some important questions you should ask yourself; before making any final decision.
We have thus reviewed and listed the above products based on these parameters. I personally research and tested each hybrid bikes on each parameter and ranked accordingly.
In addition, I have personally looked at their frame, comfort level, seats, suspension and fit before making our final list. Since they are some of the basic necessities of any modern bike. They were Our first priority while preparing the above list.
Our first priority while preparing the above list was its features then; durability, quality, comfort, sitting position/fit, suspension, gears, weight, speed, customization, cost, ease of assembly, construction material followed by all other aspects of a modern hybrid bike.
Overall I have come up with a list well suited for all college students; irrespective of their campus conditions, weight, sex, height and any financial restrictions.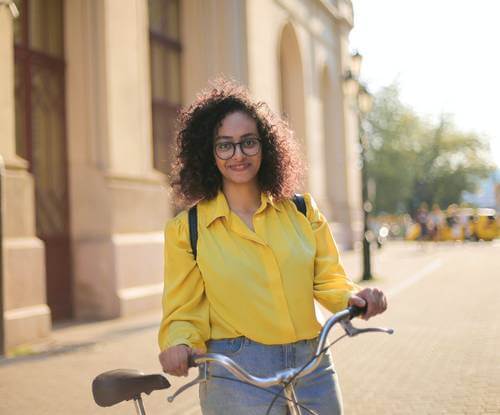 Frequently Asked Questions?
Q. What is a good price for a college bike?
Ans: A decent bike for commute, fitness, and travel range between $250 to $1200. Most college bikes in between 400 to 800 are quite good and are generally long-lasting. But when it comes to buying bicycles for students it really depends on his or her financial condition.
While most students can secure some nice bikes idle for a college campus in less than $500. For some a starting level bikes as such of huffy bikes at a lower cost is a much better choice. You can still have the choice to buy a used bike from seniors of much better quality at a lower cost.
Q. What size bike do you need?
Ans: To find the correct bike size for yourself you first need to measure your height. A bike is measured from its seat post to the crank. For the latter, you need to take your inside leg measurement. You can use either of these two methods and use bike size charts to find the idle size.
My personal favorite method for the same is by looking at its wheel size. A normal range for a 700c or 26-inch wheel is 5'3″ to 6'2″. Similarly, for a 24-inch wheel, the appropriate height is 4'6″ to 5'5″ and 4′ to 5′ for a 20-inch wheel without adjusting the default seat position.
Q. Are used bikes worth it?
Ans: A used bike in some what good condition is the best choice for college students in budget. That is what I do during my college years; buy a used bike from seniors. Buying something used is all about finding a better deal as there are bikes for sale from worst to new like condition.
You always have to choose the best suitable option available at the moment. If you can wait or pursue a senior to sell his bike for a new one; you can get a good deal at cheap price. On the downside you will never feel that connect to your bike as when you buy a new one of your choice.
Q. Biking tips for college students?
Ans: If you're a college student, you should have a bike! But without proper biking tips you might get into accidents or might just lost your bicycle. When commuting within the college or trying to see your college town; you should always wear a helmet for your safety.
Further include a fender and rear rack if possible to carry books and things easily across the classes. Don't just go for the best bike possible but what suits your need and budget. At last do not forget to buy a good lock to secure your bike; unless you might lost your bike in the first year.
Also Read,
Best Hybrid Bikes Under $500 For Men & Women in 2023
Best Budget-Friendly Electric Bike Under $1000