Electric bikes are getting popular among young and old. When it comes to Electric bike there are so many reasons why it is the best way to get around for short and medium distances.
It is easy to maintain/use, a great source of workout ( peddle assist ), save fuel cost, is versatile and does not emit pollution. So there is nothing stopping switching to an electric bike.
Electric bikes are here in a great way. Attitude towards an electric bike has changed in the recent past. The new series of electric bikes are smarter, cheaper, looks more natural and are comfortable to ride.
An electric bike is a hybrid bike with a motor assist. While it still allows you to peddle; it takes the effort out of it; so you can achieve more speed for the same effort.
This is a perfect answer to the cyclist needs who want a peddle assistance, had to travel a lot carrying cargo, wants a daily commute without getting sweaty or you are just not that young to ride a regular bike.
Thanks to its recent surge in popularity you can now find E-bikes in many different categories; hybrid bikes, road bikes, cargo bikes, the daily commuter, road bike, folding bikes and more. That means there is one bike for everyone's needs!
We understand every bike is different and there are so many options to choose from.
So we bring together our comprehensive list for the best electric bike in 2020; after reviewing each product in detail with in-hand experience, customer reviews, specs, performance testing, and informal interviews with many of these bikes owner.
| | | | | |
| --- | --- | --- | --- | --- |
| Product Name | Charging | Weight | Range | Product Link |
| ANCHEER 350 Electric Mountain Bike | 6 h | 58 lbs | 30 miles | |
| MZZK 7-Speed Powerful Electric Bike | 5 h | 59 lbs | 50 miles | |
| Ride1UP 500 Aluminum Alloy Mountain E-Bike | 3 h | 53 lbs | 30 miles | |
| ANCHEER 500 Adult Electric Mountain Bike | 5 h | 50 lbs | 15 miles | |
| ECOTRIC Fat Tire Electric Bike | 6 h | 58 lbs | 19 miles | |
| CLIENSY 26 350W Electric Bike | 4 h | 58 lbs | 28 miles | |
| ECOTRIC Fat Tire Folding Electric Bike | 6 h | 51 lbs | 18 miles | |
| NAKTO 26″ 250W Cargo Electric Bicycle | 5 h | 50 lbs | 16 miles | |
| SwagCycle Pro Pedal Free Folding Electric Bike | 5 h | 30 lbs | 14.8 miles | |
| NAKTO Fat Tire Beach Snow Electric Bicycle | 6 h | 70 lbs | 35 miles | |
What Are the Best Electric Bike Under $1000?
1. ANCHEER 350 Electric Mountain Bike
Ancheer is a well-known name among cyclists. When it comes to mountain bikes ANCHEER is known to provide one of the finest collection of powerful bikes in the budget.
This Mountain E-bike is high quality, sturdy and light made of 100% aluminum alloys. When it comes to the best electric bikes for the price; there is no match to Ancheer 350 in functions, performance, and mileage.
The ancheer 350 mountain bike came with twin disc brakes, front suspension, bright led headlight, 26-inch wheel size, adjustable saddle, 21-speed gear, paddle assist and curved handlebars with extended seams.
When fully equipped it weighs around 58 lbs; which is quite low for a mountain E-bike. Furthermore, it includes a one-year limited warranty.
Robust in design the aluminum frame made it light, strong and easy to maneuver while the carbon steel fork gave it additional strength to sustain heavy loads. Designed to take 300 lbs load; It can easily take on as much as 400 lbs weight without breaking.
Furthermore, it includes a 36V 7.8Ah removable battery that powers the 350W gear motor. With a maximum speed of 20 mph, it gives an excellent range of 30 miles per charge.
Overall this bike is quite sturdy and can be taken to a large distance. Plus it only takes 6h to charge. It's comfortable, is great for moderate exercise and can be a great fit for both daily and specific needs of Hobie cyclist or daily commuter.
ANCHEER 350 Electric Mountain Bike: Check Its Price On Amazon!
2. MZZK 7-Speed Powerful Electric Bike
If you are looking for something reliable and satisfactory rather than another cheap E-Bike; this MZZK7 is idle for your needs. This hybrid bicycle is great for long-distance commute.
The power assist mechanism makes it easier to ride, sweat less and travel longer distances. Well designed and sturdy it is fit for both on-road off-road experience. Be it paved road, dusty pavements, gravel or wet ground; it performs well and provides maximum power.
Made from aluminum alloy its durable, light and sturdy. The INNOVA 700*52C tires not just allow greater control on roads bur also superior grip in complex off-road topography. The bike comes with twin disc brakes and provides an energetic yet safe riding experience.
The 6-speed system makes it idle for leisure, sports, daily commute, long trips, and trekking. Its 500W high-speed motor gives it a maximum speed of 25 miles per hour.
Furthermore, it includes a lithium-ion battery; which is both easy to remove and long-lasting. On average it takes just 5 hrs to charge and it lasts for the next 50 miles; one of highest in E-bikes. Plus since it's removable, you can bring it back home to recharge.
Overall it's a comfortable bike with good night visibility, fast charging, and lesser maintenance.
It is quite easy to control and manage with features such as multi-function LCD display, high brightness retro front light, Shimano derailleur, comfortable retro seats, and anti-skid tires.
MZZK 7-Speed Powerful Electric Bike: Check Price On Amazon!
3. Ride1UP 500 Aluminum Alloy Mountain E-Bike
The RIDE 1UP 500 is nice E-bike that represents quality, strength, and comfort of riding. It's not the best bargain for the price neither do you have a long list of cool features. But when it comes to a nice dependable Electric bike it tops the chart with flying colors.
Be it the powerful motor, sleek design, long-range, superior battery life, quick charging, and strong construction it makes your transition a little more comfortable from a car to bike.
The RIDE 1UP 500 is among the few E-bikes which can cross the mark of 25 mph. It makes it fast and great for leisure/daily commute; while the tires provide superior grip and control you need when going really fast. In addition, the mechanical disc brakes keep you safe.
One of the unique features of this bike is its three-level paddle assist system. It gives you more flexibility in terms of physical effort or workout potential.
This bike is pleasant to ride, is great for a daily commute and takes the least time to recharge. This means the average person needs to worry less about charging and focus more on themselves and their work. It includes a 48V 10.4AH battery that lasts long and charges in just 3 hours.
Thanks to its attractive design its most appealing for those who want to switch from a car to bike for their daily commute to work. Overall it's a well-designed bike for cycling enthusiasts, daily commuters, beginners, and professionals.
Ride1UP 500 Mountain E-Bike: Check Its Price On Ride1UP Website!
4. ANCHEER 500 Adult Electric Mountain Bike
Ancheer is a well-known brand when it comes to providing a cost-effective E-bike solution. At 50 pounds its medium size aluminum frame provides high strength at lower weight range. The bike includes an aluminum frame with a carbon alloy fork that can take heavyweights.
It also features a strong front wheel with comfortable shock absorption and mechanical disc brakes. With a 21-speed transmission system and twin disc brakes; you can choose to speed and yet feel in control and be safe.
The Ancheer 500 includes three riding modes; assisted, E-bike and fully manual ( normal bicycle ). It allows you to burn calories as you go, use it like a regular bike or go fast when you have to.
Under E-bike mode it goes as fast as 22mph while 15 mph under assisted mode. The bike is powered by a 36V 8AH removable lithium battery.
The battery is quite good, last long, take 5 hrs to charge and last for the next 15 miles. This bike is comparatively easier to maneuver with its tires offering superior grip and control on rough terrains and paved roads.
If you need a bike for your everyday needs or to commute to work; its bang for the buck. First, it saves time, second, it is much cheaper than other means of transportation, pollution-free, low operational and maintenance cost.
Overall it is a lightweight electric bike with more power and excellent features. It's sturdy, supports large weights, durable, comfortable and most important idle for the daily commute. Plus it comes with a 1-year full warranty.
ANCHEER 500 Adult Electric Mountain Bike: Buy Direct From Manufacturer! or Check Price On Amazon
5. ECOTRIC Fat Tire Electric Bike
Another excellent E-bike ready to take on for a ride. This hybrid bike features a 500W brushless motor; allowing to reach up to 20 mph. It includes full power, peddles assist and walk-assist working modes.
The bike features an ergonomic design that offers better control and enables a comfortable ride. With a load capacity of 250 lbs, its tough and can take heavy loads.
It's the new generation of electric bikes with an outage braking system, adjustable seats, alloy frame, 7-speed settings, peddle assist and fat Tires for added grip and stability on difficult terrain. So you can go full speed be on paved road or dusty pavements.
The construction is durable and sturdy and is built like a tank. It came in pretty much assembled with a well-defined instruction for the rest. I find it perfect as an entry-level bike; that gives you most out of your money.
The acceleration is smooth and fast with no jerks as you throttle forwards. Its wide anti-skid tires allow for an easy ride on complex off-road conditions such as; snow, gravels, sand or steep hill. It also includes a 36 V lithium battery that provides 19 miles of ride per charge.
Overall it's a decent bike with fat tires that delivers better control and comfortable ride. With three different working modes, it is great for a daily commute, workouts, and sports.
ECOTRIC Fat Tire Electric Bike: Buy Direct From Manufacturer! or Check Price On Amazon
6. CLIENSY 26 Inch Folding Electric Bike
The CLIENSY 26 is an excellent hybrid bike. It can be used both as a regular bike and with peddle assist. When it comes to riding experience it feels just like an ordinary bike but with 83% less effort.
Designed for tough terrain its idle for tall people. furthermore, its step-through design makes it perfect for women, young girls, and seniors.
It is one few electric bikes that are so versatile; it can easily cater to the needs of your first and extended family. Be it your wife, kids, parents or yourself. This becomes possible due to adjustable handlebars and seats; which can be then lowered to suit kids and teens.
The frame is rock solid and stable; plus it came in pretty much assembled. All you need to do is to attach the handlebar and seat.
Whether you wish to use it for the daily commute, uphill on your mountain trip, dirt roads or winter snow; it provides an adequate balance of physical effort and electric boost. If you are old and struggle with a regular bike; not just it helps you ride again but also boosts your morale.
It's good for your health, wellbeing and keeps you mentally sound, confident and self-dependent. Not to mention its fun to ride and is attractive.
If you are looking to buy an electric bike for your daughter or son; there is nothing best than the CLIENSY 26. It's comfortable, easy to control, includes 21-speed gears, durable, lightweight, looks great and most important is almost maintenance-free.
CLIENSY 26 Inch Folding Electric Bike: Check Price On Amazon!
7. ECOTRIC Fat Tire Folding Electric Bike
What's better than a folding E-bike that saves space, easily fits into any corner in your house and is easy to carry. These are minimalistic by design, lighter by construction and can be stored in the back of your car. So it's there with yourself on every trip.
Built like a tank; the collapsible metal frame is rock solid, sturdy and durable. Made of the aluminum alloy it folds in quick and has no folding teeth; offering a smooth and easy transition.
The bike came with both peddle and walk-assist mode. The 7-speed gears will make it fast and easy to operate with a top speed of 20 mph. Powered by 500W geared motor with its 36V 12AH lithium battery; it gives an excellent range mileage of 18 miles per charge.
Its sleek design and cool looks help you get compliments and more attention. You will find this hybrid bike quite easy and fun to ride.
So leave behind the problems of fuel refills, traffic jams, and schedule maintenance and contribute to the noble cause of environmental protection. Further, just by being on a bike you get to see a lot more things that we usually miss on cars.
Overall this bike is great for anyone on a tight budget or wants a good folding e-bike. It works best for office goers, students, and commuters who prefer to take their bikes on the trip.
ECOTRIC Fat Tire Folding Electric Bike: Check Its Price On Ecotric Website!
8. NAKTO 26″ 250W Cargo Electric Bicycle
A true step-through bike built for performance and comfort. If you are not into off-road biking its a great bike for young, women and seniors. The frame is built of high carbon steel that makes it an epitome of strength and durability.
With a maximum speed of 30 mph, it's quite fast even for an E-bike. Powered by 250 W motor with a six gear transmission system; it offers greater flexibility in terms of speed control.
It includes a quick-release lithium battery that lasts long and is easy to charge. This bike takes around 5 hours to charge and usually go for the next 16 miles per charge. The bike weighs 50 lbs and can easily handle weight up to 300 lbs; quite decent for carrying the everyday load.
This bike can operate under two-mode; one fully automated e-bike and another assisted bicycle mode. The NAKTO 26″ features front V and rear expansion brakes. The tires are anti-slip and wear-resistant offering better grip and control on road.
On the downside, it performs poorly on unpaved roads, sands, gravel, complex terrain and mud. But if you want nothing but a regular E-bike for daily commute; it's a great bike to have.
Some of the key features of this bike are; comfortable, easy to hop on and off, long battery life, sleek design, rugged construction, durable, smooth shifting gears, six gear transmission system, front V brake, adjustable handlebar, and seats.
Overall it's fun to ride, has fairly decent speed, has good power and is good value for the price. A true hybrid bike that works great for old people. It can work with and without peddling with full-auto, semi-auto and manual mode.
NAKTO 26″ 250W Cargo Electric Bicycle: Check Its Price On Amazon!
9. SwagCycle Pro Pedal Free Folding Electric Bike
Simple, light, portable and cheap yet surprisingly robust and versatile. It's a budget-friendly E-bike solution for most beginners. Designed to explore your city with style; it's portable and will fit into the car trunk.
With a maximum speed of 18 mph its quite fast for its size and motor power. The alloy frame structure and sleek design make it one of most light E-Bikes in the market; with a net weight of just 30 lbs. This makes it quite handy and easy to operate and maneuver.
The peddle free construction makes it simple and straight forward; while making it impossible to use it as a regular bike or with peddle assist.
While I admit the swag cycle is not the best bike in the budget; but is the lowest possible option with surprisingly great performance. Idle for flat terrain it features a 250W motor powered by a lithium-ion battery. The battery is replaceable and its status can be easily tracked via an app.
The saddle is adjustable and quite comfortable to ride. Plus it includes a throttle type speed regulator. This is not only easy to operate but lets you control your speed on the go.
The tires are pretty much basic with adequate grip. The reflective tail lights and front headlight enables clear vision in low visibility condition. The frame is quite versatile and can easily be adjusted to fit riders in between 4'8″ to 6'3″.
SwagCycle Pro Folding Electric Bike: Check Its Price On Amazon!
10. NAKTO Fat Tire Beach Snow Electric Bicycle
NAKTO fat tire is a high performer ready to be taken on for an off-road challenge. It's heavy-duty, adopts really fast to the terrain and includes a high carbon steel frame featured with premium shock absorber.
The NAKTO fat tire is a little expensive for a student but is also not built for daily commute or on-road biking. But when it comes to offroad riding experience you can not beat it in performance or the price.
If you had already tried a dozen E-bikes before and yet not satisfied; take it as guaranteed as it won't disappoint especially on complex terrains. Other than lack of proper assembly instructions; there is hardly anything to complain about especially to off-road needs.
Its a little too bulky with 70 lbs weight but it's quite normal for performance off-road bikes. So yes it's not perfect but certainly the great value for the money.
The tires are skid-proof, provide adequate grip and handles great in the sand, mud, rocks or snow. In addition, it features a USB connection that came in handy to charge your mobile, cam and any other accessories. Not to mention the battery lasts really long.
The bike also features a twin-disc brake made of high strength carbon steel. 6 easy speed transmission makes it easy to speed powered by a 350W gear motor. At full speed, it provides a range/mileage of 35 miles per charge and takes 6hr to fully charge.
Overall the bike is good for what it is advertised for; offroad biking. Made to cater needs of specific audience; either you will love it or hate it. With a maximum speed of 30 mph, it includes two working models; full motor or throttle control and peddle assist.
NAKTO Fat Tire Beach Snow Electric Bicycle: Check Price On Amazon!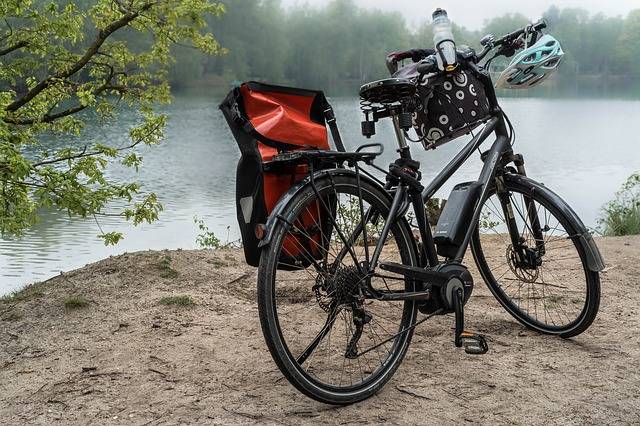 How To Choose The Best Electric Bike In Budget
When you are buying a new electric bike for your daily commute, offroad biking or for leisure; one should always keep a few things in his or her mind. To make an educated decision it is important to know and ask what is your need?
A student can have different needs than an adult who goes to the work, a senior or a fellow hobbyist; and so different models and types are available in the market to meet specific needs.
Does it serve my needs?, is battery removable?, can it handle steep hill?, how much it cost?, how long it takes to charge?, Number of speed gears, how much it weights?, brakes types, does it contain peddle assist?, can it withstand weather? ( rain/dust/snow ), does it come with all the tools necessary to assemble?, Additional features, etc.
These are some important questions you should ask yourself; before making any final decision.
We have thus reviewed and listed the above products based on these parameters. I personally research and tested each Electric Bike on each parameter and ranked accordingly.
Since they are some of the basic necessities of any modern electric bike; we also look at additional aspects such as its range, wattage, service life, facilities, warranty, and its maximum speed before making our final list.
Our first priority while preparing the above list was its features then durability, ease of use, range, Cost, time to charge, weight, off-road on-road practicability, maximum speed, working modes, Battery Life followed by all other aspects of an Electric bike.
Overall I have come up with a list well suited for all; daily commuters, seniors, solo travelers, students and even one going to used it for commercial activity.
Frequently Asked Questions?
Q.1. What Is The Advantage Of Using An Electric Bike?
Ans: Not all but many of us wonder what an e-bike is used for or what are its advantages. There are people who frequently go for trekking, use bicycle to work and use it for leisure or sports. Plus there are also those who are health conscious or support the "Go Green" movement.
An electric bike not just completes these primary functions for sports, alternate transport or cardiovascular workout; but also does it with ease, much faster and with lesser risk or compliance than a motorbike or a car.
Unlike traditional bikes here you have to go full peddle, full motor or with peddle assist. This came in quite handy for seniors, students, daily commuters, hobbyist and persons with disabilities.
Q.2. How Fast Can an E-Bike Go?
Ans: The average top speed of an electric bike is 20 mph or 32 km/h, but some can go as fast as 35 mph. US laws require one to register his E-bike as a motorbike and have a driving license if its motor is 750 Watt or above and a top speed above 28 mph.
So the true fastest E-bikes are quite unpopular in Us and elsewhere in the world. The maximum speed you get in Us is between 25 to 30 mph. Even then you will hardly cross the 20 mph mark; thanks to traffic, obstacles, pathways and simply the need to go really fast.
For example, my average speed for the last week was just 15 mph. Plus in some states( CT, OH, TN, CA, AR ) there is a law that requires you to wear a helmet for class 3 E-bike; normally bikes that go beyond 20 mph in top speed.
Q.3. Do You Need To Pedal An Electric Bike?
Ans: No; not always but sometimes. Most E-bikes that are sold in North America have three working modes; full throttle, peddle assist and full manual. In full manual, your E-bike operates as a regular bicycle. Gear ratio does apply but you still need to peddle continuously.
Under full throttle mode, your engine is energized and speed is controlled via speed gears and throttle. In some bikes, the speed is controlled solely by throttle; while in others by a combination of both throttle and speed gears.
Here whether you pedal or not there will be no impact on your bike speed or performance. In pedal assist, you still need to peddle but the effort required is much lesser. Here the more you throttle the lesser effort you need to put into riding.
Q.4. Are Electric Bikes legal On Roads?
Ans: You do not need to worry as electric bikes are 100% legal on roads around the world. The US federal law defines an electric bike as a two or three-wheel vehicle with a maximum speed of 28 mph, weighs less than 170 pounds and includes fully operational peddles and electric motor of power less than 750 W.
In some states, there is no minimum age to operate an E-bike while most prefer the limit of 12 years. Nearly 20 different states have updated their traffic rules to incorporate electric bikes; following a three-tier classification system for E-Bikes.
The others have outdated laws that do not recognize or deals with E-bikes; which means you can do whatever you want with your E-bikes in those states. The three-tier classification system classifies electric bikes into class1,2 and 3. Class 1 bikes are bikes with only pedal assist as their working mode with a max speed of 20mph.
Class 2 E-bikes can have both pedal assist and full throttle but with a maximum speed limit of 20 mph. While Class 3 E-bikes can have any mode of operation but with a top speed limit of 28 mph. For any class of these E-bikes, you do need a license or need to register your bike. But in some states, you are required to wear a helmet for riding class 3 bike type.
Also Read,
Why Do Fixed Gear Bikes Have No Brakes?
Best Step Through Bikes For Seniors 2020
21 Best Bodyweight Chest Exercise