Cruiser bikes are quite similar to hybrid bikes, but the cruiser bike is a bit more durable and has more adjustments to maximize the rider's comfort.
As the name suggests, you are able to 'cruise' while you cycle, so the ride will feel smooth and pedaling less strenuous. After-all a smooth, comfortable ride is exactly what you want when cycling long distances, so you may choose a cruiser bike for those.
Less experienced cyclists will be able to get to grips with a cruiser bike quite easily, so this is an extra bonus.
The majority of long-distance cycling is done for work or re-creative purpose, if not being done as a form of exercise, so a cruiser bike is a great way to navigate the steady streets of a city.
Are Cruiser Bikes Good For Long Distance Rides?
Cruiser bikes are a good choice for long distance rides because of how they are designed.
The frames are designed to be durable, which is perfect for lots of rides along different paths, though they are heavy, so try to avoid uphill paths.
The wheels are similarly designed and will grip well onto flat, paved surfaces, so while they will cycle perfectly on-road, you should try to avoid taking your cruiser off-road, especially for a long journey.
The saddle to handlebar proximity of a cruiser bike is also an important factor in how you'll fare riding on one for a long time. You'll be able to achieve perfect rider's position by adjusting the saddle to a good height.
An elevated seat means that you won't hurt your back leaning over the handlebars, so the cruiser has that advantage over other less adjustable types of bikes.
Despite the heaviness of their frames, a ride on a cruiser bike should feel very smooth and will get you to your destination in good time.
When riding long distances, it is always best to know what your bike can do so that you don't overwork it, and remember to always stick to paved paths with a cruiser.
What is a Cruiser Bike Best For?
The cruiser bikes are best-suited for city riding and light touring excursions. They are highly recommended for a low-speed, low-impact ride on paved lanes and dirt paths.
These upright-style bikes are most recommended on daily, and long rides.
The padded, oversized seat lets you sit on it comfortably, even on a humid day. While the saddle to handlebar proximity allow you to ride for longer.
The thick balloon tires are strong enough to roll over debris roads without punctures. Be it daily for workout or leisure rides on weekends, the cruiser bikes are versatile for multi-purpose use.
The wide tires make them perfect for riding on beach & gravel roads.
Most cruiser bikes come with at least a single gear, so you can ride at your pace.
The cruiser bikes also provide extra space to install a bike rack, perfect to tag along with your summer essentials as you hit the seashores.
What To Consider When Riding Long Distance On Cruiser Bikes
When taking any bike for a long distance ride, it is important to consider absolutely everything for your safety and also to protect the bike. For example, some bikes are great for off-road cycling, whereas others will not be able to handle riding on uneven surfaces.
And if something does happen to your bike, it could directly impact you and your safety.
When planning to ride a long distance on your cruiser bike, you should figure out exactly what it is capable of, as well as what it will not be able to handle.
Though most cruiser bikes have similar capabilities, small aspects may differ depending on the brand.
You should aim to know your bike as well as possible so that you can predict how it will ride and how long you can remain on it. Cruiser bikes are good for riding long distances, but it is still possible to overwork a dependable bike.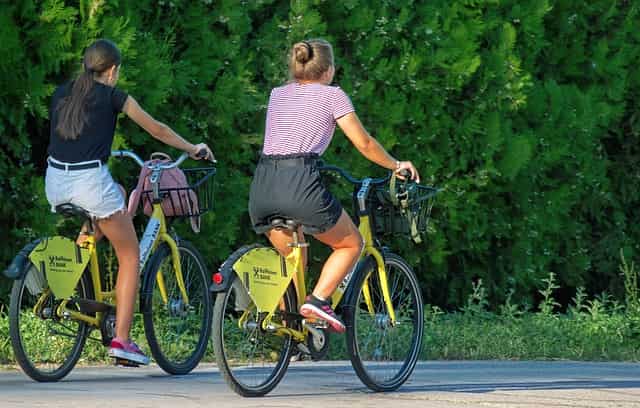 Take It Easy
Though you'll be cycling a long distance, you don't need to rush! Trying to ride too fast or too competitively on a cruiser bike may cause you to lose control, even on perfectly flat road surfaces.
Take it easy, especially when navigating unfamiliar routes. As previously stated, cruisers have heavy frames, so riding a bit recklessly could cause it to tip over if you lose control of the steering.
You should give yourself plenty of time to reach your destination if you are going to be cycling a long distance because rushing will also cause you to become a bit erratic, as well as taking the pleasure out of cycling.
You want to be able to ride a cruiser bike smoothly, so you'll need to handle it carefully.
Consider The Terrain
The cruiser bike is ideal for cycling on smooth terrain, so it will perform best in a city on paved roads and even pavements. Do not attempt to ride a cruiser bike on off-road terrain because it will not be able to handle the unevenness of the routes.
Any rocks, debris, cracks, or holes in the road will destabilize a cruiser, so it is best kept for riding in a city.
Wet terrain is not the best for a cruiser either because it does not have as much grip as a different kind of bike, such as a hybrid or a mountain bike.
So, if you are looking to cycle lots of different routes, choose an all-purpose bike as the cruiser is better for recreational cycling on well paved terrain.
Check Your Tires & Plan For Flats
As with any bike, you should always check the tires of your cruiser before heading out on a ride. This will ensure that they are in the best possible condition to last a long-distance journey.
Planning for flats is also important because it is not uncommon for them to occur even on smooth surfaces. You should take a bike pump with you.
If you can, check your tires during a ride to make sure they are still fully pumped and don't have any cuts or bulges in them. If you do end up with a flat tire and you can't fix it by pumping it up, take your bike to get a new tire fitted.
Cruisers perform best on easy, smooth terrain, but they still need the best tires for their frames.
Put The Saddle To The Test
One bonus of choosing a cruiser bike is that the saddle will be well padded and comfortable to sit on. So, you should test it before going out on a long-distance ride to check that it is in the best position.
You want to be able to keep a good riding posture (which the cruiser also prioritizes with the proximity of the saddle to the handlebars), as well as feeling comfortable.
Cycle a short distance with your saddle adjusted to make sure that it is comfortable for you. The last thing you want on a long ride is to start feeling uncomfortable on the saddle.
You want your back to feel straight and your neck not to be craned down over the handlebars. Good posture will work wonders on a long ride, as will a comfortable and well-adjusted saddle.
Other Bike Types For Long Distance Rides
Though the cruiser bike is a great option for cycling long distance, there are also other bikes that are good options for different reasons. Different routes require different things of a bike.
For example, it was previously mentioned that you should avoid using a cruiser bike on off-road routes because it performs best on smooth and flat terrain.
Luckily, there are other types of bike that can be used when a cruiser would be inappropriate.
Touring Bikes
The touring bike is the best bike for long distances. As its name suggests, it is designed specifically for "touring", so you won't have any issue cycling long routes and getting to your destination safely and efficiently.
Where other bikes, such as the road bike, are designed to be lightweight and streamlined, the touring bike is designed with stability and strength in mind.
You'll be able to put all your trust into your touring bike because it is able to withstand a lot. You can go exploring on your touring bike and ride on unfamiliar, bumpier terrain.
The saddle is designed to maximize comfort and encourage proper posture, both of which will allow you to ride long distances without feeling tired or sore.
Touring bikes are not the fastest option, but as long as you leave yourself enough time, you'll arrive promptly at your destination.
Recommendation: Ride1Up Roadster v2 ( Simple, Fast, and Fun ) | ride1up.com Product Link
Hybrids
Hybrid bikes are also a good choice for cycling long distances because they are very resistant and can handle pretty much any terrain.
Where the cruiser is best suited to smooth, paved, flat surfaces, the hybrid bike can tackle uphill, wet, and bumpy roads, which makes it a good choice for unfamiliar routes.
If you are going to be cycling a combination of on-road and off-road terrain, a hybrid bike will cycle well on both and keep you safe.
They are also designed to be comfortable, like the cruiser bike, so you shouldn't feel too stiff or painful after a long ride on a hybrid, especially with good rider's position on the bike.
And the best thing about a hybrid bike is that it combines the best elements from a road and mountain bike, so you should be able to tackle most routes.
Recommendation: Schwinn Men's Network Hybrid Bicycle ( Check Its Price on Amazon! )
Mountain Bikes
Mountain bikes are undoubtedly the most popular choice of bike for off-road cycling because their durable frames and thick tires can handle all the dust, debris, and uneven ground of those routes.
This makes them the best choice if you are looking to cycle long distances off-road because a cruiser bike will not be able to handle that terrain.
Though they are not elegant to look at, mountain bikes are also designed to be comfortable because you'll have to put lots of effort into pedaling, steering, and navigating.
You should make sure that your saddle is properly adjusted and padded prior to starting your journey, and you should take regular breaks to rest your back, legs, and feet.
Having a bicycle pump with you is also even more important on a mountain bike because off-road cycling is more likely to cause damage to tires, though mountain bikes are remarkably resistant.
Recommendation: Cycle Force Dual Suspension Mountain Bike | Amazon Product Link
Electric Bikes
Electric bikes are one of the more expensive options in the biking industry, but they are fantastic for long distance touring. The bike is designed to support the rider, and the battery and electric motor mean that it is one of the best ways to travel long distances without getting tired.
A main feature of many electric bikes is the lack of pedaling required. So, you'll be able to rest your legs on a sizeable bike that would otherwise need a lot of pedaling to keep it moving.
However, combining your own strength with the power of the bike is the best way to propel it on. You should choose an electric bike if you want to cycle longer distances with better speed.
It will be able to power up hills without issue, though sticking to on-site terrain unless your off-road bike can be used off-road is the most sensible course of action to preserve it.
Recommendation: Ride1Up LMT'D Performance Electric Bike | Check Price on ride1up.com
Wrapping Things Up
Ultimately, the cruiser is a great choice of bike if you are looking to cycle recreationally in a city, but you should choose one of the other options mentioned if you are interested in off-road cycling.
Any ride on a cruiser bike will feel smooth and comfortable, so long as you don't push the bike beyond its limits. Attempt long distance routes, but don't try to tackle off-road terrain.
Your first priority should always be your safety, so look after yourself as well as your cruisers and you'll be able to complete lots of long journeys.
Also Read,
Cruiser Bikes: 10 Things You Should Know Before Buying
10 Best Cruiser Bike For Women in 2023 | Review & Comparison
About Randonneur Bike: Best Bikes For Long Distance Touring