I can understand your dwindling confidence in Chinese Electric Bikes or Chinese manufacturing in general. The reasons for it go deeper than the Corona-crisis we witness.
Let me answer the question first. Yes, Chinese Electric Bikes can be good. It's true that most of the Chinese E-Bikes are cheap and not the best in quality as their manufacturing is largely geared to satisfy the domestic demand complying with lesser regulations.
It's also true that you could end up wasting your money if you buy in haste and excitement of getting a cheap Made in China E-Bike. Don't do that! It'll be an injustice to you and Chinese engineering both.
China produces fairly competitive E-Bike models. Many of its E-Bikes companies have stores and operations in the USA and Europe. They produce high-performance, durable and affordable E-Bikes.
These companies offer tough competition to the brands in the western hemisphere.
They have equally high-standard R&D departments and use the latest technology to design E-Bikes that offer a great riding experience that too within the budget of the average American.
Through this article, I will answer all your questions about Chinese E-Bikes, in the broader context of the global E-Bikes manufacturing scene. I will also help you buy a budget China made E-Bike.
Just How Reliable Are Chinese Electric Bikes?
Putting the speculations around the quality of Electric Bikes manufactured in China to rest, I can assure there's nothing wrong with them.
Chinese Electric Bikes have a massive market both inside China and globally. There's a plethora of Electric Bikes manufacturers in China that cater to this vast and ever-expanding market.
Some of them export parts of Electric Bikes to leading non-Chinese Electric Bikes companies as well. The purchasing power of people across the globe that prefer Electric Bikes differs.
It also depends upon the reason of their preference. In many countries, such as the Netherlands, Germany, Norway, and Sweden, environmental consciousness is high.
In growing economies such as India, Brazil, or China itself, many people choose E-Bikes simply because electricity is cheaper than oil.
Chinese Electric Bikes have a global market. In fact, China is a leader in Electric Bikes manufacturing followed by the neighboring Taiwan.
Chinese companies choose to target buyers with different spending range. Consequently, there's an entire spectrum of price range and the corresponding quality of Electric Bikes produced in China.
A friend of mine who teaches Economics at a college explained the rise of Chinese manufacturing:
China differs from other countries that have traditionally been leaders in producing a specific set of products.

You can say that Germany is a leader in manufacturing Automobile, the USA in making Software, Japan in Electronics, and South Korea in Smart Phones etc.

However, you cannot say the same for China. It's a jack of all trades and a master of none. You tell the Chinese that you want a particular product and give them an upper production cost limit.

They will make it for you. It would be significantly cheaper than the same thing manufactured anywhere else in the world. It would not be the best, it would not be the worst either. Overall, it will exceed your expectations. That's how China has become the Workshop of the World of our times.
Any doubts about the quality of Chinese E-Bikes are rooted in a misunderstanding of its manufacturing model. Many across the world have failed to understand that China produces for the widest range of buyers. Obviously, all of its Electric Bikes won't be able to match those costlier E-Bikes produced elsewhere.
European and North American companies manufacture E-Bikes mainly for their expanding market, where buyers are willing to spend more than global averages. China produces for everyone.
Are Chinese Electric Bikes of Inferior Quality?
The straightforward answer is NO! It would be a gross overstatement to say that Chinese Bikes are inferior in quality. Logicians would call it a hazy generalization. Let me get into the logician boots and explain further by some deductive reasoning.
If Chinese goods were of inferior quality, why on earth would they secure such a huge market outside China? The same is true for Made in China Electric Bikes.
China is the largest exporters of E-Bikes and its parts.
To say that Chinese bikes are of inferior quality is to challenge the intelligence of millions across the globe that trust Chinese Bikes! China is the largest exporters of E-Bikes and their parts.
Take, for example, Ancheer. It has offline store in the USA. Its Electric Bikes are some of the most sought after technologically. The company uses Artificial Intelligence to perfect its bike designs.
Many of its models like the Ancheer 20MPH, 26", 27.5", E-cruiser, and Folding Electric Commuter are considered best in their categories.
Other Chinese E-Bike companies like Airwheel, Fuji-Ta, F-Wheel and FitRider etc. are also known as design, technology and R&D leaders across the globe.
I must also add that we are living in times of Fragmented Production and Global Assembly Lines. Different parts of the bike are manufactured in different parts of the world depending upon the availability of cheap labor, raw materials, energy and infrastructure.
They are then assembled at a different location and sold in an entirely different market.
China offers the dual advantage of cheap-skilled workforce in plenty, and a huge internal market of Electric Bikes. Many top Electric Bikes companies (regionally or globally), source their parts from China.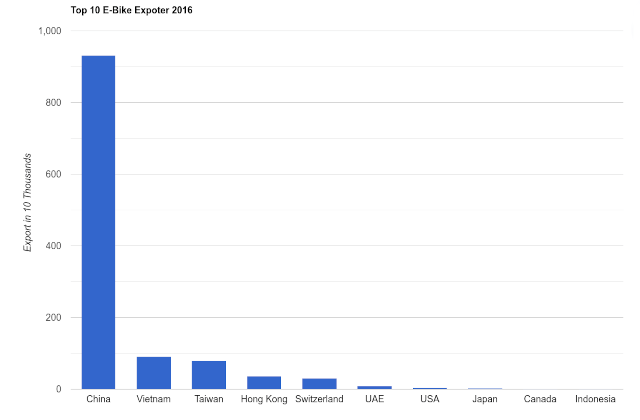 Are All E-Bikes Made in China?
NO! It's true that China enjoys a monopoly over E-Bikes manufacturing and innovation going by market shares. (Its neighbor Taiwan is a significant exporter of E-Bikes of higher value if not a bigger manufacturer and exporter by numbers).
However, the market share of Chinese E-Bikes is gradually decreasing. There are several reasons for this.
1. Environmental Consciousness
The developed countries of Europe are taking the issues of Environmental Damage and Climate Change very seriously. Green Parties are slowly emerging as forces to reckon with in the political scene in these countries. There's a significant research impetus for producing vehicles that help in attaining sustainability goals.
The urban workforce is responding by choosing E-Bikes over cars. E-Bikes rentals and sharing schemes are also gaining ground. The demand for E-Bikes is surging. Domestic manufacturers are in a better position to understand the preferences of their buyers than the Chinese manufacturers.
Owing to the government policies and heightened public awareness, E-Bikes manufacturers in Europe and the USA can now compete with their Chinese counterparts.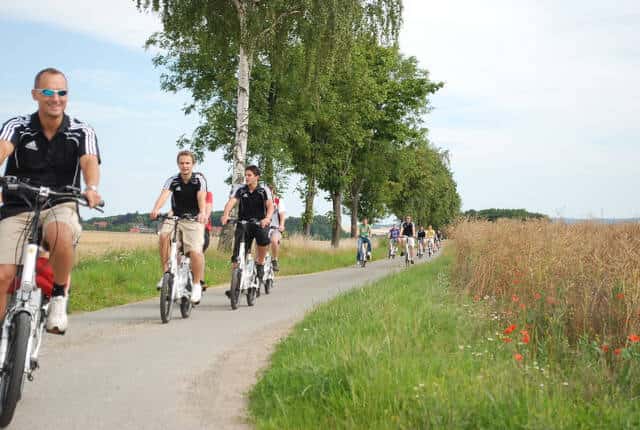 2. Recognizable Gap in Cycling Culture
Bicycles were the symbol of transformation in China until the mid-90s. Most Chinese could not have afforded cars. The country rose to become an economic superpower riding on the bicycle.
Once it reached superpower status, it ditched the bicycle for the car. Cars became the status symbol of its middle-class while cycles a symbol of backwardness.
Very soon, the environmental costs of cars could be felt. Its cities began to be ranked for worst air quality in the world. In response returned the bicycle, this time with motors and batteries.
China took the leap forward towards Electric-Bikes.
China's relationship with Electric-Bikes is shaped by its developmental past and urgent environmental needs. That's unlike the developed western countries' Electric-Bike cultures.
These cultures are being shaped more by long-term environmental consciousness level, a spirit of adventure, and the willingness to move away from oil dependency, both at policy and popular level.
Both Chinese and non-Chinese E-Bikes manufacturers are noticing this cultural difference. Chinese people demand utility bikes, while those in Europe and North America demand solid substitutes for cars, and gadgets fit for commute, adventure, and recreation.
Non-Chinese companies understand these demands and try to add value to the system.
3. Checking the Superpower
It's obvious that China's rise to becoming a superpower and its growing prowess has not gone down well with many older superpowers. (We can meet at coffee for political discussion, but let's accept the fact here!) China's manufacturing hubs are a major contributor to its economy and hence its superpower status.
American and European governments have not only realized a surging interest in E-Bikes, they have also found it as a means to check China's power. Another aspect of the tariff wars against China is that these governments want to promote their E-Bikes companies.
So, Where are E-Bikes manufactured?
A growing proportion of E-Bikes are being made outside China each year. It is difficult to ascertain precisely where the E-bikes are manufactured. Different parts can be manufactured in different places. However, most non-Chinese companies do manufacture some or all of their parts outside the China-Taiwan region.
The main E-Bikes manufacturing countries by region are the following:
Asia-Pacific: China and Taiwan are the global leaders in E-Bikes manufacturing. Within China, the major E-Bikes manufacturing regions are Tianjin, Jiangsu, Shandong, Shanghai, and Zheijang. Japan and South Korea are significant manufacturers. India is making serious efforts. Australia is witnessing a rising interest and manufacturing trend in E-Bikes.
Europe: Germany is the most significant manufacturer. It is followed by the United Kingdom, Netherlands, Italy, Spain, and France. Sweden, Slovenia, and Portugal can be added to the growing list.
North America: The United States has seen a noticeable surge in E-Bikes production facilities. Canada also manufactures E-Bikes.
And Where Are They Going To Sell…
Globally, the E-Bikes sales are projected to grow at 3.5% up to 2027 (revised from 8% before the Covid-crisis). 75% of E-Bikes will sell in China. It will also cater to nearly 55% of the total exports to Europe, which will be the fastest growing market of E-Bikes in the coming decade.
Annual Expected Market Growth up to 2027
| | |
| --- | --- |
| China | 6.3% |
| Japan | 0.9% |
| Canada | 2.6% |
| USA | 3.4% |
| Germany | 1.7% |
| Rest of The World | 1.1% |
*based on the compiled data from most accurate information found online, across various research paper and news outlets.
List of E-Bikes Brands Not Made in China
Below is the list of companies that do not manufacture or source electric bikes from china in different countries. While these brands do not make their E-bikes in china they might still have a few components sourced from China in most cases.
Asia-Pacific
Taiwan: Giant, HASA Bikes, VanMoof Taipei, Jih Kao, Maxway Cycles.
Japan: Yamaha, Panasonic, Shimano, Fuji, Kawasaki
India: Hero, Avon, Lightspeed, Mahindra
Australia: Reef Bikes, TEBCO, VelectriX, Volition, Stealth, DYSON, e-TOURER, Focus, Leccer, Norco
Europe
Germany: Robert Bosch, Riese and Mueller, BMW, Focus, Kalkhoff, Haibike, Winora, Stromer, Gazelle, Coratec
France: Moustache, Lapierre, Vepli, Gitane, Peugeot Cycles, EVEO, Matra, Easy Bike, O2feel, KTM
Netherlands: Accell Group, Stella Fietsen, Royal Gazelle, Sparta, Koga, Union
England: Raleigh, Cytronex, Gocycle, Brompton
Sweden: Ecobike, Evobike, Off Course
Slovenia: Krpan, Technosol
Spain: Txita, Vienenbici
Portugal: Orbita
Italy: Energica
Americas
United States: Pon Bike,Specialized, Prodeco Tech, Schwinn, Pedego, Trek, Electra, Blix, Rad Power, Cannondale, Haibike USA, Electric Bike Company, Ride1Up
Canada: Rad Power Bikes, Daymak, Volt, Elby, Spark, Ohm, Biktrix, Surface 604, eVox
New E-Bikes brands are coming up across the globe each year. This list indicates popularity of E-bikes across the regions.
Most of the European brands export to nearby European countries. India's Hero is popular in Britain. Similarly, Trek and Specialized have a notable presence beyond the USA.
How do Chinese Electric Bikes Compare with Electric Bikes Made in the USA?
Generally, Electric Bikes made in the USA are costlier and of better quality than the Chinese E-Bikes. Wait! The matters are not that simple. There could be instances where Chinese E-Bikes are cheaper and the same quality as their American counterparts. How?
The answer lies in tariff barriers. Every country imposes tariff rates on foreign manufactured goods. So does the USA. Let me explain further.
I have already mentioned that Chinese companies produce for their own market and for export too. A part of these exports is certain specific components of Electric Bikes.
Obviously, the Electric Bikes companies in the USA import these components too. They then assemble the whole bike in the USA. The remaining components are sourced from other regions or produced in the USA. Overall, such bikes are considered Made in the USA.
They end up costlier because manufacturing is expensive in the USA. It adds to the costs significantly!
The tariff charges on the bike components make the end-product costlier than the same variant (with the same parts) assembled in China. These entirely made in China bikes can however be bought by the USA riders.
However, going by the averages, the general truth prevails.
Owing to purchasing power, cultural differences, and sometimes propaganda and political reasons too (need I say more in the context of the Coronavirus?) Americans buy, or I should say CAN buy, costlier and more durable bikes than the Chinese riders. Markets and availability of products correspond to such demands.
Subsidizing the manufacture of Electric Bikes in America carries a dual advantage for the government. They lay the foundation of distinct biking use culture while keeping the Chinese companies at bay.
This does not mean that the USA riders dislike bikes made in a particular country. It's just that the trends are changing. The USA-made E-Bikes are getting cheaper (despite being more expensive than Chinese ones), while the Chinese made bikes slightly costlier.
How to Find the Best Electric Bikes in Budget?
There's nothing wrong with trying your hand at budget Electric Bikes. See if they are your cup of tea and fit your set of uses, before becoming a regular E-Bike rider!
Many E-Biking enthusiasts like to try different price, quality, and manufacturing base variants. Here's my piece of advice for them.
1. Know the Electric Bike basics
It won't make sense spending any money on something that you don't understand. E-Bikes come with motors and rechargeable batteries. Pedaling powers the motor and readies it to draw power from the battery.
This allows you to throttle. Throttle is applicable without pedaling as well, but it would be less powerful.
There are two basic types of E-Bikes. The Hub-Drives variety is the classical type. These bikes have motor fitted in the center of the wheel, usually the rear one.
They are cheaper E-Bikes than the Mid-Drives that have motor fitted in the center of the bike structure. Hub-Drives are good enough for moving on flat or low-slope surfaces. Mid-Drives can take you uphill.
The other major difference is between sensors. Torque Sensors power the motor corresponding to the strength of pedaling. They are pricier fit. Cadence Sensors work independently of pedaling. They are cheaper.
Finally, the power, recharge time and life of battery determine the E-Bike cost.
2. Know the Manufacturer
It's true that a few unreliable Chinese E-Bikes companies are operating. Search the E-Bike model that suits you from the Ecommerce sites, and mark the manufacturer, brand, or vendor name. Visit the official website try to find answers to the following questions:
How old is the company? – The older the more reliable.
Does the company outsource to European and American E-Bikes companies? – If it does, it's better. Riders are more quality conscious here and in Europe, than in China.
Does the company have stores in the USA? – If they have, they are a genuine E-Bikes brand, no matter even if they are playing in the lower and middle price-range market.
3. Check the reviews
I am not saying so because everyone says that too. The point is not the presence of reviews. It's about how genuine they sound. Try to take a careful look. Read deep!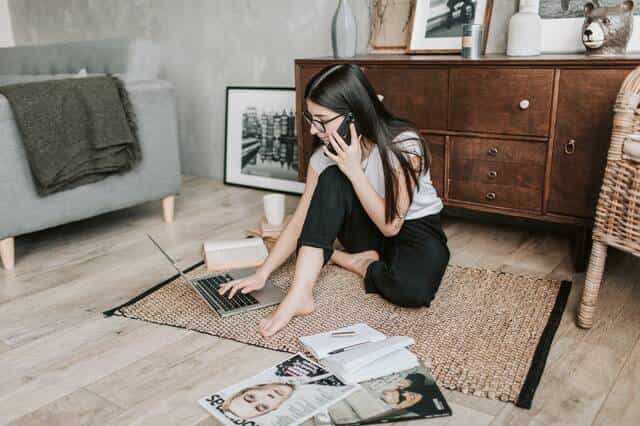 When to trust Chinese Electric Bikes or Their Vendor?
There's a simple method to ensure that the Vendor and its E-Bikes are trustworthy.
1. Safety and Regulation Compliance
Make sure that the Vendor complies with the US regulations. You can ask for test reports of the batch of bikes you are buying from. Choose batteries and adaptors from known companies only.
I must add that over 80% of Chinese E-Bikes manufacturers and vendors are concentrated on their domestic market only. Your bike would belong to the selected less than 20%. They cannot and rarely sell the latest batch with older reports.
2. Documentation
Make sure that the vendor ensures the following documents with the product:
Battery and Adaptor Sheet
Risk Assessment and Lab Testing Reports (preferable third-party test reports)
Bill of Materials
Details of applicable standards
Manual
Declaration of Conformity
The vendor should also ensure that all the components in the packaging are aptly marked.
The documentation associated with the Lithium battery is of special significance. They are marked as "Dangerous" while shipping. Ensure that vendor agrees to provide the brand, model and battery type details in a documented form.
3. Quality Assurance and Contacts
Authentic vendors provide you some warranty or guarantee in a written (printed) form. You would need them in case you find the bike defective or some component missing.
Such vendors also provide details of components with the detailed specifications, besides assembling method and user guides for best performance.
They provide the details of their office addresses, phone numbers and emails to ease the customer complaint redressal.
Honest vendors also provide the details of their production process, the location of their plants, and shipping arrangements.
4. Check the Claims
A reliable vendor never makes unbelievable claims. Cheaper Chinese products create a lot of buzz.
Some Chinese vendors are aware of this and try to take advantage of the popularity of Chinese goods. They try to dupe the buyers by misusing the image that country has made for itself in manufacturing.
Check that they do not make unbelievable claims such as unrealistic battery recharge times and battery life.
Only those vendors are reliable that project their truthful picture over the internet and in real. Genuine vendors know the limitations and strengths of their product and its prospective market.
They never claim to be better than the top companies.
Such vendors are frank in telling that their product would not last long beyond a point. They accept the fact that their selling-point is the satisfactory quality plus affordability combination.
Conclusion
It's not a bad idea to buy a China made E-Bike. In fact it could be a really smart choice. However, this smart choice would require a bit of hard-work.
Only until you have to do your background research and check the papers! After that, your E-Bike experience would be great, and it will come at a much lower cost.
The doubts floating around the quality of Chinese E-Bikes have their real and artificial (propaganda) reasons. Non-Chinese E-Bikes manufacturers are catching up, but they will take time.
For the coming decade, China will continue to lead the market and allow owning an E-Bike, no matter what the size of your pocket.
The quality of Chinese E-Bikes available to the foreign buyers could also go up owing to a stiff competition both internally and globally. So all the best and enjoy your ride!
Also Read,
Top Cycling Trends To Look Out For In 2022
How Much Does It Cost To Charge An Electric Bike
How Many Bicycles Are In The World? Bike Facts & Statistics
How Much Do Electric Bikes Cost? | Over 300 E-Bikes Compared