If you are planning to buy an electric bike, you might be wondering how much do electric bikes cost in 2021? Through this article, we will discuss this in detail.
You should keep in mind that electric bikes are available in a variety of price ranges. For example the higher-end electric bikes are available in the market from $2000 up to $14,000.
These bikes generally comes with a large number of features as compared to the lower-end electric bikes.
In case you are willing to purchase a cost-effective bike, they came in the range of $450 to $2000. These are equally well and powerful but lacks in brand value, motor power, and trust.
In our own research, the average cost for electric bikes was found to be $1400-$1600.
Even with electric bikes you usually get what you pay for. Better more powerful e-bikes for mountain biking are available at a premium while cheap city e-bikes available at a lower cost.
It is worth mentioning here that as compared to normal bikes, electric bikes are more environment-friendly. This is the reason why many people consider using electric bikes.
How Much Does Electric Bikes Cost?
The cost of electric bikes can vary somewhere in the range of $500 to $7000. Usually most e-bikes available in USA starts from $450 to $460 and can go anywhere from $7000 to $12,999 for some brand.
In over 300 electric bikes compiled the average cost for all e-bikes compared was $2059; in which about 20% of electric bikes cost between $0-1000, 33% of total between $1000-2000, 17% of total 300 compared between $2000-3000 and the rest 30% distributed between $3000-14000.
It is worth mentioning, different brands offer different price range just as they offer different components and features, so you can choose an electric bike brand as per your individual requirements.
Before making any decision, always take into account your budget.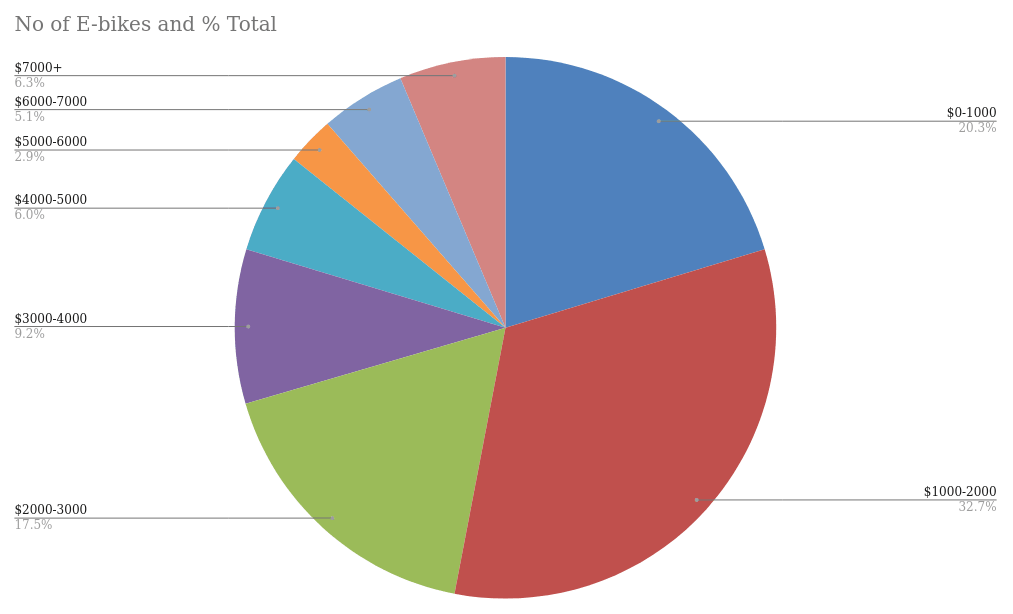 Low-Cost Electric Bikes Under $1000
Now, let's discuss some of the cheapest bikes under $1000. For instance, the brand Nakto bikes offer e-bikes in the price range of $599 to $1299.
An average Nakato electric bike costs 799 dollars, making it the most affordable electric bike brand. You can buy a similar bike for a cool $800 rather than spending $1800 on trek or Fuji.
Likewise, the price range for another brand Ancheer is from $469 to $979; on average, the bike cost is $629. E-Mojo bikes also start from 949$ and Micargi electric starts from $854 at lower end.
Another brand that offers lower-cost bikes is Ecotric. Ecotric electric bikes start from 664 dollars.
| | | |
| --- | --- | --- |
| Ecotric 500W Leopard Mountain Electric Bike | $939.99 | |
| Ecotric 350W Vortex City Electric Bike | $659.99 | |
| X-Treme 350W Women's Step-Thru Mountain Electric Bike | $899.99 | |
| Ecotric 500W 20″ Portable and Folding Electric Bike | $969.99 | |
| Nakto 250W Camel City Women's Electric Bike | $699 | |
| Nakto 250W Fashion Foldable City Electric Bike | $699 | |
| Nakto 300W Discovery 20″ Fat Tire Electric Bike | $799 | |
| ANCHEER 20 Inch Folding Electric Bike E-bike | $629.99 | |
| ANCHEER 26 Inch 250W Electric Mountain Bike | $639.99 | |
| ANCHEER 250W Folding City Commuter Electric Bike | $469.99 | |
*Prices may vary, grabbed in March 2021
High-Performance E-bikes For Over $7000
Don't want to compromise on your safety especially with increasing incidents of electric bike fire due to short circuit or other battery related issues?
Better you spend a little more on bikes from more trusted brands. All thought you end up paying a premium for these bikes they offer the top of the line components and features.
Trek brand is famous for the production of superior e-bikes in the range 1499$ to $12999.
Their high-performance bikes feature carbon wheels, integrated lighting, range boost compatibility, and many other amazing features. For unparalleled performance and safety, you will be thanking me after a year or two as you will have ample power and battery storage almost the same as new.
Another brand's Amego Electric bikes caught attention for its higher range e-bikes starting from $10,000.
Amigo's high-performance bikes offer an amazing stable ride; these bikes are quite competitive. No doubt, the high-performance bikes of both of these brands are reliable and tested.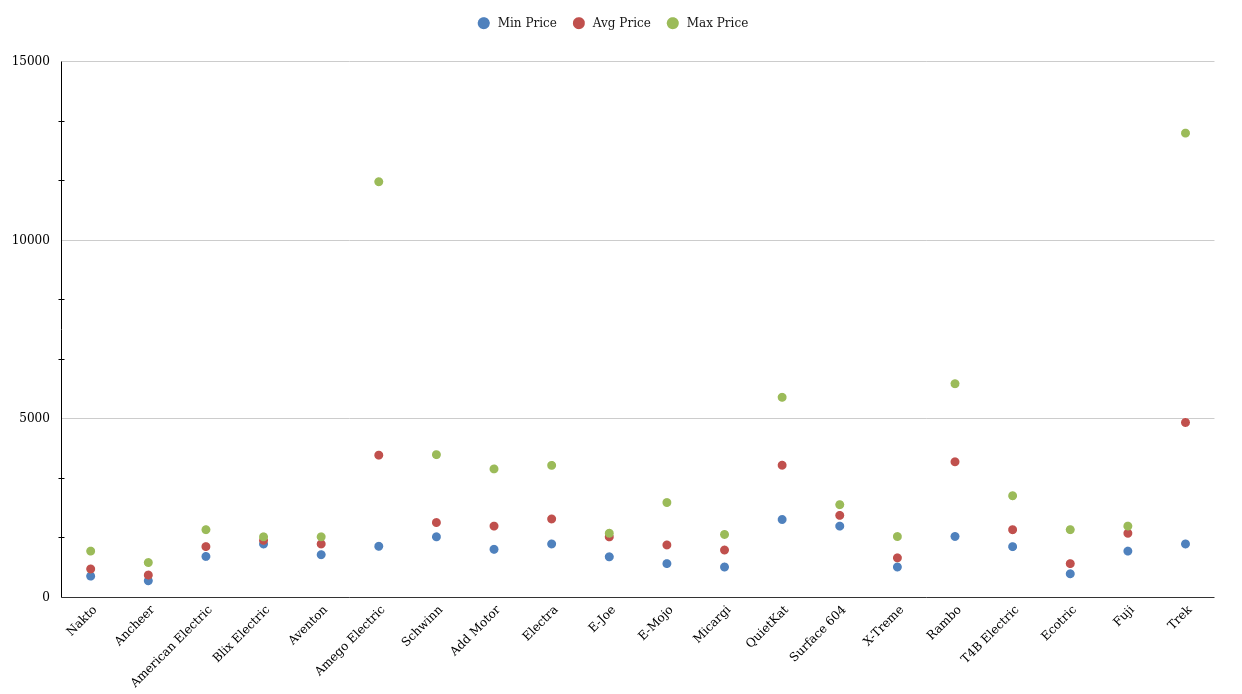 Electric Bike Price From Major Bike Brand
Here, we will discuss the price details of the bikes of various brands. As Electric bikes cost vary a lot from brand to brand; of which Trek bikes cost highest and Ancheer among the lowest cost e-bikes.
The Trek bikes lie in the price range of $1499 to $12999 averaging around $4899. The average price of the electric bikes of the Fuji and Electra brand is $1799 and $949, respectively. Likewise, the T4B Electric bikes are available at an average cost of 1899$.
After these upfront electric bikes cost there is this added expense on charging, upkeep and maintenance. Unless you are lucky you may need to replace your battery after 3-5 years costing an additional $400-$800.
| | | | |
| --- | --- | --- | --- |
| E-Bike Brand | Min Price | Avg Price | Max Price |
| Nakto | 599 | 799 | 1299 |
| Ancheer | 469 | 629 | 979 |
| American Electric | 1150 | 1425 | 1899 |
| Blix Electric | 1499 | 1599 | 1699 |
| Aventon | 1199 | 1499 | 1699 |
| Amego Electric | 1434 | 3985 | 11638 |
| Schwinn | 1699 | 2099 | 3999 |
| Add Motor | 1349 | 1999 | 3599 |
| Electra | 1499 | 2199 | 3699 |
| E-Joe | 1139 | 1697 | 1799 |
| E-Mojo | 949 | 1471 | 2659 |
| Micargi | 854 | 1329 | 1765 |
| QuietKat | 2184 | 3704 | 5604 |
| Surface 604 | 1999 | 2299 | 2599 |
| X-Treme | 854 | 1110 | 1707 |
| Rambo | 1709 | 3799 | 5984 |
| T4B Electric | 1424 | 1899 | 2849 |
| Ecotric | 664 | 949 | 1899 |
| Fuji | 1299 | 1799 | 1999 |
| Trek | 1499 | 4899 | 12999 |
Average E-Bike Price By Country
Just like similar e-bikes from two brands differ in price; similar or same e-bikes differ in their value by country. In this section, let us have a look at the average price of e-bikes in various countries.
In the USA, the average price of e-bikes is $629. Similarly, In the UK, the average price is $999, and in Germany, an electric bike is available at an average price of $766.
The electric bikes in Japan are available for $1457 in France, the average price is $978; in Canada, it is $794. In India, an electric bike on average costs $344.
Lastly, in China, the average cost of electric bikes is just $280.
Additional Cost Associated With Electric Bikes
Now, you should be aware of the fact that in addition to the base cost of the electric bike, you will be required to spend additional money for charging as well as maintenance of the electric bikes.
Of course, this additional Cost associated with charging and maintenance of bikes is always variable. Note that the higher the battery capacity of the electric bike, the charging time of the bike will be longer.
The charging costs (the price of KW/hr) for electric bikes vary from country to country. With regard to the maintenance costs, note that regular maintenance or servicing every 2 or 3 months is necessary in order to ensure that your bike delivers excellent performance.
The various deciding factors for the maintenance cost are as follows-
Type of bike
Amount of usage
Paths you ride on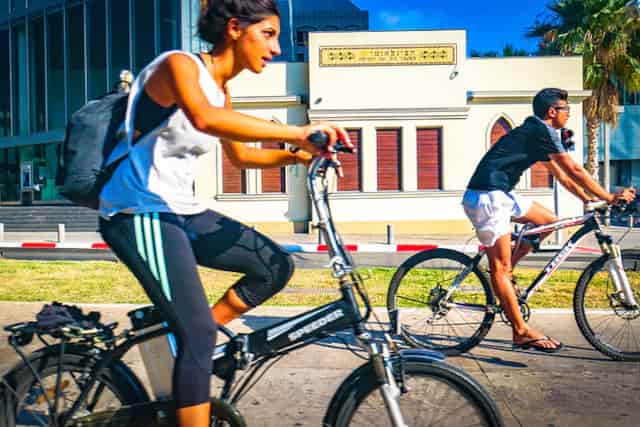 Factors Affecting Electric Bikes Cost
Motor
Different electric bikes feature different types and power of motors affecting the Cost of the bike.
It's very significant to understand that the quality of the electric bicycle affects the torque produced in the electric bikes. Torque is said to be a measure of the amount of support each pedal can get (in watts).
Keep in mind that the electric bicycles which have the capacity to offer 100% usually cost higher than those of their other counterparts. Such bikes are considered to be perfect for riding up and down the hill with ease.
Battery
Along with the power of the motor, this is one of the most important factors which affect the cost of an electric bike. Usually, in electric bikes, mileage is indicated in terms of battery capacity.
In simple words, we can say that the higher the battery capacity, the higher will be the price of the electric bike. These rechargeable lithium batteries also carry in their weight and charge capacity.
Note that some electric bikes may have more than one battery; multiple batteries help in enhancing the riding distance of the electric bike.
A good electric bike should able to go as far as 20 to 50 miles per charge depending on assist level. There is no doubt that as more customization of e-bikes is done, the overall price of electric bikes will increase.
Frame
Different types of frames are used in electric bicycles. First of all, we have folding frames which offer great flexibility at a lower cost. Across all brands folding electric bikes are among the least expensive one.
The drawback of folding frames is that these feature relatively lower-sized tires; include lesser-powered motor and battery making them unsuitable for trails and mountain.
Cargo frames are another type of frame that is suitable for carrying goods. In general, cargo frames which are appropriate for handling greater weight are more expensive than folding frames.
While not all brands offer cargo electric bikes they were the second most expensive ones next to mountain electric bicycles. Cargo frames are quite strong; in case if you are required to carry a child, then bikes with cargo frames will be perfect for you.
Accessories and Electronics
Another important factor that affects the price of electric bikes is the bicycle components or accessories. The bikes which feature high-quality components usually cost higher than those with lower-end accessories.
You should also keep in mind that electric bikes with highly durable and rugged suspension forks are generally more costly as compared to those with less strong or more durable suspension forks.
Always make sure that you buy electric bikes which have quality, reliable accessories which are not only durable but also light in weight. As per the quality of accessories, the price range for electric bikes will vary.
Brand Reputation
The price of electric bikes will differ based on their reputation too. It's worth mentioning here that the premium brands (which have already established a big name in the market) provide premium quality components, and they cost higher in comparison to other lesser-known brands.
Also, most of the prominent electric bicycle brands offer great customer service as well as extended warranties; it is due to this fact that customers may prefer such brands and even agree to spend more money.
Some other brands even offer great quality traditional electric bicycles at lower costs as such brands sell bikes through non-traditional channels and thus can manage with a lower profit margin.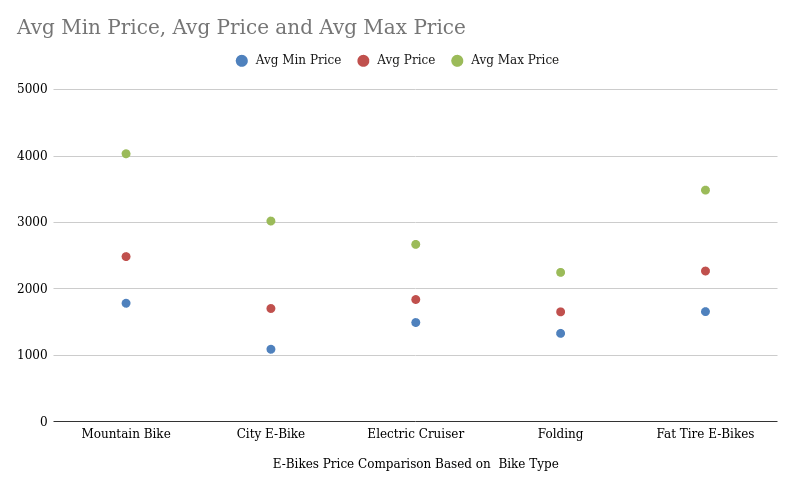 Bike Type
The sixth and final factor that affects how much an electric bike costs is the bike type. There are various types of electric bikes which you can find in the market; namely city e-bikes, mountain electric bikes, electric cruiser, folding electric bikes, cargo electric bikes, fat tire electric mountain bikes etc.
Your e-bike price varies a lot based on the type of bike you choose. For example a city electric bikes starts at $1093 while the cheapest mountain e-bike cost you $1785 on average.
Then there is the variation in terms of lower and higher end electric bikes of same brand.
The normal or the base models of electric bikes (which just consist of mechanical gears and a derailleur) are cheaper than other advanced models of electric bikes.
On the other hand, the higher end E-bikes or the premium versions of electric bikes are more costly.
Wrapping it Up!
We hope that you found the article quite useful. If you want to fulfill your transportation needs or if you love biking, then you should consider buying an e-bike. As per your individual budget and requirements, you can now choose an electric bike conveniently.
It is likely that in the coming years, the use of more and more advanced bicycle technologies will result in the production of cost-effective electric bicycles. Most manufacturers or bike brands are moving towards the use of innovative technologies to lower the means of production.
Also Read,
Best Electric Bikes For Seniors in 2021 | Review & Comparison
How To Plan & Create Fun Biking Route With Google Maps
Cannondale vs Specialized Bikes: Full Brand Comparison!
Are Electric Bikes Dangerous? 6 E-Bikes Risks To Know And Avoid