The world is changing, and cycling is changing with it. The lingering effects of pandemic have changed production, leisure activities, and the way we work.
Meanwhile, technology continues to connect cyclists better than ever before, giving us vibrant, knowledge-rich online communities, better access to the expertise and innovative new products that enhance our ability to cycle.
In 2022, many of these trends will continue, changing the world of cycling as we know it.
Cycling Will Keep On Growing
More people are learning to love cycling all over the world. Between 2017 and 2021, fitness app Strava's yearly report has shown that the number of miles ridden on bicycles has doubled from 5.1 to 10 billion miles per year.
With more powerful midrange bicycles, the growing costs of cars, and an increased global interest in climate change, cycling is unlikely to stop growing anytime soon.
In 2022, we'll see both an influx of new cyclists and a plethora of experience cyclists pushing their hobby to new frontiers. Experts expect a 7% compound growth of the cycling hobby over the next several years.
The pandemic add many new cyclists and brought would-be cyclists out of the garage and onto the streets and trails. According to the strava sports data report 11.2% of its customer tried cycling for the first time in 2020.
We're not likely to see a big uptick of that magnitude again, but we'll probably continue to see strong, steady growth each year for the near future.
| | | | |
| --- | --- | --- | --- |
| Year | Average Distance Per Ride | Distance Total | Average Time Per Ride |
| 2017 | 22.3 miles | 5.1 billion miles | 1:25:23 |
| 2018 | 21.9 miles | 5.3 billion miles | 1:37:36 |
| 2019 | 16.2 miles | 5.6 billion miles | 1:18:48 |
| 2020 | 15.8 miles | 8.1 billion miles | 01:15:49 |
| 2021 | 16.3 miles | 10.0 billion miles | 1:17:59 |
Based on Strava Annual Data Report 2017-2021
More E-Bikes Everywhere
Affordable, lightweight batteries and powerful electric motors have changed the way modern electric bikes look, feel, and perform.
Today's e-bikes are hardly more expensive than a nice standard bicycle, can go for hours on a single charge, and are incredibly light, nimble, and fast.
A whopping 22 million e-bikes were sold in the EU in 2020, allowing cyclists to maneuver tight streets and steep hills with an electronic assist.
Cities like San Francisco have seen a colossal uptick in e-bikes and similar vehicles in recent years.
As the pandemic's effects on production continue to keep the cost of cars high, it's likely that we'll see more commuters add an e-bike to their garage in 2022.
One of the big things that we can expect for 2022 is the expansion of e-bikes into more niches. Expect to see gravel e-bikes as well as city-oriented e-bikes for every budget and riding style.
We'll see e-bikes become lighter, more powerful, and cheaper at most price points, and their ubiquity will probably prompt the addition of public charging stations and ride-sharing programs in more cities.
Asia Pacific Region To Dominate Bike Industry
In 2020 Asia pacific emerge as the dominant market at $22.83 billion with revenue share exceeding 33 percent. The Asian market appears on top because of the significant demand for urban bikes.
The growing demand for bicycles and changes in the global supply chain have set up the Asia-Pacific region as a bicycle manufacturing powerhouse.
Taiwan's largest bicycle manufacturer, Giant Group, saw a 40% increase in revenue in the first two months of 2021 compared to the same period in 2020.
Other Taiwanese manufacturers experienced similar trends, with chain manufacturer KMC experiencing a 72% increase in revenue over a similar period.
Even the forecasted growth in MTB market from $15.64 billion ( 2020 ) to $23.76 billion ( expected 2025 ) is mainly driven by Asia Pacific ( the most attractive and fastest growing geographies in 2021 ).
The factors that lead to this colossal increase in demand have not changed, and these manufacturers have had the time to adjust for the increased demand.
In 2022, we're likely going to see the Asia-Pacific region emerge as an even more dominant force in the manufacturing sector, churning out modern bicycles in unprecedented numbers.
While there's an increased push for local bike manufacturing in some countries, it's likely that imports from the Asia-Pacific region will form the backbone of the global bicycle market.
Bicycle Prices Will Stay High In 2022
While manufacturers are ramping up production, the demand for bicycles continues to stay high.
Both global shortages of raw materials and the continuing effects of the pandemic on labor and the supply chain make it more difficult and expensive for manufacturers to produce bicycles.
Once these bicycles are produced, high demand helps them fly off the shelves, giving retailers plenty of room to keep prices high.
This means that if you're looking for a new bicycle, you probably shouldn't wait for prices to go down. Instead, just bite the bullet or buy used.
It's not all bad news, however. While costs remain high, consumers are getting smarter and demanding more and more performance out of entry-level bicycles.
Charting the cost of a mid range bike from 2010 to 2022 doesn't make a whole lot of sense, as modern bikes are cut from an entirely different cloth than their counterparts from a decade ago.
Today's bikes are more efficient, lighter, have better geometry, and have better components than the bikes of yesteryear. Yes, they're more expensive and are going to stay that way but you get better bike for your dollar.
More Focus On Local Manufacturing
There has been a global rend to focus on local manufacturing. Both governments and special interest groups alike have been trying to ignite local manufacturing over foreign imports.
In both the US and the EU, advocates of local manufacturing are suggesting that the bicycle boom is the perfect opportunity to cultivate and nourish entrepreneurs.
Not only are existing local manufacturers taking full advantage of the increased demand for bicycles, but special interest groups are lobbying their governments for changes to regulation that would help shelter local manufacturing from foreign competition.
Over the course of 2022, we'll likely see at least some of these efforts succeed, paving the way for more countries to build up their own bicycle makers.
Sustainability Within The Cycling Industry
COVID-induced supply shortages and a growing culture of environmental awareness have caused manufacturers to rethink their entire supply chains.
In many cases, this means that we're seeing shorter transport routes, more energy-efficient production, and more environmentally friendly materials.
Several leading manufacturers have multi-year plans to be entirely climate-neutral, started to use more recyclable materials in their packaging, or both.
These investments into the Earth's future can help set the bicycles apart from their counterparts, allowing informed consumers to support climate responsibility with their purchases.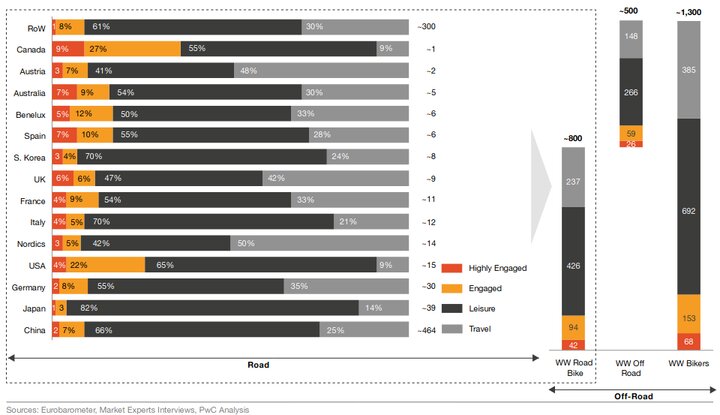 Leisure Bikers Dominates Cycling Industry
Despite the increased attractiveness of e-bikes as a form of personal transportation, leisure cyclists dominate cycling growth riding on road and mountain bike.
Mountain bike trails saw 3x more traffic in 2020 than in 2019, likely due to changes induced by stay-at-home orders during the height of the COVID-19 pandemic.
Gym and pool closures pushed people to bikes for their exercise, causing huge surges in the popularity of bikes in cities like LA and Houston.
Experts expect compound growth in the sale of leisure bikes, including both road bikes, mountain bikes, hybrid bikes, and gravel bikes used for recreational riding and exercise.
Bikes used for commuting and hauling cargo, by contrast, occupy a much smaller share of the market in most countries.
More Investment In Dedicated Cycling Lane
The huge uptick in cycling during the pandemic provoked immediate change at the local, state, and national levels.
Many municipalities and countries now offer better support for cyclists riding on roads, whether it's in the form of improved bike lanes, better signage, or dedicated bike paths.
Washington, DC has committed to adding bike lanes to Connecticut Avenue, while the city of Chicago has announced plans to protect cyclists on main roads like Clark Street.
This means that in most cities, cycling in 2022 will be more pleasant and safe than it's been at any point in the past.
Despite the work that's been done so far, the massive increase in the popularity of biking continues to give rise to calls for even more improvements.
Cities like Los Angeles, where biking is notoriously difficult, may see even more drastic shifts in their cycling lanes over the course of 2022.
It might get a bit harder to ride while the new lanes are being constructed, but once the dust settles, biking in these cities will become much better.
Budget Bikes Are Getting Better
Technology marches forward. Despite e-bikes' massive gains in terms of cost, performance, and weight, traditional motor-less bicycles are seeing massive improvements across all price points.
Advances in materials technology have produced stronger, lighter alloys, while cheaper manufacturing makes things like carbon fiber a bit more affordable on a mid-range bike.
Consumers are getting smarter, too, forcing manufacturers to put better components on their entry-level bikes.
Things like disc brakes are now totally standard on entry-level bikes, and fancy additions like oval chainrings, dropper posts, and wide tires are not only affordable for many, they've also been massively improved over the last several years.
While bikes have gotten more expensive, it's clear that today's consumer gets a better bike for that price than the consumer of yesterday.
Better Cycling in 2022?
Bicycle costs will remain high in 2022, but cycling will be more popular than ever.
The growing community, better technology, better bikes, and better biking infrastructure will make cycling in 2022 a better experience than it's been in the past.
2022 looks like it's going to be a strong year for cycling of all sorts, as global trends will make cycling safer, easier, and more sustainable than ever.
Be sure to take advantage of the hobby's growth by leveraging online resources and knowledge to get even more out of these trends and make 2022 your best year of cycling yet!
Also Read,
26 Inch Bike For What size Person? Bicycle Size Guide
Can You Use A Ball Pump For Bikes? Explained For Beginners
Complete Guide To Bike Touring For Beginners