You may think that you need to be a pro cyclist to go bike touring, but it is just as possible for beginners! Of course, your cycling abilities will limit you to certain routes.
For example, you won't be able to tackle complicated, bumpy mountain terrain if you are still a beginner road cyclist, but the beauty of bicycle touring is that there are routes to suit everyone.
If it's your first time ever touring by bike, you'll need to spend extra time preparing. But once you've organized all your equipment and planned out a solid route to take, you'll be all set to start exploring for days.
A bike tour is also a great way to get more used to cycling long distances and increase your abilities. Below is your complete guide to bike touring for beginners.
Why Travel By Bike?
Though it takes a lot of physical work and mental planning, traveling by bike is one of the best ways to get out and see the world a bit more.
There are five main reasons, listed below, why you should consider biking for your sightseeing adventures.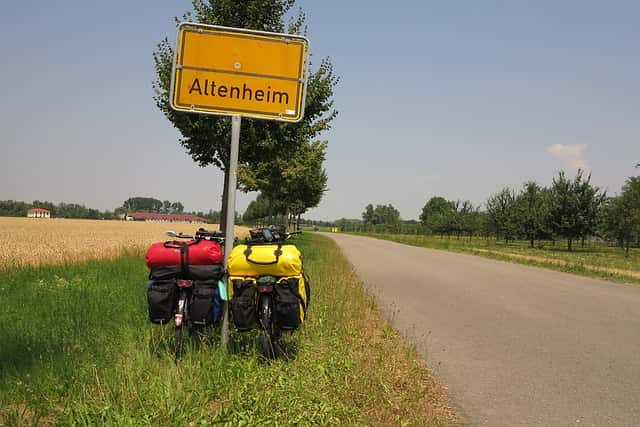 Explore New Places
When you travel by bike, you have the freedom to venture out of your local area more easily because you can access lots of different routes.
Almost everywhere has bike lanes and narrow stretches of land only accessible by bike, so you can explore both city life and the natural environment of a new place.
If you feel confident, you can cycle from your local area to a nearby town to do your bike tour, or you can transport your bike by car to a new area and then proceed on your bicycle tour from there.
Try to explore the most unexpected areas because chances are that you'll find some wonderful hidden gems on your way when bike touring.
It's Cheap
One of the best things about riding a bike is that you don't need to pay for things like fuel, tax, or maintenance as you would with a car.
Of course, you need to stay on top of your bike's upkeep, but you can do a lot of the maintenance work yourself if you own a bike pump and some tools.
Traveling by bike may take longer, but once you have a good bike, you're much less likely to pay for any malfunctions. The cost of travel per mile is much low on a bike.
A lot of things can easily go wrong with a car, especially on long distance journeys, but a bike is much easier to handle. Cycling is one of the cheapest forms of transportation, so you should make the most of it.
Build Fitness
Even beginner cyclists can build their fitness quite quickly on a bike especially when they use bike either or commute or do bike touring.
Experienced cyclists can do harder routes that work the body and your stamina harder, but the best way to get fit if you own a bike is to get out and ride it, even if you only do easy routes.
Traveling by bike on a tour will take a few days at least, so you'll get lots of exercise whether you choose to cycle on flat or hilly terrain. Cardio is a fantastic way to get fit and tone your body at the same time.
Biking is one of the best cardio workouts because you'll exercise your legs, arms, and glutes, as well as bettering your posture. Best part you don't have to give extra effort, time or money for the same.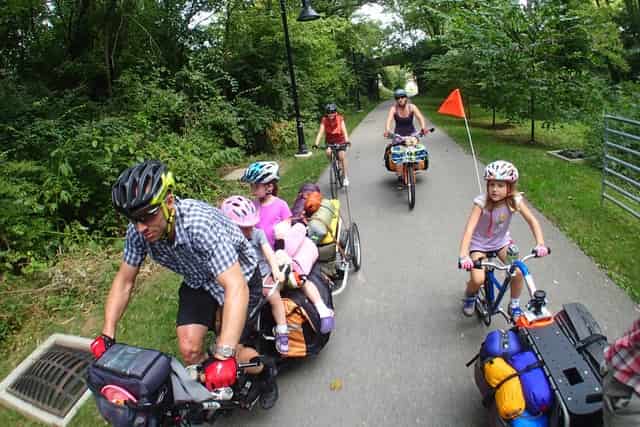 Accessible
Anyone who is physically able to cycle will be able to travel by bike, regardless of prior experience or abilities.
Beginner cyclists will want to take things more slowly, but it is easy to build experience and enhance your capabilities. If you require more support and an easier bike to ride, go for a tricycle.
More and more cities are making their roads accessible for bikes, with bike lanes slowly becoming the norm.
Off-road routes don't have to be difficult either because bike paths are clearly signposted and accessible for those who enjoy hills or flat, paved routes.
You'll be able to see more of an area on a bike because it can travel through spaces too narrow or off-road for cars.
Lean Set-Up
Finally, traveling by bike is a lean set-up. You can just get up and go with a bike without the need for a lot of preparation, though preparing a clear route in advance is very helpful and will save you time along the way.
You can pack a bike quite compactly too, with the weight spread evenly on the front, sides, and back. This will make for a lean set-up that is easy to ride around.
Bike touring will also encourage you to bring less with you. So long as you pack just the essentials with more space for your personal belongings, you'll be able to get by just fine on a bike.
When you travel by car, there is a lot more to the set-up, especially when you are bringing lots with you. A bike has a much leaner set-up, allowing you to get around quickly and efficiently.
Bike Touring vs Bike Packing
Much like backpacking, bike packing is the act of taking nothing but the absolute necessities with you when you go to explore remoter areas.
Bike touring is not quite as restrictive, especially since you'll be touring for several days and will need more items with you to get through the days and the nights.
Both are quite similar concepts though, so those looking to get out on their bikes and explore could do either.
Bike touring suggests more of a commitment to a longer journey because you'll be able to camp wherever you go and have all the belongings you need to make long-distance cycling more comfortable.
Bike packing does make it a little easier to navigate because the bike will weigh almost nothing, but you might not be able to explore for as long as you would like with a limited supply of items.
Bike touring is all about exploring and having an adventure, so it pays off to carry a slightly heavier load on bike.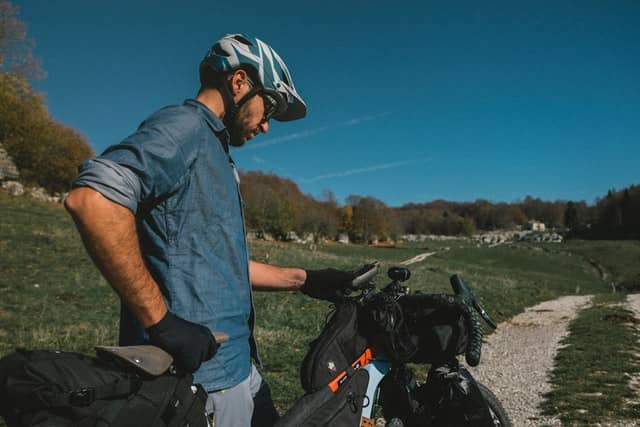 Finding The Right Bike
The majority of bike retailers make touring bikes, which are, as the name suggests, the best choice for bike touring. You want a bike that is comfortable and durable because bicycle touring takes a lot out of the bike as well as you.
Luckily, bike touring is designed with comfort in mind because the saddle and handlebars are closer together, allowing you to sit up straight as you ride.
You should also prioritize storage space when choosing a touring bike. The majority have front and rear bike racks for storage, but you can also get racks that go on the sides of bikes for extra space.
You want to be able to bring enough equipment and personal belongings with you to enjoy your tour.
The right bike for you will be comfortable enough to ride on for hours on end, have enough space for all your essentials, and stand up to long-distance cycling.
Keep in mind the types of routes that you want to try as well. A touring bike is great for both on-road and off-road cycling, but really uneven terrain will probably benefit from a mountain bike.
Most beginners are unlikely to go for that though, so your best option is to compare lots of different touring bikes until you find the one that suits you best.
Planning Your Route
The Basics
Before you even think about setting out on a bike tour, make sure that you feel comfortable and ready with cycling long distances for multiple days.
You can choose easier routes and flatter surfaces if you are a beginner, but cycling long distances can still be very exerting. Once you're sure that you're ready to go bicycle touring, you need a bike that will be able to handle it, preferably a touring bike.
You should also plan out every item you want to bring with you and where you will store it on the bike. Travel light, with minimalist gears and belonging but not too light.
Popular Destination
If you're a beginner to touring, try to go for popular destinations when planning your route. This is because you'll be able to find more information online about good cycle paths, accommodation, and facilities in the area.
Popular destinations will also be more easily accessible to cyclists when compared with smaller, lesser visited areas.
You'll have plenty to see in a destination that is popular with bike touring, so research the area beforehand to ensure that you can cover everything you want to do.
If you're planning on cycling off-road, look up the best routes to follow in a popular destination because you'll likely get more options. Experienced cyclists choose to tour in these popular locations for a reason.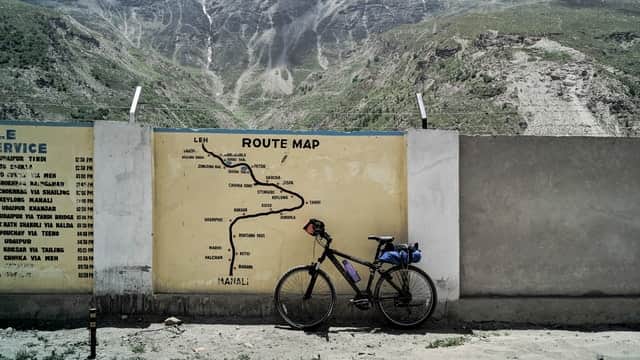 Plan & Navigate With Map
When it comes to planning, having a route carved out ahead of time is probably the most essential plan.
You need to know where you want to cycle, how long each part of the route should take, and where there are facilities along the way for you to stop for things like food, rest, and bathroom breaks.
Always take a map with you as well, even you're already familiar with the area that you'll be touring.
You might get lost or go off the planned route somewhere, so having a map to be able to get back to where you need to be is essential for your safety.
Camping/Hotels/Hostels
As previously discussed, bicycle touring takes a few days. This means that you need to plan out your accommodation in advance as well as your bike riding.
If you choose to stay in hotels, you'll likely need to book in advance to be guaranteed a room when and where you need it. With camping or hostels, it's much easier to be spontaneous.
You still need to plan ahead, though. For instance, there are specified areas where it's allowed to pitch a tent, so you should map these out before you leave and take all the gear with you.
You also need to know where the closest hostels to your touring route are so that you can reach them easily.
Safety & Survival Guide
When planning your route, always prioritize your safety and survival above all else. Try to stick to specified routes. Even if you want to tour off-road, there are still recommended routes in different areas for mountain biking.
Try to follow cycle paths as much as possible not just its safe but you're less likely to get lost.
Take a bike pump, a blanket, water, and a first aid kit with you in case you get stranded or hurt. Bring a fully charged cell phone too in case you need to call for help in an emergency.
Let other people back home know where you're going so that they can report you missing if anything happens.
Do You Need To Train For A Bike Tour?
You should definitely train for a bike tour, whether you are going on your first tour or if you've done many before.
Unless you're bicycle touring 24/7, your body will need some training to get used to the strength and stamina needed for cycling across multiple days.
You should try going for longer rides in the time leading up to your tour so that you get used to being in the saddle and pedaling for that amount of time.
If you're planning on trying a more physically demanding bike tour, such as one with lots of hills or bumpy road surfaces, you should try to train on those types of routes in your local area so that the transition from smooth, everyday roads isn't as jarring.
Training indicates organization, which is the best way that you can possibly prepare for a bike tour.
Get used to your touring bike and even take it out for rides fully packed so that the weight doesn't throw you off when you tour. The more training you do, the more enjoyable your bike tour will be.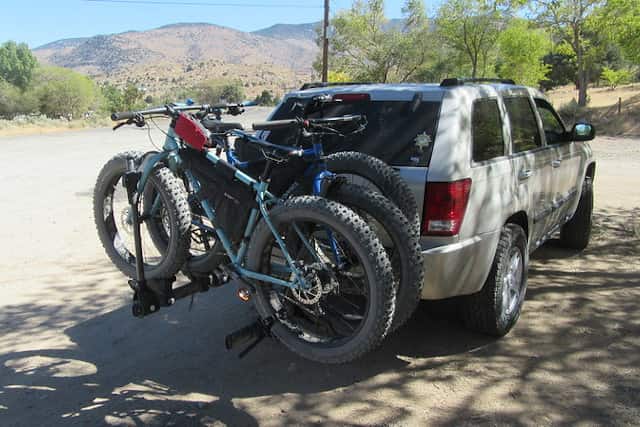 Reaching Your Destination When Bike Touring
But apart from the therapeutic benefits you rip from cycling your '2 wheeler'; you can have the thrill of your life and create stand out memories by indulging in a bike touring adventure
But how you will reach your chosen start point? The good news is that you can comfortably and efficiently travel by your bike to your desired destination through a number of ways.
All you need to do is consider your bike's weight and size as these 2 main factors greatly influence your traveling by bike. We will walk you through 4 ways to effortlessly reach your target destination while traveling by your bicycle.
#1. Car
If you choose to reach your destination while traveling by your bike in a car, please ensure that it's fitted with a bike rack or the rear end of your vehicle is big enough for your bike to fit in it adequately.
If it's impossible, consider removing your bike's wheel, or have the back seats folded flat.
#2. Plane
Traveling by your bike to your destination through the plane may seem complicated, but it's not. All you need to do is to purchase a bike box or bike bag big enough for you to pack your bike.
Alternatively, you can hire the services of Bicycle touring companies dedicated to bike flights to do the job for you at a cost of $10-$15.
#3. Bus or Train
If you choose to use a train to ferry your bike to your destination, it's highly recommended that you book a separate ticket for your Bicycle a day before you travel.
This ensures that the train's officials secure your bike in a safe bike compartment in advance, thus you are guaranteed of having a hitch-free journey.
Suppose your ideal method of traveling by bike is through a bus. In that case, you better have your negotiating skills fully revised, as this will determine how much money you will pay for your 2-wheeler to be ferried to your desired location.
#4. Hitchhiking
If you are not going far away from your town or home, hitchhiking your way to your destination is a good idea. All you need to do is;
• At least smile and act friendly when asking for a lift
• Head out to a gas station-it's a bit safer
• Make sure the driver that gives you a lift know you have texted your friend/loved one their license number plate.
What To Carry Bike Touring: Gears You May Need
Bike Gears & Tools
Stowage
Camping
Clothing
Accessories
Tips On How to Overcome Your Biking Fears
Let's face it! Its usual to feel fearful on your first bike tour; there is a constant fear of unknown when you are riding alongside cars. But just after 2-3 days of my first bike tour I overcome that fear.
Now the joy of pedaling in rhythm of the tires keeps me going. It really feels fulfilling when you are going slow in your own pace full of energy and sweat.
Here is some effective and practical tips on overcoming your biking fear.
Please seek advice from professionals or friends who have engaged in a biking tour and then visualize your expectations through their advice
• Acknowledge your cycling potential and slowly come out of your comfort zone by gradually increasing your mile coverage before undertaking your bike tour
• Know your strongholds and maximize on them. For instance, if you are good at cycling on a rough road, ensure that you plan your biking tour on the same route
• Invest in protective bike gears like helmets, reflective clothing, shoes, and knee padding to improve your confidence while on the road
• Challenge yourself and carefully try riding your bike on the sites or places you fear the most-this will help you tour around freely on another terrain without fear. PS; ensure that you do this in the company of a cycling pro and while having your protective gears on
Challenge Yourself! Reconnect with nature through bike touring.
Travel by your bike comfortably to your desired destination by using a bus/train, flight, or car. You can also hitchhike your way to your target location, but ensure that you stay safe while doing it.
Also Read,
12 Best Front Bike Racks For Bikepacking & Touring
The Ultimate List of Top Bicycle Touring Routes USA
Is Cycling With A Backpack Bad For Your Back?