Are Schwinn bikes good quality? Is the brand trustworthy and produce excellent bikes at an affordable price range. These are some of the questions we usually have.
Bicycles have been widely popular for centuries. As a cheaper and more environmentally friendly way to travel. Bikes have kept their appeal even in today's society; somewhat more than before in developed world. With all of the brands of bikes out there, how do you know which is right for you?
For starters, might as well go with one of the top brands to ever exist, Schwinn. How good are Schwinn bikes? How did the company come to be and keep up during so many trying times?
Get answers to all of your doubt's before you finally try your first Schwinn bike.
Today they have a reputation as being the few bike brands that still maintain their quality standards. Although they too import large chunk ( above 85% ) of bicycles from china; at least they are of high quality.
In this article, we will explore how the Schwinn name came to be and what put them on top of the bicycle industry and how it managed to maintain its quality in recent years.
So What is Schwinn Bikes Reputation Today?
Today if you ask anyone about their Bikes they will first off mention. Schwinn bikes are not as good as they used to be back then ( before 2001 ). They no longer connect the business with sporting achievement and game-changing technology. You will not find professional bikers groups that celebrate the company.
Their cycles are just workhorse entry-level products with superior quality than many other cheap bikes. Don't expect them to last for 10 years or have that old feeling of joy for its great performance.
There are cycling aficionados that have a great interest in cycling who pay attention to minute details like the gear ratio, ground clearance, weight of the frame, handlebar position, any latest bike trends or differences between braking systems. Ask them they will tell you its just department store quality bike.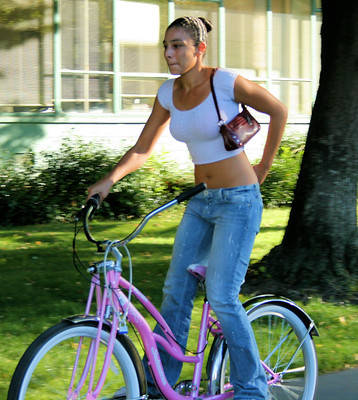 On the higher priced models you will get a little better quality but still its far from that professional build; the company was famous for. That is why you will find biking community in general turn up their nose and denounce them. But wait, these people are very much in a minority.
Most people looking for a bike to ride a couple of times a week to the park, just want a cheap, moderately durable ( 3-4 years ), attractive looking solution, and that is enough for them…
These bikes fit well in this category of high-quality affordable bikes for kids and adult that do its job, is comfortable and last reasonably long for a cheap bike.
Honestly, going with the Schwinn as a brand at anything lower than $500 is better than any other cheap bikes. At least you will not complain about performance issues in the first year. I have one Schwinn that I bought in 2016 for leisure traveling in the city and have no issue so far ( Finger crossed ).
It is currently owned by Dorel Industries. A MNC that also owns the Pacific Cycle which earlier acquired the Schwinn brand back in 2001 for $86 million.
The History Of Schwinn Bicycles
The Schwinn brand is named after his founder Ignaz Schwinn. Ignaz Schwinn was born in Baden, Germany, and immigrated to the United States in 1891.
Realizing he would never be able to accomplish his dreams working for someone else, Ignaz began his own venture. He partnered with Alfred Arnold, a German-American butcher and together they formed Arnold, Schwinn and Co., creating the "world" bicycle as their main model.
After setting records in the late 1890s and early 1900s, the company acquired the Excelsior Motor Cycle Company in 1911, creating his most popular design of motorbike in 1920.
Over time, Schwinn became an innovator for the industry, developing mudguards, the Fore-wheel brake, and the cycle lock. Using his origin as a selling point, "German engineering" was a slogan often used to promote the quality of Schwinn bikes before the war.
In response to the nation's call, Schwinn went on to not only develop bicycles and equipment for World War II but also added numerous features that would define Schwinn bikes in the 1950s.
In 1949 Schwinn Black Phantom was introduced which was a lot more flashy and fun to ride. Chrome fenders, head, and tail lights, whitewall tires all became the recognizable features of standard Schwinn bikes.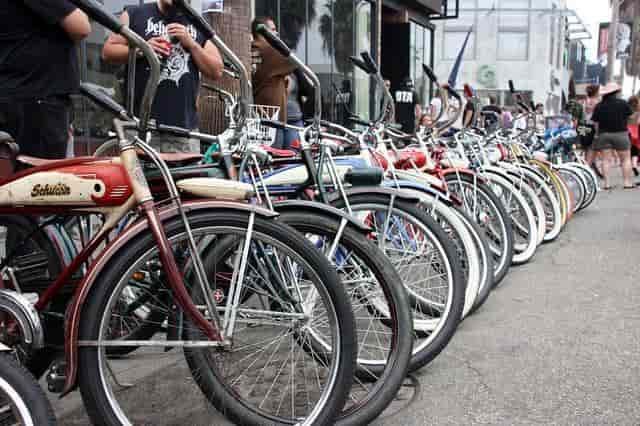 A Powerful Legacy of Innovation & Dominance – Company History
After the death of Ignaz Schwinn in 1948, his son and long time apprentice, F.W. Schwinn, became company president. Continuing to adapt with the changing times, F.W. expanded their style in the late '50s, 1960s, and 70s, using muscle bikes idle for adventures and long rides.
The string ray usher becomes their best bicycle model to catch people imagination. Celebrated till date for its innovative high handlebar design, racing slick tires and banana seats. The Schwinn sold over 45 thousands units of this bike in just one year from its launch.
Within the next seven years, they grew to become one of the largest bicycle brands in the USA and abroad. At its peak, the business produced over a million bicycles per year.
By the 1980s, the BMX trend was in full swing, leading to the development of the company's BMX factory.
Unfortunately, the company had begun facing labor troubles. In 1980 a portion of assembly workers began a strike with 1,400 assembly workers; who walked off the job for the next 16 weeks.
When It All Started to Go Wrong – Company History
Troubles for this brand keep on increasing with the steep increase in inflation. By the late 80's more and more workers went for strikes on demand for better pay and replacing outdated manufacturing equipments.
It was during these troubled times the company decided to source its first ever bike from outside; from a trusted bicycle supplier in Japan ( Panasonic Bicycles ).
Between 1985 and 1991 Schwinn tries to maintain global market share by closing down factories, laying off workers, reducing salary and outsourcing part of its manufacturing process.
However, in 1992 the company went into bankruptcy after struggling to stay afloat for last 7 years. After being bought and changing hands over the years, in 2004 the final purchaser was Dorel Industries.
In 2001 the company had closed its last manufacturing plant in the USA. Thus making it fully dependent on imports and third-party manufacturers in Asia; primarily China ( 80% ).
Innovative Models of the Decades:
1895: The World Bicycle – advertised to be meant for adventure and exploring the world.
1920: The motorbike – one of the first motorcycle designs and rivaled Indian and Harley Davidson.
1941: The Hollywood – Created during the World War II era, these were the bikes used in photoshoots with celebrities and launched for the public as well. Meant to show a made in the USA motif to aide in the anti-German sentiment.
1955: The Corvette – released from a single photograph and marketed as the top line.
1960: The Continental – one of the first released multi-geared bicycles, meant for racing and durability.
1962: The Sting-Ray – modeled after the muscular motorcycles like the Harley Davidson; it included high-rise handlebars, racing slick tires, and low rider seats.
1975: The Scrambler – although a BMX bike, it was developed too late after the trend and lacked many features of a true BMX bicycle.
1982: The Predator – Developed as a professional BMX bike unlike previous multi-role BMX series.
1995: Project Underground – A series of lightweight mountain bikes manufactured with a new suspension system; at the new manufacturing facility in the USA. It was one of the last attempts made to bring back bicycle production to the USA.
2013: The Vestige – A bicycle made from recyclable flax fiber, making is similar to a carbon frame but made more eco-friendly.
What is The Quality of Schwinn Bikes Today?
When compared to all other bikes today, Schwinn bikes are of excellent quality for their selling price. The brand had managed to sustain its presence by delivering a better product than what generally available.
For $400-$500 you get a decent bike with excellent build quality, longer self life ( 3-5 years ); comfortable riding position, a good retro feeling and excellent customer service.
But that does not mean the bike is as good as they use to be back in the 20th century. They are no longer the bike manufacturer that produce both entry-level bikes and top of the line bikes of great quality. Today their brand is synonymous with cheap entry-level bikes of decent quality.
During the days where a true blooded family ran the Chicago factories, the quality of the bicycles was undeniable. Ignaz would inspect every bike before it could be deemed worthy.
His son, F.W. carried on this tradition as well. The quality seal meant everything to the family and the brand. After F.W.'s nephew, Edward R. Schwinn, Jr., took over the company, the brand standard dropped immensely.
Many workers went on strike under his watch and stated that the company was not the same. The brand name has continued on into the 21st century but the quality has diminished with time. Many people are still attracted to the name because of the retro style. Nostalgia is a key factor in keeping the new brand thriving.
Popular Schwinn Models (Examples)
| | | |
| --- | --- | --- |
| Adult Beach Cruiser | Performance Road Bike | Roadster Kids Tricycle |
| | | |
| These comfortable cruiser bikes are good for leisure rides in and around city and beaches. | These bikes are designed for longer trips. Nimble by design these are easy to ride & go fast. | This 12-inch kids bike comes with quick-connect assembly. It has front and back brakes. |
As you can see from these three examples of the range from. Schwinn sell smart-looking bikes that have been designed to offer good value. They do not include unnecessary extras but instead, offer good value for money bikes.
They might not be that dependable or light as Schwinn bikes used to be before the 2000s. Most people do not want a very light bike or a bike that will last for ages. Instead, they want a good value for the price; something that can get you from point A to point B and is fairly comfortable to ride.
Today Schwinn bikes have an average life span of 5 years but they can go as far as a decade if taken care of. Not like the old models which can sit idle for decades and is still ready to go just like the new.
Why should you pay more when you are a casual rider? You probably don't want to ride the same bike for your life. Even when you want to go for the trails, mountain hills, or long biking trips; these new mid-range Schwinn bikes gonna do great for average riders.
I have seen many who don't like this bike just because it's too inexpensive or is made in china. Of course, Schwinn does not produce its own bike; they are mostly made in china. But it's not something you can hold against them as there are a handful of companies left; who are producing their own bikes.
Luckily, most people don't make it a major issue, especially at such a low price. As all you want is a simple bike that looks good and is both strong and comfortable to ride.
Some Best Schwinn Bikes To Look For:
Conclusion
The Arnold, Schwinn, and Co. has earned their name over the years. Using a quality over quantity approach in the beginning is what led to their popularity in the 20th century. Ignaz played a huge role in the innovation of bicycles and his passion helped sculpt the industry even to this day.
However; in today's era, the name has taken a dive after missing huge development opportunities. The newer, less expensive Schwinn bikes are not a quality guarantee like they used to be.
These bikes fit well in this category of high-quality affordable bikes for kids and adult that do its job, is comfortable and last reasonably long for a cheap bike. They are available in many bicycle shops around the U.S. In the end, it is up to the consumer to decide which bike is best for their needs.
Also Read,
Is Orbea A Good Bike Brand? Know This Before Buying!
Are Raleigh Bikes Considered Good Quality? Brand Review
Are Specialized Bikes Any Good? Things You Should Know Before Buying!