Are huffy bikes any good? Is the brand trustworthy and produce excellent bikes at an affordable price range. These are some of the questions we usually have.
I always find it interesting to know about the early days of American manufacturing companies. I feel these early years set the tone for the culture over subsequent years. You can tell from these stories of the early years how the company sees quality and customer service. It is the same with their products.
Today they have a reputation as being an entry-level brand, their high sales are due to low
prices. This article explains how this situation occurred.
So What is Huffy Bikes Reputation Today?
Today if you ask anyone about their Bikes they will first off mention that they sell cheap bikes. They will not connect the business with sporting achievement, with game-changing technology.
You will not find groups that celebrate the company and its products. Their cycles are just workhorse entry-level products that compete very well on price with other similar brands.
There are cycling aficionados that have a great interest in cycling and will discuss the latest type of gears and the differences between braking systems and if you ask them about the products of this business they will turn up their nose and denounce them.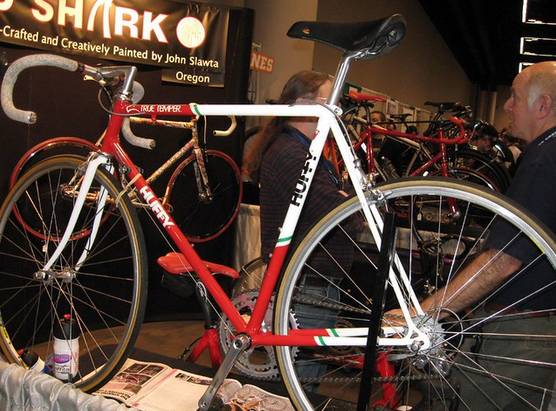 These people are very much in a minority. Most people looking for a bike to ride a couple of times a week to the park, just want a cheap, attractive looking solution, and that is enough for them…
These bikes fit well in this category of affordable bikes for kids and adult that do its job, is comfortable and last reasonably long for a cheap bike. Yes, it won't last for 10 years and does not have any cool features. For the record, I have bought huffy bikes in the past ( 2014 ) and it served me well.
But they were never low-level bikes competing for the price and margin. In fact, huffy bikes has a glorious past of its own. A past when all huffy represents was quality, robust design, and youthful spirit.
Now we will go back in time and look at the company history to see how they reached this point.
Read Also: Are Schwinn Bikes Good? What You Need To Know Before Buying!
Company History
The business was originally founded by George P. Huffman In 1924, George's son, Horace Huffman, Snr., launched the Huffman Manufacturing Company. They continued to market cycles under the Dayton name until 1949.
In the 1930s Huffman tried to position the business in the premium end of the market but this was unsuccessful as the public already associated them with the lower-priced end of the market.
It was in 1949 when Huffman launched the Convertible that the Huffy brand name first appeared. This cycle was the first to feature training wheels from any manufacturer. By 1953 all of Huffman's cycles were sold under the brand.
Within the next seven years, they grew to become the third-largest bicycle brands in the USA.
In 1970 the company had a reorganization because of the growing sports equipment range. The Corporation was created to be an umbrella for the Bicycles and Sporting Goods divisions (sporting goods survived until 2004 when it was sold to Russel Corporation).
In the early seventies, Huffman absorbed Raleigh Bicycle USA (Kent, WA and YLCE (Yorba Linda Cycle Enterprises).
At its peak, the business produced over two million bicycles per year and were the biggest bicycle manufacturers outside of China. The 1984 and 1988 Olympics saw the USA team riding Huffy branded cycles (winning two golds, two silvers, and one bronze medal).
When It All Started to Go Wrong – Company History
All carried on well until the 1990s when the market in the USA had changed and the high volume retailers had control of 75% of bicycle sales.
They used this to force remaining USA manufacturers to accept lower margins.
Pay cuts for staff helped them continue a little longer but is soon they started a round of plant closures and they started outsourcing production to China, but they still could not make a profit.
During the early 2000s, they gradually became Chinese owned, retaining just design, product development, and product marketing in Dayton Ohio, with all manufacturing taking place in China.
In 2004 the management announced that it had accounting irregularities and the corporation was suspended from NYSE who suspended the stock.
The Huffman Corporation in the USA and Canada filed for bankruptcy. The management had been misusing the pension funds in an effort to survive.
Read Also: Are Mongoose Bikes Good? Things You Should Know Before Buying!
Huffy Radio Bike – Innovative Models of The Past
The RadioBike was one of their most famous models at its peak. This model featured an electron-tube radio in the tank. This bike was sold between 1955 and 1958 and around 8,500 bikes were manufactured.
They were built in Red, Blue, and Green (all with white and black trims). In 1955it had a lamp on the front fender, this was replaced with a basket in 1958 versions.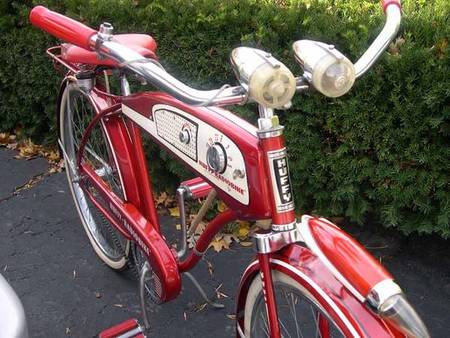 The radio had a battery pack mounted on the rear carrier. These bikes have become a collector's item and one in good condition with a working radio will sell for around $1,500 to $2,000. Without the radio, they might reach a couple of hundred dollars.
Other innovative models were produced until 1971 when the BMA (Bicycle Manufacturers Association) and various federal agencies forced the discontinuance of several features, on safety grounds.
Huffy Bikes Today
The reason I talked so much about the history of the organization is that it has shaped them that we see today.
They had grown to be a successful American business but the Chinese dominance of the international market had resulted in the high-volume-retailers forcing price cuts on the company.
They responded by cutting costs and moving construction to China. The bikes which were once the major innovator in the market, producing quality products became a very different company, selling entry-level bicycles.
The brand has a majority owner – UWHK Ltd a Hong Kong-based company who also own Niner Bicycles. They later bought Schwinn/GT Corp. This provoked a lot of comments as they are seen today as the cheapest cycle brand and Schwinn were the most prestigious.
Nowadays you will find the products in 10,000 retail outlets and the brand currently sells around 5 million bicycles annually in more than 50 companies.
Popular Huffy Models (Examples)
Comfort Bike (Men's Bike)

Holbrook Cruiser (Women's Bike)

Moto X (Boy's Bike)

The design of this bike is all about comfort. It is a simple design and produced for riders over 5 ft tall.

This model has 26″ wheels
and features the Perfecta Fit
frame. Has an upright riding
position.

This 12-inch bike with training wheels comes with quick-connect assembly. It has front and back brakes.
As you can see from these three examples of the range from. Huffy sell smart-looking bikes that have been designed to offer good value. They do not include unnecessary extras but instead, offer good value for money bikes.
They might not be that dependable or light as huffy bikes used to be before the 2000's. Most people do not want a very light bike or a bike that will last for 10 years.
They want something for cheap that can get you from point A to point B and is fairly comfortable to ride.
Why should you pay more when you are a casual rider? You probably don't want to go for the trails, mountain hills or long biking trips so why buy an expensive mountain bike for the same.
I have seen many who don't like this bike just because it's too inexpensive or is made in china. Of course, Huffy does not produce its own bike; they are made in china. But it's not something you can hold against them as there are a handful of companies left; who are producing their own bikes.
Luckily, most people don't make it a major issue, especially at such low price. As all you want is a simple bike that looks good and is both strong and comfortable to ride.
Top 7 Huffy Bikes To Look For :
Conclusion
Don't buy a Huffy if you are looking for a state of the art model that will last for years. Let's be honest that is not what people generally want. They want great prices and a purchase that does its job. If you are looking for an entry-level model then this is exactly what Huffy is offering, for the reasons given in this article.
Also Read,
Are Retrospec Bikes Good? What You Need To Know Before Buying!
Are Cannondale Mountain Bikes Any Good? Know it Before Buying!
Are Raleigh Bikes Considered Good Quality? 5 Reasons To Buy One