If you're on the hunt for a reliable bike that's suitable for leisurely rides and casual mopuntain biking, Cannondale is a brand that may have caught your eye.
But, you're likely wondering if the reputation of this prominent manufacturer lives up to the hype surrounding it.
After all, you don't want to invest in a bike that doesn't offer the quality and soulful ride you're after.
Fortunately, Cannondale has certainly earned a reputation for producing reliable bikes that can deliver a superior riding experience.
As one of the top names in cycling technology and innovation, Cannondale has been at the forefront of avid cyclists' minds since their founding in 1971.
In this brand overview, we'll dive deeper into what the Cannondale brand has to offer and whether its bikes are worth checking out for your next casual commute.
Are Cannondale Bikes Good (Are They "Worth It")?
Search for the best bike brands in the world, and you won't find a list that doesn't include Cannondale among the top 10, if they aren't occupying the top spot.
They've earned their place not just by building quality bikes, but by inventing ways to do it better, and making these innovations available to riders of all stripes.
They abandoned the steel frame standard from the start, making their very first bike with aluminum alloy and carrying that tradition forward to this day.
They were also among the first to use carbon fiber bikes. Just by looking at their bike range one can tell they have decent price ( low to mid price sorta range ) and decent bike.
Though not as big as some of its competitors like Giant and Specialized, Cannondale has a reputation for quality and has even sponsored professional teams.
However, in the past decade, their focus has shifted more towards road biking, leading to a slight decrease in their market share for mountain bikes.
It's worth noting that Cannondale-specific technologies and standards can make their bikes difficult to service, which could be a challenge for non-Cannondale dealers.
History of Cannondale Bikes
Cannondale bikes have a rich history dating back to 1971 when Joe Montgomery founded the company in a tiny shop above a pickle factory.
The company got its name from the Cannondale Metro North, a local train station in Wilton, Connecticut. Initially, Cannondale focused on designing and manufacturing bicycle trailers, backpacks, and camping gear.
It was the bicycle trailer that really put Cannondale on the map, as they quickly developed a reputation for creating high-quality products.
Cannondale then went on to shake up the bike industry by being one of the first to use aluminium and carbon-fibre bikes when others stuck with steel.
They even reinvented racing with their award-winning bicycles and innovative products like single-sided forks and lightweight frames.
These innovations have helped to make Cannondale bikes a popular choice for cyclists of all levels.
More Than 35 Years of Bicycle Innovation
Cannondale Bikes has been producing quality bicycles for over 35 years now. The company didn't produce their first bicycle until 1983, and it was a huge hit with consumers.
The model ST500 began as a touring bike, but soon after, they added mountain bikes to their line-up. That year, they also introduced a road racing bike.
Their bikes were revolutionary at the time, with a welded frame that sat over aluminium tubes.
This design made the bikes lighter, allowing for faster rides than competitors' bikes. Cannondale bikes have been ridden to championship victories and Olympic podiums.
Their success has allowed them to expand their product line to include everything from kids' bikes to hybrids and e-bikes.
It's exciting to see how Cannondale continues to innovate and improve their bicycles.
Innovative Models of The Past
The ST500
Cannondale's very first bike was a game-changer. In an era of steel frames, the ST500's big aluminum alloy tubes were a revelation. Cannondale was the first bike manufacturer to utilize TIG welding, making aluminum frames possible, and revolutionizing the industry.
Delta V 2000
In 1992, Cannondale introduced the cycling world to the Headshok suspension system. The Delta V 2000 was one of the earliest models to feature the new take on suspension.
One which took the telescoping assembly out of the fork blades, and put it into the down tube, and used needle bearings instead of the usual ball bearings.
The new design offered greater control and stability, with far less striction.
Cannondale F-Si Carbon
The F-Si Carbon line of cross country mountain bikes are engineered to offer the perfect balance between lightness, durability, and responsiveness.
There have been plenty of iterations, but the early F-Si was the first to feature the Lefty Ocho, Cannondale's 8th version of its iconic single crown, left-side only, front suspension system.
The Ocho practically reinvents the mechanism, for stiffer, smoother compression and extension, as well as more fine tuning options for the rider.
What Is The Quality of Cannondale Bikes Today?
Cannondale bikes were originally handcrafted in the U.S., which was considered to be a sign of their commitment to quality. Yet, since 2010, production has taken place in Taiwan.
Does that mean that the quality has dropped? Absolutely not. No major bike manufacturer mass produces bikes in the U.S., which means the best bikes in the world are being made overseas.
Cannondale exercises rigorous quality control, and their bikes are constructed to exacting standards, properly integrating their exciting new technologies.
Cannondale's CAAD frames are crafted utilizing the most advanced processes, shaped by hydroforming, and strengthened by heat treatment. Their BallisTec carbon fiber is military grade, not only light and rigid, but durable.
Perhaps the best judge of quality is in competition, where professionals choose bikes that have to perform at the highest levels. Cannondales are ridden in the Tour de France, World Cup, and Olympics.
They are consistently part of the field in road, cross country, and MTB competitions. There is no higher mark than being trusted by the pros.
Conventional wisdom in the cycling world suggests that the best brands — Cannondale, Trek, Specialized, etc. — have reached parity in terms of build quality. As long as you are comparing models at competitive price tiers, a Cannondale bike matches or exceeds its competition.
The Sky's The Limit for Cannondale Mountain Bikes
The bike industry is booming amidst a global shift to greener transportation, and the market upheaval caused by the global pandemic.
Cannondale has made significant profits as a result, so much so that their parent company, Dorel Sports, credits Cannondale's performance over their other properties as the driving factor behind their record profits.
With money rolling in, and demand still on the rise, Cannondale has come a long way from their humble beginnings.
They are a globally successful, top tier brand that has a reputation for shaking things up when the industry least expects it. Their portfolio of proven innovations and history of quality and reliability, have secured their reputation.
But, they haven't stopped there. The company sponsors a variety of cycling events, and has their own competitive teams. This cultivation of, and interaction with, the community has garnered them a dedicated following among cyclists of all types and skill levels.
All that support is a necessary component for the company's future growth. With it, they are free to explore more radical innovations, to ramp up production to new levels, and continue to redefine the limits of the cycling industry.
Why Are Cannondale Mountain Bikes So Popular
Superior Build Quality
Cannondale frames come in two varieties: aluminum, and carbon fiber. The choice to focus on just two materials has allowed the company to optimize their manufacturing processes for both.
Aluminum bikes are made using either the SmartFormed or Optimized Alloy techniques. Premium 6061 aluminum alloy is shaped so precisely that the wall thickness and shape of the tubes can be varied by the tiniest of degrees.
Based on the stresses that the bike will endure, material can be distributed exactly where it needs to be, and shaved away elsewhere for maximum stability and minimum weight.
Joined together with clean double welds, and then heat treated into a cohesive whole, Cannondale aluminum frames are both highly functional and works of art.
Carbon fiber frames are built using the company's BallisTec Carbon Construction methodology.
By layering military grade carbon fiber with high impact resins, an incredibly strong and versatile frame is achieved.
Plus, the variable directional strength of the material is fully leveraged to make each portion of the frame uniquely suited to the stresses it would encounter.
Built For Performance
That level of control over the build quality translates directly into how well Cannondale bikes perform. Each frame is modelled using Computer Assisted Design. That, combined with rigorous practical testing, reveals where changes should be made to meet the demands of a particular task.
For example, Cannondale's carbon MTBs featuring the Lefty suspension manage to be exceptionally light by removing the entire right side of the suspension fork.
Yet, they have ample travel at 120mm, and are able to maintain stability during hard riding due to the centralized placement of the mechanism and the choice of needle bearings over ball bearings.
The SuperSix EVO, as another example, refined the tube shape for maximum drag reduction.
The airfoil-style tubes save 30 watts of power over the previous iteration when riding at 30 mph, making the Super Six one of the fastest bikes on the market.
It's striving to make such incremental gains that elevates the performance of Cannondale bikes to the highest possible level.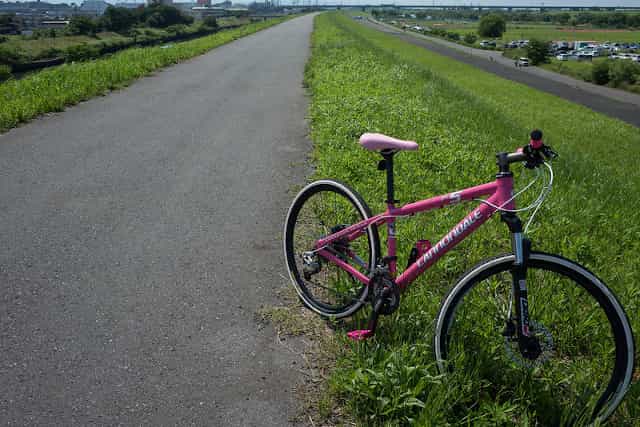 Unique Offering in Different Areas
I've already mentioned what is perhaps the most unique innovation in Cannondale's portfolio, the Lefty Fork suspension. SmartFormed and Optimized Alloy, and BallisTec Carbon Construction are their most notable frame based innovations. But, they have plenty to offer in other areas.
For rear suspension, there's the Kingpin suspension system. A pivot extends through the axle to connect the seat tube and stays, granting 30 mm of travel in the rear end.
This was debuted on the Topstone, a carbon frame gravel bike, and has since been a feature on other models.
Then there's the HollowGram System Integration cranks. They feature a convenient, single-piece, direct mount chainring, and are both lighter than other crank systems and stiffer.
Staying at the bottom bracket, the BB30 and BB30A standards were introduced after the HollowGram as a way to simplify the overly complex bottom bracket setups from brand to brand.
It includes a 30 mm spindle, and a tapered crank interface. It probably sounds familiar, because it's been adopted by the industry at large since Cannondale made it available for free.
Greater Control & Speed
Practically every feature mentioned so far contributes to better control and increased speed. One of the main contributors to these factors is a bike's weight — the lower the better.
Cannondale manages to lower weight in ways their competitors may not, shaving off grams by thinning tube walls, using lighter cranksets, and halving the front fork.
On the SystemSix, forgoing traditional round tube shape in favor of more aerodynamic geometry, drag is reduced, translating to more speed for less effort.
Being set up for disc brakes means that the bike can support larger 26" tires, further increasing the ease of high speed cruising.
But it's not just the bones of the bike that make the difference. The components also contribute, with smooth shifting and a variety of gears to help you maintain your cadence.
Cannondale outfits their rides with the best that Shimano and SRAM have to offer at each price range, with drivetrains and shifters best suited to the model and style of riding intended.
Better Design Geometry & Overall Feel
The careful calibration of bikes for their intended purpose guides Cannondale design. This can be seen clearly in the variety of geometries across their expansive product line.
Riding a trail bike? Expect short stays and angles that are steep for the seat but slack at the head, granting stability and flowing across the varied terrain. On an endurance bike? Expect clearance for wide tires, a flattened handlebar for lower drag, and an asymmetrically split seat tube for increased rigidity.
These model specific adjustments allow you to identify a Cannondale type on sight. Each bike's geometry is uniquely suited to its needs, underscoring the need to buy the right bike to suit your riding habits.
And, while these features alone provide a great bike feel, this brand goes the extra mile with adaptive suspensions set for each individual bike by size.
Cannondale makes every effort to ensure their bikes don't just perform well, but that they provide a comfortable, fun riding experience as well.
mix. You get all of the comfort, performance, and innovation you expect, along with some beefy battery power to augment your own.
Cannondale Bike Categories
Cannondale offers bikes for every rider, in multiple categories.
Whether you're looking for a lightweight road bike to get you around town or an electric mountain bike to tackle challenging trails, Cannondale has something that will fit your needs.
Road Bikes: Cannondale manufactures road bikes with frame, wheel, and drivetrain choices to match your speed. Choose from lightweight alloy frames, aerodynamic carbon frames, or a combination of both.
Mountain Bikes: Cannondale's mountain bikes are designed for riders who want to climb higher and go further. Mountain bikes come in full-suspension and hardtail models with components that are designed to handle the rigors of off-road riding.
Trail Bikes: Cannondale's trail bikes are designed for riders who like to explore beyond the beaten path. Trail bikes feature lightweight frames, high-end components, and long-travel suspension for a smooth ride no matter where you go.
Active Bikes: Cannondale's active bikes are designed for riders who want to go on leisurely rides around town or take the kids out for a spin. Choose from comfort-oriented geometry and components, upright handlebars, and suspension forks that smooth out the ride.
Race Bikes: Cannondale's race bikes are designed for riders who want to go fast. Race bikes feature lightweight frames, aerodynamic geometry, and components that can handle the rigors of racing.
Endurance Bikes: Cannondale's endurance bikes are designed for riders who want to go further. Endurance bikes feature a relaxed geometry, comfortable components, and wide tires for a smooth ride no matter the terrain.
Urban Bikes: Cannondale's urban bikes are designed for riders who want to explore the city. Urban bikes feature lightweight frames, comfortable geometry, and components that can handle the rigors of city streets.
Gravel Bikes: Cannondale's gravel bikes are designed for riders who want to explore new roads. Gravel bikes feature lightweight frames, wide tires, and components that can handle the rigors of any terrain.
Cyclocross Bikes: Cannondale's cyclocross bikes are designed for riders who want to race on mixed terrain. Cyclocross bikes feature lightweight frames, aerodynamic geometry, and components that can handle the rigors of racing.
Cross Country Bikes: Cannondale's Cross Country bikes are designed for riders who want to explore trails. Cross country bikes feature lightweight frames, high-end components, and long-travel suspension for a smooth ride no matter the terrain.
Fitness Bikes: Cannondale's fitness bikes are designed for riders who want to stay active. Fitness bikes feature lightweight frames, comfortable geometry, and components that can handle the rigors of regular riding.
Electric Bikes: Cannondale's electric bikes are designed for riders who want to explore further. Electric bikes feature lightweight frames, high-end components, and powerful motors that can help you go farther and faster.
Kids' Bikes: Cannondale's kids' bikes are designed for riders of any age. Kids' bikes feature lightweight frames, comfortable geometry, and components that can handle the rigors of regular riding.
Whether you're looking for a lightweight road bike to get you around town or an electric mountain bike to tackle challenging trails, Cannondale has something that will fit your needs.
With so many categories to choose from, it's easy to find the perfect bike for your riding style. Visit Cannondale today to explore all of the options and find the perfect bike for you!
How Much Do Cannondale Bikes Cost?
Cannondale bikes come with a variety of price tags, ranging from affordable to expensive. The SuperSix EVO LAB71 race road bike is one of the most expensive models, costing around $15,000.
Meanwhile, the Scalpel HT Hi-MOD Ultimate is the most expensive mountain bike in the brand's lineup, costing $11,000.
Electric bike enthusiasts can opt for the Moterra Neo Carbon LT 1, which costs around $8,650.
The price of Cannondale bikes varies depending on the type, with road race bikes ranging from $1,000 to $12,500, endurance road bikes going for $1,300 to $7,995, and hardtail trail bikes costing between $600 and $2,200.
Whatever your budget, there's a Cannondale bike for you.
Conclusion
Cannondale's story is an interesting one. A company formed for an entirely different purpose, their entry into the biking industry was as unexpected as their amazing and continuing success since then.
Through ups and downs they have remained true to a philosophy of fearless innovation, paired with an insistence on quality that can be observed across their MTB product line, from low-tier to high.
That commitment has led them to the upper echelon of the cycling industry, where they are rightfully placed among the best.
They make great bikes, and so long as their unique geometry fits your tastes, buying a Cannondale mountain bike isn't something you're likely to regret.
Also Read,
Do Mountain Bikes Holds Their Value? MTB Depreciation Guide
Cannondale vs Specialized: Which Bike Brand is Better & Why?