If you're looking for a new mountain bike, there are a few brand names you're likely to see popping up among your search results, or advertised at your local bike shop. Cannondale is certain to be one of them. But, are Cannondale mountain bikes any good?
Absolutely. In fact, they are among the best you can buy. That said, there's more to choosing a bike than just it's quality. Every brand has its own identity, reflected by it's innovations and individual design quirks.
You might choose one over the other for any number of reasons, so it's best to be well informed before you make what could be a sizable investment.
So, before you swipe your card, take a few moments to learn more about Cannondale. Who are they, what do they stand for, and what makes their bikes different from the competition?
So What is Cannondale Bikes Reputation Today?
Search for the best bike brands in the world, and you won't find a list that doesn't include Cannondale among the top 10, if they aren't occupying the top spot.
They've earned their place not just by building quality bikes, but by inventing ways to do it better, and making these innovations available to riders of all stripes.
Cannondale is also known for their idiosyncrasies. They abandoned the steel frame standard from the start, making their very first bike with aluminum alloy and carrying that tradition forward to this day.
The cannondale bikes pioneered the use of carbon fiber, predicting the transformative effect it would have on cycling. They made a suspension fork with only one leg, and another that pierces the axle, their own crankset, and the industry's bottom bracket standard.
Cannondale isn't afraid to take big swings, and they've been rewarded with a string of homeruns. And, wins for them are wins for cyclists at large.
As much as they can, Cannondale spreads their innovative features across their product line, so that even their entry level and budget options approximate that high-end performance and feel.
The History of Cannondale Bicycles
Given their industry dominance, it may come as a shock to learn that Cannondale didn't start out as a cycling manufacturer. An American company, it was founded in 1971 as a provider of precast concrete housing.
Back then they were simply the Cannondale Corporation, a name inspired by a cannon labeled "Dale" that was displayed near their original offices.
Their entry into the cycling world was a bike trailer, called the Bugger, made after one of the co-founders recognized the need for it during a camping trip. The product was a hit, leading to more cycling accessories and, in 1983, the company's first bike, the ST500.
It was then that the story of the Cannondale Bicycle Corporation began.
The following year, the company added mountain bikes to their production line-up, which has since expanded to include everything from kids' bikes to hybrids and e-bikes.
Their bikes have been ridden to championship victories, and carried riders to the Olympic podium.
The journey was not without setbacks. In 2003 the company went bankrupt, and was ultimately bought by a Candian company, Dorel Industries, in 2008.
Financial troubles are a thing of the past for Cannondale today, however, allowing them to focus entirely on what they do best — making top quality bikes.
Innovative Models of The Past
The ST500
Cannondale's very first bike was a game-changer. In an era of steel frames, the ST500's big aluminum alloy tubes were a revelation. Cannondale was the first bike manufacturer to utilize TIG welding, making aluminum frames possible, and revolutionizing the industry.
Delta V 2000
In 1992, Cannondale introduced the cycling world to the Headshok suspension system. The Delta V 2000 was one of the earliest models to feature the new take on suspension.
One which took the telescoping assembly out of the fork blades, and put it into the down tube, and used needle bearings instead of the usual ball bearings.
The new design offered greater control and stability, with far less striction.
Cannondale F-Si Carbon
The F-Si Carbon line of cross country mountain bikes are engineered to offer the perfect balance between lightness, durability, and responsiveness.
There have been plenty of iterations, but the early F-Si was the first to feature the Lefty Ocho, Cannondale's 8th version of its iconic single crown, left-side only, front suspension system.
The Ocho practically reinvents the mechanism, for stiffer, smoother compression and extension, as well as more fine tuning options for the rider.
What Is The Quality of Cannondale Bikes Today?
Cannondale bikes were originally handcrafted in the U.S., which was considered to be a sign of their commitment to quality. Yet, since 2010, production has taken place in Taiwan.
Does that mean that the quality has dropped? Absolutely not. No major bike manufacturer mass produces bikes in the U.S., which means the best bikes in the world are being made overseas.
Cannondale exercises rigorous quality control, and their bikes are constructed to exacting standards, properly integrating their exciting new technologies.
Cannondale's CAAD frames are crafted utilizing the most advanced processes, shaped by hydroforming, and strengthened by heat treatment. Their BallisTec carbon fiber is military grade, not only light and rigid, but durable.
Perhaps the best judge of quality is in competition, where professionals choose bikes that have to perform at the highest levels. Cannondales are ridden in the Tour de France, World Cup, and Olympics.
They are consistently part of the field in road, cross country, and MTB competitions. There is no higher mark than being trusted by the pros.
Conventional wisdom in the cycling world suggests that the best brands — Cannondale, Trek, Specialized, etc. — have reached parity in terms of build quality. As long as you are comparing models at competitive price tiers, a Cannondale bike matches or exceeds its competition.
The Sky's The Limit for Cannondale Mountain Bikes
The bike industry is booming amidst a global shift to greener transportation, and the market upheaval caused by the global pandemic.
Cannondale has made significant profits as a result, so much so that their parent company, Dorel Sports, credits Cannondale's performance over their other properties as the driving factor behind their record profits.
With money rolling in, and demand still on the rise, Cannondale has come a long way from their humble beginnings.
They are a globally successful, top tier brand that has a reputation for shaking things up when the industry least expects it. Their portfolio of proven innovations and history of quality and reliability, have secured their reputation.
But, they haven't stopped there. The company sponsors a variety of cycling events, and has their own competitive teams. This cultivation of, and interaction with, the community has garnered them a dedicated following among cyclists of all types and skill levels.
All that support is a necessary component for the company's future growth. With it, they are free to explore more radical innovations, to ramp up production to new levels, and continue to redefine the limits of the cycling industry.
Why Are Cannondale Mountain Bikes So Popular
Superior Build Quality
Cannondale frames come in two varieties: aluminum, and carbon fiber. The choice to focus on just two materials has allowed the company to optimize their manufacturing processes for both.
Aluminum bikes are made using either the SmartFormed or Optimized Alloy techniques. Premium 6061 aluminum alloy is shaped so precisely that the wall thickness and shape of the tubes can be varied by the tiniest of degrees.
Based on the stresses that the bike will endure, material can be distributed exactly where it needs to be, and shaved away elsewhere for maximum stability and minimum weight.
Joined together with clean double welds, and then heat treated into a cohesive whole, Cannondale aluminum frames are both highly functional and works of art.
Carbon fiber frames are built using the company's BallisTec Carbon Construction methodology.
By layering military grade carbon fiber with high impact resins, an incredibly strong and versatile frame is achieved.
Plus, the variable directional strength of the material is fully leveraged to make each portion of the frame uniquely suited to the stresses it would encounter.
Built For Performance
That level of control over the build quality translates directly into how well Cannondale bikes perform. Each frame is modelled using Computer Assisted Design. That, combined with rigorous practical testing, reveals where changes should be made to meet the demands of a particular task.
For example, Cannondale's carbon MTBs featuring the Lefty suspension manage to be exceptionally light by removing the entire right side of the suspension fork.
Yet, they have ample travel at 120mm, and are able to maintain stability during hard riding due to the centralized placement of the mechanism and the choice of needle bearings over ball bearings.
The SuperSix EVO, as another example, refined the tube shape for maximum drag reduction.
The airfoil-style tubes save 30 watts of power over the previous iteration when riding at 30 mph, making the Super Six one of the fastest bikes on the market.
It's striving to make such incremental gains that elevates the performance of Cannondale bikes to the highest possible level.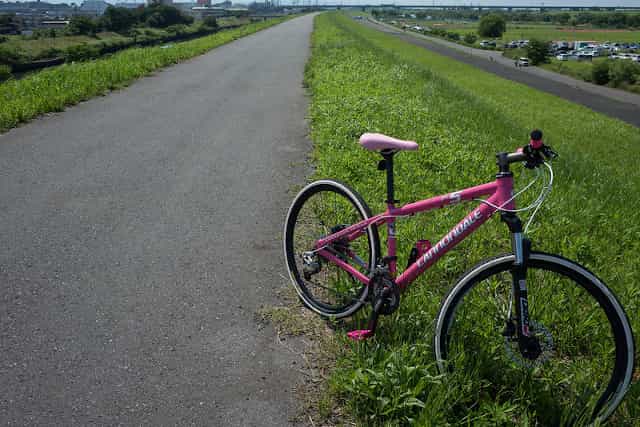 Unique Offering in Different Areas
I've already mentioned what is perhaps the most unique innovation in Cannondale's portfolio, the Lefty Fork suspension. SmartFormed and Optimized Alloy, and BallisTec Carbon Construction are their most notable frame based innovations. But, they have plenty to offer in other areas.
For rear suspension, there's the Kingpin suspension system. A pivot extends through the axle to connect the seat tube and stays, granting 30 mm of travel in the rear end.
This was debuted on the Topstone, a carbon frame gravel bike, and has since been a feature on other models.
Then there's the HollowGram System Integration cranks. They feature a convenient, single-piece, direct mount chainring, and are both lighter than other crank systems and stiffer.
Staying at the bottom bracket, the BB30 and BB30A standards were introduced after the HollowGram as a way to simplify the overly complex bottom bracket setups from brand to brand.
It includes a 30 mm spindle, and a tapered crank interface. It probably sounds familiar, because it's been adopted by the industry at large since Cannondale made it available for free.
Greater Control & Speed
Practically every feature mentioned so far contributes to better control and increased speed. One of the main contributors to these factors is a bike's weight — the lower the better.
Cannondale manages to lower weight in ways their competitors may not, shaving off grams by thinning tube walls, using lighter cranksets, and halving the front fork.
On the SystemSix, forgoing traditional round tube shape in favor of more aerodynamic geometry, drag is reduced, translating to more speed for less effort.
Being set up for disc brakes means that the bike can support larger 26" tires, further increasing the ease of high speed cruising.
But it's not just the bones of the bike that make the difference. The components also contribute, with smooth shifting and a variety of gears to help you maintain your cadence.
Cannondale outfits their rides with the best that Shimano and SRAM have to offer at each price range, with drivetrains and shifters best suited to the model and style of riding intended.
Better Design Geometry & Overall Feel
The careful calibration of bikes for their intended purpose guides Cannondale design. This can be seen clearly in the variety of geometries across their expansive product line.
Riding a trail bike? Expect short stays and angles that are steep for the seat but slack at the head, granting stability and flowing across the varied terrain. On an endurance bike? Expect clearance for wide tires, a flattened handlebar for lower drag, and an asymmetrically split seat tube for increased rigidity.
These model specific adjustments allow you to identify a Cannondale type on sight. Each bike's geometry is uniquely suited to its needs, underscoring the need to buy the right bike to suit your riding habits.
And, while these features alone provide a great bike feel, this brand goes the extra mile with adaptive suspensions set for each individual bike by size.
Cannondale makes every effort to ensure their bikes don't just perform well, but that they provide a comfortable, fun riding experience as well.
Top 3 Cannondale Mountain Bikes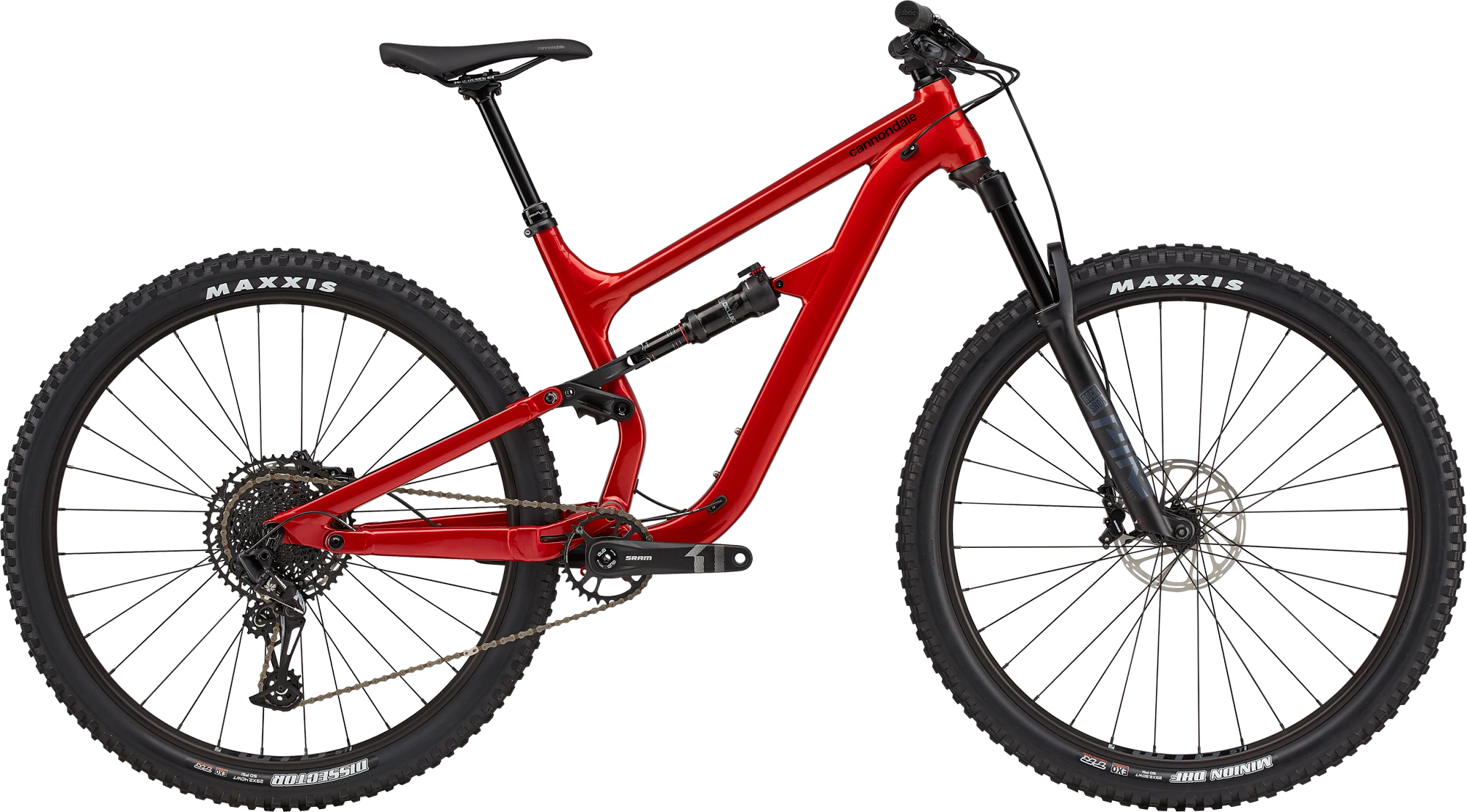 Habit
With all the talk about Cannondale's proprietary systems and radical departures from traditional bike design, you'd be forgiven for thinking they don't make bikes that would seem familiar to you.
The truth is, most of their bikes don't support anything as unconventional as the Lefty fork, and are instead excellently engineered examples of the state of the art in cycling.
The Habit MTB is a good example of this.
It's the first Cannondale that uses a 4 bar suspension system, and while this is a departure from the single pivot systems they typically choose, it is also another example of building the bike for its purpose.
Testing revealed that this trailblazer has better braking performance with the more conventional suspension, so it was just the better choice in this case.
The bike comes in sizes ranging from small to extra large, with both carbon fiber and aluminum frame options. It has separate versions for women and men.
Regardless of the size or gender options, the Habit features a water bottle holder and fender as standard additions, useful for staying hydrated on a hard ride and keeping the mud out of your face, respectively.
The riding experience is where the bike truly shines. It is responsive, particularly on tight turns and at lower speeds, and is an able climber.
At higher speeds a firmer hand is required, but shifting is still smooth, and the suspension can be adjusted via remote shock lockout to further fine tune the ride.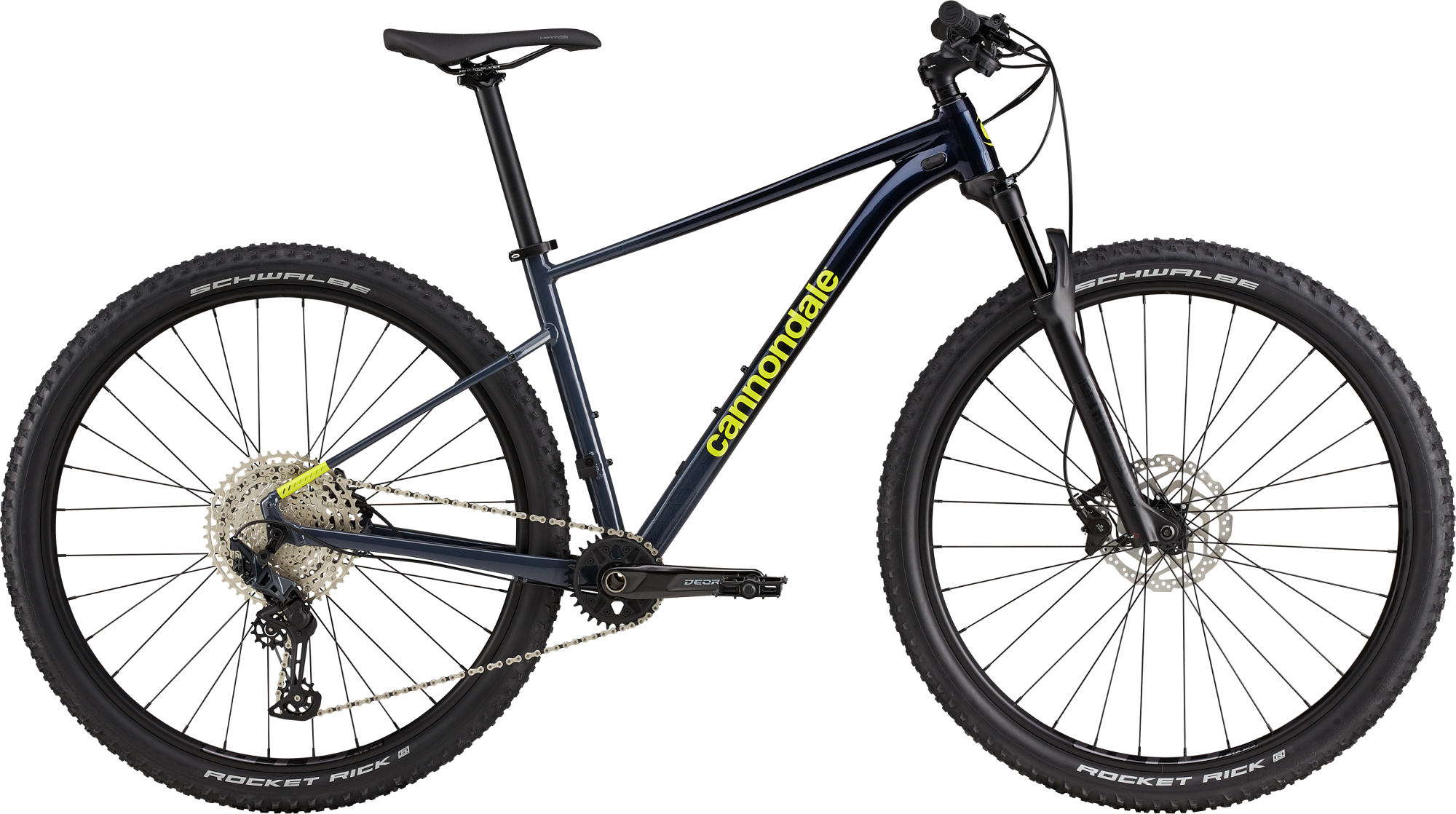 Trail SL
The Cannondale Trail SL 2 has a different focus than that of the Habit. It's an MTB geared towards lower impact terrain and more leisurely offroading. This isn't your competition mountain bike, but it's capable in the rough.
This bike has a longer wheelbase and lower center of gravity, a frame geometry built for fun on the trail. The aluminum alloy frame is light at 27.6 lbs, but not too light. It allows for easy climbing and maneuvering, but still feels grounded and sturdy when powering through mid-level terrain.
With the SL's focus on speed, the 12 gear Shimano drivetrain is a perfect choice. You have plenty of options for tackling inclines and declines, as well as opening up on the relatively level ground of easy trails.
RockShox and Save Micro Suspension keeps you stable over the bumps, and Shimano hydro disc brakes will bring you to a quick stop in all conditions.
While the Trail is no e-bike, it does have some useful tech connectivity. An integrated wheel sensor interfaces with the Cannondale mobile app to fill you in on all sorts of stats.
You can check your average speeds, distance traveled, even calories burned in a ride.
The sensor will also send reminders to keep you up to date with bike servicing, which is much better than a sudden breakdown as reminders go.
The Trail is a feature rich MTB built for nimble riding as opposed to the sort of punishing rides of more technical terrain. This bike just wants to have fun.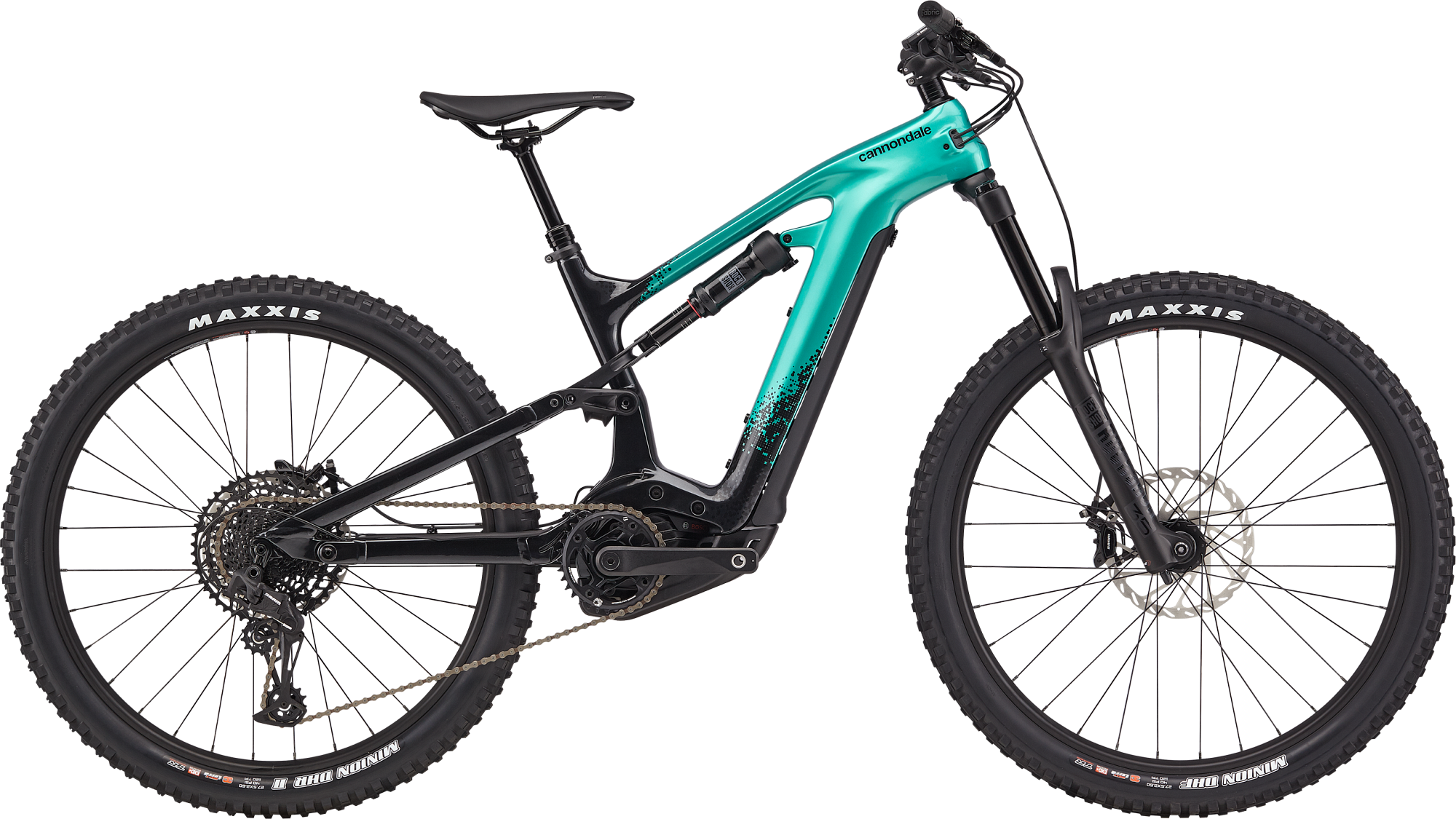 Moterra Neo 3
Cannondale's electric bike line is marked by the Neo suffix, and they have electric versions of all their main models. The Moterra Neo 3 is the mid-range electric MTB in the lineup, not as expensive it's carbon fiber brother, but still firmly on the high-end side of the scale.
The Moterra is built to take on a challenge. The sort of steep climbs that would sap even skilled riders of their strength are made far easier with the 625 Wh Powertube battery from Bosch driving the wheels.
Paired with the high torque, the bike is eager to get up to speed and up those hills. The 12 speed SRAM drivetrain lets you choose your approach to the terrain.
Speaking of, you don't have to worry about water, mud, or dirt any more than you would on a conventional bike. The battery and motor are protected by a cover and skid plate. This e-MTB is just as rugged as you'd expect.
The aluminum alloy frame keeps the weight down to 52 lbs, which is repsectable for an e-bike, and feels reassuringly solid when the going gets rough. The 2.6in wide tires get exceptional traction with that weight as well, making for a well controlled, stable ride.
The Moterra is essentially a fully featured Cannondale MTB with a motor integrated into the mix. You get all of the comfort, performance, and innovation you expect, along with some beefy battery power to augment your own.
Conclusion
Cannondale's story is an interesting one. A company formed for an entirely different purpose, their entry into the biking industry was as unexpected as their amazing and continuing success since then.
Through ups and downs they have remained true to a philosophy of fearless innovation, paired with an insistence on quality that can be observed across their MTB product line, from low-tier to high.
That commitment has led them to the upper echelon of the cycling industry, where they are rightfully placed among the best.
They make great bikes, and so long as their unique geometry fits your tastes, buying a Cannondale mountain bike isn't something you're likely to regret.
Also Read,
Do Mountain Bikes Holds Their Value? MTB Depreciation Guide
Cannondale vs Specialized: Which Bike Brand is Better & Why?
Best Time To Buy Mountain Bikes For Great Deals & Heavy Discount