When it comes to affordable e-bikes with reliable components, it's hard to beat Ride1UP.
This brand has been making waves in the e-bike world since 2019, bringing accessibility and aesthetic appeal to a previously elusive market.
While they may cut a few corners to keep prices low, Ride1UP's e-bikes are still well worth their budget-friendly price tags.
Users rave about the solid range and impressive Class 3 speeds, while experts are particularly fond of the 700 Series urban model. Ride1Up has a great reputation and plenty of good things can be said about its products.
Whether you are a seasoned cyclist, a commuter, or just an adventure lover, Ride1Up E-Bikes has got you covered.
Their wide range of options ensures that each bike is tailored to meet specific needs. Besides, their bikes are fitted with powerful motors, making climbing hills and covering long distances a breeze.
It's no wonder that they have become a beloved brand amongst e-bike enthusiasts.
An Overview Of The Ride1Up Brand
Despite its booming reputation in the biking world now, Ride1Up is actually still a fairly new company. It was founded in late 2018 by Kevin Dugger and is based just outside of San Diego in California.
Since then, they have produced the 500 Series, the 700 Series, the Core-5, the LMT'D, and the Prodigy.
They specialize in e-bikes, with a range that aims to provide customers with bikes that they can rely on. Dugger's main motivation to produce the range was the lacking quality that he noticed in the e-bikes on the market.
Ride1Up's prices are not cheap, but the quality of the bikes is guaranteed. You'll spend between $995 and $2195 on an e-bike from the brand, but the perfect balance between speed and style is worth it.
As far as e-bikes go, those are great prices because the average e-bike is sold for between $1500 and $4000, something else that Dugger took into consideration when pricing his own e-bikes.
These e-bikes come in three types: road, city, and mountain, so there's a model just right for every cyclist.
The brand has created 6 different e-bikes, each with their own individual benefits. The company's first bike was the Roadster V2, which is great for on-road commutes.
The 500 Series and the 700 Series are also both great for getting around the city efficiently, whereas the LMT'D has even greater power for cycling on more difficult terrain.
For beginner cyclists, the company produced the Core-5 model. And the Prodigy is named aptly because it has the most luxurious feel of the six bikes, but without a skyrocketing price tag to match.
What We Like About Ride1Up E-bikes
Nimble Fast Commuting Bike
The e-bikes from this company prove that it is indeed possible to design a bike that has all the essential components and more without feeling heavy as you ride it.
These models are lightweight, so you can navigate the road ahead of you without any bother. Having a bike this nimble makes turning corners and going up hills feel incredibly smooth and fast.
For a commuting bike, the Ride1Up electric bikes are all perfect. The Core-5 model, for example, is lightweight yet powerful, perfectly capable of getting you from one location to another in no time at all.
The Roadster V2 model is similarly light and streamlined, making every commute feel like a cruise. An e-bike needs to be fast to be efficient, from a buyer's perspective, and Ride1Up won't let you down with that.
Better Design Geometry & Overall Feel
To produce a better overall bike than those that were previously on the market, Ride1Up naturally needed to focus on perfecting the geometrical design and feel of their electric bikes.
Their bikes are all agile, thanks to a durable aluminum frame and a high saddle that gives you better positioning with the handlebars.
The brand's frames come in two different sizes according to height. For the Roadster V2, these sizes are small (5'3"-5'8") and large (5'7"-6'2").
Ride1Up's five other bikes (Core-5, 500 Series, LMT'D, 700 Series, and Prodigy) come in a step-through frame (for shorter riders) and a step-over frame (for taller riders).
There is enough variation to suit a cyclist of any height, especially since the frames are designed with a saddle-handlebar distance that encourages proper posture.
Has Plenty Of Torque
Torque is the of rotational force in an e-bike's wheels, which is what gives it the power to move.
Ride1Up's bikes have an excellent amount of torque, so they are efficient and fast, especially when paired with the powerful motors used by the brand.
The LMT'D model, for instance, has 100 Nm of torque to go with a 1000W motor.
The bike also has a torque sensor on the bottom bracket, which allows it to convert the mechanical torque into an electrical force.
The more torque an e-bike has, the more power it will have to transport you around the city.
This also makes tackling hills and uneven terrain a bit easier because bikes with less torque or a weaker motor would struggle in comparison. Everything about the Ride1Up e-bikes is designed with the utmost efficiency.
Smooth, Quiet & Does Not Rattle
E-bike motors can be noisy sometimes because of how hard they work to power the bike, but that isn't a problem for any of Ride1Up's models.
Sometimes there can be a rattling sound as the motor runs, but you'll be able to cycle in a serene silence by choosing a bike by Ride1Up.
The smoother the ride, the quieter the bike, and the brand design their bikes specifically to be powerful so that the ride is smooth.
The brakes on Ride1Up's e-bikes are also suitably quiet, giving you a greater sense of control over the bike because it shouldn't ever sound like it's struggling.
The tires are reasonably thick, giving a better grip and lowering the chance of your bike's wheels squealing or creaking. The lightweight frames also help to keep rides smooth and quiet.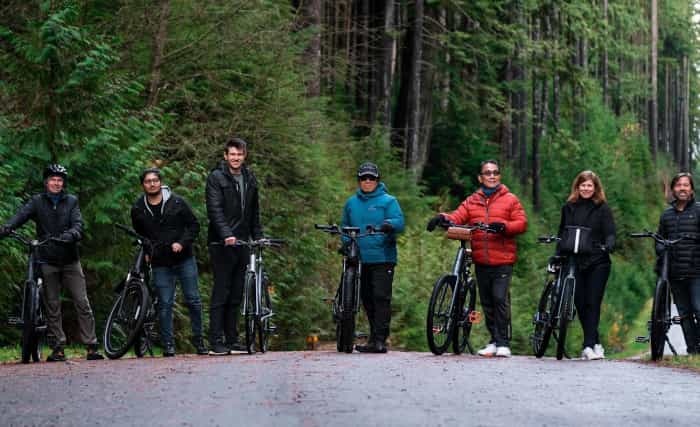 Battery Lasts For Long Rides
One of the most integral parts of a good e-bike is its battery, and Ride1Up aren't slacking in that area either.
As quoted from them, their batteries are rated "800-1000 charge cycles", when an entire cycle consists of the battery charging from 0% to 100%.
Charging one of these batteries usually takes between 2 and 6 hours, though the manufacturer will have more information about the recommended charging times for each model.
With high-quality batteries to power them, Ride1Up's e-bikes are perfect for long rides, whether that's running errands around the city or venturing off-road for some exploring.
Ride1Up will provide a battery charger with your bike, so you should charge it up before riding out and then enjoy the prolonged life of the bike's battery.
One of the things that the brand is most praised for is its powerful batteries (with the Roadster V2 having a total battery capacity of 500wh).
Affordable And Great Looking
As previously stated, though Ride1Up's prices are not cheap in a general sense, they are super affordable when compared with e-bikes from other brands.
The minimum you'll pay for an e-bike by this brand is approximately $995, whereas other retailers tend to start their prices at around $1500.
For the great look of the Ride1Up e-bikes and all their efficient features, the price is incredible.
All the bikes have aluminum frames with impeccable paint jobs that shouldn't suffer any damage from minor dirt and debris on the roads.
By caring for your Ride1Up e-bike regularly, you'll be able to keep it in immaculate condition and carry on getting your money's worth out of it.
The brand have proven that an affordable e-bike doesn't have to mean poor quality, especially when Dugger noticed that a lot of pre-existing e-bikes were both mediocre and expensive.
Everything Bad You Can Read / Hear About The Brand
It's rare to come across a brand that can boast of having no negative reviews. Ride1Up e-bikes have its own fair share of negative reviews and complains they need to look after.
Despite some negative feedback online, I have to say that personally, I did not have bad experience with the brand. However, after doing some research, it seems that there have been some complaints online about the company.
Some customers have mentioned that the company was dismissive with issues pertaining to manufacturing defects or shipping issues, while others have gone on to claim that the brand has the worst customer service.
However, it is still worth taking note that even those who have come out in support of the brand have complained about delayed resolution of disputes and communication that is often tedious and complex.
Making it hard to reach a real person when trying to resolve an issue. You have to go through the system call and different options to finally talk to a real person.
Despite these challenges, the brand still deserves admiration for its innovative and quality products that have gained such a loyal following over the years.
Where Are Ride1Up E-Bikes Manufactured?
Have you ever wondered where Ride1Up e-bikes are manufactured?
While the company designs their bikes at their corporate headquarters in sunny San Diego, CA, they source components internationally.
The components come from Asia, while the motor is sourced from Europe. The bikes are then assembled at factories located near Shanghai.
While for many it won't be a concern as long as they deliver on quality but it could be a factor when buying for those looking for "Made in America".
Motors, Batteries, and Components
Ride1up e-bikes are designed with efficiency and smoothness in mind, and their powerful brushless motors and Brose mid-drive motor help make that possible.
You can choose between 350W and 750W brushless motors or Brose mid-drive motor, depending on which model you choose, and they power Shimano 7-speed or 8-speed drivetrains.
These e-bikes use either a 36V or 48V Lithium-ion battery, which can provide you with between 15 to 40 miles of pedal-assisted travel on a fully charged battery.
Plus, with the smart charger that comes included, it only takes around four to six hours for the battery to reach full charge.
If you want to adjust your speed or pedal assist level, you can easily do so using the Left side Thumb Throttle.
And with three or five speed options on offer, depending on the model you choose, you can find the perfect level of assistance for your journey.
Most Popular Ride1Up Electric Bikes
Ride1Up e-bikes were instantly a hit even when they first appeared. These high-quality and affordable bikes are the embodiment of value and price-centric ideals, the same ideals that founded the company's vision and mission.
To further sweeten the deal, Ride1Up offers a 100% "no questions asked" money-back guarantee and a 1-year warranty for each and every one of their e-bikes sold.
Equipped with adjustable top speed, high-capacity battery, hydraulic disc brakes, suspension form, multi-surface tires, and many other features, the critically-acclaimed 700 series offers impressive value for a fairly low price.
Riders constantly sing praises for this solid commuter/city bike. This model has a modern aluminum frame which provides a comfortable and lightweight yet sturdy ride.
With a choice for step-over or a step-through frame, shorter riders or those with knee or hip issues will find this model a better choice.
The frame comes with internal cable routing and an internal battery. The 100mm suspension fork with a hydraulic lockout greatly improves the riding experience.
This bargain Class 3 e-bike is a very good alternative to your car, especially for short, everyday commutes.
We invite you to take a closer look at the Ride1Up 700 Series.
The Ride1Up Prodigy is an electric bike that's worth taking a closer look at. Priced at a reasonable $2,295, this bike not only looks fantastic, but it also handles like a dream.
Weighing in at 50 pounds, the Prodigy is available in three different styles, each featuring a custom-designed aluminum alloy frame.
If you're someone who enjoys pedaling as opposed to using an e-bike as a motorbike, then you'll appreciate the 250W mid-drive motor that provides a more natural feeling and balanced ride.
The Prodigy's range falls between 30-50 miles (50-80 km), which is ample for recreational and city riding.
The German-made Brose TF Sprinter motor is a standout feature, silently powering the bike forward with ease. Overall, if you're looking for a reliable and stylish electric bike, the Ride1Up Prodigy is definitely worth considering.
Find out more about the Ride1Up Prodigy.
If you are looking for a basic, all-terrain e-bike, the Core5 model fits in with its specs and design. Although its look seems to defy traditional commuter bike its fit best for city commute.
Touted as a simple and clean city e-bike by the founder himself, the Core5 boasts a 400W rear hub motor and a fully integrated 500Wh battery.
This model can confidently speed up and down paved roads, thanks to its all-terrain tires, disc brakes, and a 7-speed drivetrain. So more fun on road with style and confidence!
Its versatility in a pretty sweet price tag is perfect for beginner riders who are just starting to dabble in e-biking.
Take a closer look at the Ride1Up Core5.
Touted as the fastest model among all Ride1Up's offerings, the LMT'D can achieve the 28mph top speed with pedal assist in only a few seconds.
The 20mph speed with the throttle is also a piece of cake. Both speeds can be maintained for 30 to 50 miles. The model also boasts of 750W motor and a 672Wh battery with a 1000W peak and 100Nm torque. Now that's power.
Although the LMT'D got overshadowed by the 700 series its equally well ( in fact even better when it comes to performance on trails ) sporty and comfortable to ride.
For e-bikers who value power and speed above all else, this model is a clear winning choice.
Find out more about Ride1Up LMT'D.
If you are one of those rides who favor stealthy e-bikes, the Roadster is an inconspicuous electric beast that hides in a clean and sleek conventional bike look.
It's also one of the lightest offerings in the brand's catalog, weighing just 32 pounds. The range is at a decent 20 to 35-mile range.
The Roadster features a single-speed drive belt, internal Samsung Cells, a compact LCD display, and a fully smoothed alloy frame, all at an attractive price of less than $1000.
Added with a carbon belt drive instead of a chain, maintenance is easy-breezy for the Roadster. Ride1Up has tweaked and improved the original Roadster and now offers the Roadster V2.
Learn more about the Ride1Up Roadster.
Frequently Asked Questions
Q. Is Ride1Up Legit?
Big yes. Ride1Up is the real deal. This start-up Californian brand swiftly became a widely acclaimed US-based brand, thanks to their small but impressive lineup of e-bikes, touted to be so good, they can easily replace commuter cars.
In a short time frame, the brand has firmly established itself as one of the best budget e-bike leaders out there.
Although the company might be considered young, with its roots dating back to 2018, its e-bike lineup has taken the budget category by storm.
Because of the brand's unique combination of efficiency, price range, and features, Ride1Up as an electric bike brand has already made its mark in the industry.
Q. What motor does Ride1Up use?
Similar to most e-bikes in the market today, Ride1Up's impressive lineup of e-bikes comes with premium lithium-ion batteries partnered with equally impressive motors for each model.
The 700 Series proudly sports the powerful 750W Shengyi geared rear hub motor with 60Nm torque, the most that one can be legally allowed to ride in the USA.
A 500W Shengyi geared rear hub motor with 56Nm of torque and 800 peak power powers the 500 series.
In contrast, the Core5 sports a 400W Shengyi rear hub motor and a fully integrated 500Wh battery, while the Roadster V2 boasts a 350W Shengyi rear hub motor with a discreetly integrated 250Wh battery.
The LMT'D which offers the most powerful ride is powered by a 750W Shengyi motor and a 672Wh battery. The motor can reach a 1000W peak and 100Nm torque, which is impressive.
Q. How much is a Ride1Up e-bike?
Ride1Up offers e-bikes at various price points, but they are mainly offering selections with entry-level prices. The brand's lineup is pretty affordable considering the value one can get.
Prices range from $995 for the cheapest Roadster V2 model to $2,195 for the most expensive Prodigy model.
The Roadster V2 is ideal for urban commutes that offer 24 mph and up to 35 miles of range. The 58 cm variant is on sale as of this writing at $895, while the 52 cm is at $995.
However, you will have to shell out more for a two-toned frame at $1,245. The beginner-type Core5 XR is the second most affordable model after the Roadster V2, priced at $1,045, while the Core5 ST variant is at $1,195.
The most popular 500 Series XR is now on sale at $1,295, while the 500 Series ST is priced at $1,395. Expect to shell out $1,545 for the top performer 700 Series XR and $1,645 for the 700 Series ST.
The powerful LMT'D XR can be purchased at $1,895, while the LMT'D ST is on sale as of this writing at $1,795.
Note: Prices are subject to change in future. ( Prices as on Nov 26, 2021 )
Also Read,
How Much Does An Electric Bike Cost? E-Bike Cost & Average
Is Orbea A Good Bike Brand? Know This Before Buying!