Trek and Specialized are two pioneers of Mountain Bikes. They are too good to not divide the opinions of experts, professionals, and amateurs sharply.
Let me be straightforward, I bend towards Specialized marginally. I have my reasons and will elaborate them later. Being an enthusiastic mountain biker, it's been a tough choice and I cannot take the credit away from Trek either.
Both these brands have evolved differently. They have their similarities, but there are fundamental differences too. That's one thing that makes them worth comparison.
They are poles apart in their core understanding of innovation in mountain bike technology, yet they converge at crucial points. Over the years, they have tried to match each other. To the extent that, there's a comparable model in the Specialized collection for every Trek Mountain Bike model.
This article will offer a detailed comparison of these two exciting mountain bike brands en route:
The main features of the Mountain Bike types of each.
Outlining the differences in their approaches and what each approach offers to mountain adventurers.
Price comparison
Comparison of fundamental features like Rear Suspension technology, components, and materials.
My personal experience with the models of each brand.
Trek Bikes – An Overview
For Americans, Trek is to bikes what Ford is to Cars. That's the simplest way of describing the authority of this company over Bike market and innovation.
It's proudly into its fifth decade of operations. Ever since its inception in 1976, Trek has led the way in Bike design.
It's tough to find an aspect of technological innovation associated with biking where Trek has not made a path-breaking contribution. Trek Mountain Bikes are no exception to the trends and standards that define the company.
Trek Mountain Bikes
Trek's an absolute leader of Mountain Bikes' design innovations. It produces over seven dozen different mountain bike models across eight overlapping categories besides two types of Electric Mountain Bikes.
Entry Level and Beginner – Crafted for an enjoyable and encouraging mountain biking experience. Kids fall in love with these.
Aluminum – Lightweight yet durable, these engineering marvels allow you to satisfy the adventure quest.
Hardtail – These come with just the front suspension to maximize the thrill and joy of control.
Women's – Each bike in this category are designed after meticulous research. Each bike caters to a specific type of women biker.
Trail – Versatility, durability, and robustness engineered together is the best way of describing these bikes. Climb, descend or go for a long-trail!
Cross-Country – Racer's pride that takes miles into stride effortlessly.
29er – 29" wheel bikes constructed for speed, stability and control.
Carbon Bikes – Made from OCLV Carbon (patented), these are all-around bikes with exceptional durability and performance.
Specialized Bikes – An Overview
Specialized is an older brother of Trek by a couple of years. Unlike its younger sibling's focus on bike technology, Specialized focuses on biking experience. Wouldn't be an overstatement to say that Specialized design experiences and shape lives, and not just design bikes and shape frames!
Their perfectionism is not oriented towards state-of-the-art biking technology, it's directed towards developing the mountain biking sport. They've been doing that for about five decades now!
Ironically, even though Specialized bikes score slightly low on the engineering front than its competitor, the credit for making Mountain Bikes a specialized category goes to them.
They are known to break the innovation deadlocks in Bike technology, rather than being consistent innovators.
Specialized Mountain Bikes
Specialized offers over six dozen Mountain Bike models across five fundamental categories. It also boasts of three different Electric Mountain Bike types.
Cross-Country – If it's about the adrenaline rush, this should be the choice. Specialized Cross-Country models are preferred by professional cyclists and amateurs alike.
Trail – Rough, steep, or the unexpected, these bikes would be your ultimate companions in tough situations and most daring adventures.
Downhill – Innovation at its best! These bikes are professional and hobbyist bikers' delight. Adventure, experiment, and explore!
Fatbike – No matter how soft it is underneath, this piece of engineering will be firm, self-adjusting and smooth.
BMX/Dirt Jump – Fly, jump, or hop! Doing the unpredictable, stunning the spectators, or motivating yourself from the inside, this bike would be your buddy.
Price Comparison: Trek Vs Specialized Mountain Bikes
Even though it's not a consideration for professional bikers, price is one of the foremost criteria while choosing a mountain bike. Let me add that there are too few professional mountain bikers when compared to the total number of mountain bikers.
Therefore, in the mountain bike market, the price comes out to a crucial factor.
Trek not only offers a slightly higher variety of mountain bikes, but its lowest-priced bike is also cheaper than that of Specialized. The price range of Trek Mountain bikes begins at $420 (Model: 820), while the lowest priced Specialized bike can be bought at $520 (Model: Pitch 27.5).
The most expensive Trek Mountain Bike is Supercaliber 9.9 XX1 AXS, which is priced at $10,499. The costliest Specialized Mountain Bike is the S-Works Epic. It costs $11,500.
In the Electric Mountain Bike category as well, Specialized bikes are pricier than Trek ones. On average, it's fair to say that for similar models, Specialized Mountain Bikes will cost a few dollars more than Treks.
However, let me add that Specialized has a free shipping offer for orders above $150. The order will have to be placed through their official website.
In the case of Trek, the shipping charges will depend upon the retailer.
Usually, free shipping starts around orders of $50 or above. When charged, the shipping costs will depend upon the distance the retailer will have to cover to deliver your adventure machine!
Features Comparison Between Trek And Specialized Mountain Bikes
Before moving to more specific comparisons, let's understand what makes Mountain Bikes distinct. These features, specifically found in mountain bikes, would be the ones worth comparing.
Overall, an advanced Mountain Bike could have the following components. Often, a group of these parts makes a system, which we usually compare. Comparing every part would be tedious!
But anyway, Mountain Bike lovers wouldn't mind considering every minute aspect of the bike design.
Like the Front Set ( Headset, Front Brakes, Shock absorber, Headtube, Handlebar grip, Suspension Fork ), Wheel Set ( Tires, Hub, Spokes, Rim, Valve ), Frame, Saddle, Chain And Pedal ( Chain Rings, Pedal, Chain, Crank Arm, Rear and Front Derailleur, Cassette ), Rear shock and disc Brakes.
Mountain bikes are comparable based on these categories.
They are based on the fundamental mountain bike design. However, there's a better way of comparing the mountain bikes' design.
It is based on the categories drawn by experts and professionals. The basis of this classification is the mountain bike in motion. Ultimately, your mountain bike is only as good as it is in action. No matter how good its separate components are, if they fail to work in tandem, you'll be in for a forgetful experience.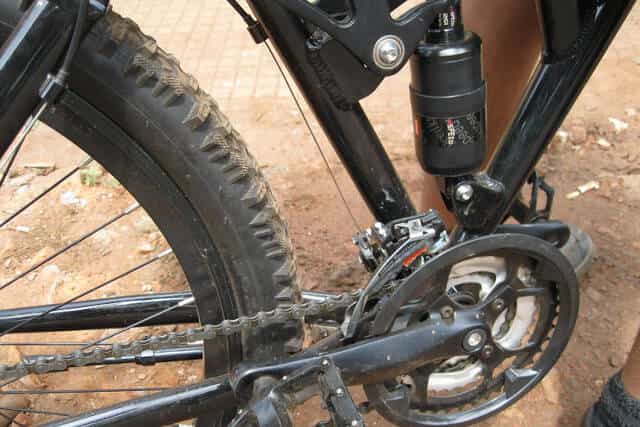 Rear Suspension Design Comparison
A mountain bike's Rear Suspension Design is of greatest significance? Why? It's the Rear Suspension Design that decides how much burden the rider is going when the bike receives rear shocks. It's crucial since the rider tends to shift the center of gravity towards the front on a mountain trail.
Rear Suspension is a system that lowers the impacts from the rear. It has a direct bearing on the control and stress on rider's body. It is a dynamic system in which many parts interact to produce best results.
Trek has laid consistent emphasis on perfecting the Rear Suspension Design. Today, its full suspension mountain bikes offer Active Braking Pivot, Full Floater and Mino Link rear suspension designs.
1 ) Active Braking Pivot
It allows the rider to stay in control and avoid skidding by keeping the rear suspension at work when brakes are applied. It's a patented innovation and a path-breaking one too.
2 ) Full Floater
This keeps the shock suspended between two points. It enhances the rider experience and control on terrains that have numerous minor bumps. Full Floater allows an overall control over the shock. It also avoids wastage of pedaling force.
3 ) Mino Link
Mino Link allows customizing the mountain biking experience. Essentially, it will let you adjust the geometry of the bike. You can tune the head-tube angle by half degree and the bracket height by 10mm to gain better control.
Specialized too has innovated with Rear Suspension Design. It's known as Future Shock Rear Design or FSR. This system is designed specifically for very rough roads.
It's a light suspension attached over the head-tube. It ensures impeccable control and firmness to the rider. Overall, I am a fan of FSR and Active Braking Pivot both.
If it's a challenging path you have decided to tread, then go with Specialized FSR. It surpasses expectations and will ensure that you enjoy the adventure to the hilt, both physically and mentally.
If you are not very confident on a bumpy mountain route, then Trek's Rear Suspension Design innovations would be the smarter choice to make. They are technology translated into control and comfort.
Comparison Between Components And Materials
This can be a long discussion, but let me cut it short. The frame material is the most important. Frankly, it would be childish to expect these two leading brands to leave any flaw in their frame materials.
Both Trek and Specialized offer state-of-the-art aluminum alloy frames in their basic bikes. They spend quite a lot of time and energy designing the perfect frames. As we move towards the costlier bikes, we can avail more durable, lighter, and more design amalgamable carbon frames.
I must add that Trek has innovated better with the aluminum alloy based frames than Specialized. If chosen carefully, Trek's aluminum frames can match the performance of Carbon frame on either brand's MTB models. Of course, just the basic models, and less rigorous rides.
Considering the crucial components such as brakes, crank sets, shifters, derailleurs, levers and brackets, there isn't much that separates the two brands.
Both Trek and Specialized use high-performance components from Shimano and SRAM. It's obvious that they wouldn't want to take chances with these complex mechanisms after getting the fundamentals right.
If you want to ensure hassle-free initial seasons, I would suggest Specialized models.
They throw in more proportional value into their components. Their models require later and less often component replacements than Treks.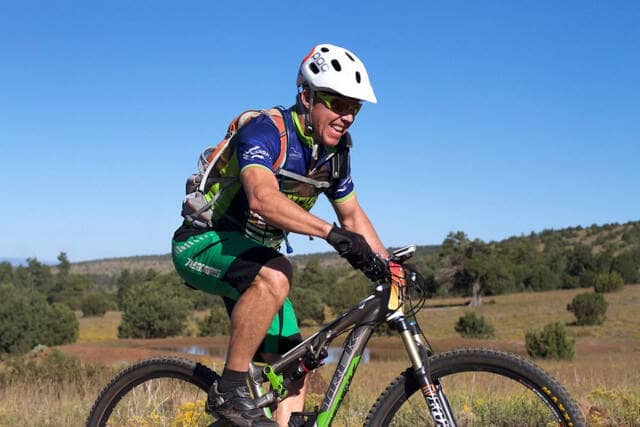 Mountain Bikes' Range Comparison Between Trek and Specialized
No surprises in store here. Trek wins! However, Specialized does not lose.
Trek offers a higher level of sophistication in its Mountain Bike models range. It has nine of them, including the Electric Mountain Bikes. Also, unlike the Specialized Mountain Bikes models range, each of Trek's categories allows you to choose from at least two options.
Trek Mountain Bikes – Categories
Aluminum Mountain Bikes
Beginner / Entry Level Mountain Bikes
Hardtail Mountain Bikes
Women's Mountain Bikes
Trail Mountain Bikes
Cross-Country Mountain Bikes
29er Mountain Bikes
Carbon Mountain Bikes
Electric Mountain Bikes
Specialized MTB's – Categories
Downhill Mountain Bikes
Fat Mountain Bikes
Dirt Jump Mountain Bikes (BMX)
Trail Mountain Bikes
Cross-Country Mountain Bikes
Electric Mountain Bikes
Obviously, Trek has a greater number of Mountain Bikes models to offer than Specialized. It beats its competitor by about a dozen models.
However, in the upcoming Electric Mountain Bikes category, Specialized offers three models as compared to Trek's two. Seems like keeping with the tradition, Specialized wants to leave its imprints on the trail of innovation first!
I must reiterate that even though Trek's slightly superior in numbers and technology, as regards distinct and unique biking experience, Specialized outscores. We may say that Trek offers a wider range of models, while Specialized offers a broader range of experiences of mountain biking.
Which Brand is Better Overall? Trek or Specialized?
Let me finish the formalities first. I like Specialized Mountain Bikes better. My intuition has always asked me to take the Specialized bike for the mountain trek.
However, honestly, I don't want to be harsh to the hard-working engineers and designers at these two fiercely competing brands. Each biker likes to enjoy mountain biking adventure in his own way. It's from these preferences of adventure that our opinions stem.
If you are the tech testing type of rider, you are likely to choose Trek Mountain bike over a Specialized model. Contrastingly, if you love feeling the biking adventure in the mountains like me, you will root for the latter.
I must underline another enormous difference in the very approach of the two brands. Trek allows you to design your own bike, at least to a certain extent. Their mountain bikes are customizable. So the adventure begins right at the time of choosing which model to choose. You can almost assemble your own Trek mountain bike, thanks to their customizable designs.
That's not the case with specialized bikes. They try to produce meticulously tested, complete biking solutions. The adventure is more intense with Specialized bikes. You know at every juncture that the bike's going to be only as intelligent and fearless as you are. That's the joy of it!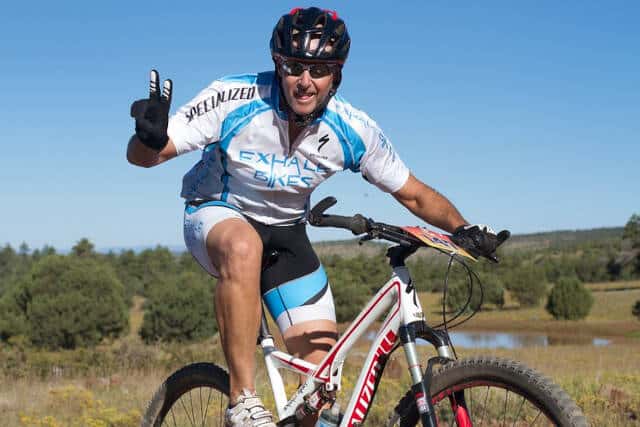 My Experiences With Trek And Specialized Mountain Bikes
I have tried three models from Specialized and four from Trek (to convince myself that I am not being subjective against those that don't share my opinion).
Let me share my generalized experiences with both. I have loved the Trek's aluminum alloy frames more, perhaps slightly more than my favorite model from Specialized.
Trek's "sum is greater than its parts" is something I have always admired. It's only at a really tough trail, or with tired limbs towards the end of the route when Trek's technological superiority comes to the fore.
Until such moments, I have seldom felt the difference. At times, I have realized a slight burden on my pocket since I have had to find replacement parts a bit too often.
My Specialized Mountain Bike has driven me through rocky, hilly and forested trails. It takes just a few kilometers of ride to feel the confidence and absolute control of the route.
I love the way the Specialized bike adjusts with my weight and style. Care to ignore my bias, but I think that Specialized mountain bikes are no less than thinking machines!
I am ready to spend a bit extra to believe in this conception of mine in the future.
Conclusion
It's a tie between Trek and Specialized Mountain Bikes on adding up the final scores! Both brands have been true to their values since their inception.
Trek's about consistent experimentation and innovation, while Specialized focuses on groundbreaking developments and a wholesome biking experience.
There are ample Mountain Bike types and models that each of these brands offer. However, Trek is leading the way with more choices and focused designs for different age groups, gender and adventure type.
Though Specialized is not far behind, it believes in succeeding by perfection and designing not just great mountain bikes, but unforgettable biking experiences too.
Specialized mountain bikes are a bit costlier than Trek's.
In the electric bike category, Specialized is leading the way.
Trek offers more adaptable and better quality Rear Suspension technology and aluminum frames than Specialized. They are however, at par in their quality of materials and components. You may have to replace trek bike parts more often than Specialized bike parts.
Finally, Trek offers customizable bikes too unlike Specialized.
Also Read,
Are Trek Bikes Any Good? Things You Should Know Before Buying!
Giant vs Trek Mountain Bikes: Which One Is Better?
Are Specialized Bikes Any Good? Things You Should Know Before Buying!