If you are looking to know more about the difference between a hardtail, duel suspension, rigid, and fat-tire mountain bikes. You have come to just the right place!
Here we will explain the key differences between each type of mountain bike in the market and the features they host,. Right from electric mountain bikes to fat tire mountain bikes, I will help you navigate through it all.
Apart from this, I will also give you a classification of mountain bikes to make your decision-making process a tad bit easier. Whether you wish to know about downhill mountain bikes or trail mountain bikes, you can rest assured that you are in good hands.
By the end of this article, you will be well-equipped to make a decision and start your adventure today.
Different Types of Mountain Bikes
Eventually, everyone who starts mountain biking asks if all mountain bikes built the same with minor differences. Same as the other bike types road and hybrid bikes. Why name mountain bikes different from full suspension, dual suspension, hardtail, fat tire to gravity mountain bikes.
It is only later I find out although all mountain bikes fall under one banner, they are not all same. These have different suspensions, features, head tube angles, stability, and balances targeting different profiles.
Below is a description of each of these mountain bike types with their features and target profile.
1 ) Dual or Full Suspension
Are you a mountain biker who enjoys riding technical trails that involves jarring bumps, twists, and turns? If so, dual or full-suspension mountain bikes are the way to go.
These bikes are built for the purpose of giving you a seamless and fun experience even on rough terrain.
The rear and front twin suspension technology of these bikes works in unison to give you the experience of a lifetime. Technical paths come with several bumps in the road and a full-suspension mountain bike works well to absorb these bumps; thus allowing you to ride for longer without getting exhausted.
Additionally, the suspension technology also lets you increase your speed on the roughest of terrain. These bikes can indeed be a little heavy on the pocket, but I assure you, they are worth it!
Recommended: Diamondback Full Suspension Mountain Bike ( Check Price On Amazon )
2 ) Rigid Mountain Bike
A rigid mountain bike is the complete opposite of the full-suspension mountain bike. These bikes come without any suspension and do not absorb the bumps you may encounter on difficult terrain.
However, they are extremely precise when it comes to handling and are perfect for riding across long distances. Moreover, their strong and rigid frame is sure to give you supreme control while riding.
Although this bike may cause you to have a less comfortable ride, its non-dynamic frame movement is sure to equip you well to take on a precise course.
Additionally, this bike will not burn a hole in your pocket and will ensure you can take on a detailed path with ease. These bikes are preferred by beginners biking on easy to moderate trails.
3 ) Hard Tail MTB's
Are you bored of riding the same path over and over again? Using a hard-tail mountain bike is the perfect solution to this problem.
The bike is sure to make add a pinch of excitement to your ride and guarantees a fun adventure. This bike is also an intuitive and responsive one, that reacts to input provided almost instantly.
A hard-tail mountain bike lacks rear suspension, but its front suspension technology helps you stay alert and safe at all times. If you are an avid rider and wish to climb for hours, this bike is the one for you.
Its powerful wheels and light frame make uphill climbs seem like a piece of cake.
Recommended: Mongoose Tyax Comp Rigid Hardtail Mountain Bike ( Check Its Price On Amazon )
4 ) Fat Tire Mountain Bike
If you are worried about maintaining your grip and having control of your movement on rough terrain. Fat tire mountain bikes allow you to explore your adventurous side in a safe and controlled manner.
The climate is no obstacle when it comes to these bikes, as they help you maintain your balance even on snow and sand and do not give way in strong winds.
The tires' pressure is such that it allows for supreme comfort and shock absorption. Additionally, fat tire mountain bikes are sure to help you get in a workout during your ride, as it weighs more than other bikes.
Buying it is more of an investment than just a purchase, as maintaining it is as seamless as riding it.
Recommended: Mongoose Dolomite Mens Fat Tire Mountain Bike ( Check Price On Amazon )
5 ) Electric Mountain Bike
With the progress technology has made in the world today, the mountain biking world has not been left untouched. About 1/4 of all new mountain bikes sold in the US are electric.
With electric mountain bikes, you can make your biking adventure more exciting with features like pedal assist. Sounds great, doesn't it? These bikes are sure to give you the extra boost you need while making an uphill climb and also require you to exert very little energy.
Several companies manufacture electric mountain bikes and there are several different models available in the market to suit your every need.
Apart from having a hassle-free experience, riding an electric bike also helps you do your bit to preserve nature. Don't hold your self into doubts whether it would be ethical or not?
As long as you are not competing an electric mountain bikes is as ethical as any other bike.
Recommended: NCM Moscow Powerful Electric Mountain Bike ( Check Its Price On Amazon )
Classification of Mountain Bikes Based On Riding
These mountain bikes types i.e hardtail, dual suspension, fat tire, electric, etc can then be further classified into the following categories:
Gravity / Downhill Mountain Bikes
Gravity mountain biking involves riding your bike downhill with the help of gravity to propel yourself downwards. Although this sounds easy, it is easier said than done.
To have a seamless experience while biking downhill, it is essential to invest in a downhill mountain bike. These bikes are built keeping in mind the rough terrain and obstacles you may encounter on your adventure.
They host an exceptional suspension technology that allows for smooth riding on rocky paths.
The suspension is essential for Downhill Mountain biking and these bikes have front and rear suspension, thus gearing you up for a great journey.
The braking technology on these bikes is also unparalleled, thus giving you the confidence to ride to the best of your ability, knowing that you can halt immediately, in case of an emergency.
These bikes also give you stability when riding at high speeds. If you wish to take on a technical and steep course, get your hands on a downhill mountain bike today!
Cross Country
Is pedaling performance your top priority? If so, I assure you that a cross-country mountain bike is the one for you. Cross country riding requires efficiency and endurance, and what better bike to choose than one that specializes in just that? A Cross Country Mountain Bike.
These bikes work well if you plan on traveling extensive paths on your mountain bike. These bikes have a very narrow handlebar and this aids the bike in providing supreme agility and precision when at a high speed.
This feature also makes it easy to make sharp turns navigate through narrow paths.
The stem this bike comes with is also longer than usual, and this will help you maintain a good posture and have a grip even on rough terrain.
Equipped with smooth tires, these bikes can give you rapid speed on your adventure.
Cross country mountain bikes are some of the more light-weight bikes on the market and I'm sure they will enhance your biking experience.
Trail Mountain Bikes
Are you a beginner who is in the market for a mountain bike? Well, then the trail mountain bike is the one you need to get your hands on for sure.
These bikes perform exceedingly well for uphill climbs as well as downhill. The reason this bike is one of the most popular ones out there is because of its versatility.
They are also extremely light-weight and aid in making any adventure you take on a pleasure.
Another word for this bike is a full-suspension mountain bike and this feature is precisely what adds the element of fun to your ride. This bike possesses a wide handlebar, which allows for efficiency while maneuvering and navigating your way through a somewhat technical path.
A trail mountain bike is also sure to put your mind at rest when it comes to riding down steep paths. Its short stem makes this often daunting experience a safe and fun one.
Enduro Mountain Bikes
The Enduro bikes have fantastic suspension technology that allows for seamless travel. The brackets on these bikes are also larger than usual and this aids them in providing you with higher levels of performance.
These bikes also allow you to have complete control over your movement and journey. Their wide handlebars aid in precise motions and this helps you as the rider be in control at all times.
With these bikes, you do not need to worry about the terrain. They self adjust to the needs or simply put will do good for anything you throw their way.
These bikes are manufactured keeping in mind the exact geometry needed for you to have a seamless riding experience. The best aspect about Enduro mountain bikes is the evolution it has made across the years and continues to make as the mountain biking world dynamically changes.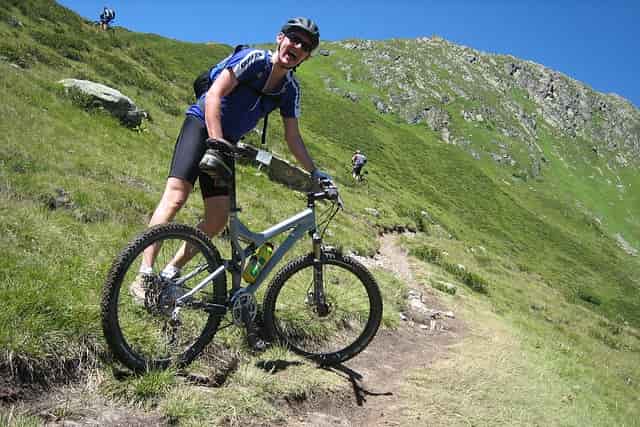 How To Choose the Right Mountain Bike
The first step to choosing the perfect mountain bike for you is to determine the purpose you wish for it to serve in your life. Once you have decided on that, it's smooth sailing from there.
It is essential to choose the right size when it comes to the frame as well as the wheels, as these directly impact your riding experience.
Additionally, test rides and research are the most important steps to follow while trying to get your hands on the best mountain bike out there.
Test Ride
When you first get on the saddle for your test ride, pretend you own the bike and try to lay your finger on what feels right and wrong. It makes sense to ride it like it's your own before you invest a large sum of your hard-earned money in it, doesn't it?
Try to adjust the bike based on your level of comfort and take it for a spin. Play around with the tilt of the handlebars and brakes, so that you can attain maximum levels of comfort.
Once you are comfortable with the adjustments you have made, ride it as your life depends on it.
Do not hold back or be afraid of ruining the bike. Try it out on easy terrain at first and then on a difficult one. Make sure you pay attention to how the bike makes you feel.
Do Some Research
With the internet being at our disposal 24×7, doing research is one of the easiest things to do.
So, why not use the wonders of technology to our advantage and read-up on the various types of mountain bikes out there before making a decision.
Once you know the type of bike you want and the features you wish to invest in, purchasing a mountain bike is one step away. Doing your research is sure to help you gain more insight into these bikes.
Reading other customers' reviews is also a part of doing your research, as this helps you make a more informed decision. I'm sure you've heard the phrase, "Life's a climb, but the view's great." Are you ready to make your decision and test it out for yourself?
Also Read,
Best Full Face MTB Helmets For Enduro & Trail Riding
Can You Mountain Bike without Suspension? – Rigid Mountain Bike
Best Time To Buy Mountain Bikes For Great Deals & Heavy Discount