Do you ride bikes during the summer? Do you want to find a way to hang your bike DIY style on your hatchback car? Believe it or not, there is a way to put your bike on something to ensure it won't fall from your car.
You should use a bike rack! A bike rack is a type of rack that is used to carry bikes wherever you go. Hatchback cars are great because they are perfect for recreational activities.
They also give their owner the right to install a bike rack. Now that you know about hatchbacks/bike racks, how do you put one on your car? Don't worry, we will answer that for you!
How do you fit a bike rack to a hatchback car? The method that you use to install a bike rack will depend on type of the bike and the setup of the rack itself.
Generally, It requires you to put the rack resting on the hatch and then secure them in place with the help of upper top edge straps hooked to the hatch along with upper and lower side straps.
Don't worry If you are conflicted about the height, position, exact method for your car and and are unsure which side should be facing upwards when placing the rack. Look no further.
In this article, we will go through the basic step-by-step on how to install a bike rack onto your car including bonus material about fitting cruisers and kids bike without a top bar.
Our easy to read and follow step by step guide will make fitting a bike rack on your hatchback car or a mini SUV as easy as pie. With this you will be up and running in no time like a pro when doing it.
What Kind of Bike Rack Best Fits a Hatchback?
There are three basic types of bike carrier rack that works well with hatchback, SUV or a 4×4's. This includes the roof mount rack, the hitch bike rack and the most famous trunk mount bike rack.
The most common type of bike carriers used for SUV and hatchbacks are the hitch and trunk-mounted bike carrier racks. But personally I am found of the trunk mount type as it can be used with more than one car of any size or type and is pretty straightforward to setup.
When looking for a permanent solution the roof-mounted bicycle rack provides the most secure option. They keep your bike secure with minimal work but require a larger hatchback to use them.
Regular bikers who do not wish to use a permanent solution like the roof mount racks. Goes for the hitch mounted bicycle racks that can be easily detached and allow them to use the trunk at the same time. The best part, you can fit more than one bike at a time with ease and safety.
The end of the rack is fully adjustable making it easy to use with its stowed and folding positions.
Then there are the trunk-mounted bicycle carrier racks. These are the most popular and versatile bike racks which I personally use and recommend for the average rider.
These are easy to install and can be folded away in a snap. Most of the best affordable bike racks are of this type only as they can be installed on almost all car types of different sizes. All you need to do is to place it on the hatch and attach its straps passing through the hatch door.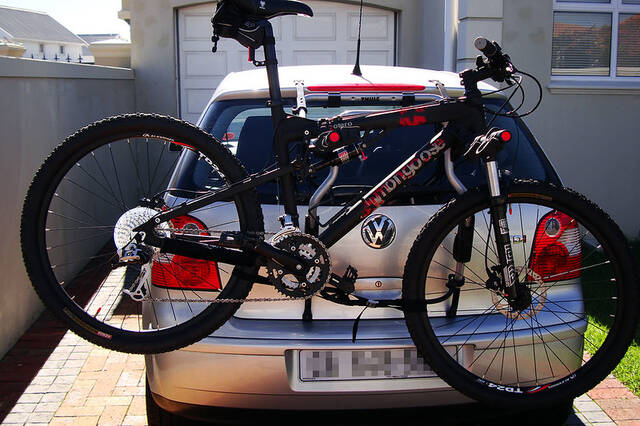 How to Fit a Bike Rack to a Hatchback Car
In total, there are seven steps that you must follow. These are simple to understand and is easy to follow. So, here are the seven steps including a description of what you need to do:
Open Rack Into An Arc: The first important step to do is to open the rack into an arc shape. Shapes vary depending on the model. It also varies on what type of car you have. For SUVs, one end hooks onto the rear window, and the other mounts on the bottom of the trunk. However, for coupes and sedans, you need to hook both ends on the back of the car.
Putting On Clips: These clips help split apart the trunk away from the rack. To install these clips, find a spot where they can easily be put in. Remember to not force them in and make sure you got all clips in before proceeding.
Strengthen The Straps: To do this, pull each of the straps until they are tight. If you don't do this step properly, the rack could come off of your car including your bike, so double-check to make sure the straps are tight enough!
Test It Out: Now that you put the clips on and tighten the straps, it is time to test it out! You can do this step by simply moving the rack side by side. To tell if the rack is secure, the rack should move side to side with the car. If it is not secured enough and feels loose, go back to the straps and tighten them again until it is secure.
Putting The Bikes On Rack: Congrats, you put the rack onto your car! Now it is time to put on your bike. Start by pulling the bike arms up enough that they will lock in place. The arms will hold the bike while you are on the road. Locks vary depending on what bike you have. The arms of the bike should look like it is at an upwards angle away from the car.
Fitting It All In: Now that you lock the arms, you now have the ability to put the bike on the rack. Be wary that you don't damage your car or bike. The top part should be on top of the rack. The weight of the bike should be even. A trick to avoid scratching/damaging the cars is to put a clean rag between the bike and bike rack.
Clamp Arms Down On Frame: Remember that this step will vary on the model and rack you have. Once you put your bike in, the strap needs to be tightened down on the frame to secure it. From there, fastened both arms so the bike will not move. Shake it a little more just to be sure it is fully secured.
There you have it! These are the necessary seven steps to do to install a rack on your car. There are two other ways for two types of bikes that we want to discuss in this article.
How To Fit A Woman's Cruiser
You may not be aware that almost 80% of bike racks ( 95% for trunk mount racks ) on the market today is not designed to fit woman bikes with step through design.
They are designed in a way so the top tube ( Not found in woman cruiser ) of the bike frame sits on the pads of the rack. That is why if you're trying to fit a ladies bike to a rear mounted trunk bike rack on your hatchback car you are going to have some challenges.
But don't worry I am going to explain in simple terms what I had learned from an expert on how to put a woman cruiser ( ladies bike ) on to a trunk type bike rack.
If you have a woman's bike that needs to be attached to the rack, here a step-by-step guide on how to put on a cruiser with two different methods to use:
Method 1: Without Using Frame Adapter
Open The Rack: Like the first step above the first how-to, open the rack. There are different racks, therefore, so opening the one you have will be different. Once opening the rack, you will see different things.
The top tubes of the rack should be facing up and you will see different points where you tighten the bike. Once you put the rack on, put on your bike.
Connecting It To Your Vehicle: Do the straps after you prepare the rack/bike. Start with the first strap then continue along, making sure they are tight enough. It is best to do this step with other people as someone can hold the bike in place and it will go faster.
Securing The Fragile: Fragile parts of your bike include fenders, lights, baskets, etc. To prevent any damage to the fragile parts, make sure the straps are not too close to these parts.
You could also use padding to protect these parts of the bike. These are the three steps to take when strapping in a woman's cruiser. There is one more how-to for installing a bike rack on a car.
Method 2: Using Frame Adapter
It can be very difficult some times to secure a lady's bike on a bike rack like this one if you forget to buy the add on frame adapter with it. This mostly occurs because most lady's bike lacks the horizontal crossbar needed to mount the bike securely to your bike rack.
You may require a top tube adapter. There are many great options in the market like "Allen Sports Tension Bar Bicycle Cross-Bar Adaptor" ( Check on Amazon ) that provide great value for the money.
These bar adapters quickly snaps on to its place providing a temporary top-tube. This enables you to mount your beach cruiser to the bike rack just as any other regular men's bike.
So once the crossbar is put into the place you only need to follow the above mentioned 7 steps to fit your bike rack to your hatchback and mount your bike on it.
How To Fit A Kids Bike Without Top Bar:
There is a tool that you need to use in order to fit a kids bike onto a bike rack. The tool is called a bicycle cross-bar adapter. This is not only used for kid's bikes but can also be used for women's bikes.
The bicycle cross-bar adapter is a bar that snaps onto bicycles so it can be carried easily.
These accessories are designed to work with any brand of bike or the bike rack where the bikes are to be secured. There are four benefits this bar gives to bicyclist:
It gives a top tube for conventional frames
The internal springs keep bikes secure
Plastic hooks protect the bike
It has a lifetime on workmanship and materials
Conclusion
Installing a rack might seem hard at first, but if you follow the seven steps mentioned in this article, you will not have to worry about your bike becoming loose and falling away from your car. Be aware, however, that you need to tighten the straps and to test it out by shaking it gently to make sure the bike is not loose.
Happy bicycling!
Also Read,
7 Brilliant Tips: How To Protect Your Bike From Scratches
Best Car Racks To Go For Electric Bikes | Build Models Types Compared