Do you want to be able to take your road bike out on longer rides and adventures, but still be able to carry all the essential gear with you? Well, one way that a lot of riders are finding is useful and effective for packing everything in is by using panniers.
Attaching Panniers on a Road Bike will offer many advantages. Let me be straightforward.
First, Panniers offer great storage space, along with better scope of organizing the luggage.
They are handy for carrying a single large dimension unit.
Panniers' racks contribute to firmness and enhanced balance, which boosts the rider's confidence.
They save effort in packing/unpacking and carrying the luggage significantly.
But can you actually use panniers on a road bike? In this post, we'll cover what a pannier is, whether or not they're suitable for road bikes, the pros and cons of putting them on (as well as some tips), plus recommendations for the best models available. Let's get into it!
Quick Answer
Yes, you can put panniers on a road bike. It may not be the ideal setup for a long-distance ride but it is possible to do so with some simple modifications. The most popular method to attach racks is with eyelets on the bikes frame. Other methods include using P-Clamps, Seat Stay Mounts or special racks that doesn't need braze-ons to attach.
Mounting a Rack on a Road Bike
You need a rack to mount pannier on your road bike. Today we'll explore the various ways to attach a rack and get your road bike ready for carrying all kinds of cargo.
If you're looking to take advantage of a pannier and attached it to your bike, the first thing to consider is if the bike has eyelets that are necessary for installing a bike rack.
If the answer is yes, then it's time to look for suitable racks. But if that isn't the case, don't worry – there are still plenty of possibilities to mount a rack on your bike!
P-Clamps
P-Clamps, also known as cushioned metal loop straps, are an ideal alternative to bikes that do not have braze-on mounts. They are easy to find in a variety of hardware stores and they are inexpensive and easy to use.
You can easily select one that fits the diameter of your bike tube with the assortment of sizes available.
Installation is also simple; open the clamp, place it over seat stays or fork blades, close shut and tighten with the bolt which will attach your rack at the same time.
The rubber coating will make sure it stays securely in place and does not slip from its position.
Seatpost Clamps with Rack Eyelets
If you're looking for an efficient way to mount a rack on your road bike, investing in a seatpost clamp with rack eyelets is the way to go.
It's a convenient solution as it allows you to install the rack without any additional supports or hardware modifications. While some racks are designed specifically for this kind of mounting setup, most racks will be compatible with this type of seatpost clamp made with appropriate rack eyelets.
This makes it easy to switch out existing racks while taking advantage of the same mounting system.
Riding with a heavy load can put extra stress onto the frame, so having a secure mounting point is crucial for providing good balance and support.
Seatpost clamps with rack eyelets offer an affordable and reliable alternative when traditional settings aren't available on your bicycle.
Tubus Stay Mounting Clamps
Tubus Stay Mounting Clamps are a great product for anyone who needs to fit a Tubus Rack to their bike, but does not have the proper eyelet mounts.
While similar to P-Clamps, these clamps were made specifically for attaching the Tubus Racks without any difficulty or extra modification.
The only downside of these clamps is that they have no rubber coating and can potentially leave marks on your paint or frame if not used with caution.
Nonetheless, if convenient mounting is your priority they remain an important item and an ideal solution.
Quick Release Rack Mounting Kit
The Quick Release Rack Mounting Kit is the ideal solution for cyclists who don't have a lower braze-on mount on their bike.
This rack can be fastened quickly and securely outside of the bike's axle dropouts with a longer quick-release skewer, making it easy to attach Tubus racks or other compatible ones, even over top of V-brakes.
Thanks to this versatile mounting kit, cyclists can now take their bike racks with them wherever they travel without having to make any permanent changes or modifications to their bicycle.
Rack Options for your Road Bike
If you are ready to equip your road bike with a bike rack, then you have to consider the type of rack that fits your bicycle. There is now a wide range of choices in the market, each offering their own pros and cons.
Before selecting one of the available options, do some research and decide which particular design best suits your needs and specifications.
Always take into account your current bike setup when deciding on a rack—ensure it's compatible with size as well as frame design.
With the right product chosen and installed properly, you'll have a safe ride with no worries.
1. Rambo Extra Large Cargo Rear Bike Rack
As the name suggests, this rack allows an excellent carrying space. It has a rugged design, built and feel. Made from Aluminum alloy, this lightweight rack ensures greater luggage weight without straining the muscles.
It should be your ideal choice if you are up for a long trip and have plenty of stuff to take along.
This is particularly a strong rack and can compactly fit heavy loads. The design comes with ample rods to hook, tie and fix the Panniers tightly.
This bike rack is one of a kind, offering the choice to mount it with or without eyelets. Plus, you don't have to worry about finding your own skewer – it comes conveniently included!
Features and Benefits:
Dimensions: 18. 75″ X 15″ X 7″
Weight: Lightweight
Built: Strong. It takes away the concern for mid-trip breakdown.
Design: Its special design offers enormous space for fastening and hooking the luggage.
Looks: Rugged, immune to scratches and rusting.
Luggage Capacity: Can carry heavy luggage.
Usage: It is usable as a stand-alone rack on any bike whose frame can support it. It suits almost all varieties of Rambo models. However, it cannot be used with Rambo R35 models.
Price: Even though it is slightly pricey, but its durability, strength and lightweight make it value for money.
---
2. Thule Pack 'N Pedal Tour Racks
The Thule Tour bike rack is a unique rack that can be applied to the front or rear of almost any type of bicycle.
No matter whether you're riding a mountain bike or a traditional road bike, this rack will likely fit and provide you with the resources for carrying panniers with ease – all while keeping them balanced on your ride.
Plus, as this rack is designed with carbon bikes in mind, it wraps itself around both your seat stays and fork in order to provide optimal stability.
That being said, this particular accessory may have its limitations when it comes to size – as loads that are too large could throw off the balance of your ride.
All in all, however, if you're looking for a reliable way to keep your possessions safe while cycling, consider trying out the Thule Tour bike rack!
Features and Benefits:
Dimensions: 6.7 x 14.0 x 11.8 in
Weight: 2.42 lb
Built: Strong, in fact many says its much tougher than it should be.
Design: Works on the rear seat stays and front fork.
Looks: Rugged, immune to scratches and rusting.
Luggage Capacity: Can carry moderate luggage.
Price: Not very cheap.
---
3. Blackburn Outpost Fat Rear Bike Rack
A complete racking solution for Road Bikes – that's the best way of defining this Blackburn product. Ideal for any width and size of tire, it can be fixed both on the front and the rear.
If that's not enough, it is compatible with the disc braking system too.
This rack is a rare design and scores between good and excellent in all departments. It's easy to install with adjustable height and width.
Features and Benefits:
Dimensions: This rack has adjustable dimensions. It's an all-rounder rack, suited for tire dimensions of 26" up to 29", and tire width of up to 3".
Rack Weight: 1406 g
Built: It is made with special aluminum alloy that keeps it lightweight yet imparts is strength and durability.
Design: This rack has a design that has become the envy of every rack and bike accessories company. It is super-adjustable, can be used in the rear or front, and offers maximum height and width adjustments. All of this, without having to bend or stretch anything.
Usage: It's quick and easy to install, and ideal for carrying heavy luggage over long distance trips.
Price: With its features and versatility, the price is justifiable.
---
4. Seat-Post Mounted Rack
If you need to transport objects on your bike but don't want the hassle of a permanent configuration, Ibera's Seat-Post Mounted Rack is a great choice. It's easy to install and convinently ready whenever you need it.
However, unless you only plan to use the rack for short-term use, I wouldn't recommend it. The weight of a heavy load would add stress to your seatpost, which could potentially lead to damage over time.
Ultimately it will be up to you to decide what load your bike can realistically handle while affixed with this rack as the main source of support; but in any case, always be mindful that the rack is only attached to the seatpost so consider that when making a judgement call about how heavy you should go.
Features and Benefits:
Dimensions: 17.5 x 5.5 x 3 inches
Weight: 1.5 lb
Built: Comparable strength, Durable, lightweight aluminum.
Design: Easy to install, compatible with most bikes.
Luggage Capacity: Can carry moderate luggage.
Price: Cheap / Budget friendly.
---
5. Streamliner Rear Rack from Axiom
This bike rack is specifically designed to effortlessly fit onto any road bike irrespective of its size / type, and securely mount onto the brake ridge with its quick-release mounting system.
Once mounted, users can reap the benefits of this rear rack's innovative wedge shape which allows it to keep a low center of gravity – much closer to the rear wheel than other models.
This unique design allows for improved stability and handling when riding.
Features and Benefits:
Dimensions: 7.87 x 11.81 x 19.69 inches
Weight: 0.25 lb
Built: Lightweight yet strong. Specially designed hardware attached to brakes.
Design: Easy to install, compatible with most bikes.
Luggage Capacity: Can carry heavy luggage.
Price: Budget friendly.
Mounting Pannier on the Bicycle's Rear Rack
Rear Racks are also known as Pannier Racks. We attach them to the bike, usually for mounting Panniers.
The primary purpose of the Rear Rack is to avoid contact between the spokes and the pannier. Obviously, it is the rack that will hold the Pannier firmly.
Let's see how to mount the Pannier to the Rear Rack:
Step 1: Locate the Pannier hooks and place them on the side rod of the rack. Exert a little pressure on the Pannier from the top. You would see that the hooks get clipped on to the rack.
Step 2: If your Pannier has a rotating clip on its back, adjust it to fix the bag with the rack firmly. The rotating clip usually fixes against the horizontal, slant, or diagonal bar of the rack.
Step 3: Take the Pannier strap and wrap it through the rack rods. First, take the strap towards the bottom rod and from there, move upwards to the top rod. Make sure that the strap wraps around at least one rung on the rack.
Step 4: Finally, use the pannier buckles, other straps, or simply a rope to fold the Pannier to compactness. This will ensure that it holds tighter to the rack.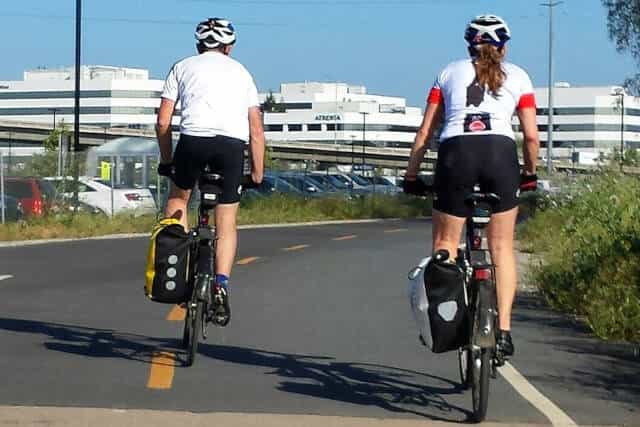 The Downsides Of Installing Panniers On a Road Bike
Panniers can be a great addition to any bike, but they also come with some drawbacks. Chief among them is the added weight of the pannier system.
Panniers add considerable bulk and pounds to a bike, which can lead to slower acceleration and more wear and tear on components like brakes and tires.
This extra weight can also lead to significantly reduced climbing abilities, making it harder for riders to tackle hills and more exposed terrain.
Additionally, panniers can also limit the maneuverability of a bike, as they can interfere with steering and cornering.
Furthermore, as most road bikes have frames that are not designed to take the extra weight or stress that panniers put on them, this can lead to premature fatigue and even failure of the frame itself.
Consequently, it is important for riders to be aware of these possible drawbacks before installing panniers on their road bikes.
The Best Bike Panniers For Road Bikes
1 ) Ibera Quick-Release All Weather Bike Panniers
This Panniers pair is stylish, compact and durable at the same time. It is designed in a shape that enhances airflow and reduces sweating. It is suited for daily use or for longer adventure trips.
It takes just 3 seconds for clipping and unclipping. You wouldn't require straps to attach it to the bike rack.
Each bag has ample compartments to keep the stuff organized. The pockets and compartments are carefully designed for easy access.
This pair will allow you to carry loads of stuff to the trip without looking or feeling bulky. Don't worry about the rains, it comes with a waterproof cover!
Features and Benefits:
Dimensions (each bag): 5.7 in x 11.8 in x 5.9"
Materials: Water-proof Nylon
Carrying Capacity: 15 L and up to 9 kg for each bag.
Compatibility: This pair is really versatile and can attach easily to all varieties of racks.
Compartments: Each bag has a large pocket enabling easy and protected space for things like laptops and cameras etc. There's a pocket at the top besides drawstring type of pouch.
Opening, Closing and Setting: Elastic bands with buckle straps enhance efficiency, while adjustable bottom hooks allow it a firm fit with different rack designs and types. The 3-point interlocking mechanism allows stability and avoids swinging.
2 ) Rhinowalk Bike Bag Waterproof Bike Pannier
This is a great Pannier Bag if you have to carry your laptop of up to 14". It is designed for the ease of carrying the large gadget and keeping it safe from shocks and water.
It's a rear rack Pannier Bag that offers stylish looks and high capacity to carry stuff over medium distances. Everything is so easy to place and access from this bag.
The bag offers protection from water and heat. Made from polyester, it will surprise you by its ever fresh looks and stain and scratch resistant built.
I would insist that you check the specifications before choosing this one because it is not designed to fit with all racks. However, the good part is that it also usable as a regular backpack or handbag.
Features and Benefits:
Dimensions: 17.7″x8.66″x12.6″
Materials: Water-proof Polyester and Mesh
Carrying Capacity: Up to 27 L
Compatibility: Compatible with specific rack designs only. This bag fit preferably with racks that have an elaborate rod design with diagonal or horizontal rods.
Compartments: It has a simple big-opening multilayer compartment design. This bag is good for carrying smaller stuff like Smartphone, keys, stationery, wallet etc. in an organized way. Thanks to a dedicated pocket for these.
Opening, Closing and Setting: It comes with a belt, buckle and a 360 degree adjustable back hook for attaching to the rear rack. It has a 17.3 mm adjustable mechanism for main rack rod attachment with detachable hooks.
3 ) VAUDE Aqua Plus – Rear Pannier Bike Bag Set
This is a customizable, smart-looking and environment friendly Rear Pannier Bag pair. Made from water-resistant PVC free Tarpauline, it's a great bag pair for long bike tours.
Each bag is customizable for size reduction allowing better aerodynamics. Moreover, the ratio of bag weight to carrying weight is excellent, one of the best in the industry.
The identical bags have a simple design with basic compartment and a pocket which allow large dimension luggage.
This Pannier pair is specifically designed for adventure trips. However, you would love it in everyday use as well. Thanks to material quality, it will retain its charm and won't disappoint when put to the real task.
Features and Benefits:
Dimensions: 14.56 x 13 x 12.2"
Materials: Water and Scratch resistant Tarpaulin and Polyester
Carrying Capacity (Pair): Up to 51 L and 25 kg
Compatibility: Compatible with most rack types.
Compartments: Main large compartments in each bag coupled with an inside pocket for better organization of stuff.
Opening, Closing and Setting: The pair boasts of a specially designed QMR2.0 attachment mechanism that offers intuitive interface. Back hook helps in locking with the bike-frame and prevents swinging. Each bag comes with a side-roll, removable shoulder strap which can be used for fastening, and top roll.
4 ) MaxMiles Bicycle Waterproof Rear Pannier Bag
This Pannier Bag can be carried on the top of the rear rack. It is waterproof and looks sturdy. It can be attached on almost all bicycle rear rack setups. Its sleek design promotes better balancing to the rider.
This one's essentially a Pannier that is suitable for everyday use, or to enhance the organization of luggage on the long trip. It is especially designed to allow easy access to bottles, maps, binoculars, etc.
It's a customizable bag, and there's a range of sizes it can be folded and unfolded into. Whether you want to fit the stuff of two medium-sized Panniers tightly, or you want a compact storage, this bag will impress you.
Features and Benefits:
Dimensions: 14 x 10 x 7"
Materials: Water resistant Polyester
Carrying Capacity: Up to 35 L, and 10 L when folded to maximum compactness.
Compatibility: This is a very versatile bag and can be attached to the top of the rear rack of any type of bikes of all sizes and design.
Compartments: This bag offers great organization. There's a main compartment, zipped side pockets, bottle mesh, and map holding pocket.
Opening, Closing and Setting: The shoulder strap is adjustable. The handle allows adjusting the bag while attaching, or carrying it standalone.
5 ) TOURBON Roll Top Pannier Backpack
This is a classy-looking Pannier Backpack for women that can double-up as a plain handbag. Easy to hook and attach, and designed smartly for easy-access, this bag is women riders' first choice. Its attachment clips are plastic coated that allow smoother functioning.
Despite is sleek look and limited carrying capacity, it scores big with the level of organization it offers for the belongings.
It's a kind of bag that adds dynamism to everyday life with its firm structure. Shoulder straps add to its versatile utility.
Features and Benefits:
Dimensions: 15.75″ x 4.33″ x 11″
Materials: Scratch resistant Nylon, and cotton webbing on handles.
Carrying Capacity: Up to 12 L
Compatibility: This is a multi-purpose bag. It can be attached to the top of the rear rack of any type of bikes of all sizes and design. It is designed primarily for everyday usage and short trips.
Compartments: This bag offers high level of organization. Besides the main pocket designed to carry a laptop, there are three internal pockets. If that's not enough, there are two side pockets and a front pocket too. No more worries of organizing and accessing the possessions!
Opening, Closing and Setting: This Pannier is really quick to attach or detach, thanks to its plastic coated clips. The handles allow adjustment while setting, while the shoulder straps ensure a firm fit on the rear rack.
Conclusion
So, to wrap up, we've established that you can indeed put a pannier on a road bike—and do so in different ways.
From the classic, understated look of bike racks and panniers to attach to your current frame, to more streamlined setups that attach to your bike brakes and onboard storage solutions like saddle bags, you have plenty of options for carrying gear and belongings with you by bicycle.
Whether you're looking for utility and practicality or just want to add some storage capacity for longer rides, there are many solutions available for attaching panniers with ease.
Each one offers unique advantages depending on the type of road bike setup you're working with; so why not start exploring what's out there and see which route works best for your needs? You'll be glad you did!
Also Read,
Ultimate List Of Best Front Bike Racks For Touring & Bike-packing
9 Best Bike Messenger Bags 2022 | Work + Travel + Leisure
Best Small Handlebar Bags (Burrito Bag) For Commute & Travel