Bikes are a great way to get around quickly, efficiently and environmentally, but one drawback to their size is that you can't transport as much stuff with you on a ride.
Luckily, most people just need essential items that can be fitted into a small bag. And one of the best and most convenient bags to use on a bike is the handlebar bags, also known as the burrito bags.
It is compact enough to hang comfortably between your handlebars without disrupting your grip.
Another benefit of handlebar bags for bikes is that they are relatively cheap, especially when compared with options like the large bags that can be mounted on your rear rack.
All of your belongings will be safe inside a handlebar bag too and you'll be able to see straightaway if it does start to come loose so that nothing will be damaged.
Having an eye on your things while you cycle will allow you to relax more during a ride too. With all of this in mind, we've rounded up 10 of the best options for you.
Why Carry a Bicycle Handlebar Bag?
Using a bicycle handlebar bag is a personal choice. There is no rule, no right or wrong way about preferred storage for bikers. However, the advantages of having this kind of storage are undeniable.
Sure, it is not a requirement before going on a short drive.
But after a few hundred miles or so, you will definitely find that these pouches are the easiest and most accessible way to carry around your most important belongings and useful tools.
I am sure no one fancies repeatedly stopping and getting off to open a backpack, pannier, or trailer each time they wish to check their map, phone or simply just to take a picture.
The same can be said about clunky pockets. A handlebar bag provides safe storage without requiring any special accessories or modifications to your bike. Installation is straightforward.
Because of its location, the comfort of the rider is not sacrificed and you won't have to worry about losing your stuff because it's literally right in front of you.
Most bags can be removed from the bike in no time at all and without specialized tools, so a quick restroom stopover will not be a game of "will I be robbed or not". Your stuff is also safe from the elements.
Best of all, decent-quality but inexpensive models are not unheard of.
What To Put in Your Handlebar Bags?
Because of the handlebar bag's excellent mobility, you can store practically all of the most important belongings and biking implements in this one bag provided that they fit.
What items to carry in the bag will depend on the individual biker's preference and needs but here are a few things you should consider storing.
Wallet and Keys
Bicycle Tool Kit – Repair tools, mini pocket knife, spare inner tube, workshop gloves
Gadgets – Phone, camera, power bank, flashlight, earphones
Hygiene and Care Kit – Sun cream, disposable wipes, rubbing alcohol, spare masks, small first aid kit, sunglasses
Provisions – Energy bars and other snacks
Documents – Passport, identification cards
10 Best Small Bicycle Handlebar Bags For Daily Use
1. ArcEnCiel SAHOO Front Waterproof Bike Handlebar Bags
This first bag by ArcEnCiel is perfect for storing all your essentials. Its 3L size will allow you to fit plenty in and the material is also padded and waterproof, so you won't need to worry about anything getting bumped or wet.
The tight hook and loop strap can be easily fitted onto your handlebars and if you do get off your bike during a ride, it converts into a shoulder strap.
The grey reflective strips are an even bigger bonus that will make you feel more comfortable cycling in the dark.
If your biggest worry about cycling is that you might lose your cell phone, you'll love the transparent window at the top of the bag designed for that very purpose.
And all the pockets and compartments on this small bag are completely secure and within easy reach of the cyclist.
And the compact size is just right for preventing your knees being knocked during the ride, which will allow you freedom of movement.
You'll find that this bag is a great match for almost every bike model, including road bikes and mountain bikes.
ArcEnCiel SAHOO Front Waterproof Bike Handlebar Bag: Check Its Price on Amazon!
2. ROCKBROS Bike-packing Bike Handlebar Front Bag Roll
Another great compact option that can be clipped securely onto your bike's handlebars with strap storage loops.
One thing that sets this bag apart is that it has an adjustable length to allow you to fit up to 14L inside, meaning that you can use it to transport bigger items like waterproofs or warm outer layers.
The external elastic cords help to keep everything safely inside the bag and can also be used for attaching other items that you want to be able to reach without opening it.
The bag is made with waterproof TPU film that protects all the items inside it. The 600D nylon is super tear resistant and hardy, which makes it an especially good choice for off-road cycling and mountain biking.
If you are cycling out to a campsite then you don't need to worry about transporting the essentials either because this bag can comfortably fit a 3-person tent.
And if you do choose to utilize the exterior straps, they are designed to hold your items up and away from the wheels, so nothing will get tangled.
ROCKBROS Bike-packing Bike Handlebar Front Bag Roll: Check Price on Amazon!
3. WOTOW Water-Resistant Bicycle Handlebar Bag
This handlebar bag by WOTOW looks just as good as it functions. A bit larger than the previous two it is designed to avoid knocking your knees or swaying about when you are cycling.
You can fit 3.5L inside and store your cell phone in the transparent pouch on top. As the name suggests, this bag is mostly reflective, with most of the front area being made that way to make the rider completely visible.
There are also two water bottle pouches on both sides of the bag, which is great because you won't have to lean down the bike frame to grab your drink.
The four internal compartments and zipper pouches allow you to better place your items and keep them all in order.
The larger design also means that you can comfortably store bigger items, such as repair kits and smaller tire pumps. This bag will keep your belongings safe and dry, which makes it a perfect fit for any type of bike.
WOTOW Water-Resistant Bicycle Handlebar Bag: Check Its Price on Amazon!
4. ROCKBROS Bike Front Frame Storage Handlebar Bag
A second recommendation by ROCKBROS, this bag is absolutely perfect for commuting and travelling. It stands out for its cylinder shape, which can surprisingly fit 2L inside.
As with the Bikepacking handlebar bag, ROCKBROS have again used their signature 600D nylon and waterproof TPU film fabric to create a safe and resistant bag that will keep strong against wind, rain and debris.
The sealed zipper at the end keeps the bag tightly shut, and ROCKBROS have even included PP plate support at each end to make the design even more solid.
The bag is designed with its cylinder shape to be as lightweight and as far from your knees as possible.
Like the ArcEnCiel bag, the straps of this one also has a multi-function strap that hooks tightly onto the bike and then allows you to detach it and wear it on your shoulder.
It won't take long at all to install this bag to your handlebars because it includes adjustable straps that works very well with pretty much any type or model of bike.
ROCKBROS Bike Front Frame Storage Handlebar Bag: Check Price on Amazon!
5. Rhinowalk Multi functional MTB Handlebar Bags
This bag is simple yet effective. The plain black design looks good on any color bike and you can fit all your essential items inside.
A front zippered compartment gives you extra storage space and easy access to everything inside. The fabric is waterproof, as is the laminated zipper, so nothing will get water damaged, including the bag itself.
The narrow side is tiny, measuring just 7cm, so you'll be completely free to move your legs as you pedal. And if you would rather put it somewhere else, it also doubles as a cross frame bag.
There are five different loops for attaching the included straps, so you can easily install this bag onto your handlebars or wear it as a shoulder bag, a messenger bag, or a handbag.
You don't need to worry about it blocking your bike lights either because Rhinowalk have taken that into account when designing the size and shape of the bag.
Though they sell less products than other companies, Rhinowalk put the needs of the rider first with everything that they design, and that is apparent in the MTB Handlebar Bike.
Rhinowalk Multi functional MTB Handlebar Bags: Check Its Price on Amazon!
6. WOTOW Cycling Handlebar Storage Basket Bag
This second bag designed by WOTOW is also easy to attach and of excellent quality. The 300D polyester and HDPE make the material strong, waterproof and padded for extra protection.
It also includes a transparent cell phone compartment, but this one is innovatively designed so that you can click the touchscreen through the window while you ride, so you won't need to stop to navigate.
You can fit 3L inside and take advantage of compartmentalizing with the external zippered pockets on the front and side.
It follows the traditional hook and loop straps for simple installation, and this strap is another that doubles as a shoulder strap once removed from the handlebars.
The silver reflective strips make you super visible and allow for safer off-road cycling.
You'll be able to sit comfortably to pedal without any friction from the bag against your knees and the straps can be done up so tightly that it won't move at all during motion.
WOTOW Cycling Handlebar Storage Basket Bag: Check Price on Amazon!
7. ROCKBROS Lightweight Top Tube Handlebar Bag
Making the list for the third time, ROCKBROS have struck gold again with their Lightweight Top Tube Handlebar Bag. Like the Front Frame Storage Handlebar Bag, this one also has a cylinder design with a 2L capacity.
It is made of 100% polyester and one of the most durable options on the list because of the rough, hand-stitched material that resists water and other damage. The brand logo is a reflective strip to keep you visible.
If you like multi-function bags then you'll find this product to be four bags in one. You can mount it on the handlebars, the bike's top tube, the front of the frame, or on the frame under the seat.
And no matter where you choose, the compact design stops it from disrupting your feet, legs or pedals. With sturdy straps and extra pockets, this bag is a great addition to any bike, especially because it fits any type or model. With ROCKBROS you can definitely be assured of the quality.
ROCKBROS Lightweight Top Tube Handlebar Bag: Check Its Price on Amazon!
8. Rhinowalk Waterproof Exercise Bike Handlebar Bags
A second product by Rhinowalk, this handlebar bag is another great fit for any bike. Just like the MTB Handlebar Bag, the Exercise Bike Handlebar Bag also has a multi-purpose strap.
It comes in black, blue or grey, so you can match it to the color of your bike, and the compact size makes it a convenient and lightweight storage space.
Again, Rhinowalk put the utmost thought into the durability of the bag, creating it out of 1680D polyester fabric that water and any dirt practically rolls off.
You can move this bag about your bike because it fits snugly onto your handlebars and frame. When you detach it, the bag will fit nicely on your shoulder or around your waist for convenient access to all your belongings.
The reflective strips across the front will cause both your handlebars to stand out when you're cycling in the dark or during adverse weather conditions.
This bag will stay clean, dry and secure until you finish your ride.
Rhinowalk Waterproof Exercise Bike Handlebar Bag: Check Price on Amazon!
9. Oranlife Exercise Bike Handlebar Mount Front Bag
The first product by Oranlife to make the list, this bag looks delightfully modern. At just 6-inches long, this ultra-compact handlebar bag allows you to stow away a fantastic 3.5L.
The combination of 600D polyester and TPU is strong, durable and waterproof.
An additional waterproof feature is the transparent cell phone pouch on the front that also allows you to use the touchscreen through it.
You attach this bag onto your handlebars with three included Velcro stickers that will keep it in position for the whole ride.
And if you are a fan of bag straps then your product will also come with a detachable shoulder strap that you can use to make it transportable when off the bike.
You'll be able to store smaller, fiddlier items like credit cards, cash, and keys safely too because there is room to arrange all your necessary items.
Oranlife are a great company to go with as well because they encourage customers to contact them immediately if they are not fully satisfied with their product.
Oranlife Exercise Bike Handlebar Mount Front Bag: Check Its Price on Amazon!
10. Bushwhacker Waco Black Bike Handlebar Bags
Finally, this Handlebar & Seat Bag by Bushwhacker is another cylinder bag that you can use to ensure that all your items are secured onto the bike.
There is just one zipper on the front to open it, so everything inside will be kept tightly sealed and dry. For an incredibly low price, this bag is amazing quality and can fit plenty inside.
Though there is no detachable strap for when you remove the bag from the bike, it does have some great buckles that you can easily release to keep it attached while riding.
The simple design of this bag means that it can be clipped onto any type of bike. It also works on different areas, such as under the seat, if you would prefer to attach it elsewhere on the frame.
It won't get in your way wherever you put it, so take advantage of how compact it is and get out there for a ride!
Bushwhacker Waco Black Bike Handlebar Bags: Check Price on Amazon!
What Makes a Good Handlebar Bag?
There are other few things one may consider before deciding on what type to choose. Remember, what works for one might not be suitable for another user. A good handlebar bag should at least satisfy most of these features.
Size & Weight
A spacious handlebar bag allows the biker to store more items and essentials, especially when going on long trips. Lightweight bags are more beneficial in terms of aerodynamics.
A good model should strike a balance between roominess and streamlined design. However, the size and weight should depend on the user's preference and needs.
If the biker wants to bring numerous belongings, bigger variants are more suitable. Smaller bags will be perfect for bikers who just want to bring a few essentials while biking.
Different brands offer a wide range of sizes ranging from skinny 2-liter models to roomier 15-liter variants.
Weather and Dust Resistance
It must be fully waterproof with waterproof seams or at least water-resistant in order to protect the essentials stored within. Dirt, dust, and road spray are also real concerns when biking.
The bag should at least be able to prevent contamination of its valuable contents. In addition to weather resistance, a handlebar bag must be durable enough to withstand strong winds and drag.
Versatility
Models that can be converted to convenient shoulder bags with the help of shoulder straps are better so bikers can bring it with them even when dismounting.
Handlebar bags must be easily and securely mounted and removed from the bike without requiring any additional tools. Installation and removal must be simple and fast.
This feature is useful in the event of handlebar component repairs or simply when the bag is not needed.
Accessibility
Pockets should have a wide opening to provide room for valuables and be accessible enough while providing security. Some designs include a touch screen pocket for cellphones or GPS systems so the cyclist won't have to open a flap or pocket.
Basket pocket modes and side pockets are also quite helpful for easy access.
Further, It should be compatible with all kinds of bikes – MTBs, road bikes, folding bikes, etc, or at least it can be modified to better fit other bike types.
This is especially useful if you have multiple bicycles.
Classic vs. Backpacking Handlebar Bags
In recent years, manufacturers came up with new generation backpacking handlebar bags that are essentially waterproof bags rolled up and attached to the bars using a harness.
This style lends a more streamlined and aerodynamic look. These bags are also generally used to store bigger items such as sleeping bags or small tarp tents and usually hold up to 20 liters of gear.
Other models also boast attachment points for additional storage or gear. However, most of these bags only open on one side, making it difficult to reach your stored gear while cycling.
Traditional handlebar bags, on the other hand, allows easy and quick access to the rider with its top opening with a zippered lid or roll-top designs. They are secured to the frame with velcro or easy-release straps.
However, these designs are usually made for smaller loads overall, with bigger designs accommodating a decently sized DSLR camera and set of lenses at most.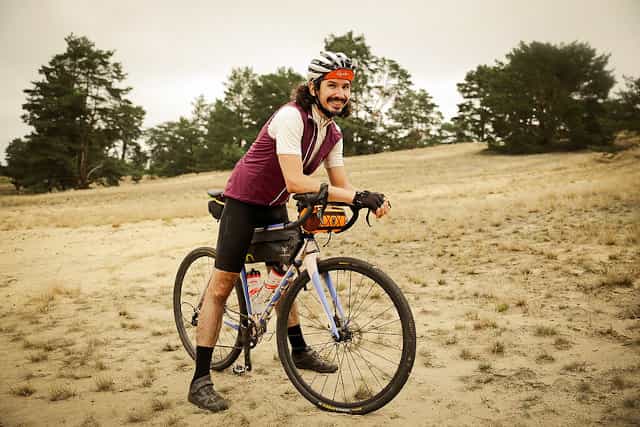 Do Handlebar Bags Affect Handling?
In terms of handling, usage of handlebar bags may make a difference. A good rule of thumb is to ensure that the weight is balanced and the bag is attached securely and tightly to the handlebar for minimum flopping.
It should be properly mounted according to the manufacturer's specifications. Bags that weigh on the lighter side have practically no discernible effects on handling.
Compared with other bicycle storage placements, These types are considered more beneficial in terms of aerodynamics because they produce a forward point.
However, some cyclists do found it more difficult to steer with one but it comes down to personal preference and the design of the bicycle. Some bikes do great with added front weight while some do not.
Still, some cyclists don't notice any difference during normal riding but share that they do feel extremely noticeable dragging when riding slow.
Small or Large Handlebar Bags?
To decide what size is best for you, you must consider a few things. A bag should fill the space between the stem and the front rack.
The back part should be placed as low as possible in order to maintain an optimized bike handling. This means that since their bikes have more space between the wheel and stem, taller riders can use bigger bags.
One must also consider the storage needs.
Do you intend to carry all of the necessities for less than a day or for months on the road? Do you expect to be able to carry your tent and luggage or do you just want to have a place to store your few valuables?
By considering your storage and bicycle requirements, deciding on a perfectly sized handlebar bag will be easier and smarter.
Also Read,
Why Cyclist Prefer Messenger Bags over Backpack? Commuting
9 Best Bike Messenger Bags 2023 | Work + Travel + Leisure
9 Best Cycling Shoes For Flat Pedal Road Bike
Ultimate List Of Best Front Bike Racks For Touring & Bikepacking