Looking for cycling shoes for flat pedals on a road bike? Truth be told, You get a performance boost with cleats but they really sucks when it comes to walking on floor.
After all its less cumbersome to your knees and toes to walk on the ground with cycling shoes made for flats. As most of us who use flats prefer bikes for leisure and commute.
Personally I believe cleats are great in controlled environment but are just an another hassle on road.
No one likes the hassle to engage and disengage cycling shoes with cleats every time you are required to suddenly stop in traffic. Then there are cases when some car swerved into the bike lane making you to stop; giving not enough time to disengage your cycling shoes with cleats.
This type of hybrid cycling where you are required to both walk and regularly stop while cycle; all we deserve is a shoe that is comfortable to walk, don't look plain ugly and give moderate support when cycling.
This article will help you pick your best shoes for cycling on flat pedal road bike; for both men and women.
Why You Should Buy A Cycling Shoe?
Yes, when you can buy any other shoe in the market or online and use them for cycling. What's the use for a particular cycling shoe especially when any regular shoes can go just fine with flat pedals?
If really was that case why the purpose of creating such specific shoes by these big companies. Thank god its not the case, there is many difference between a cycling shoe, cross trainer and a normal sneaker. Yes using any other shoe won't fail in the purpose of walking or cycling; but they won't support you either in the way it should.
Waking on ground you continuously need to make contact with the ground putting stress on your feet. This continues impact stress if not properly neutralized to an extent; your feet can get damaged in no time.
Similarly if your cycling shoes needs to be stiff on sole and have fantastic grip; otherwise will lead to knee pains and other ankle related issues.
Luckily you do not need to worry as your cycling shoe protect you from all. Even cross trainers with enough grip and cushioning fits well for the job but not your regular sneaker.
Cycling shoes are designed to hold your feet securely on the bicycle thus preventing injuries. It also helps you with power transfer, support and balance reducing stress on your knees.
How Do We Came Up With The List ?
We ( Myself and my team ) understand how much our opinion matters to you; when making your final decision to buy a product. So as a responsible publisher and expert on the field; we are compelled to bring you the best ever analysis and comparison for the top 9 products.
So I have gone so far as spending hours researching and trying a few our-self before writing anything about it.
Our research include in depth study of product, product manual, related articles and trying some of them personally to came up with the final conclusion.
In case where we cannot find product to try, we contact and take account of genuine customers concern; that they share on the chat or email conversation.
The things I looked upon before coming with this list was; construction, grip on pedals, support, fitting, flexibility, price, balance and comfort. Before I recommend any of the product I want you to know; we have tried everything in hand to bring you the best resource.
Although I personally spend 36 hours researching; and another three days sourcing and trying few shoe for myself. We only analyze 120 related products to produce this list for; "The Best cycling shoes for flat pedal road bike ".
9 Best Cycling Shoes For The Flat Pedal Road Bike
1 ) Lxso Men's Mountain Road Flat Pedal Cycling Shoes
Made with microfiber fabric and a thicker impact-resistant toe box, its made for better toe protection and provide greater flexibility and comfort while riding and walking.
While its one-piece molded flexible rubber sole provides high abrasion resistance and better grip on pedals. Thus making a great choice for riders walking off the bike going to the store.
True to its size it fits perfectly and its light weight design allows for trouble free wearing for days to come. May be that's why its most loved Non-locking cycling shoes in the U.S.
If you are like me who don't like their laces getting tangled in the front sprocket. You gonna appreciate its easy to adjust strap system that is more convenient and quicker to adjust.
That being said while there is nothing too fancy or stylish about this shoe; but it pass on all of different performance criteria. In fact I can guaranty you on its performance.
For Men: Check Price On Amazon!
For Women: Not Available.
Pro's
Microfiber fabric Upper with greater flexibility.
Solid Footing on pedals for more confident riding.
Equipped with easy to adjust strap system.
Better toe protection while riding.
Excellent anti-slip performance.
Con's
May feel a little too tight for wide foot.
Not available for women.
2 ) Crank Brothers Stamp SpeedLace Men's Flat Shoe
Made by a brand that engineered shoes design specific for cycling needs, form, fit and function. These are reasonably cushioned, fantastic at feel and looks just perfect.
Made with a solid rubber outsole it feel more firm than the cross-fit shoes. While its responsive impact load protection absorb a lot of shock; making an excellent choice for person with knee issue.
In our own test we find this shoe to be extreme comfortable and true to its size. They almost fit like glove and were supper supportive with better connect to the pedals.
Its one of the most lightweight shoe that you may find with strap closure system; that is much more secure and easy to use than regular laces.
It's colorful, lightweight, durable and holds a number of high end features at reasonably low price. Being specialized in producing shoes solely for cycling; you will not disappoint with Crank Brothers.
For Men: Check Price On Amazon!
For Women: Not Available.
Pro's
Comfortable and accommodate wide feet.
Design specific for cycling needs form, fit and function with easy strap closure system.
Very durable ( don't shred with the wear and tear ).
Its breathable, supportive and stable.
Has quality rubber sole that provide better traction on ground and feel more connected to pedal.
Con's
Basic design and limited color option.
Not available for women.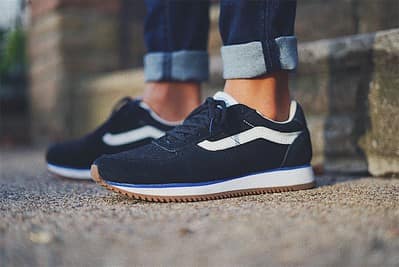 3 ) SHIMANO CT500 Everyday Cycling Shoe
Made by a reputable brand in the cycling field, this shoe's design incorporates both convenience and functionality, so you can use it on and off-bike.
It's equipped with Shimano's trademark road technology to provide the highest level of comfort even after continuous hours of wear.
The shoe has an EVA midsole to ensure a true and proper fit. Its size is just enough for you to move freely without worrying about the shoes being too shaky.
At the same time, it has sufficient space for your toes to move a little for comfortable movements. This is a big plus if you're like me, who doesn't like the feeling of stiff toes.
For pedaling performance, it's equipped with an inner shank plate, which will help give more power to pedals, a rubber outsole that will help grip both the pedals and terrains better than regular soles, and a clip-in interface to match your bike's pedaling cleats.
All in all, the SHIMANO CT500 is your best bet if you're looking for stylish and versatile cycling shoes for your everyday needs.
For Men: Check Its Price On Amazon!
For Women: Check Its Price On Amazon!
Pro's
Casual looking everyday cycling.
Has a breathable mesh that keeps your feet cool.
Sturdy, comfortable and supportive.
Clip-In Compatible flat pedal cycling shoes.
Flexible EVA mid-sole for better grip and support.
Con's
Some people find issues with fitting and size.
Available in just one color option.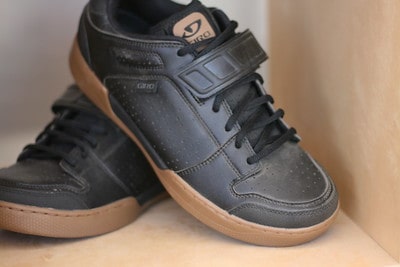 4 ) Giro Chamber Men's Cycling Shoes
Taking style and functionality on another level, this pair of cycling shoes will be a good choice if you're often taking on heavy adventures with your bike.
Made out of microfiber that's both water-resistant and breathable, you can expect this to have notable durability and quality.
It's made specifically for a flat pedal and ensures a comfortable fit, no matter if you're riding on your bike or not. The overall fit is also adjustable because of the unique lacing mechanism.
Tie it as loose or as tight as you want to, depending on your preference.
The shoes are equipped with lugged outsoles made from Vibram rubber to ensure a firm grip towards your pedals. They also have EVA footbeds and midsoles for extra cushion and comfort.
Your arch can also rely on the mid-length design for good support. Available in fun colors, the GIRO CHAMBER is a sure option for men who want to stay stylish even when cycling at full speed.
For Men: Check Price On Amazon!
For Women: Not Available.
Pro's
Perfect balance of performance and durability.
Designed for flat pedal mountain bikes its great for everyday cycling be it on road bike, hybrids or MTB.
Flexible, lightweight and stable.
Being firm it sticks to the pedals well.
Con's
Don't grip well once worn out mountain biking.
Not meant for cycling in rough terrain.
5 ) Tommaso Commuter Walkable Cycling Shoe
For simple and budget-friendly yet still high-quality cycling shoes, this pair from the Italian brand, Tommaso Commuter, is worth looking into.
This comes in a casual and versatile design, making it easy to mistake it for regular running shoes.
In contrast to this, however, it's equipped with several notable features like an inner shank plate, cushioned soles, and precision fit.
That said, you can expect it to guarantee comfort, quality, and power all in only one pair of shoes. The cleat area is recessed, so it's compatible with both flat and cleat-equipped pedals.
This means that you can enjoy clipless pedaling. You will also be able to use it for other non-cycling activities like walking, running, workouts, and likes, adding to the shoes' versatility and functionality.
The only possible con that may stop you from getting this is it isn't compatible with 3-bolt pedals. If you're using only a two-bolt or lower, then nothing's hindering you from considering the pair a perfect match for your needs.
For Men: Check Its Price On Amazon!
For Women: Check Its Price On Amazon!
Pro's
Remarkably lightweight, it goes easy on your feet.
Casual Sneaker Designed for bike commuting.
Perfect balance of comfort, performance and versatility.
Compatible with SPD Cleat.
Excellent arch support and balance.
Con's
Clipping in could be a bit tricky ( not speed clip ).
Some people find issues with size.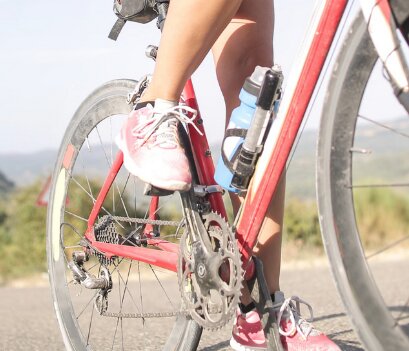 6 ) Reebok Women's CROSSFIT Nano 8.0
Made especially for women, the Reebok CROSSFIT Nano 8.0 is a must-buy for those looking for comfortable, stylish, and functional cycling shoes.
This is an all-around pair of sports footwear, so expect it to cater to even the highest level of cycling performance.
For the design, it prioritized support for both the feet and arch. This gives an extreme level of comfort without having to compromise your pedaling performance.
If that's not enough, the pair also incorporated Toe Tection to add durability. The feature also contributed to functionality since it will help you move your ankles freely.
This pair is probably one of the most lightweight ones you can get. You'll find it easy to pedal and move around in these, no matter how long you wear them.
Despite this, it still assures extreme durability and stability because of the Flexweave technology.
Since the Nano 8.0 is available in several styles and colors, women will definitely find it fun to mix and match the pair with their outfits while still getting to enjoy high-quality and high-performing cycling shoes.
For Men: Not Available.
For Women: Check Its Price On Amazon!
Pro's
Look good but feel great!
New heel bootie construction for efficient foot support and traction.
Have a flat stable sole with excellent cushioning to make it easy to pedal and move around.
Has a streamlined design good for cross training.
Sturdy, lightweight and breathable.
Con's
Not available for Men.
Not good for wide or flat feet.
7 ) Five Ten Freerider Pro Mountain Bike Shoes
Environmentally conservative cyclists will definitely like the Five Ten Freerider Pro. Unlike other cycling shoes, the distinct quality of the said pair is it's made out of recycled materials.
This won't further contribute to plastic waste, which is actually something that more brands should strive for.
Being eco-friendly is not the only thing that the pair can offer. Made specifically for flat pedals, it's also equipped with an impact-resistant toe box.
It used Urethane for this feature, ensuring safe and secure feet when cycling. This also means extreme durability for the shoes.
For a good pedal grip, Freerider Pro is equipped with Stealth S1 Rubber. Expect a high level of stability, no matter if you're pedaling or you're off your bike.
Because of the simple yet targeted features, this pair of cycling shoes will be perfect for both adventures and regular walks around town. This is currently only available for men.
For Men: Check Its Price On Amazon!
For Women: Check Its Price On Amazon!
Pro's
Perfect for mountain biking and bike commuting.
Includes impact resistant toe box.
Well cushioned and comfortable out of the box.
Fits well and available in all feet size and shape.
Excellent grip and power transfer.
Con's
Not the best looking shoes.
Not good for flat feet.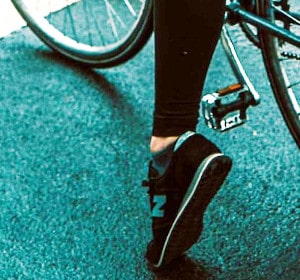 8 ) New Balance Women's Casual Comfort Cross Trainer
New Balance never falls short on producing reliable and comfortable trainers, and this goes the same for cycling shoes for women.
The design prioritized comfort, which is probably the most important aspect when cycling or walking for a long time. It comes with forefoot support, flexibility, and a footbed made out of EVA.
The midsoles are a lot more firm, but they will still support stretchable movements because of the IMEVA-made cushion.
The shoes also have an internal shank to utilize your pedaling performance and give more power in your long cycling rides.
The New Balance Cross Trainer is not that flexible for style, so they will be perfect if you want to keep your fit in a minimal style. Even then, this will still match several outfit types, so this isn't really a significant disadvantage to look into. Women cyclists should definitely have this on their shoe rack for everyday needs.
For Men: Not Available.
For Women: Check Its Price On Amazon!
Pro's
True to its size its looks good and feel comfortable.
Has a rubber sole with lightweight midsole.
Has high arches for better control and support.
Your feet will never hurt even after hours thanks to the memory foam and Ethyl Vinyl Acetate footbed.
A great shoe for person with feet on the wider side.
Con's
May slip in rain ( difficulty pedaling in rain ).
Not available for Men.
9 ) Ride Concepts Hellion Flat Pedal Bike Shoe
The Ride Concepts Hellion is another pair of cycling shoes made specifically for flat pedals. Even so, this will be perfect when riding around rough terrains, extreme natural riding conditions, and biking adventures in general.
Equipped with impact resistance, anti-peel material, padded exterior, and tough synthetics, this is surely one of the best pairs to consider if you are mainly looking for durability in your cycling shoes.
The midsoles are made from EVA, and the footbeds come in high-impact insoles. Specifically, the latter is made out of D30, which is one of the best padding's around for protection.
It's also the same material used in knee pads and other safety accessories. This means that you will also get comfort and security alongside high-quality shoes.
You can feel free to ride and move around in the Hellion shoes all day long and still expect to feel your feet by the end of the day.
For Men: Check Its Price On Amazon!
For Women: Check Its Price On Amazon!
Pro's
Made specifically for flat pedals.
Its impact resistance Insoles helps reduce fatigue.
Quite durable for a cycling shoe.
Get comfort and security alongside high quality.
Con's
Some people find issues with fitting and size.
Basic design and limited color option.
Buyer's Guide to Flat Pedal Cycling Shoes
Flat-pedal cycling shoes are available in a wide range of fashions, from sneaker styles to sports-shoe-like designs with stylish, durable uppers, easy-to-use closures, stiffeners, and grippy soles for traction pedals and walking.
However, there are a few things to keep in mind when shopping for flat pedal cycling shoes. Learn more here on factors to consider when getting flat pedal biking shoes.
The Type of Rubber and Sole
When it comes to the type of sole, you have the option of either a thick, sturdy sole or a thin, flexible sole. Make sure the type of sole you pick matches your riding style.
Of course, strong, thick soles support your arches properly to avoid fatigue on long cross-country rides or rocky downhill riding. They also provide protection when doing quick dabs or dismounting quickly on rough terrains.
Most thick, sturdy soles often feature sticky rubber treads to absorb the pedal pins and keep your feet firmly in place for better control. Of course, these types of flat pedal cycling shoes are best for downhillers and trail riders with an aggressive style.
However, some cycling shoes feature thinner and more flexible soles. With them, you are more in control of the bike's movement as well as the forces absorbed and applied on the pedals.
Furthermore, with softer soles, you can cup your pedals for more grip or float on them freely and perform neat tricks like dirty jumping or freeriding down a mountain.
Ankle Support
Secondly, you need to consider the extent of ankle support you want. Popular flat pedal biking shoes come with either high-top or mid-ankle support.
High-top style ankle support shoes feature additional materials around the ankles to cover them from debris and rocks hurled by the tires as you ride.
The other advantage of high-top ankle support is that it prevents the ankles from being overly twisted one way or another. On the other hand, high-ankle support makes your ankles less able to bend.
Fit
Ask anyone and the major issue you may find is of fittings. Whether buying for running, walking, cycling or for all the above; finding the shoe that true to its size and fits well is hard.
The shoes you wear while cycling should fit a little snugger than your usual sneakers. When you pedal, your feet shouldn't move back and forth, and your toes shouldn't rub against the shoe's front.
That means you should leave a tiny extra space in front of the shoe to ensure comfort.
Having pedaling shoes that fit snugly but with a little room for the toes to wiggle also makes it easy to walk or hike in them when you get off your bike.
Type of Shoe Fastening
When searching for footwear for cycling, many can overlook the type of fastening. There is no right or wrong option regarding fastening, only what will suit your needs best.
Velcro shoes are easy to adjust and lightweight, although they may not suit rough terrain. A ratchet system allows maximum support, which can be essential when attempting faster speeds.
The last option is BOA lacing. As conventional lacing can put the rider at risk, especially when achieving high speeds, the BOA lacing is the perfect substitute.
The right place of footwear will depend on the type of environment you're riding in. For example, those embarking on a road trip over several days will want the convenience of removing clothing efficiently.
Similarly, those riding on rough terrain will want to ensure that the proper support is in place. Being aware of your surroundings will help you make a better choice when purchasing accessories and clothing for your bicycle.
Riding style
You might have to try a few different flat-pedal shoes before you find one you like. You may also come to prefer different designs as your cycling style evolves.
A variety of shoes are available for dirt jumping, downhilling, and freeriding down mountains.
These shoes may have thicker uppers for more protection, stability, and durability, while the soles may be grippy for easier pedaling. There may also be pins on the flat pedals to help with your grip.
As a final note, always try on the shoes before making any major buying decision.
Some shoe brands are wider in size, and some have sole shapes that fit different types of feet more comfortably than others. There are brands that run large and others that run small.
You will only know and avoid a lousy-fitting shoe that can ruin your riding experience by trying on the shoes before buying.
Budget
The elephant in the room; price has always been a factor at which at least many people change their mind. No matter how much we research or how much we liked it; its always how much this cost anyway?
Is it really worth the money? These are all what decide whether we will actually make that buying decision or not.
In general the higher the price the better is the product but for sometimes we can find fairly good quality at amazing price! That is why we have put our due consideration on your budget while finalizing the list.
If you can afford it buy the best cycling shoes that you can have. But if you just don't have much money get any decent shoe with similar features at low cost.
Also Read
Water Bottles Cyclists Swear By To Keep Their Water Ice-Cold