When riding a bike, you think of the feeling of the wind on your face, the strain in your legs as you pedal uphill, and the feel of the helmet on your head.
You do ride with a helmet, right? It's important to use a helmet to protect your body and your brain.
According to the Children's Safety Network, 62.6 of all fatalities on a bike are a result of a head injury from improper helmet use or lack of a helmet. That's a whopping number. That's why bike helmets are important!
If you're a part of the cycling community, no doubt you've heard the term before. You might ask yourself "What is MIPS? Is it safer? Is it worth it?" and we are here to demystify the buzz for you.
We will explain what MIPS is, how the product and technology are tested, how other helmets are tested, and why these helmets could save your life.
We also discuss potential downsides to the system, and why having it could matter to you.
What is MIPS? How Does it Work?
MIPS is a technology developed by Hans von Holst, a Swedish brain surgeon. He looked at bike helmets and the injuries that he saw as a surgeon and concluded that bike helmets were not adequately protecting people's heads.
He quickly began work at his university to start developing a bike helmet that was safer, stronger, and more durable than the helmets that were on the market at the time.
The problem is that when there is a collision to your head in a bicycle accident, the brain undergoes rotational movement in your skull.
When it bumps against your skull, it becomes damaged and can lead to life-long brain injuries or even death. Through many years of research and development, MIPS was born. So what is this life-saving technology?
While the name stands for Multi-directional Impact Protection System. The system includes a two-layer design that allows the helmet to absorb more shock with its outer layer, and then an inner layer that allows the head to rotate slightly in order to reduce the forces on the brain that happen during impact.
This MIPS layer is located between the lining of the helmet and the user's head and is usually bright yellow in color.
These two layers have very little friction between each other, allowing the helmet to rotate slightly, independent of the rider's head.
How is MIPS Tested?
The development process for this technology was not a smooth or short journey. Holst put his helmets through rigorous testing by using a FE (finite element) model of the brain to measure impact and stress.
This model was developed by Svein Kleiven. Through his research and high standards, Holst has developed a model that is safer and more durable than standard bike helmets.
The FE brain models are also used in car crash testing and other tests, such as sports analysis for the NFL.
But helmet safety is admittedly difficult to test. You can't test crashes with real, living humans and then report the results. Not to mention the fact that every crash is different in some way.
Some people could have different collisions, such as a side versus head-on collision, or people could hit the ground differently.
It's nearly impossible to control conditions such as how you fall in a collision. And then there's the road type and surface to consider. Hitting asphalt is very different from hitting gravel.
The rider's height and weight also have a part to play, making testing a helmet hard to do in a lab setting.
Helmets are tested for linear impact by the Consumer Product Safety Commission (CPSC) in the US, but not for rotational impact, which most crashes include. It's the rotation that leads to brain injuries in most cases.
So, with this in mind, how are MIPS helmets different? First of all, they have very high standards when it comes to how well their helmet protects the FE brain model.
Any helmet that doesn't perform at least 10% better than a non-MIPS helmet – meaning that the brain has 10% fewer injuries after a collision – is not labeled as MIPS.
While the number is only set to 10%, many helmets actually have ratings of 20 to 70 percent.
This means that any helmet you buy that is labeled with the technology is lab-tested and has been proven to result in fewer brain injuries for the wearer.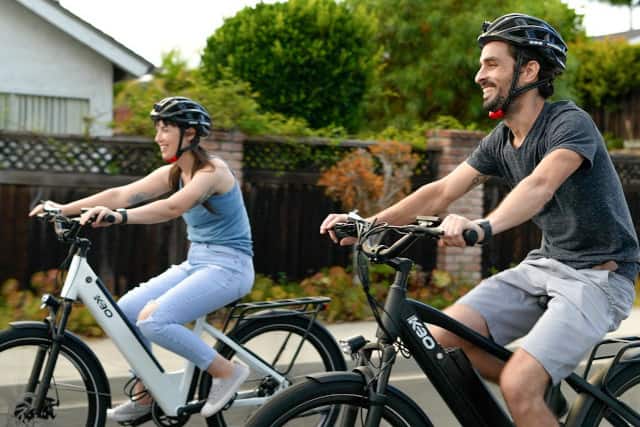 What About Other Helmets? Aren't They Safe?
Yes. Always wear a helmet while riding, every time. But not all helmets are created equal. All helmets pass a set of standards in order to be legally sold, but there are other aspects of helmet safety that aren't tested that should be.
While the helmets you see in stores are tested for linear impacts, such as drops, there's only an option to pass or fail. There is no way to tell which helmet did better than others because all of them are just labeled with "Pass."
There are no percentages, no sliding scales, and no real way to determine the best bike helmet just by looking in the store. While a helmet is better than not wearing a helmet, some helmets are generally just better than others.
While all helmets pass these tests, wouldn't you rather wear a helmet that got a 90/100 safety rating as opposed to a 75/100 safety rating? Choosing the wrong helmet could potentially leave you with more injuries to your brain, or even leave you without a life.
Holst is even pushing for rotational impact testing to be a standard in the US and UK when developing helmets, to create safer products in both countries.
Companies can make claims about rotational safety under the current standards, but there's no legal standard that they have to pass in order to make this claim.
That's why MIPS helmets use science and standardized testing across all of their helmets. This makes an objective benchmark to measure the helmets with and ensures that you're getting the safest possible product you can get.
His goal isn't for sales, it's for fewer brain injuries to happen as a result of bike crashes and collisions. He's a brain surgeon first, helmet developer second.
Are There Any Downsides To MIPS?
It depends on your definition of "downside." MIPS helmets are more expensive than regular helmets. But it comes down to how much extra you're willing to pay for a product that could save your life.
You wouldn't buy cheap breaks for your car, or use a less-than-reputable parachute while sky-diving, would you? A helmet is no different.
While the cost can be a bit of a deterrent for some people, you need to ask yourself: "Would this extra money save my life? Is my life worth an extra $100?" If the answer is yes, then get a MIPS helmet.
If the answer is no, then feel free to buy whichever helmet you choose.
Before you buy a MIPS helmet, however, you should try one on for yourself. The extra layer means that the inside of the helmet can be smaller than what you're used to, although many manufacturers are adjusting their helmets to accommodate the technology and be more comfortable for the wearer.
If you're ordering a helmet online, make sure you have an option to return the helmet if it doesn't fit properly. The technology won't be as effective if it's loose or tight on your head!
So Why Does MIPS Matter?
Through rigorous testing, MIPS is put up against regular helmets in crash tests. The results are clear: MIPS bike helmets reduce the impact on the brain and neck exponentially.
This could save your life if you're even in a bicycle collision. Normal bike helmets don't rotate slightly on your head as MIPS helmets do, and the difference could be life and death for someone in an accident.
These helmets are put through testing that other helmets simply do not get, and they compare results to other, non-MIPS helmets. If your helmet is labeled as MIPS, you can be sure that you're getting scientifically-backed protection. Numbers don't lie!
If you don't want or can't afford a MIPS helmet, then that's fine. All helmets are safer than having no helmet.
There's no way to truly tell which helmet is the best for each crash, as there are so many variables that can change – no two crashes are the same, after all!
But it is important to note that in simulated crashes of the same type, on the same surface, MIPS helmets performed up to 70 percent more effectively than a helmet without the technology.
It all comes down to what you trust your brain, and potentially, your life with. All helmets are safe, in a broad sense. They passed the safety standards set before them.
But wouldn't you want a helmet that has been tested more thoroughly, with higher performance in all areas compared to a normal helmet? If that answer is yes, then the MIPS technology is right for you.
Recommendations
1 ) POC Tectal, Helmet for Mountain Biking
The POC Tectal is the best mountain bike helmet on our list. This 342-gram stylish helmet is no match to others when it comes to its sturdy all-round protection. You can literally slam your head on a rock, but the POC tectal will protect you like a charm without much movement.
The Tectal own rotational impact protection system also known as the SPIN, makes sure your head remains safe and literally untouched no matter how hard you crash.
Comfortable even on long rides, it includes 15 air ducts that keep you cool. Further, since these beautiful helmets are aerodynamic by design you can easily go cruising around mountains.
Its one of few bike helmets that fit a wide range of head sizes and does not suffer from issues of pressure points or the helmet hair. Easy to adjust with a back dial and chin strap. It fits perfectly on your head and will not fall off even without the chin strap done.
Adding to its impressive versatility you got an integrated visor and invisible strap system. Overall its a little expensive but proves true to its price; no matter its looks, style, comfort, fit, or protection.
POC Tectal, Helmet for Mountain Biking: Check Its Price On Amazon!
2 ) Thousand Chapter Adult Road Bike Helmet
With a name like Thousand, you know this helmet's brand has a good sense of humor, but they also have a strong sense of style. The Thousand marries a classic, clean profile with modern, tech-forward features and flair.
The exterior has the same rubberized finish effect present on the Heritage model, but the 8 active ventilation vents are larger and arranged differently, lengthwise along the sides.
The change is due in part to the inclusion of a red magnetic headlamp, meant to be placed on the back of the helmet to keep a rider visible to following traffic.
The 30 lumens of brightness make sure you won't be lost in the dark, and the lamp is USB rechargeable so no fiddling with batteries or worrying about it dying on the way.
On the safety side, this helmet includes the MIPS system, in addition to the already effective existing liner. MIPS grants greater protection from concussions, so this helmet has much to recommend it from a safety standpoint.
The Chapter has the outer look of a bespoke fashion accessory, but still manages to put safety first. It's a great choice for those who want to add a little glitz and glamour to their cycling kit.
Thousand Chapter Adult Road Bike Helmet: Check Price on Amazon!
3 ) Smith Venture MIPS MTB Bike Helmet
Looking for the same build quality as the POC Tectal but at an affordable price tag; well this is one for your adventure needs. With 20 air vents and super aerodynamic design, that keeps air moving. It keeps you cool and protected cruising under unpredictable weather conditions.
It features an impressive MIPS protective system with EPS impact foam that extended on the back for additional head protection. The VaporFit system ensures it fits great, is easy to adjust, and is comfortable.
Unlike many other budget bike helmet the venture did a great job of fitting nicely on your head without making you look like a clown when riding for too long.
The anti-bacterial performance lining along its venture insides keeps it smell fresh and odor free. AirEvac ventilation adjust the air flow venting moist warm air away from sunglasses to keep a clear vision forward. On top you get the integrated visor to act as a shed against rain and sun.
For its price and features this mountain bike helmet does well on trails. Whether its a minor bump or a gnarly crash its good to know it got yourself secured with MIPS protection.
Smith Venture MIPS MTB Bike Helmet: Check Price On Amazon!
Also Read
9 Best Fixed Gear Single Speed Bikes for Commuting
When Do You Need A Full Face Helmet For Mountain Biking?
Top 9 Women's Mountain Bike Helmets for Ultimate Comfort and Safety