As the bicycle continues to rise in popularity, more and more bike rack brands are popping up to meet our ever-increasing storage needs.
While some of these racks are produced overseas, there are still a number of American companies that manufacture their products right here in the USA.
In this blog post we will be shining a light on 10 trusted bicycle rack brands that proudly display an "America Made" label – their attention to quality control and customer service unparalleled.
Whether you're looking for a functional traditional style or something sleek and modern, these manufacturers have unique solutions sure to fit your space perfectly – keep reading for all the details!
As you browse this list of American-made bike rack brands, please be aware that none of the information included here has been verified by any independent organization or myself. 

That said, I have done my utmost to research and verify all sources, gathering company statements, business reports and industry audits in order to build this comprehensive selection. 

You can be confident that these brands are all Made in USA.
Table of Content – Bike Rack Made in America
1UP USA
1UP USA is a proudly American-made bike rack brand with a rich history of safety, reliability and ease of use.
Founded by Robbie Lange in 2001, the company has since enabled cyclists throughout the nation to transport their bikes securely and hassle-free.
From single arm stands to full car racks, 1UP USA is passionate about giving riders freedom of movement without having to compromise on safety.
Riders can rest assured that 1UP USA's products will always put their peace of mind first.
With nearly two decades of experience in the industry, 1UP USA's products are withstanding test of both time and ever changing cycling culture.
| | |
| --- | --- |
| Major Product | Website |
| Hitch Racks + Roof Racks | |
Yakima
Founded in Yakima, Washington as a machine shop by Otto and Jeanne Lagervall.
Yakima Industries has come a long way since 1979 when it was acquired by two avid kayakers and cyclists who wanted to find a better way to transport their outdoor gear.
Celebrate American-made products by purchasing one of the award-winning Yakima bike racks for your next adventure! They also offer racks for carrying kayaks and canoes, fishing rods, skis, cargo box etc.
Their range of bike racks is designed for ultimate durability and there is an easy loading and unloading system that ensures you can get on the trail that much faster.
So if you're looking for car racks, roof racks, hitch racks or any other accessory for your adventures, Yakima has got you covered – so show your patriotism with one of these awesome products!
| | |
| --- | --- |
| Major Product | Website |
| Hitch Racks ( Tray | Mast ) + Roof Racks + Trunk Rack | |
Saris
Saris is one of the few bike rack brands in America that offers quality, reliability and ease of use. Their latest model is a great choice for those looking for an easy-to-assemble, sturdy and compact bike rack.
Its simple design allows users to install it safely onto their vehicle without much effort and its durable construction means it can withstand both rough terrain and long-term outdoor exposure.
Overall, if you're looking for a reliable bike rack that is proudly manufactured in the United States, Saris' bike rack should come highly recommended.
They are made in Madison, Wisconsin, USA and source materials locally. Many bike racks feel flimsy and are cumbersome, but not the Saris.
In fact most of their product reviews are positive and the negative ones are for poor packaging, damaged product or lack of instruction on how to use.
| | |
| --- | --- |
| Major Product | Website |
| Hitch Racks + Roof Racks + Trunk Rack + MHS | |
Alta Racks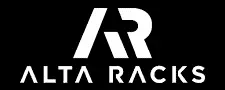 Built to last and easily able to hold the whole family's bicycles, ALTA RACKS come with a life-time warranty for added reassurance.
ALTA SIX General Purpose Rack (GPR) is perhaps the most versatile of these racks, built in the USA with cost and weight in mind.
Rigorously tested in some of the most challenging environments across Utah, Colorado and Idaho over four years, ALTA RACKS illustrates both durability and adaptability to meet your needs.
All backed by more than thirty years of design experience from their military-grade equipment.
Make your next adventure accessible with ALTA RACKS! Not only that, but they can be purchased at an affordable price point despite their exceptional quality.
| | |
| --- | --- |
| Major Product | Website |
| Hitch Racks | |
Quikr Stuff
QuikrStuff has come out of nowhere to become one of leading innovators in the outdoor products industry.
Their unique offering is a bike rack that requires no tools and can be assembled quickly, so it's perfect for anyone on the go.
What sets them apart is not only their impressive modular design, but their dedication to being 100% Made in USA with the support of American ingenuity.
Developed by Bryan Wachs and JT Westcott in 2020, QuikrStuff has made a huge mark in a short time.
The company fiercely adheres to its mission to deliver high-quality and innovative outdoor products with an American flag planted firmly on every item.
Let's support these Americans as they continue their journey of creating top-notch goods!
| | |
| --- | --- |
| Major Product | Website |
| Hitch Racks | |
LOLO Racks

If you're looking for something durable, reliable, and stylish to securely mount your bike onto your vehicle, LOLO Racks has you covered.
Established in 2016 by a team of engineers and cyclists in Portland, Oregon, LOLO Racks is an independently operated business that puts aesthetics and functionality at the forefront.
The racks are designed with quality in mind and once installed they are easily adjusted, making it easy to fit any bike perfectly. Clearly, these are well made and reliable products, which is why many people would recommend them.
Many have tested out the product on long trips without any issues or damage to their bicycles. If you're looking for a superior bike rack experience, then go with LOLO-you won't be disappointed!
| | |
| --- | --- |
| Major Product | Website |
| Hitch Racks | |
North Shore Racks
North Shore Racks is a quality outdoor and bicycle accessory brand that caters for all types of cyclists.
Their products are designed and engineered with function, reliability, durability and affordability in mind.
From bike racks to lock security systems, the brand has everything your average cyclist could ever need without compromising on quality.
With their unique designs, North Shore Racks boasts an elite line of products and plenty of options baked into each one – there's something available to tick every box.
Most importantly though, North Shore Racks is known far and wide for its excellent customer service.
Every North Shore Rack is handcrafted in Canada with materials sourced locally from the North Vancouver region, providing a great example of how small businesses can make a big difference.
| | |
| --- | --- |
| Major Product | Website |
| Hitch Racks | |
Pipeline Racks

Pipeline Racks is a small, family-owned and operated company with humble beginnings in a garage in the USA.
When demand for their self-built pickup truck bed bike rack started gaining traction (literally!), the brand was born.
The founders chose the name to reflect the racks' simple yet durable design, made from pipes. What sets these bike racks apart is their focus on creating adjustable components that maximize convenience and ease of use.
As a result, Pipeline Racks now offers the most versatile truck bed bike racks that can be used by all sizes of pickup trucks! Thanks to them, cyclists can quickly and easily get their bikes safely secured onto their vehicles.
Having tried one myself recently, I can confidently say that it did exactly what it was supposed to do – my bike stayed safe for over 200 miles without any incidents.
| | |
| --- | --- |
| Major Product | Website |
| Truck Bed Racks | |
Thule Racks

Thule has been one of my go to brand for bike racks with significant presence in North America. They produce their product locally in US.
Beginning in 1942 in the Småland forest of Sweden, Thule was founded by Erik Thulin, an avid fan of camping and adventure sports. The brand has a significant presence in Europe and North America.
What began with a ski rack has now expanded into a large public company with subsidiaries across various continents that guards against the elements and provides confidence to car-owners around the world.
The US-based Thule Inc., specifically manufactures car racks made with precision and finesse to ensure that all of your sporting needs are catered for – enabling you to bring all your gear with peace of mind.
Thule's dedication to excellence ensures top quality roof racks for all types of vehicles, allowing for countless safe journeys filled with excitement and exploration.
| | |
| --- | --- |
| Major Product | Website |
| Hitch Racks + Roof Racks + Trunk Rack | |
Rhino Rack
Rhino Rack is an Australian-owned and operated company that has been providing the world with quality roof racks since 1992.
They are known and trusted for their high quality products across the globe, and currently employ over 150 people at their headquarters in Eastern Creek, NSW.
Not only is Rhino Rack well established in Australia, they have even expanded into the US market as some of their most coveted items are now being locally assembled there.
Their commitment to customer satisfaction and excellence never fails to impress, making them a great choice for anyone in need of a reliable roof rack.
| | |
| --- | --- |
| Major Product | Website |
| Hitch Racks + Roof Racks | |
Also Read,
Is Kent a Good Bike Brand? An Expert Review
Orbea Bikes: Who Makes Them?, Quality, Production & Models
Top 10 Worst Cities Where Bike Theft Is Most Common
Best Car Racks For Electric Bike – Build Model Type Compared