Mountain Bike Gloves might seem like unnecessary gear needed for mountain biking but are actually an invaluable piece of protection you should have. Mountain biking can be a pretty rough and rugged sport.
This means you will need a certain amount of adequate gear and protection. Gloves are an essential part of that. Gloves have several benefits but the main reasons bikers wear them is for overall protection and grip.
Because mountain biking can be an expensive sport it might seem tempting to not buy gloves at all or to go for a cheap pair. This is a bad idea for many reasons.
Gloves are actually at the top of the list of gear you need and here's why.
Do I Need Gloves For Mountain Biking?
The short answer is yes. It might not seem like it but mountain biking is a very physical sport. This includes biking up and down mountains, on hilly terrain, with rocks and trees on all kinds of unique trails.
Wear and tear on your hands is inevitable. Gloves will help protect your hands from blistering from all the friction of a rough ride. Believe me, if you don't have gloves, your hands will blister.
Having mountain bike gloves will make your riding experience a lot more pleasant and a lot less painful.
Crashes are inevitable and gloves help protect your palms and the undersides of your fingers against cuts and road rash when you fall off your bike, because you will fall.
Many times. Biking is pretty unpleasant with cut up hands. Gloves are such an important piece of protective equipment and have so many added benefits.
Why Everyone Wear Mountain Bike Gloves To Ride?
To Prevent Injury
One of the most valuable benefits of gloves is to prevent injury. Mountain biking can be a dangerous sport which means there are a lot of crashes. MTB gloves can help drastically reduce injuries in a crash.
Gloves won't protect you against sprains or breaks but they will help protect your hands from cuts and abrasions when falling off your bike.
When you fall, your hands will automatically try to stop your impact and will come in contact with the ground.
When this happens, gloves help protect against gravel burn, cuts, and other debris getting embedded in your hands. Believe me, riding with torn up hands is painful and not worth it.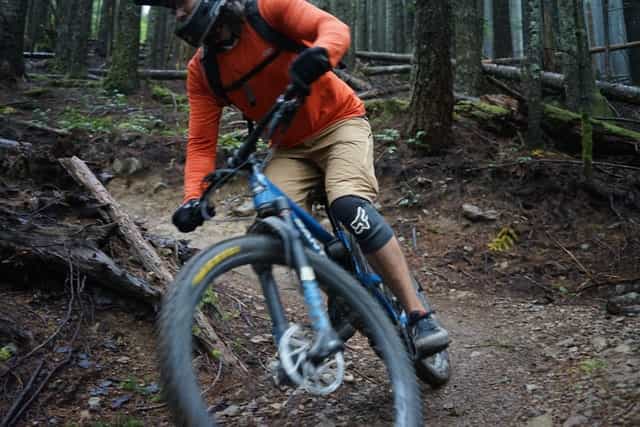 For Better Firm Grip
Mountain biking is a physical sport, which means you will sweat. This includes your palms. Add to that riding on a hot and humid summer day and you will have a recipe for disaster.
Try keeping good grip and control when going down a steep and rocky hill with slippery palms.
It will be nearly impossible and will increase your chances of a crash. Gloves will greatly aid you in keeping a good grip and having control of your bike in all kinds of climates and terrain.
Some trails can be muddy or wet and the flinging mud and water can also cause your bare hands to slip from your handle bars. Gloves help eliminate these problems and ensure a more safe and pleasant ride.
Protection & Safety
The roughness of mountain biking can be hard on your hands. While calluses are pretty much inevitable, gloves can prevent blisters forming from the constant bumping and friction.
As you gain more experience and bike on longer trails, your fingers and palms will suffer more. The nonstop friction, bearing your weight on your palms, steering and braking will add up over time.
Mountain bike gloves provide added protection against damage done to your hands.
This also helps when you crash. We instinctively throw out our hands to catch ourselves when we fall and gloves well help protect your hands from cuts and road rash.
Warmth & Comfort
Gloves will add to your warmth and comfort when biking. Gloves are usually grouped in two categories: summer and winter gloves.
Summer gloves, mostly worn in the summer, are made out of a lighter, more breathable material to help temperature control on those hot and sticky days.
Winter gloves are often made with thicker, less breathable material to help keep your hands warm in the colder climates. There are even thermal gloves available to keep your hands even warmer.
Many bikers find that summer gloves are sufficient all year round but the options are available to you.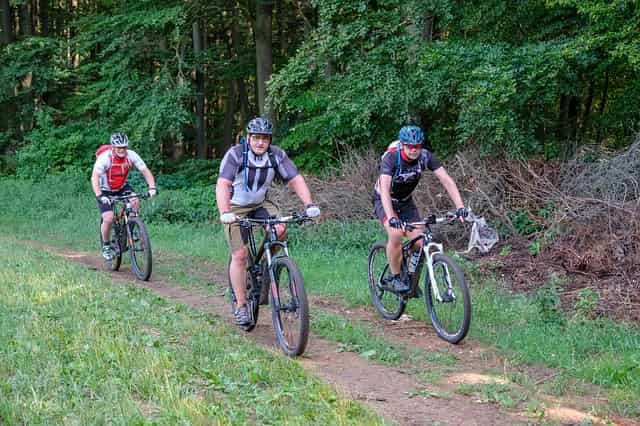 Style, Peer Pressure or Requirement
There are so many different styles of gloves to choose from, both based on functionality and design. Mountain biking gloves are actually pretty affordable. They typically cost around $25-$40.
The right kind of gloves for you are going to depend on personal preference. Do your research and try different pairs until you find the right ones for you.
You can choose from full fingered, fingerless, additional padding, and armored gloves.
Most bikers wear full fingered gloves for the full coverage but some prefer fingerless mountain bike gloves. In addition, some gloves have extra padding on the palms and undersides of the fingers.
This is to help with shock absorption. Some like less padding so they can feel more of the bike and the vibrations.
Armored gloves usually have strips of rubber or protective material on the tops of the gloves to help protect your hands when you get too close to a tree and clip the rough bark.
When You Should or Shouldn't Wear Mountain Bike Gloves
Choosing to wear gloves or not all comes down to personal preference. Try both options and see which you like most. Some bikers prefer the direct feel of the grips on their bare hands and choose to go gloveless but most bikers prefer the added protection of gloves.
For example many of my friends and sometime myself prefer to go without gloves; especially when going for a casual ride. It simply feel convenient to just hop on and get going when you are biking around for fun or to commute short distance.
But I never forget to wear full biking gear when going for long bike tour or mountain biking.
There are just too many risk involved when you are biking down the trails and its more convenient to feel protected than what you prefer.
Overall, you should wear gloves when mountain biking. The pros of wearing gloves while mountain biking far outweigh the cons. A crash without gloves could put you off your bike for weeks to recover from injuries.
Gloves help protect you so you can get back on your bike and keep riding.
Different Types of Mountain Bike Gloves
Armored vs. Regular Gloves
When a mountain biker is deciding between armored and regular gloves they are debating between a little extra comfort vs a little extra protection.
Both types of gloves give the vital enhancement of grip. If a rider wants their hands to feel lightweight, almost as if nothing is on them, regular gloves are the right choice.
Running into branches, hitting rocks and falling, are some hazards that can happen while mountain biking.
If a biker wants some extra protection for the hands because of these risks, armored gloves are the way to go. These gloves have padding on the base and middle knuckles, as well as padding on the back of the hand.
Both types of gloves fulfill their main function of assisting with grip, it is a personal preference whether to go armored or regular.
Winter vs. Summer Gloves
Being in tune with the elements is essential for a good ride. Whether it is sweltering hot, or just above freezing, windy, and raining, it is key for a biker to be prepared.
Winter gloves are designed to keep the hands warm, highly recommended for those who don't get much circulation through their fingers. Most winter gloves are also designed to vent air so that the gloves don't fill up with sweat.
Summer mountain bike gloves are going to have a much slimmer feel to them as their primary function is to assist with grip rather than keep the hands warm.
Some mountain bikers may prefer to stick with their summer gloves even in the cooler elements. For some though winter gloves are a must-have when going on the trails in the cold.
Fingerless vs. Full Finger Gloves
Some bikers may not like the feeling of wearing gloves. If they consider the large impact that gloves make in regards to control, safety, and skill, these bikers may compromise and choose to use fingerless gloves.
Fingerless gloves offer the help of grip enhancement and control while allowing the biker's fingers to feel the elements and have no barrier between their fingers and the brakes and shifter.
There is also cold weather, and armored fingerless gloves available.
If you prefer to have the security of feeling your hands covered going through the trail, sticking with the full finger gloves is the right choice.
Full finger gloves give protection against scrapes and cuts from branches, rocks, and falling. As stated above if a biker wants the optimum protection going with a full-finger armored glove is best to wear before a ride.
How to Choose Mountain Bike Gloves
When choosing mountain bike gloves a lot of things mentioned above should be taken into consideration.
What is the climate where you are riding? Have you experienced getting whacked by a tree branch or falling off on a trail before, and if so, would you rather have fingers exposed, full finger gloves, or armored gloves?
If you desire the freedom of the fingerless glove because you think it may be more comfortable and breezy for your hand, be aware that full finger gloves are designed specially to keep air flowing and absorb sweat.
If ordering online from a site like Amazon doing a quick search about the product is recommended so you don't accidentally order a cheap knock-off brand.
Going into a store like REI co-op and talking to someone there about your experience and what kind of trails you plan on riding is a good idea. Reviews of three mountain biking gloves are below.
Best Mountain Biking Gloves
1 ) Giro DND Men's Mountian Cycling Gloves
A full-fingered glove with 2mm armor on the knuckles. They are perfectly fitting gloves that use AX suede microfiber on the palm to conform to your hand.
The 3 paneled grip on the palm allows you to shift your hand placement on the handles and not lose any of your control. The breathable mesh on the upper hand of the glove will keep air circulation flowing and your hands cool.
While the 2mm EVA crash pads will give your hands added protection against the hazards of mountain biking.
This glove is perfect for new and seasoned bikers, it covers all the bases and will enhance your control, safety, and skill. No need to take the gloves off to use the phone, on the fingertips of these gloves there are touchscreen technology silver fibers that are able to operate smart devices.
Giro DND Men's Mountian Cycling Gloves: Check Its Price on Amazon!
2 ) MOREOK Men's MTB Half Finger Biking Glove
A dynamic fingerless glove. Very comfortable and easy to wear. These gloves are made out of high elastic LYCRA and knitted mesh fabric.
They are extremely good at absorbing shocks, which could be very helpful for those who complain about numb hands after riding. Made with 5mm SBR pads for increased grip it provide excellent shock absorption.
With a microsuede fit these gloves will conform to your hand nicely. The gloves are made with a moisture-wicking mesh to keep hands cool and dry. Easy to take off after a long ride with off hooks located on the finger.
These gloves are perfect for a mountain biker who wants to have added control along with the feel of shifting and breaking with bare hands. Available in various colors to match your style.
MOREOK Men's MTB Half Finger Biking Glove: Check Price on Amazon!
3 ) BEACE ENHANCED Protection Cycling Gloves for Women
A durable and dependable full-fingered glove with powerful shock absorbers. Designed with multiple holes in the fingers, these gloves will be able to keep your hands cool and dry.
This mountain bike gloves includes perfect amount of padding to work efficiently while being subtle while gloves are worn. Very comfortable for mild weather and keeps hands cool in the heat.
Designed to increase grip with a double stitched palm and to absorb shocks with an SBR pad below the fingers. Thumbs are designed with absorbent microfiber to easily wipe the sweat off the face during a ride.
Perfect for women just starting out and experienced mountain bikers alike.
No problems with smart devices, sensitive pads on the thumb and index finger allow smart phones and other devices to be able to be used with gloves on.
Available in various colors to match your style, including the 'color night glow' that changes with the light.
BEACE ENHANCED Protection Cycling Gloves Women: Check Its Price on Amazon!
Also Read,
15 Best Mountain Bike Brand in 2023 – Bicycle Guide
What To Wear Mountain Biking – Ride in Comfort From Head to Toe