Though it may initially seem easy, you should expect to spend a decent amount of time deciding what to wear before you first venture out biking on mountain trails.
Experienced cyclists likely have a complete wardrobe ready to go, but beginners may need more help deciding what will bring them the maximum amount of comfort while also not hindering their progress on the routes.
Luckily, it is not difficult to put together the perfect kit for biking in the mountains and what you wear is the perfect place to start.
After all, there is no point purchasing a bike specifically for how comfortable it is if your clothing is going to make you uncomfortable on the ride.
You'll want to have several options because it is always safe to take a change of clothes with you in case you need them and you want everything you take on a ride to be high quality and serve you well.
You can easily find appropriate attire in both online and in-store retailers, especially those that specialize in bikes and sportswear. Below we have covered some of the exact items that you should be looking out for.
Quick Tip On What To Wear Mountain Biking
Choose Appropriate Gear For Different Ride
The best way to stay both secure and comfortable on the bike is to choose appropriate gear riding. The season you are riding in will impact this a bit because you'll need more clothing to keep you warm on a winter ride.
Likewise if you are riding in the rain you should wear waterproof gear because you don't want your clothes to become heavy with water. If you are too wrapped up on a summer ride then you risk becoming overheated, which can make you feel faint so better choose light moisture wicking cloth's for good.
Padded shorts are a good idea for mountain biking because you'll spend a lot of time on the saddle and have to alternate between getting on and off the saddle constantly.
Some people prefer to wear tight Lycra shorts for easier movement on the saddle, whereas others feel more comfortable in baggy shorts with knee pads underneath.
Your biking attire is a matter of preference, but make sure that you dress appropriately for the trail and weather that you will encounter.
Don't Skip On The Helmet
The most essential accessory for any cyclist is definitely the helmet because of its invaluable protectiveness.
Though you should be wearing one for road biking as well, it is especially important to wear one while mountain biking because the rougher, more uneven trails increase the likelihood of you falling off your bike.
Because of this, helmets that are designed specifically for mountain bikers sit lower at the back and on the sides to cover more of the head.
An integrated peak on mountain biking helmets will keep the sun out of your eyes for the uphill paths, so definitely don't skip on the helmet because it is a crucial part of your kit.
Use Quick Drying Material For Clothing
As was previously mentioned, you don't want wet clothes weighing you down or causing you to feel uncomfortable on a long ride. So, wearing clothing made of quick drying material is the best way to avoid this.
Your clothes can become wet from sweat or rain while you tackle tough trails and quick drying clothing will remove the excess moisture from your skin and towards the surface of the material.
Polyester is one of the best quick drying fabrics and it can be sewn into lots of thin fabrics.
If you are looking for a more insulating fabric then go with merino wool because the inner part of the material absorbs up to 33% of its own weight in moisture while the outer part keeps you warm.
Nylon and cotton are also two great hydrophobic materials that make comfortable biking clothes.
Wear Mountain Bike Shoes For Better Grip And Power
If there's one thing that will get you up those uneven mountain hills, it's some powerful pedalling.
And the best way to ensure powerful pedalling is to wear shoes with a strong grip so that your feet aren't slipping off or uncomfortably placed.
Regular trainers are fine for road biking but mountain bike shoes are recommended for the tougher mountain terrain. These shoes are designed for slippery pedals, so they have an advantage over other shoes that are designed for day-to-day wear.
They are also comfortable enough to walk in, but they are fairly stiff when you cycle because they stick to the pedals to give you better grip and traction.
They are also more waterproof than regular trainers, so you will be ready for the ride and the elements if you choose mountain bike shoes.
What To Wear Mountain Biking
1 ) Shorts With Padding
We have already briefly outlined the benefits of wearing padded shorts because they offer greater comfort and support for long and exhausting rides.
The 3D Cycling Shorts by Vayager and Baleaf are a great choice because they have thick built-in padding that helps you to grip the saddle while also preventing painful chafing.
These shorts are for men and women, so you should have no trouble finding the right size for you.
The thick 3D padding provides plenty of comfort but the addition of gel padding takes these shorts to the next level for bikers. You want to be able to sit in place without becoming sore from the saddle, so the grips will have you feeling secure as you ride and are cushioned enough to prevent abrasions.
Made from spandex and polyamide, these shorts fit nicely to the shape of your body, but the breathable fabric will stop you from becoming too hot in them.
Recommended ( For Men ): VAYAGER 3D Padded Bicycle MTB Shorts
Recommended ( For Women ): BALEAF 3D Padded Bike Shorts
2 ) Moisture Wicking Jersey
Moisture wicking fabric is a type of quick drying material for clothing. Wearing a moisture wicking jersey for biking on mountain trails is a great idea because most of the sweat produced will be around your neck, back and armpits.
These jerseys work by drawing moisture away from your skin to help it evaporate so that your clothing won't be clinging to you as you cycle.
These jerseys are pretty thin, so they are very comfortable to wear. Once on, simply pull the small zip at the front up to the neckline and set off for your ride at ease.
Another handy benefit is that a moisture wicking jersey will help you to regulate your body temperature, so it'll keep you cool when it's hot and warm when it's cold.
By helping you to manage moisture, you will look and feel better as you ride in one of these jerseys.
Recommended ( For Men ): PEARL IZUMI Men's Attack Thermal Cycling Jersey
Recommended ( For Women ) : Women Long Sleeve Off-Road Mountain Bike Jersey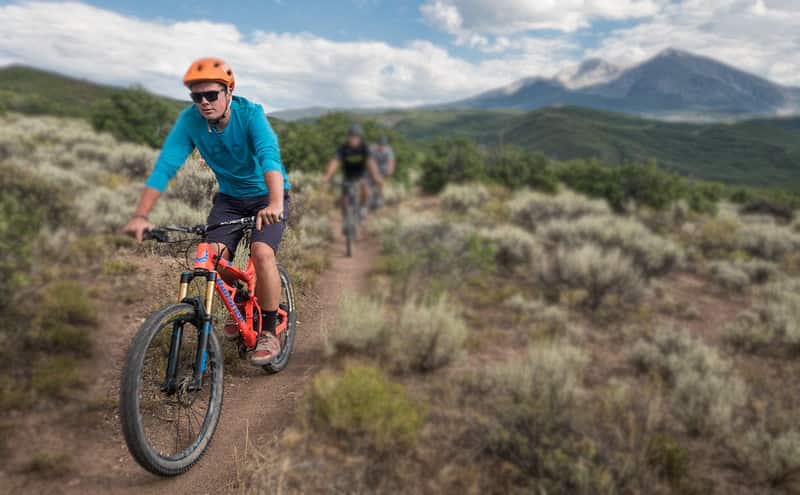 3 ) Mountain Bike Helmet
As discussed earlier, there are helmets designed specifically for mountain biking because the tougher terrain means that accidents are more likely to happen and you want to avoid any head traumas as much as possible.
You can even get full face helmets that some mountain bikers wear for extra protection on downhill trails, some of which have a neck brace as well to prevent the head jerking back painfully should you fall suddenly from your bike.
The back of your head and your temples are particularly vulnerable areas, so getting a mountain bike helmet that covers these areas completely is the best thing to do.
A full-face helmet will have another layer of protection around your chin, so your entire head will be cushioned by protective padding.
Though these helmets appear bulkier than road bike helmets, their rigid structure offers the best possible protection for riskier routes.
Recommended: POC, Tectal, Lightweight Helmet for Mountain Biking
4 ) Protective Glasses or Goggles
If you are riding on mountain paths, there is a much greater chance of dusty terrain. You don't want any debris blowing into your eyes because it will hinder your ability to control the bike and navigate where you are going.
This is why wearing protective glasses or goggles is a good idea. You can easily fit them on under your helmet and they will protect your vulnerable eyes against any stones, leaves, insects, dust, and dirt that may fly into your path.
The sun also poses problems beyond overheating you because it can also throw off your balance if the light gets in your eyes as you ride.
You can get protective glasses designed for biking that also act as sunglasses and help keep your eyes protected from the sun's glaring as well as the debris on the ground.
With both your head and eyes protected, you will be able to cycle in comfort and protection.
Recommended: ROCKBROS Polarized UV Protection Cycling Sunglasses
5 ) Mountain Bike Gloves
Wearing gloves while biking will give you a better grip on the handlebars and enhance your steering abilities, so good cycling gloves will be perfect for navigating tough mountain trails.
Seibertron sell some fantastic multi-purpose biking gloves that are waterproof, windproof and allow you to use your touchscreen mobile phone without taking them off.
The material is thick but not too bulky, so your hands will stay warm in windy or winter conditions and the gloves won't get in your way at all.
The palms are covered with non-slip wear-resistant silicone grips to help you keep control of the steering and the zipper on the back can be used to adjust the size of the gloves.
It must be mentioned that though they are waterproof, these gloves cannot be used in very heavy rain, so make sure you check the weather before you set off for your ride.
Because wet hands, bare or in gloves, will inhibit your grip on the handlebars.
Recommend: Seibertron Dirtpaw Unisex Mountain Bike Off-Road Cycling Gloves
6 ) Water Repelling Bike Jacket
Another common condition that you may end up biking in is the rain, so a good water repelling bike jacket is just what you need to enjoy your ride no matter the elements.
Unlike bike gloves, jackets are usually separated into men's and women's. A great option for men is the Men's Cycling Jacket by BALEAF.
It has three layers of fabric to keep you warm and dry, with a rugged exterior that acts as a windbreaker, which will be very useful for mountain trails. It also includes reflective elements to increase your visibility.
The waterproof fabric used is breathable, so you will stay dry and well-ventilated.
A great choice for women is the Ladies Cycling Jacket by BALEAF. Like the men's jacket by BALEAF, this product also has multiple layers to repel both the rain and the cold.
The front and back pockets are designed to be completely waterproof and the long shape of the design will protect your entire upper body from rain while you are in the cycling position.
The jacket itself is reflective, so you should have no problems with visibility, and it has handy zipped openings should you need extra ventilation.
Recommended ( For men ): BALEAF Men's Windbreaker Waterproof Cycling Jacket
Recommended ( For Women ): BALEAF Women's Rain Wind Waterproof Cycling Jacket
7 ) Protective Knee Pads
Though you'll be trying to avoid any accidents, you are more likely to fall off your bike on a mountain trail than a city route because of the terrain the bike needs to cover.
So, wearing protective knee pads is the best way to prevent as much damage as possible should you fall, especially if you will be wearing shorts.
The Protective Knee Pads by POC will have you well protected and they are comfortable to wear for the entire road due to their elasticity, so the knee pads won't influence your leg extensions.
The high-density foam of these knee pads also serves to keep your knees warm and protected from the wind, which will prevent the possibility of stiff joints and muscles.
The knee pads will firmly hug your legs and you'll forget they're even there because they are so lightweight and comfortable. POC also make matching elbow guards for even more protection, so consider those too to protect as much of your body as possible while biking!
Recommended: POC, Joint VPD Air Knee Pads Mountain Biking Armor for Men and Women
8 ) Mountain Bike Shoes
For mountain biking, you'll want one pair of shoes that can do a lot of things: fit comfortably, sit easily on the pedals, prevent overly hot feet, stay laced up.
Fortunately, Giro Gauge Women's Mountain Cycling Shoes are designed specifically to meet all those needs.
The breathable synthetic used in these shoes and the mesh panels on the top and sides will prevent your feet from overheating as they work tirelessly on the pedals.
The laces can be done up tightly and shouldn't come undone easily. The best bit may be that these shoes are unisex, so they will work for any cyclist so long as you order the right size for you.
The shoe soles have cleats to grip the pedals effectively, but they are not uncomfortable to walk in either.
It is always best to wear the shoes once you get them so that you break them in a bit, but otherwise you'll find these biking shoes a comfortable fit for any ride you want to take.
Recommended ( For Men ): adidas FiveTen Freerider Pro Mountain Bike Shoes Men's
9 ) A Hydration Pack
An absolute essential for mountain biking is to make sure that you have enough water to keep yourself hydrated and energized for the entire ride.
The best way to do this is to purchase a hydration pack because it will allow you to bring plenty of water without needing to find space to fit multiple water bottles.
The Military Hydration Pack by G4Free is a wonderful choice because it appears fairly compact but can hold 3 liters of water. You can wear the pack on your back comfortably because of its adjustable chest and waist straps, and it even has extra pockets that you can fill.
The water bladder is stored safely inside the pack and fixed into position with built-in buckles to avoid any spillages or the bladder hitting your back.
The biggest advantage that a hydration pack has over a water bottle is that you can use it hands-free.
With the G4Free hydration pack, simply bite gently on the mouthpiece and then suck to get the water flowing. There is even a wide screw cap should you wish to put ice cubes into the water bladder and keep the fluids cool.
10 ) Backpack or Hip Pack
Though the hydration pack has some pockets that can be used for small essential items, you will also need a full-size backpack for long rides to safely store everything.
The Bike Backpack by WINDCHASER is perfect for mountain biking because it is designed to minimise pressure on the shoulders and fit comfortably against the shape of your spine while you cycle.
You can fasten it around your waist and chest for further security. The breathable material will help to prevent your shoulders and back from becoming too sweaty, with mesh panels for optimal comfort.
There are plenty of sections inside so that you can separate your items and find everything quickly, plus extra pockets on the front. A concealed hydration tube in the shoulder strap allows you to put a water bladder in this backpack as well, so you can combine different products more conveniently.
If you are taking a shorter ride or have more space on your bike, then consider a hip pack instead.
There is, of course, a lot less storage space, but it is a very secure way to keep your important items, like your money and phone, close to you.
The Unisex Waist Pack by CAMELBAK works similarly to the G4Free hydration pack: it has pockets for your essentials but uses most of its space to store a water bladder for hydration.
With this hip pack, you get 1.5 litres of water and a hands-free tube to drink it from as well. The straps do up nicely around your back and prevent any chafing.
What To Wear Mountain Biking When It's Hot And Sunny
When it's hot and sunny, you'll want to stay as well protected as possible while also preventing the possibility of overheating. A helmet and knee pads are items you should not go biking on mountain trails without, but those are fairly lightweight items that are made to be as breathable as possible.
But with the summer weather, you'll want to avoid unnecessary layers because you'll only get hotter the further into the ride you get.
So, choosing shorts over longer trousers is a good start, especially if they are well-ventilated shorts.
Wearing lighter shirts and jerseys that help to prevent a build-up of moisture on your skin will make you feel cooler and less sticky.
A hydration pack is also a must for summer biking because you'll need to stay hydrated more than ever when it's hot. A backpack to carry your water in should be made of a breathable material so that it doesn't add further heat to your body.
Though you may think that wearing gloves will make your hands hot, they will actually prevent them from becoming too sweaty and help you to keep your grip on the handlebars.
Should the sun make the handlebars hot, gloves will protect your hands from burning on them as well.
Taking more regular stops in shaded areas when biking in hot weather will give you a chance to cool down, but wearing light, breathable fabrics will offer decent ventilation while you are on the bike too.
What To Wear Mountain Biking When It's Cold
If there is one thing that you can always be sure of when it comes to mountain trails, it's that conditions become cold up there very easily.
So, you'll always want to be prepared for this, especially if you are going biking in the winter months. A thicker jersey will still feel lightweight to wear as you ride while keeping you from the cold.
A fleece is another great idea to keep the upper body warm because it is not bulky like a heavy winter coat and won't impede your pedalling or access to the handlebars.
You can easily add a raincoat on top of the fleece as well if it is both wet and cold. For your legs, you don't want long baggy material because that may get in the way as you cycle.
Instead, go for tight but insulated cycle leggings. You can even add shorts on top of these for an extra layer on your lower half.
If you prefer to wear shorter sleeves and shorts no matter the weather then purchase some arm and leg warmers. These are insulated Lycra garments that you can easily pull on when you feel a chill.
Two of the fastest areas on your body to feel the cold will be your hands and feet, so go for thicker mountain bike gloves with grips for the handlebars and add overshoes or over-socks for your feet.
A thermal cap to go under your helmet is a great idea as well because mountain bike helmets are not well insulated.
What To Wear Mountain Biking When It's Raining
Whatever the weather for your ride, you should always have a good waterproof jacket with you just in case it starts to rain. Water repelling jackets made specifically for mountain biking will have longer tails to cover more of the upper body when you are bent over into the riding position.
Overshoes are also a good idea for biking in rainy weather because you don't want your shoes becoming soggy and potentially slipping off the pedals.
Goggles will also serve you well in the rain because the water won't get into your eyes and prevent you from properly seeing the path ahead. A cycling cap under your helmet will keep your head dry as well as warm, which in turn stops any excess water from dripping onto your face.
If you want to ensure that your feet are as protected from the rain as possible then consider slipping some plastic bags on over your socks; your shoes and overshoes will provide further waterproofing.
Some cycling tights have a water-resistant fabric, so those can be worn to keep the legs as dry as possible. You could also consider some over trousers to cover your regular cycle leggings and act as a raincoat for your legs.
Over trousers aren't bulky and are incredibly lightweight so you won't even notice them.
Of course, gloves remain the most versatile item in your biking wardrobe because they'll keep your hands dry so that you can hold onto the handlebars.
Conclusion
There are so many items on the market that are specifically designed for mountain biking, so, by paying attention to the garments specified in this article, you really will be able to ride in comfort from head to toe.
Though it might seem like you need a lot, it is easy to layer up and pack extra clothing tightly into your backpack because you never know what a ride on mountain terrain will throw at you.
Also Read,
Are Jeans A Good Fit For Mountain Biking?
Can I Ride A Mountain Bike on Streets, Roads & Pavements?
Why Need Mountain Bike Gloves? – Answered With Examples
Clipless vs Flat Pedals: Which One is Better For Mountain Biking?