If you're used to taking small commutes around town or joy rides on your bike, you probably don't think twice about throwing on a pair of jeans and going for it.
If you plan on taking a rider through more difficult terrain, however, then there are some extra considerations that you might want to make. Jeans are great for day wear. They're cozy and breathable.
That being said, there are a lot of issues that cotton jeans present when you're going on longer treks through wet and harsh terrain.
You do have a few options though if you really want to go with jeans for a bike ride. Stretchier jeans can offer some of the benefits that you would look for when purchasing mountain biking gear.
Some companies such as Levis even offer jean selections specifically geared towards mountain biking, though they still aren't as fit for the job as typical spandex and other biking gear.
So, Can You Mountain Bike in Jeans?
The short answer is yes, but you'll be putting yourself at a disadvantage if you do. Most jeans are made out of cotton, which means they'll absorb all the water that gets on you if you're riding through puddles and in the rain.
This not only ways you down but is also bad for temperature regulation.
This is especially problematic in colder climates where a lack of insulation in your clothes can lead to hypothermia, but also in hotter climates where heat stroke is a possibility.
Most performance fabrics have some kind of moisture-wicking ability to help prevent this.
Moisture-wicking is when fabric pulls sweat away from your skin while you are riding and towards the outside of the fabric that you are wearing.
Without this ability, your clothes will get progressively more uncomfortable as you ride on.
This can also lead to friction between your legs and your jeans that can result in a rash, especially if you suffer from any skin conditions like eczema.
Mountain Biking in Jeans
For casual or short rides in cool or dry climates, loose jeans may work just fine. This is especially true if you plan on going somewhere after your short trail ride like shopping or doing errands.
Stay away from skinny styles as those provide almost no stretch. That being said, denim fabric is not the best performance material if you are planning on long or challenging trail rides.
Let us discuss in detail the pros and cons below.
Comfort
Jeans can be comfortable to move around and to ride in, most especially when you choose styles that provide ample room such as loose cuts with stretchy type of denims.
They are also great for short commute in winter or those chilly mornings.
You will be surprised to know though that jeans that are non-stretch but feel just OK to walk or even run around in can be uncomfortable when the time comes for you to sit on the saddle.
This is because new pressure and tension points are created when you're seated.
The fabric around your knees should be flexible enough for a wide range of movements. They can be alright when in an upright riding position but they'll be uncomfortable in forward-leaning positions or tough climbs.
Rating: Thumbs down 👎
Convenience and Cost
As we discussed above, jeans are perfect for the hop and go riding. You don't need to buy another biking apparel because I am sure, almost everyone these days have a pair or two.
As the saying goes, the best apparel is the apparel that you already have.
Rating: Thumbs up 👍
Moisture and Insulation
Denim, which is the material used for jeans, is mainly made of cotton. Cotton is not a great choice for performance fabrics because it doesn't pull or absorbs the moisture away from your skin.
When wet, it clings to your skin and causes irritation and chaffing.
Cotton also shrinks a little and gets very heavy when wet, making it an enemy of rain and perspiration. Too bad for outdoor activities that require moderate to extreme exertion.
Lastly, when it does get wet, it can take hours to dry. It's quite difficult to enjoy the scenery when your bum is wet and your chaffed groins are burning.
Rating: Thumbs down 👎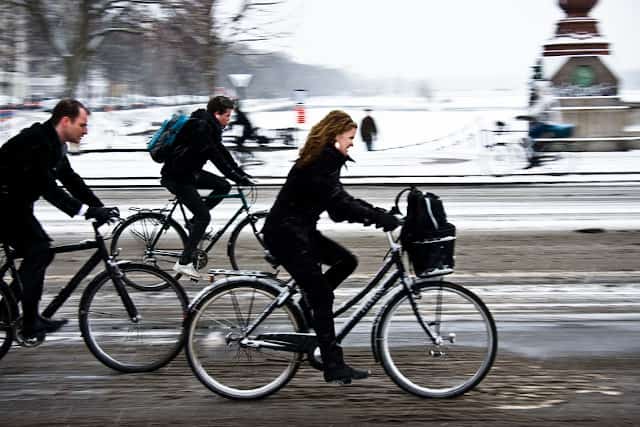 Durability and Looks
Good quality pieces of denim are tough and tear-resistant, lending fair protection against abrasions and minor cuts. That doesn't mean that they are indestructible though, threadbare spots can form in areas with a lot of movement or contact.
This means unsightly worn crotch seams and contrasting saddle fade prominently in your rear. Yikes!
Rating: Thumbs down I guess 👎
Odor and Bacteria
With mountain biking, breaking a sweat is never an impossibility especially on a sunny day. The good news for jean lovers, cotton is not prone to odor and will not reek of sweat compared to polyester.
Popular athletic clothing looks and feels great for high-endurance cycling but since they typically have high polyester content, the odor is the biggest problem.
With odor comes the presence of bacteria that cling and multiply.
Rating: In this aspect, they are perfect for cycling, thumbs up 👍
What About Stretchy or Flexible Jeans?
It's possible now to get jeans that are made with spandex. A few popular brands such as Bonobos or Old Navy sell them as well so it's not hard to find a pair.
Spandex adds an extra level of comfort and waterproofing to your jeans that makes them more viable for mountain biking. A lot of extra stretch in your pants also means that chafing is a lot less common in stretch pants, which helps a lot with an extended ride.
It's important to be aware that despite the added benefits, spandex jeans still do not have much water-wicking capability and won't solve that problem for you.
If you plan on going anywhere that's particularly cold, hot, or wet, then these jeans still won't cut it.
What about jeans made specific for cycling?
Some jeans are designed to be used for cycling. Just like with stretch jeans they're made with elastane or "spandex," but come with a few extra benefits.
That being said, keep in mind that cycling jeans are usually designed for people who commute to work on a bike and not for those who are taking their bikes off-road and through rough terrain.
Levis, Ralph Lauren, Bonobos, and plenty of other brands carry commuter jeans that can make a ride more comfortable.
They also have the added benefit of lasting longer than regular jeans, but again, if you're headed for rougher waters, you're going to need more than just jeans.
Why Jeans Aren't Ideal For Cycling
No matter how you spin, jeans just aren't cut out for heavy-duty biking, the same way that they aren't cut out for heavy-duty exercise.
The stretchier jeans may get you through a short commute, but any extended ride in jeans is going to leave you chafing and uncomfortable.
It's an absolute no to any kind of inclement weather where you have to worry about moisture or the temperature. If you've ever been caught out in the rain during a walk, you know how heavy and uncomfortable your jeans can get when they start taking on water.
In those conditions it's uncomfortable, on a biking trip it makes things impossible. Don't handicap yourself if you plan on taking a longer trek in the wild. Pack gear that will keep you comfortable and dry for the long haul.
Alternative Apparel for Mountain Biking
Cycling Jeans & Pants ( For Fall & Winter )
If you still want to pick a pair of jeans out for your casual bike rides, that's perfectly fine. Remember that the most important thing that you want to look for in a pair of riding jeans is elastane.
The stretchiness that they offer is the best that you can hope to get out of a pair of jeans that you want to bike in. They're comfortable, last longer, and do offer some waterproofing, even if it's not a lot.
Some biking jeans also offer specific protection in the crotch, which is especially important to prevent chafing on a long ride. You shouldn't have to suffer a rash just because you wanted to ride your bike in comfort.
If jeans are the move, then make sure you're getting a pair that will keep you protected first, and then comfortable.
These are denim jeans that are a lot stretchy, more breathable, and durable than everyday variants. Super stretch is achieved by incorporating and blending elastane (a synthetic fiber) or Lycra into the fabric.
The added stretch can make your rides more comfortable while maintaining that urbane, chic look. They have reinforced crotches that enable the material to withstand long and rough use.
Padded Shorts
Rough terrain is a major aspect of mountain biking and riders usually spend time repeatedly getting in and out of the saddle. Padded shorts are perfect because they offer stretch for easy leg movement with padded crotch liner to reduce friction and wick moisture.
Baggy Mountain Bike Shorts
These knee-length shorts are made of robust and tear-resistant fabric with stretch panels in strategic areas to allow for greater movement range with the rider, With their baggy construction.
They have room for knee pads and/or liner padded shorts underneath.
Waterproof Trousers
Now if you are longing for the coverage offered by jeans, waterproof riding trousers are perfect alternatives.
These trousers do well in inclement and mucky weather and are great riding partners for bikers that ride year-round. They provide warmth and will keep you dry as they are available in waterproof and water-resistant types.
Also Read,
Why Do Bikes Not Come With Kickstands? It's Not All About Weight
What To Wear Mountain Biking From Head to Toe
Best Bike Skirt (Cycling Skorts) for Women