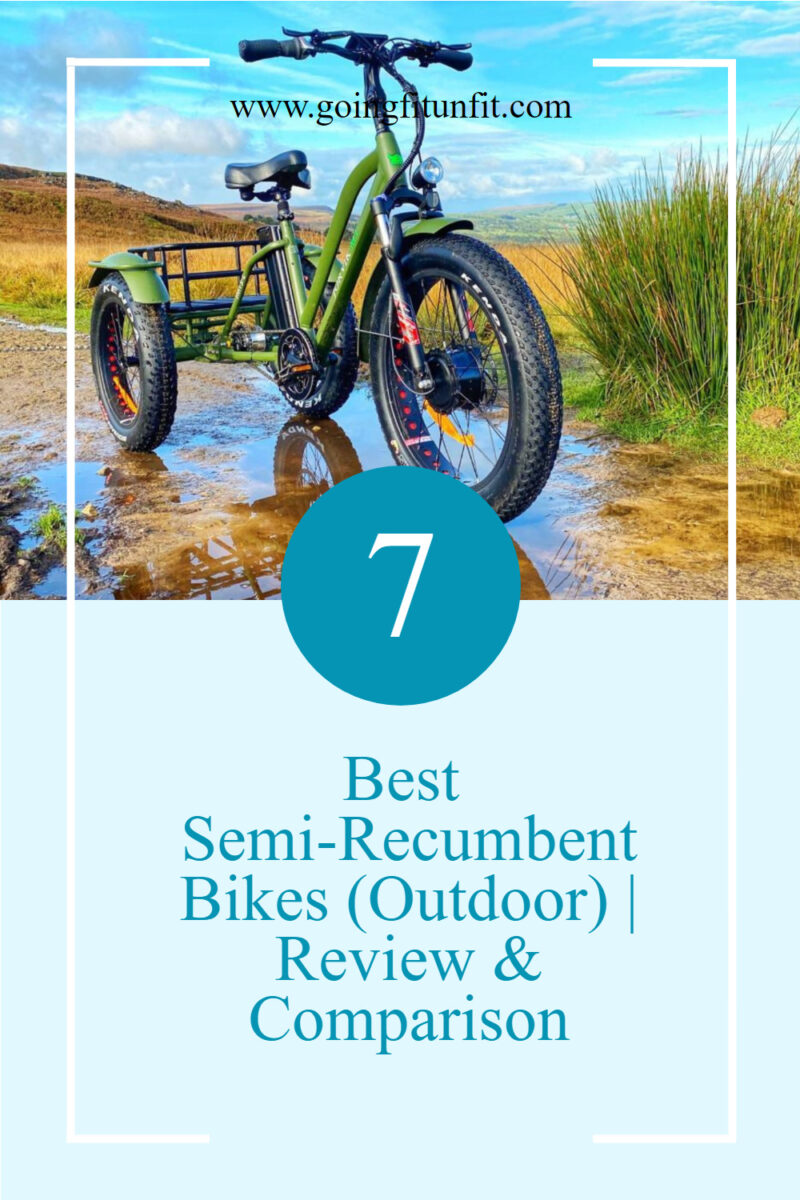 A semi-recumbent bike combines the comfort of a regular bike with the back support of a recumbent bike, making it ideal for older adults.
While traditional bikes give you a better riding position, they still require you to lean forward sitting on that skinny high seat. This leaves you vulnerable to joint pains and is pretty uncomfortable for seniors and other adults with back issues.
A recumbent bike may be comfortable and supportive, but the riding experience can feel unnatural. However, semi-recumbent bikes offer a solution by providing a more natural riding position with handlebars that are easy to reach, along with a wider seat, lumbar support, and low step-through design.
When looking for the best semi-recumbent bike for seniors, it is sometimes hard to find one that meets all your expectations without knowing what makes it safe, comfortable, and efficient. To make things easier, I have gathered some of the best bikes on the market in this list.
Best Semi-Recumbent Road Bike – Comparison Table
| | | | | |
| --- | --- | --- | --- | --- |
| Bike Name | Speed / Gear | Size | Weight Capacity | Amazon link |
| Slsy Adult 7 Speed Cruise Trike | 7 | 20/24/26 | 350 lbs | |
| Day 6 Dream 8 Contour Seat Road Bike | 8 | 26 | 300 lbs | N/A |
| Addmotor Motan 750 W Electric Tricycle | 7 | 24/26 | 450 lbs | |
| Mobo Triton Pro Adult Cruiser Tricycle | 1 | – | 250 lbs | |
| YiiYYaa Adult Tricycle Trike Cruise Bike | 1 | 24 | 330 lbs | |
| Schwinn Meridian 26 inch Adult Trike | 1 | 26 | 300 lbs | |
| MOPHOTO Adult Bike Cruise Trike | 7 | 24/26 | 280 lbs | |
7 Semi-Recumbent Bikes To Buy
1 ) Slsy Adult 7 Speed Cruiser Trike
The slsy adult 7-speed cruiser trike is popular for its superb customer service, pretty looks, comfortable backrest, affordability, soft padded seat, and speed gears. Its soft padded seats with flexible backrests offer much-needed support to your back, while the raised handlebars provide a more natural and comfortable riding position.
The step-through frame design makes it ideal for seniors, putting less strain on their legs every time they hop onto the bike seat. At the same time, the 7-speed derailleur with grip-twist shifters offers greater speed with less effort.
The full-wrap fenders keep the dirt at bay, while the three-wheel construction keeps it balanced and secured. The seat is easy to adjust, and the suspension is very good. Equipped with standard V brakes, it offers reliable stopping power and lasts long.
On the downside, the assembly instruction is quite vague and confusing. So, it may take you a little longer to assemble; for me, it took an hour to complete. Overall, it's a great semi-recumbent tricycle with a basket that you can use for casual transport or light exercise.
Slsy Adult 7 Speed Cruiser Adult Trike: Check Its Price On Amazon!
2 ) Day 6 Dream 8 Contour Seat Road Bike
A genuine semi-recumbent road bike with wide contoured seats and lumbar support with high-density foam for maximum comfort. The contoured back support keeps your spine aligned and is curved for lavish support.
Further, its low step-over frame design and high, easy-to-reach handlebars help give you the safest, relaxed, and comfy riding position. Its high-performance 8-speed gears make it amazingly fun to ride. At the same time, the strong 6061 Aluminum U-First frame keeps it light yet durable.
Whether you love going for leisure rides or want them for fitness purposes, the ergonomic design of this Day 6 Dream 8 Contour Seat Road Bike makes it comfortable for longer rides. For just 31 lbs weight, it can take a ton of load on itself, precisely 300 lbs. Available in three different frame sizes, it easily fits people anywhere from 5'1 to 6'9 in height.
Day 6 Dream 8 Contour Seat Road Bike: Check Price On Day 6 Website
3 ) Addmotor Motan 750 W Electric Tricycle
The Addmotor Motan 750 is an excellent hybrid tricycle. It can be used both as a regular trike and with peddle assist. When it comes to riding experience, it feels just like an ordinary bike but with 83% less effort.
They are designed to pass through rugged terrain, ideal for people looking to travel further than on a regular trike. Furthermore, its step-through design makes it perfect for women, young girls, and seniors.
The Addmotor Motan 750 W Electric Tricycle came with a 48V*750W front motor, 25A controller, 48V*16AH cell battery, large 5-inch LCD, twist throttle control, Addshox steel suspension front fork, rust-resistant chain, durable frame construction, and powerful Tektro EL555-RT brakes.
Some of the key features of this bike are comfortable seats with back support, easy-to-hop on and off step-through design, long battery life, sleek design, rugged construction, and powerful smooth shifting gears.
Its shopping basket can take quite some weight as the total weight capacity for this bike is 450 lbs. The motor is quite responsive, and the fat tires are excellent in both on-road and off-road conditions.
Addmotor Motan 750 W Electric Tricycle: Check Its Price On Amazon!
4 ) Mobo Triton Pro Adult Cruiser Tricycle
This modestly priced folding trike is a true recumbent bike and a great way to move around with style. Its rear-wheel steering control and front freewheel pedals make it unique to most riders.
This means there are no speed gears in this bike or the need for a chain to peddle. The seat is comfortable and supportive, catering to the needs of persons with physical limitations.
With its adjustable frame, the Mobo Triton Pro Adult Cruiser Tricycle can fit riders from 4'2″ to 6'4″. It is made with high-tensile steel with a total weight capacity of 250 lbs. The bike is easy to handle and very stable, thanks to the low center of gravity.
Its dual-joystick steering makes it more like steering a car than a bike, which is at least better handling than a regular tricycle. Its minimalist yet modern polished look makes it an excellent choice for seniors.
The bike is perfect for fitness enthusiasts, people with physical limitations, adventure seekers, and seniors looking for a low-impact exercise option without putting much strain on their knees or back.
Mobo Triton Pro Adult Cruiser Tricycle: Check Price On Amazon!
5 ) YiiYYaa Adult Tricycle Trike Cruise Bike
The YiiYYaa adult trike is perfect for exercise and leisure riding, whether around town or at your nearest grocery store. The super-low step-through high tensile steel frame makes it especially easy for riders to hop on and off.
You can make sharp turns and ride over trails that are very stable and balanced without any issues. It has front and rear alloy brakes and a large rear folding basket. The 24-inch thick wheels provide a cushioning effect and add stability when taking speed turns.
The large soft saddle with a reclined back seat gives a supportive and comfortable laid-back position. Being a single-speed option, it is excellent for seniors just starting out biking.
Although the bike came without instructions, it is straightforward and easy to assemble. This trike also has raised ergonomic handlebars that are supportive and encourage riders to keep going.
Overall, it's a decent bike for the price, with many cool features, stylish looks, and supportive seats and handlebars. The tricycle comes with front and back wrap-around fenders for maximum protection.
YiiYYaa Adult Tricycle Trike Cruise Bike: Check Its Price On Amazon!
6 ) Schwinn Meridian Adult Tricycle with 26-inch Wheels
With this, you get the security of the Schwinn quality and excellent after-sales service. The super-low step-through aluminum frame makes it easy to get on and off. At the same time, the adjustable cruiser seat with wide swept-back handlebars offers a relaxed and comfortable ride.
Take it on a ride around the town or your neighborhood, and you will know you are not riding something cheap and poorly made. Exactly what 55+ men or women want for light exercise or taking their dog for a run.
It has a rear expander brake with a front linear-pull brake that delivers excellent stopping power. This bike is not for people with physical limitations or serious back issues. Rather, it is for adults and seniors with balance issues looking for a nice trike with a basket.
Schwinn Meridian Adult Tricycle: Check Price On Amazon!
7 ) MOPHOTO Adult Bike Cruise Trike
If you don't think tricycles have style, check out this bike with sleek American colors. Even though it's not built for racing, its 7-speed gears allow for speedy travel on roads.
The shifting is relatively seamless and smooth. Another notable feature of this bike is the comfy backrest seat with a reclined seat post for maximum support and comfort.
On the downside, it has one major issue: the wrong instruction manual that makes the assembly process more tricky than you would otherwise. The seat could have been a little wider, but it's still okay for everyday rides around town.
The frame is of the highest quality and is solid and durable, while the brakes, chain, and other accessories seem basic but functional. The full-wrap fenders on the front and rear wheels kept the dirt and water away. Overall, it's a nice trike for a retiree looking to ride around their retirement community.
MOPHOTO Adult Bike Cruise Trike: Check Its Price On Amazon!
How To Choose The Best Semi-Recumbent Outdoor Bike
When buying a new bike for leisure, light exercise, or daily commute, there are important factors to consider.
Will the size be enough for my height? Can you sit straight up on this bike? How comfortable is it? Is it in your budget? Its key features? How much does it weigh? Does it have a rear rack for carrying groceries, etc.?
These are some important questions you should ask yourself before deciding. Happy riding!
Have you ever used a semi-recumbent bike before?