"What is the weight of this mtb or what's the mountain bike weight?" is a popular question that every biker asks before buying a mountain bike.
It may not be a matter of concern for beginners, but it is an essential factor for a mountain biker. Also, you must know that when you upgrade your bike by adding components, its weight increases.
Major mountain bike manufacturers do not publish weights of their bikes because of a lot of reasons. Typical mountain bikes are believed to have an average weight of around 28 to 32 pounds.
It is best to pick lighter bikes.
However, riders will have to decide what weight will work best for them as per their riding style. Various designs are available when it comes to mountain bikes, and the components used results in varying weight.
Variance in bike weight results from several other factors, including hardware, material, and finishing. However, mountain bikes weigh more than normal ones because of the extra gears attached to enable bikers to cope with uneven trails. Furthermore, it requires powerful brakes to handle steep ascents easily.
Does Mountain Bike Weight Matter?
When looking for a mtb, you might come across mountain bikes of different scales. But are the scales important?
If you are a weekend rider, bike weight would not matter to you. However, it is something that holds a lot of importance these days.
These days mountain bikes are more popular than ever; it is the youth's obsession these days. It won't be wrong to say that mountain bikes are finally getting the attention that they deserve!
With their growing popularity, mountain bikes have evolved in recent times. Latest technology like power meters, electronic shifting, and dropper seat posts have taken mountain bikes a notch up. These bikes are now lighter and stronger than ever. Manufacturers are dropping the weight of these bikes significantly.
Lightweight mountain bikes help the racers as well as the manufacturers. It helps racers gain the advantage of speed on the one hand, and it's teaching the builders the art of making stronger yet lighter bikes.
It doesn't matter if you are a professional or a weekend rider; lightweight bikes are for everyone.
If you ride just as a hobby and the bike's weight doesn't matter to you, don't upgrade. However, if weight matters to you, then you should upgrade to the latest bikes out there.
Average Mountain Bike Weight
On average, a mountain bike weighs 28 pounds, which is equal to 12.73 kgs. Several different types of bikes are taken into consideration when the average weight of a mtb is considered. Other types include all-mountain, cross country, full suspension, downhill, etc.
Different parts of a bike contribute to the overall weight.
In general, four components make up at least 60% of the weight. If you upgrade any one of the components or a combination of components, your bike's weight is impacted.
Below-mentioned are a few examples of MTB's and how much they weigh.
Santa Cruz Stigmata Hardtail 700c weighs 16 pounds.
New 2018 Diamondback Cobra 20 Complete Bike weighs 10 pounds.
Diamondback Bicycles Overdrive 26 Hardtail weighs 26 pounds.
Santa Cruz Blur 100mm 29er weighs 22 pounds.
Salsa Timberjack 27.5+ weighs 28 pounds.
Mongoose Men's TYAX Bicycle weighs 34.7 pounds.
Kent KZ2600, 26-Inches weighs 40 pounds.
Mongoose Impasse HD weighs 43 pounds.
Dynacraft Gauntlet Boys' 21-Speed Gray weighs 37 pounds.
Merax Finiss 26″ Aluminium 21 Speed Mg Alloy Wheel weighs 53 pounds.
Kingttu G6 26 inches Folding Bike 21 Speed MTB weighs 50.7 Pounds.
Why Is The Comparison Of Bike Weight So Tricky?
As a buyer, comparing the weights of various mountain bikes can be tricky as well as tiresome. Similar bike models have several options that affect the weight of the bike.
From the wheels' size, component upgrades to dropper seats, everything affects the bike's final weight. Upgrading to merely tubeless tires can reduce the final weight of the bike by some hundred grams.
Choosing the right model that doesn't weigh too much or too little is tricky. In case you are an average rider, bike weight should not trouble you much. However, if you are a racer, you should consider the weight because that will significantly affect the bike's speed.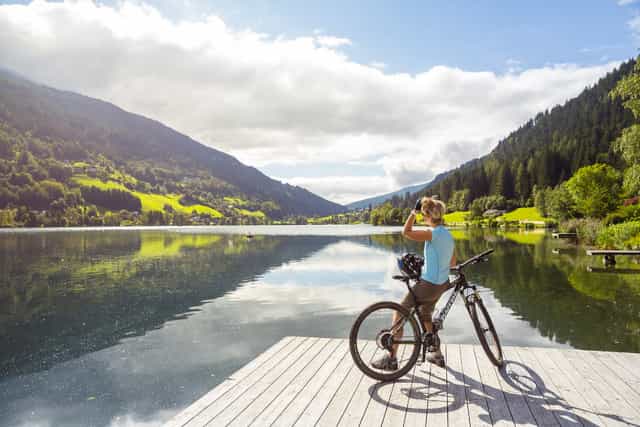 How MTB's Get Heavier Over Time And Why There's Nothing To Worry About?
Maximum mountain bikes have a top-end weight limit of 300 pounds. It includes the combined weight of the rider, bike, and cargo.
It is normal for mountain bikes to be heavy. They need more suspension than road bikes. Heavier and more durable handlebars are essential to maintain stability. Thicker handlebars maintain the right balance.
Disc brakes are heavier than many other types of brakes. They make it easier to ride on rugged terrain. Also, the disc is used at the top of the tire's axle to make it stop.
It increases the weight of the MTB. The dropper seat post also adds extra weight to the mountain bikes. It allows the riders to adjust their saddle immediately while they are out on the trail.
The components of the mountain bikes are thicker, stronger, and more significant. The wheel spokes, disc brakes, tires, suspension, and dropper Seatpost are built to handle heavy riding. So, the heaviness of mountain bikes should not be not a cause of worry.
The mudguards keep the heavy mud off the body of the bike. Otherwise, the dried mud will add more kilos to the bike than the mudguards.
Are 34 lbs Too Heavy For Mountain Bikes?
There is nothing to worry about if your bike weighs 34 lbs. The bike's weight depends on the riding style, budget, body weight, and much more.
However, on average, the weight of a mountain bike is around 30 lbs; thus, if you plan to buy or upgrade your mountain bike, you should go for the lighter options available that are approximately 30 lbs.
A 30 lbs mountain bike is considered the most suitable weight for the average riders or beginners.
With that being said, 34 lbs is not an insufficient weight. It should not alarm you. However, if your bike weighs more than 34 lbs, you should try reducing your bike's weight for a better experience.
You can change some bike components like the rear wheel, frame, fork, or front wheel. Thus, these components weigh the most; replacing any one of them would significantly reduce the bike's weight.
Top 5 Contributor To Mountain Bike Weight
The material used to produce the frame and wheels of a bike are the two major factors contributing to a mountain bike's overall weight. However, there are other components as well that are responsible for the overall weight of a mountain bike.
Wheels: Wheels account for almost 34% of the total weight of a mountain bike. They add the most weight to them and also provide support. However, bikers should ensure that wheels hold their form to operate smoothly.
Fork: Fork seconds the list of contributors when it comes to the weight of your mountain bike. The suspension fork on the front is believed to add 15% of the total weight. It doesn't include the handlebar and the stem.
Frame: People who think frames add the most weight are of the wrong notion. Frames generally don't play a significant role when it comes to the weight of a mountain bike. Frames account for just 11% of the bike's total weight, and other parts play a significant role in determining the average weight of a mountain bike.
Drivetrain: The drivetrain is the heart of a mountain bike that accounts for almost 7% of its weight. The drivetrain doesn't include the chain of a bike.
Chain: Chain accounts for an additional 2.5% of the weight of a mountain bike. When it comes to contributing weight, they are not included in the drivetrain.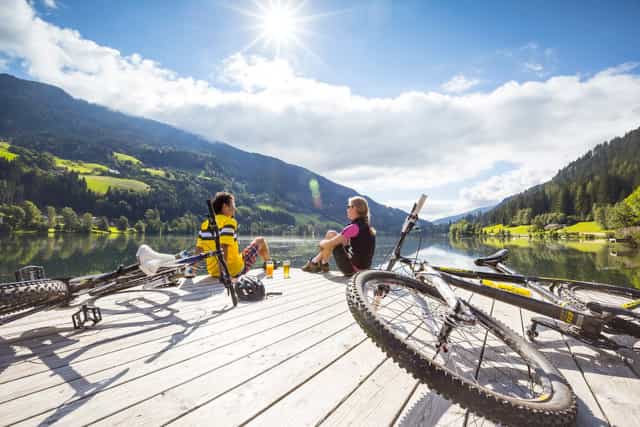 Weight Comparison- Full Suspension Vs. Hardtail Mountain Bike
With a variety of bikes available in the market, the new buyers are spoilt for choice. Many people are at a debate to determine whether they should buy a full suspension bike or a hardtail mountain bike.
There is a drastic difference between these two bikes.
However, several people choose the bike according to their weight. So, let us compare the weight of the full-suspension bike and hardtail mountain bikes.
The hardtail bikes are lighter than their full-suspension counterparts. People who need to do a lot of climbing and cover a long distance prefer more lightweight bikes.
A full-suspension bike has a front shock, a rear shock, and a suspension fork up. On the other hand, a hardtail bike only has a suspension fork. The absence of these features makes a hardtail bike lighter.
The full suspension bike may burn a hole into the pocket of the customer. However, most of the full-suspension frames are at least a pound heavier than their hardtail counterparts.
What's A Good Weight For A Mountain Bike?
A perfectly weighted mountain bike should be such that it helps the rider get the stability, but it should not be too heavy. A mountain bike that weighs somewhere around 24 to 28 pounds would be perfect, and it will be light yet, it'll provide stability.
This weight considers several things like a hardtail, downhill, full suspension, cross country, and 29er.
Parts of the bike like the front wheel, rear wheel, frame, and fork weigh the most. These four components alone take 60% of the total weight. You can change any one of these four components to make your mountain bike lighter or heavier.
However, the problem is that we are only talking about the average weight of a mountain bike. To completely answer this particular question- what is the right weight of the mountain bike- we will give some examples of various kinds of mountain bikes in the next part.
How To Make Your Mountain Bike Lighter?
Generally, the heaviness of mountain bikes is commendable. However, it seems pointless to carry around empty weight. Reduction of unnecessary weight comes in handy. Let us find out a few ways to lighten up the mountain bikes.
Use Silicone Grips- Silicone grips weigh much lesser than lock-on grips. However, they do an impressive job at dampening the trail buzz. The riders should not glue them on. On the contrary, they should ease them on after cleaning the bar. A little alcohol makes the process easier.
Cut The Steerer- The fork steerer that is too long weighs down the riders. The riders need to decide whether they are comfortable. Then, they could hack off the rest of the steerer.
They could remove the brake caliper, take out the fork and hack off the end with a saw.
Reduce Clutter- The hoses of the disc brakes are always too long. So, it is a good idea to trim and clean the bars. Believe it or not, the length of the hose is almost always present.
The riders need to unscrew the hose and pull off the lever housing where the cable joins. They could also trim and bleed the cabling of the dropper post. Light mounts that are too old and indicator windows from the shifter pods may also be removed to reduce clutter.
Conclusion
As far as the weight of a mountain bike is considered, there is no definite answer. The selection of frames and the components used are responsible for adding the weight.
A butted Chromoly frame is lighter than the one which has straight gauge tubing. In the same way, steel bikes are heavier than aluminum ones.
Moreover, carbon bikes are much lighter than steel and aluminum bikes. Keep in mind that the wheel and the frame are the two major components that add the mist weight to a bike.
Also, the new upgrades that bikers add to their bikes make it bulky, but at the same time, they make it a better one. Such bikes not only feel great to ride but are safe as well.
However, it is not possible to determine the performance of a bike alone by its weight. If you want to know how well a bike climbs and its performance downhill, then make sure to take a test drive.
Also Read,
How Much Does a Bike Weigh? The Importance of Bicycle Weight
Do Bicycles Have a Weight Limit? And How Much It Can Hold
Are Mountain Bikes Good For Urban Riding? | Commuting On A MTB