Have heard of spin bikes and find it hard to distinguish between them and a regular exercise bike? Then you are at right place as we will differentiate them with a regular exercise bike and explain their benefits.
Riding bicycle is a great form of cardiovascular and endurance exercise that works on your hips, thighs, calves, shoulders, and abs muscles. Not just it strengthens your muscles, reduces stress, keeps your heart young, but also helps reduce bodyweight.
While traditional road bikes have so many advantages they cannot be used in rain or very bad weather. Luckily we have our exercise bike that helps do the job.
But its the spin bike that is more similar in features and looks of a road bike. Not just it feels the same to workout but also maximize weight loss.
What is Spin Bike?
A spin bike is a stationary exercise bike; that closely replicates the position of a road machine as much as possible. Unlike a regular training bike, these bikes allow users to stand up on the pedals; as a cyclist would on a road machine.
This is possible because the pedals are reinforced whereas they are not on a standard model. This ability to use it in both seated and standing positions allows more muscle groups to be used than on a standard model.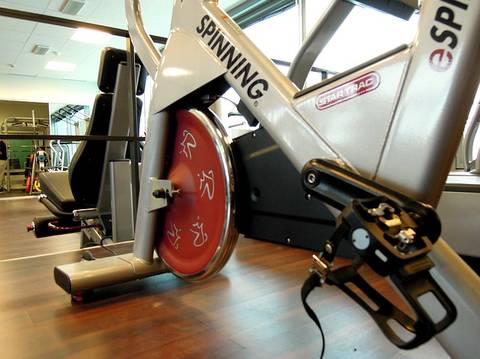 These units will also have a heavier flywheel than a standard machine. These heavier flywheels require more effort and will burn more calories. A general rule is "the heavier the flywheel the better." Some flywheels can weigh as much as 48 lbs.
Because of the intensity of a workout on a "spinner"; they are usually constructed with reinforced frames that can cope with the battering they receive.
Because of this strength of construction, they will often cater to heavier users than traditional models. Finally, because the flywheel is kept in motion there is a greatly reduced risk of injury to the joints.
Spinning Classes
These classes have become very popular in gyms these days; following a number of celebrities who have expressed their opinions on the exercise.
These include Vanessa Hudgens, Demi Lovato, Lena Dunham, and Alessandra Ambrosio (the Victorias Secret model). All these celebrities have been featured in articles where they recommend spinning.
Something that you may not be aware of is that the term "Spinning Class"; refers specifically to those classes that are licensed by "Madd Dog Athletics"; the company that was responsible for developing the spinning program. Using that title for your class is technically a copyright infringement; if you are not a holder of a license from that company.
However "spinning classes", whether licensed or not are a popular activity in many gyms; and involve a program that uses spin bikes.
Typically, these classes feature loud blaring music and a very dominant class leader who will push the participants to reach their maximum capabilities.
The sheer effort and vigorous movements in this class often result in perspiration being thrown everywhere; in the new post-COVID-19 world many people are concerned about their safety from the virus. Which is why sales of home machines are growing fast.
There are online classes for home users and if you check on YouTube you will find sample class videos.
How does a spin bike differ from a traditional static bike?
The traditional exercise bike has remained the oldest and most popular form of working out from the comfort of your home or gym. Although they do come with padded seats and have lots of features it lacks in supporting intense workout postures such as stand up and peddle.
A traditional cycle will typically cost much less than a spin one, even though they normally come equipped with consoles and extras like water bottle holders.
They are a much better option for those seeking to keep down the cost of their purchase.
Uprights normally appeal more to new users, whereas spinners are geared more to professional athletes and dedicated cyclists; who are seeking kit to allow them to continue training in winter months when road bikes might not be a safe option.
Spin bikes, unlike uprights, will provide a full-body intense physical workout targeting hips, calves, thighs, waist, abs, and shoulders.
When attending a spin class or following a home program these can be very intensive programs indeed.
These bikes are more suited for strength training, interval training, improve metabolism, and meet weight loss goals. These are quite tough bikes made for harsh use; have heavier flywheels that make you work harder and burn more for the same time duration.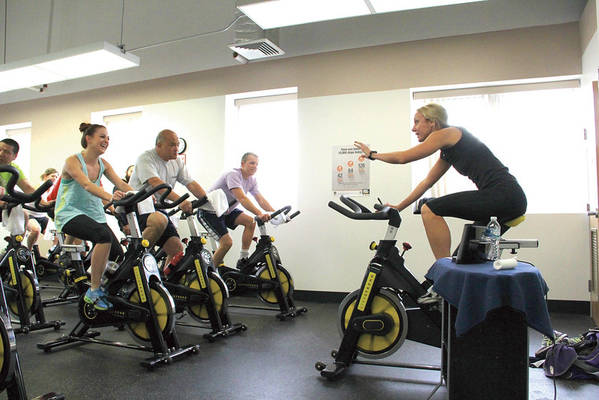 The Benefits of a Spin Exercise Program
When you visit a gym you are sure to have seen, at some point, a class where you will witness a group of people indulging in very vigorous exercise whilst being urged on to greater effort by the instructor. To a novice gym user, it all looks very intimidating.
Before joining a class it is possibly best to try a simple program on your own to build up your abilities and gain confidence. Just cycle for ten minutes three times a week on a low to medium intensity.
Add an extra five minutes each week and try to turn up the resistance setting just a little each week as well. After a few weeks, you will be up to 25 minutes on a medium to hard resistance; totally confident of your ability to join the class.
An hour-long session can burn anywhere between 600 and 1,000 calories, depending on how hard your program was. You may find that padded shorts make it much more comfortable during a program.
You are going to be feeling pretty sore in your legs after your first few sessions. Do not let this put you off as it will become easier Your muscles have to be broken down and to grow stronger and after the first few weeks you will no longer have a problem.
Your body is going to benefit big time from your use of this equipment. You will improve aerobically and each class will help you progress towards your fitness goal. Your legs will grow stronger and bigger and your fat will decrease.
What should I look for in a spin bike
The weight of the flywheel
The flywheel of a spin bike is the most important feature to look for when selecting the best spin bike. It is this which gives a similar riding experience as of a road bike. It reduces unwanted jerks and makes pedal movement smooth and fluent.
This is the large wheel at the back. The weight of the flywheel is going to have a huge effect on how the equipment performs. The heavier it is, the more smooth the action. It should normally be around 40 lbs, but the big professional versions in the gym may have 50 lb wheels.
Drive System
There are two types of drives, a chain drive, or a belt drive. Chain drives works and feels the same as in regular bikes and also require similar maintenance or care. It is best to go for the belt drive as it will not need the same amount of maintenance and more importantly it is quieter.
The Brakes
There are three different types of brakes on this equipment. Fabric brakes, leather brakes, and magnetic brakes. The cheapest bikes will normally feature fabric brakes, and the higher end ones will have leather ones. The best ones are those that have magnetic brakes. These offer more resistance and do not require periodic replacement or maintenance.
Resistance
When discussing spin bikes you will probably hear the term "Resistance" a lot many times. It is what gives you the type of intense workout you been looking for. You can increase or decrease its value to make the exercise more easy or hard as per the need.
Just like the chain and belt drive, we have two options to choose from; the friction-based resistance and electromagnetic resistance. The best system is the electromagnetic resistance type which utilizes magnets to vary the resistance; just like brakes they are more reliable and need no maintenance.
Adjustments
We all are unique and different and often require personalized riding position for best results. While virtually all models have adjustable handlebars; choose those which allow for seamless and easy adjustment of height and position of the handlebars and seat.
This is particularly important if you are tall or overweight. Most spin bikes have 4 different adjustments for handlebars; some also allows for adjustment of seats.
Our Top Four Recommendation
1 ) Keiser M3i Indoor Cycle Bundle
The latest addition in the M Series line of indoor cycles; this beautiful indoor cycle is of a high end gym quality. The bike is Bluetooth-enabled and has a wireless computer that gives the ability to connect it with tons of mobile applications monitoring/downloading various workout data.
It also includes heart rate monitor, virtual training system, redesigned bike pedal, onboard LCD display, magnetic resistance system, and V-shaped handlebar.
This bike is a lot quieter than other indoor cycles available in the market. It feels right and dead smooth making you want to workout more. The construction is rock solid and durable mimicking road bike frames and is better protected from sweat and corrosion.
Keiser M3i Indoor Cycle Bundle: Check Its Price On Amazon!
2 ) Sunny Health & Fitness Magnetic Belt Drive Indoor Cycle
Looking for something in the budget? This Fitness Indoor bike has a 44 lb flywheel offering better resistance, silent and smooth ride. It is similar in design to that of Keiser with a light flywheel at the rear. Also equipped with a computer you can keep a check on your progress and workout performance.
The steel frame is strong and durable that supports up to 300 lb weight. This heavy duty frame is fully customizable with 4-way adjustable seat and handlebars.
With top-down Micro-adjustable belt-driven magnetic resistance it almost feels like you are on road and not indoor with multiple levels of speed and resistance variation just like with different gears on road. Not just it is great for your legs but provides a fine-tuned workout experience.
Sunny Health & Fitness Magnetic Belt Drive Indoor Cycle: Check Price On Amazon!
3 ) NordicTrack Commercial Studio Cycle With 1-Year iFit Membership
Let me say things straight its a great product with lousy customer service! In the same price range as Keiser M3i Indoor, it's a better indoor bike. The Nordic Track has a substantially better frame, heavy-duty flywheel, and tons of features including 1-year iFit membership.
The bike features a 22 inches Interactive HD display with an adjustable display mount for 360-degree screen rotation. Unlike other indoor bikes, it automatically adjusts your resistance as per the workout selected.
The Nordic track commercial studio is very sturdy with a 235 lbs frame and can take on 350 pounds of body weight at its maximum capacity. Its Silent Magnetic Resistance delivers a smooth and quieter riding experience while the incline adjustments make it simply outstanding!
NordicTrack Commercial Studio Cycle: Check Its Price On Amazon!
4 ) Schwinn Indoor Cycling Bike Series
Extremely affordable and functional, the Schwinn indoor cycling bike is a great and versatile bike for entry-level cyclists. Its 31 lb flywheel with high inertia drive system simulates the smoother ride and natural feel of a road bike. You can easily control its resistance using an adjustable knob on the frame.
It simplified console features an easy to use LCD screen that came in quite handy keeping a record of speed, distance, calories burnt, RPM, and timer.
In addition, it also offers easy-adjust pedals, integrated bottle holder, adjustable race-style seats, multi-position handlebars, and perimeter-weighted wheel. The frame is rock solid and durable; It's extremely quite, contains no plastic parts, and is very well made.
Schwinn Indoor Cycling Bike Series: Check Price On Amazon!
Conclusion
This is a great piece of equipment for the home if you are serious about your fitness. They are particularly useful for those who like to get out in the summer months and cycle the roads. It will help in keeping fit during the inclement winter months.
Also Read,
Are Huffy Bikes Good? What You Need To Know Before Buying!
Yoga Challenge Poses For 2 | All Asana With Video
Are Electric Bike Worth The Investment?