A portable water bottle is a lifeline around your busy daily schedule. Whether you navigating through the traffic, hiking, at the gym, home or office; you need to stay hydrated to stay healthier.
Being hydrated not just helps you avoid inflammation but also boost brain activities and lubricate your joints.
Since you cannot always have a public fountain or a private tap around; having a reusable water bottle is the only solution. But when it comes to reusable water bottles; there itself are many types and variety.
Some are made of glass, some plastic and most of them are metal.
You too may have tried a number of these bottles in the past. But the best is the one that keeps the water the coldest. Having an insulated water bottle will definitely help, but only the best one will make sure it remains that cool for the longest time. And believe me only a few succeed!
After extensive testing, only "The Coldest Water" ( Available on Amazon ) bottles live up to its name! Some almost came close while others struggle to even catch up.
After trying 18 insulated water bottles in our testing; there's only 6 which we could recommend it for you. The ones that not just say it in writtings, but actually keep it cool in reality.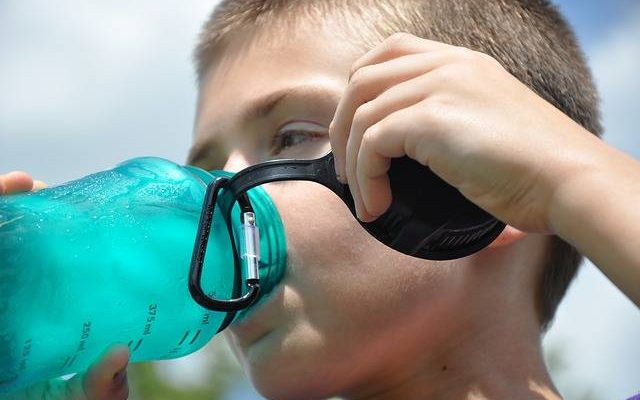 6 Water Bottle That Keep It Cool For Longer
1 ) The Coldest Water Bottle – Vaccum Insulated
The coldest water bottle lives up to its name when it comes to realtime experience. I personally locked it up for more than a day, and still find the ice-cold water still chilled.
While it's not a well-known brand it's a good product; that also clean and good looking.
Made for high performance its vacuum insulated and has a stainless steel wall. You can use it for cycling, camping, hiking, gym, outdoor sports, office and traveling.
Truly high-quality stuff; I personally believe it's going to be your first and the last bottle.
If not you will still appreciate its ice holding capability; that makes it possible to hold big ice cubes without sweating. A leak-proof easy to grip cap adds to its style, usefulness, and appeal. The best part is, it fits almost all cup holders ( 99% ) and float easily in water.
The Coldest Water Bottle – Check Price On Amazon
2 ) Hydro Flask Wide Mouth Water Bottle
A brand that is synonymous with a rugged design and superior build quality. It is portable, stylish, lightweight and easy to use.
Made with 18/8 pro-grade stainless steel it's quite durable and ensures no change in ever taste or flavor of the substance. It's a Hydroflask pledge to provide a lifetime warranty against manufacturer defects of all kinds.
It features a double vacuum insulated walls; that maintains the temperature for more than 24 hours. This means your hot drinks stay hot while cold drinks remain chilling cold.
While its generous 32oz capacity is enough to quench your thirst for campings, sports, and hiking.
It also includes a wide mouth flex cap installed with honeycomb insulation; which helps keeps it stay cool for longer.
Furthermore, it also came with a nice hydro flip lid and a wide mouth straw lid. Plus they came in a variety of colors, styles, and varieties.
Hydro Flask Wide Mouth Water Bottle – Check Price On Amazon
3 ) CamelBak Eddy Vacuum Insulated Water Bottle
It is a large bottle made to meet the requirements of all occasions; with its 32oz capacity. It ranked number three in our cold water test and performs better than others on ease of use.
The Camelbak uses a revolutionary technology that provides more water per sip; thus ensuring you drink more to stay hydrated.
Designed for convinece it features both a spill-proof straw and a leak-proof cap. This insulated bottle is well suited to be taken on the beach, sports, hiking and more.
In fact, it's designed in a way it suits well in any situation and social settings. Thus making it a great return on your investment.
The easy-carry handle makes it easier for one-handed operation during hiking, running or driving.
Its wide-mouth also allows you to fill in large cubes of ice and the double-wall vacuum insulation; keeps it ice for the next two days. The best part is that it does not sweat; meaning there will be no unwanted condensation when drinking cold drinks.
CamelBak Eddy Vacuum Insulated Water Bottle – Check Price On Amazon
4 ) HYDRO CELL Stainless Steel Water Bottle
When it comes to the product value there is no match to the hydro cell. It's relatively cheap but yet it performs; much like any other premium bottles we tested.
Designed for the indecisive drinker it came in seven different styles and colors. While the anti-slip coating ensures, you better handout to your bottle while extensive workouts.
It came with double-walled vacuum-sealed construction. That does not let the heat either came in or escape to the surrounding. This ensures your hot drinks remain hot while; even the ice cubes don't melt for more than a day.
This unique double-wall vacuum construction; not just good for insulation but also helps it avoid sweating.
Its unique lightweight design makes it great for outdoor activities; like sports, hiking or camping. Each hydro cell bottle is made of the most high-grade stainless steel ( 18/8 ).
This means it's resistant not just to the atmosphere or water but also to most chemicals. Make it your go-to water bottle and I promise it will never leave your side.
HYDRO CELL Stainless Steel Water Bottles – Check Price On Amazon
5 ) S'well Vacuum Insulated Stainless Steel Water Bottle
Idle for everyday hydration; it's more than perfect for your kids, office goers and for outdoor sports. The best part is its nice and slim body with an iridescent lacquered finish; it makes one allured by its glow.
This S'well bottle does a very good job of maintaining temperature; whether it is hot, cold or in between.
Thanks to the triple-layered vacuum construction it performs well in different essential parameters. For example, I have found in the test that it can easily keep the ice cubes for a day.
While I see it maintaining its temperature still ice cold after two days. Additionally, it does not sweat and come in different color options.
Made from 18/8, food-grade stainless steel it's resistant to most chemicals and corrosion.
Furthermore, it's easy to clean and lightweight; making it easy to replace with your plastic bottle. Moreover, it has a 25 oz capacity meaning its more than perform for most occasions including gym, sports, school, office, and hiking.
S'well Vacuum Insulated Water Bottle – Check Price On Amazon
6 ) Iron Flask Modern Sports Water Bottle
If you are the kind of person who has water consumption in his or her mind. This 64oz capacity bottle will keep your thirst quenched at all times.
Although it performs much better than the last one with cold drinks; it failed to show similar performance with hot drinks. 12 hours for hot drinks and 24+ hours for cold drinks.
Although the Iron flask does not perform that well for hot drinks; it can still be a great option for sports and outdoor activities.
It came with a three lid option by default; which provides you with options to pick based on the use. There is a Carabiner Straw Lid, stainless steel lid and flip lid options available. The best part is its BPA free and non-toxic.
The exterior is nice and clean with a slick design; that makes you stand out of the crowd. Available in 17 different colors and styles there is always something unique for yourself.
This has a wide mouth meaning its easy to clean with most brushes; and it can easily hold ice cubes of much larger sizes. It does not just end here its a rugged design that is built to last longer.
Iron Flask Modern Sports Water Bottle – Check Its Price On Amazon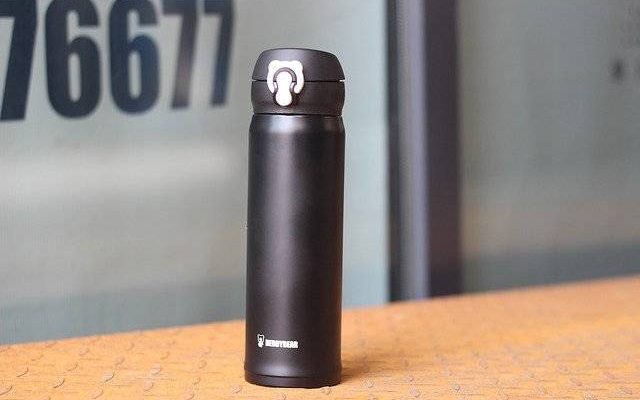 A Quick Buyers Guide To Reusable Water Bottles
It sometimes is hard for you to decide the best option for yourself. Especially when there are so many options to try and they all seem promising. That is why we researched and tested various products on our own; to further narrow it down to just six best bottles.
While we worked really hard testing and shorting them out on the best-known parameters like; durability, price, leak-proof, insulation, ease of use, cleaning, size, types of cap or straw and most important how long it can keep the drink still ice cold. I regret you still have to make the final call picking the one that best suits your needs.
Before you hit the market or reach to amazon store; we recommend you to ask yourself a few basic questions:
What bottle type is best for you?
The best bottle type is the one which best serves your need. So the first thing you should ask yourself is for what are you going to use this water bottle.
Suppose, you are backpacking for a camping trip with friends in the summer. Now you do not just need a bottle that can keep things cool; but also should have large storage.
Similarly, for gym and sports, you need one that is more rugged and come with a straw for convenience. Thus knowing your plan for using your water bottle; quickly narrow down your choices.
You simply do not want to take an Iron flask with 64oz capacity for your yoga classes.
You need something slick and good looking that match well with your yoga mats. Some bottles like the hydro flask water bottles are well suited for a wide variety of activities.
While there are some like The Coldest Water Bottle are good for everyday activities and sports. So identify your needs and choose wisely.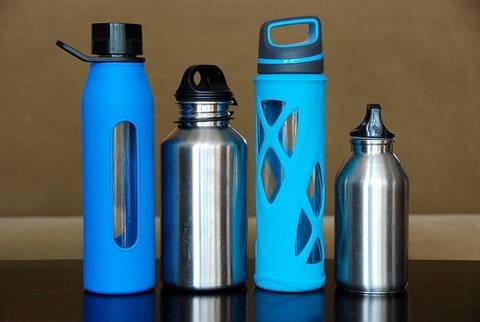 What material do you want?
Plastic bottles are really cheap and they do come with appropriate markings. These came in really handy for those who always have drinking just the right amount on their minds. But there is downsides to it; plastics are not a good poor conductor of heat and thus don't fit for keeping cold or hot drinks for long.
Moreover when in contact with hot drinks for long they start to break down thus releasing BPA.
It is a chemical well known for negatively affecting the reproductive system and be detrimental to child development. See this article from the National Toxicity program for more information regarding the effects of BPA.
On another hand, while insulated metal bottles are good for health, keeps your drinks colder for longer and are fashionable.
They do have this issue of weight and require regular cleaning; against the plastic bottles which do not need any.
So do go with the insulated metal bottle but while knowing they are not always cheap and may impart that metallic taste.
What do you want? – Quick access vs screwcap
Most brands provide both quick as well as screw cap options for their customers; while some offer just one or another. Ideally speaking they both are quite useful; as having a screw cap adds up to the insulation capabilities while having quick access ensures one-hand operation.
In regular day to day operations having an easy to access solution either in the form of straw or one push cap operation is quite advantageous.
It not just a convenient option than a screw cap; but also encourage one to drink more water. It has been found that by using a straw you can increase your daily water consumption by 5 to 10%.
Similarly, when planning an outside trip it's better to use a screw cap. Using it not just makes it hold inside temperature for longer; but also makes your bottle spill-proof and leak-proof.
As there is always a chance of water spilling or get leak off the sides of the straw. The best part is they require less cleaning and are easier to clean.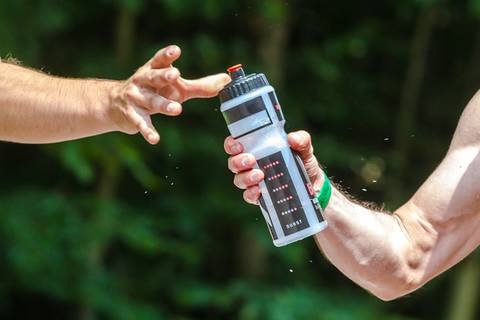 What's your preferred drink type?
It's important to ask what's your preferred drink type? As it largely affects your choice in terms of brand and insulation type. There are some brands and insulation material that works well for hot drinks but not that good when it comes to cold drinks or chilled water.
Similarly, others work better when it comes to cold drinks or water; while some works mildly similar for both hot and cold drinks. For example, Iron flask water bottles work far better when it comes to cold drinks but not too good when it comes to hot drinks or water.
Similarly, embrava holds hot water or drinks hot for longer than a cold drink by two hours.
So it's important for you to know how well will this bottle works when used for hot drinks or water. In-state of doubt just go with brands like the camelback eddy; which are well known to perform better for both hot and cold drinks.
Narrow vs wide mouth
When using a water bottle it is easier to drink from a narrower mouth than a wide one. Moreover, the wider it gets the harder it is for you to drink without splashing it all over your chest.
This means it is wiser to have a narrower mouth; especially when you have to drink while you walk.
On another side having a wider mouth has its own advantages. It makes it easy to clean or fill in some water. The best part is you can fill it with large ice cubes; which you simply cannot with narrower mouth bottles.
The other advantage of wider mouth is its versatility; it easily fits with a number of different filters and accessories.
Also Read,
Best Budget-Friendly Electric Bike Under $1000
Best Shoes For Working Out At The Gym – 2019 Review
Does Running Shoes Make A Difference?