We all do a lot many things we ain't supposed to do but it runs out just fine for most of us; but sometimes it ends with a lifetime pain or injury such as bad knees. But it should not mean you can't perform yoga! It's just you need to take little precautions and use thick yoga mats while performing.
While ideally, yogis prefer to do yoga on the flat floor either on the wooding floor or on bare land with a thin mat. This is mostly done to give minimum stress to all parts of our body; including knees to strengthen over time. But while ordinary people seem to gain most from it; I and you with knees issue suffer the most.
Having a thick yoga mat of best quality ensures you enjoy your favorite postures or breathing techniques; without stressing on your weak point while different pose. Using thick mats provide extra cushioning effect with a bit of support which results in no more buckling of knees.
After long hours of staring at the computer screen, I desperately need something to refresh both my mind and body. This is when I started doing yoga and just fall in love with it. However, soon I realize without cushioning and support my knees starts to buckle and pain. It was only after I switched to thick yoga mats the pain dissipate.
So rather being too fancy or straight I like to help you find the best yoga mat just as I find one for my self. Here I will recommend only what I have personally tried or believed them 100 %  working; taking accounts of people I personally know.
What To Consider While Choosing Thick Yoga Mats
Just like the mattress, each yoga mat is somewhat unique in itself. But every yoga mat for bad knees is required to have something in common; their thickness, texture and cushioning ability. The thickness of your mat is one of the major factor deciding how much support it provides to your knees; but still, it's not enough.
Many thick mats came with so less or too high cushioning that they start to put stress on the knees. So it's equally important to make sure it provides good cushioning support or padding; along with the texture of your choice as some like rigid texture while others not.
That being said, getting the best yoga mats for bad knees helps get away with our obstacle performing challenging yoga poses. Now that we've covered in brief let us see what actually you need to see in details.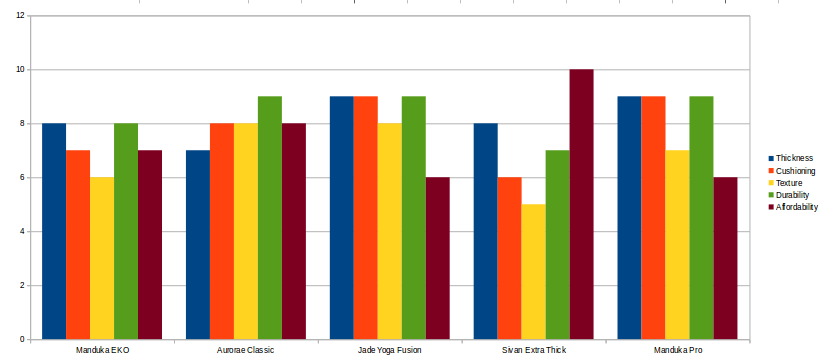 A ) The Mat Thickness
A standard yoga mat on one side starts from 1/ 16th inch thick to the one that is 1/4 inch thick or even sometimes higher. The thickness of your mat has a lot to do with stress and pressure on your knees. The thicker the material the better is their support and cushioning ability.
The standard 1/8 inch thick mat is generally preferred by the yogis all around the world; because of their balance in support and belonging to the ground. As in some specific yoga poses its vital to feel the ground which thicker yoga mats just not provide. But on another hand, this feeling of the hard floor arouse knee pain.
So consider a mat between 1/8 to 1/4 inch thickness with ample cushioning abilities. Use thick yoga mats made from dense material such as; vinyl ( PVC ), jute, TPE, rubber or the newer ones made of recyclable materials.
B ) Cushioning Support or Padding
For sensitive joints cushioning and support is one of the leading factor deciding whether you will feel pain or not. The better crushing ability the less jerk you send to your joints; and so no more pains! Along with the cushioning, there are things to be looked for before buying; ability to deflect or absorb water, sickness, grip, and padding.
In fact cushioning and padding is so much important that even a 1/8th-inch thick mat; with more cushioning is better than the 1/4 inch thick with average or below average cushioning abilities.
So the number one deciding factor for choosing yoga mat for bad knees is its cushioning, support and padding aside from its thickness. To make it easier I will list mats with cushioning abilities above average; than normally used in the fitness industry and yogis all around the world.
C ) Texture Of Your Yoga Mat
While many people prefer unique design some prefer nonslip texture or smooth finish. Having a gentle texture finish allows for affirm grip when needed but leads to bumpier design. The bumpier it is the more will be its grip at the expense of random forces which some times leads to stress on knees.
While choosing between the bumpier or smooth texture; there is only a little different in comparison with the ease of use. Many prefer the grip rough texture provides; with a slight reduction in knee support.
Having a right texture means; you did not need to worry of sudden high stress on your knees or joint due to slippage. Moreover, the type of texture also defines how the mat will look and feel; adding up on your physical and mental comfort. Generally, non PVC mats have better holding grip.
On the other hand, PVC mats are more sticky which means it will help maintain alignment. So its more of looking on your comfort and ease of use than its knee support.
Yoga Mats – 5 Best Thick Yoga Mats For Bad Knees
1 )
Manduka EKO Yoga and Pilates Mat
Manduka is well known among many yogis for its brand satisfaction, quality product, and better customer support. The Manduka EKO yoga mats are an economical version of the well known Manduka premium yoga mats. Made of closed cell rubber structure it is biodegradable and so Eco-friendly.
It's 5 mm thick dense structure with a nonslip finish provide the good cushioning and grip. Made of natural rubber you not just can clean it off with water; but also maintain grip under moderate sweat condition. The Manduka EKO Yoga mat is the perfect choice for your all yoga needs including; stretching, meditation, and workout.
While the mat is equally criticized for its weight ( 6.5 Lbs ) I find it rather helpful; as the excess weight makes it more stable providing more grip and padding. Moreover, we don't need to carry it upstairs two or three times a day or have to lift up and carry up to a mountain; so its not much of an issue.
While the product is strong and durable, well worth the price; the only thing that I dislike about it is its distinct smell. It really smells like that of wood and leaves; and take almost a week or two for the smell to dissipate. Overall its the second best product from the brand after its pro version; the one which came with a lifetime warranty.
Check Its Current Price on Amazon !
It's Pro's
Closed cell rubber construction i.e It's easy to clean
Strong and durable
Eco-friendly
Thick, dense and comfortable
Super grip and padding
71 x 26 inches size i.e Idle for all people
Provide Good cushioning support
It's Con's
A bit heavier than other mats ( 6.5 Lbs )
Distinct Smell when new.
Does not come with a lifetime warranty as to the pro version.
2 ) Aurorae Classic Extra Thick and Long Yoga Mats

There is nothing better for the knees when you out for a yoga mat; that is durable, lightweight and easily washable at an affordable price. While there are better mats available; there is no match for the Aurorae classic extra thick long yoga mats in the quality for the price.
With 72″ X 24″ dimension its a perfect upgrade from cheap 20 dollar product. The 1/4″ thick mat provides enough support to the knees; so much so that you do not need to fold it into two. The 1/4″ inch of that thickness is made of the high-quality foams; that means you can still grip the floor while supporting your knees and joints.
With its large size and stable quality, it's definitely an amazing product at a great price. Made for a long time use it's more than just stable as provide great cushioning support. The mat is made from environmental friendly substance; that means you inherit the sole of mother earth while practicing yoga.
These yoga mats are commonly popular for their thickness but I consider their color options just too lovely to ignore. Moreover, these mats can literally last for more than a year and the best part is that it does not smell even when new. So don't waste time thinking; at least gave a look over here on different colors, reviews and price on Amazon !
It's Pro's
The large size and stable quality
Good for long time use
Does not smell even when new
Nonslip lightweight material
Easy to clean and store
Good cushioning support and padding
Different color options.
It's Con's
The graphic may or may not be printed on the same spot as shown in pictures.
A bit more slippery when brand new
Need good care as sometimes it may curl by its ends.
3 )
Jade Yoga Fusion – Premium Yoga Mat
If you don't mind paying the price for the comfort; its the best yoga mat you could ever have. No doubt why jade fusion is one of the favorites among all yogis. It's just great for everyone needs who want to practice yoga on a regular basis with better grip, larger size, and adequate cushioning and traction.
Made from superior quality natural rubber with a gentle texture on top; it provides the nonslip grip we all wish for even while sweating. It's thick ( 8 mm ) and dense providing more cushioning and support for your knees, joints and hands; thus you can hold on position without your hands getting numb.
That being said, while you may wish it doesn't cost more but it just won't give any chance to complain. Even being so tough and dense within; it's so smooth on the outside that you may fall in love with it. With so much benefit its definitely an investment you won't regret for.
The Jade yoga mat is great for anyone with known joints or knee issue. Not just it's long, easy to clean, comfortable and nonslip but also long-lasting. It's far the best one can really have. That being said it fits well on every checklist one could possibly have except for the price and the smell of natural rubber when brand new.
Check Its Current Price on Amazon !
It's Pro's
Made from non-toxic, Environmental friendly material
Long ( 72″ ) and Thick ( 8 mm ).
Sticks well even when sweating
Does not slip at all
Comfortable and long lasting
Excellent cushioning support
The company promises to plant a tree for each mat sold.
It's Con's
It's more of an investment than everyday yoga need
Too high quality i.e Expensive
Heavier than regular yoga mats.
4 ) Sivan Extra Thick N.B.R Comfort Foam Yoga Mat
If you had been only trying on cheap 20 dollar regular yoga mats; then I am sure you gonna love its thickness and stability. The mat provides just the right amount of traction and stability for your spines, bones, and knees. The 1/2 inch thick N.B.R comfort yoga mat from Sivan is definitely a good one that serves its purpose.
It's got a great thickness, good color choices, fine grip and thick cushioning that supports your back and knees. It's 71 x 24-Inches wide which means it's idle for people of all sizes. The memory foam construction not just makes it thicker but also soft and comfortable to use.
This affordable mat is one of the best replacement for a thin sheet-like mat we usually see online or in stores. The major demerit of these mats are its stretching ability; i.e your hand's will move a bit forward while certain poses. Furthermore, the closed cell foam makes it a bit softer hurting overall stability during different poses.
On upside with these, you quickly get rid of smell within hours of first use. Furthermore, each of the eight color options came with the caring strips; which means its handy to carry with you. So if you are on a constrained budget Sivan Extra Thick N.B.R Comfort Foam Yoga Mat is a perfect match for yourself. Check out more on it's color option's, user reviews and price on Amazon !
It's Pro's
Good Stability, cushioning and padding
Provide good traction
Easy to store and clean
Thick and durable
Really affordable
Comes in eight different colors
It's Con's
Squish and soft which can negatively affect stability in a certain pose.
Not the very best product for knee support.
Have a tendency to stretch when the force applied.
5 ) Manduka Pro – High Quality Thick Yoga Mats

There is a reason why Manduka Pro is one of the leading brands in premium yoga mats. Part of this is because of lifetime guaranty you receive and partly due to great color options, optimum padding, support and stability it provides. The mat is 6mm thick and come with a wonderful length of 85 inches; this means it's heavy and stable.
It's obviously the very best yoga mat one could possibly have; that support your back, knees, and joints but also last long. The mat is tough and dense which means; it let you feel in full control while your different poses. One of the most appreciated features of Manduka Pro is its extra length and width.
Additionally, it is certified nontoxic, Eco-friendly and easy to clean. The added weight whether being from the extra length, width or its density; makes it more stable and fix to the ground. Together they provide nonparallel excellent cushioning support and padding.
But the thin layer of protective oil over its surface makes it slippery when wet; especially after an hour of workout. Like many others you hate it at first for its slippery nature; but believe me, you will always adore to it after repetitive long use. Of the slippery nature, one can easily get rid of it using a scrubber, salt or regular use.
Check Its Current Price On Amazon !
It's Pro's
Optimum Padding and support
Excellent Cushioning for knees and joints
Wonderful Length of 85″
Durable and long lasting
Tough and Dense i.e You are always in control
Easy to clean and maintain + Lifetime warranty
It's Cons
High Price
Slippery Nature when new
May need some effort/time in scrubbing off the top slippery surface
Conclusion
Oh so finally we reach up to the final conclusion. A piece of advice I gave after a hell lot of writing, research and in-person interviews of known customers; on Reddit, Quora, and Facebook. Honestly, I personally use the Sivan N.B.R foam yoga mat for my knee issue but the Manduka Pro is the one every last one of them refers when I talked to other customer's.
So unlike you go for the cheapest available option like me; there is no real incentive to not go for the Manduka Pro. Other than that I also like the Jade Fusion as its a perfect match to the Manduka quality; just with the exception of the lifetime warranty.
They not just support your knees and joints but also keep you safe while pose by giving much-needed stability. Having long and dense yoga mat ensures they stick to their position. The best part is both are environmentally friendly and easy to clean.
At last, I just want to make the point that all five listed yoga mats are the best available for bad knees; and are all well for long time use. So it's just the priorities, price and additional features that make them distinct. I wish you well in your life and hope you make the right decision.
Also Read,
7 Proven Treadmill Benefits For Your Body
How To Stay Fit And Healthy On A Budget In College
7 Best Treadmill On Budget For Walking Use