Do you ride a bike? Are you ready for some challenge and try another route than just riding your bike through the streets? If you have a city bike, that is probably no option for the hills. But is a mountain bike really required for the hills?
Mountain bikes are among the most common types of bicycles worldwide. Thanks to their solid construction, which is adapted for easier handling, the bicycles are designed primarily for more demanding terrain.
A mountain bike (MTB) is a bike designed especially for riding in natural or artificial terrain off maintained roads, jumping or overcoming terrain obstacles.
Due to its construction, the mountain bike is able to withstand the increased stress during its use.
It is not though you can not take your road bike to mountains but using a mountain bike gives you unexpected advantages. This is why when deciding on the type of bikes for hills the one that always came first are the mountain bikes irrespective of the brand, price or quality.
Difference Between MTB and a Road Bike
The mountain bike differs from a road bike in its robust and smaller frame, wide tires for better handling of uneven terrain and gears adapted to more demanding off-road driving. Some of the mountain bikes also have front and rear wheel suspension.
Despite a similar design, mountain bikes are structurally and strength-wise divided for different types and sizes of strain. Individual models can not be used for any other purpose than they have been designed for.
These differences relate to the rigidity and geometry of the frame and the individual components as well as to the lift height of full-suspension bicycles.
Types of Mountain Bikes
Downhill bike
Originated for downhill skiing, not uphill. High lifts allow a quick ride down the hill even in very demanding conditions, they are fully sprung but also firm, so they offer a real adrenaline experience.
Advantages: full suspension for more traction, flat bike geometry with a long wheelbase for smoother running and better control, extra large brake for high braking performance, wide handlebars with a short stem for more control.
Enduro bike
It is intended for difficult, but not the most demanding descents or bike parks. The center of gravity is shifted more above the rear wheel
Advantages: upright sitting position for more comfort, long wheelbase and flat steering angle ensure smoother running and better directional stability, larger brake discs for high braking power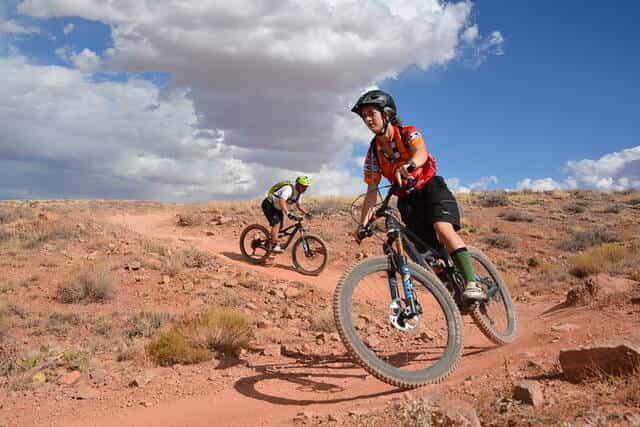 Trail / all-mountain bike
The most universal type, which can also handle sports driving on difficult terrain.
Advantages: very versatile, perfect mixture of comfort, traction and efficient power transmission, suitable for longer ascents and subsequent fun on the descent, balanced seating position: sporty and comfortable.
XC (cross-country) bike
The racing category, suitable for cycle marathons, is built for speed with a lower weight.
Advantages: lightly built so that you can translate your strength even better into speed, good climbing ability, stretched, sporty sitting position
ideal for building up a lot of pressure on the pedals and thus driving efficiently
Cross bike
This one has narrower tires and it is not equipped with fenders, lights, carrier. Designed for sportier riding.
Trekking bike
Trekking bike is actually a cross bike with accessories such as fenders, lights and a carrier. The bike is more suitable for recreational riding.
The most popular, even the most commonly used bike for the hills, is a bicycle with a fixed rear part of the frame and a front sprung fork, which can pleasantly spring up uneven terrain.
It is perfectly suitable for demanding, rugged mountain terrain and unpaved bike paths, it can handle faster riding on the plain, as well as riding uphill.
Fully sprung bicycles are suitable for demanding terrain, for overcoming obstacles in the field, for racing marathon riding, and fast riding on the slopes.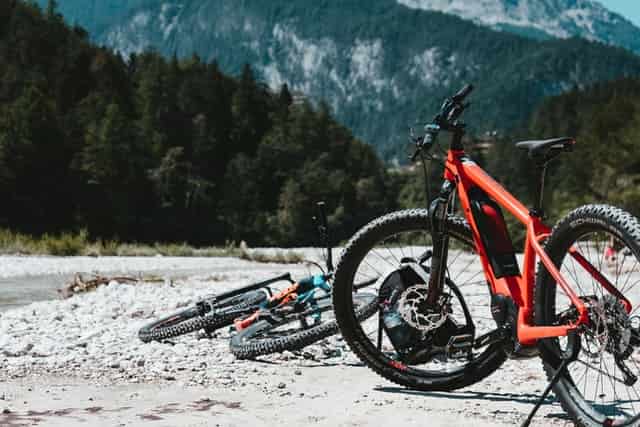 How to choose the right mountain bike?
Choosing the right type of bike is not as simple process as it might seem. Before buying a bike, it is important to make sure how and how intensively you will use the bike.
For those who are active in cycling, they have their experience and the choice of the bicycle is often clear. On the contrary, those who have not ridden a bicycle for a long time nowadays do not have an easy choice.
The market offers a large number of types of bicycles designed for various purposes.
Mountain bikes are, of course, the most popular and logically the most numerous category. The biggest advantage of a mountain bike is its versatility.
It allows you to drive on the road as well as off the road. If you want to get one home, most likely a mountain choice will be an ideal option.
For the occasional leisurely ride in undemanding terrain, a cheaper bicycle is enough.
But if you want to go into the field and you like to ride faster, it will be more appropriate to go for the bicycle in a higher price category, where you can get more sporty models.
If you plan to drive more, it would be a mistake to stick to a given amount at all costs, every extra money can mean a qualitative shift here.
The basis of the mountain bike is a rigid, in most cases aluminum alloy frame and a functional sprung fork with a stroke of 80 millimeters and more.
Recomended: Mongoose Switchback Adult Mountain Bike
Although the bicycle with a fixed frame and a sprung fork can not be described as racing, it is already a higher-quality material that can often be used for sports riding or MTB marathons.
A separate group is fully sprung bicycles, which are also gaining more and more popularity among cross-country riders. But if you plan to spend more money on a bike, a bike with a fixed frame will definitely be a better choice.
The sprung frame of extremely cheap bicycles will be compensated by lower quality parts, such a choice would be visually effective, but incorrect in terms of riding characteristics.
A high-quality lightweight all-suspension bicycle is a benefit in any case, but it must take into account, among other things, its greater maintenance, which is required by pins, shock absorbers, and the like.
Strokes of about one hundred millimeters are enough for normal driving in the country. If you want to ride more and push your limits, it's better to reach for a bicycle with larger strokes and a more durable frame.
Versatility is ensured by fully sprung bicycles of the All-Mountain or Enduro categories. Thanks to their acceptable weight, you can ride them normally and at the same time withstand even rougher handling.
Freeride bikes are a bit further and you will have a hard time climbing the hill with them. But below, it will be worth it. Strokes of spring units over 150 millimeters will do their thing.
It is possible to ride downhill and in difficult terrain.
Mountain Bike For Women And Kids
In recent years, the class of special sports mountain bikes with geometry designed for women has been growing.
The advantage is a shorter frame that suits the female anatomy, a more comfortable wider saddle, mostly special grips and, last but not least, a corresponding design.
A woman riding a mountain bike from a friend, with an uncomfortably stretched torso and a Seatpost tucked to the maximum in the frame, is, fortunately, a thing of the past.
The choice is really wide. The situation is similar to children's mountain bikes. It is no longer an exception to come across a higher quality children's bike with an acceptable weight.
However, the situation is and will probably be such that parents do not want to spend large amounts of money per bicycle for a child.
The higher weight of a cheap children's bicycle must therefore be taken into consideration.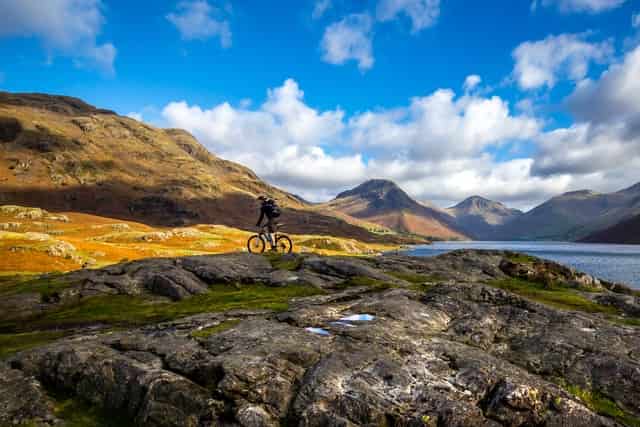 Electric Mountain bike – A new trend?
An e-mountain bike is a mountain bike in which an integrated motor supports the rider's power. The motor only works when the driver is pedaling. Electric bikes are booming.
The technology is developing further, the electric drives are working more and more reliably. You can dose the motor support better and they are becoming more compact.
This makes it easier for smaller cyclists to use it, increases freedom of movement, and makes the bike more manageable overall.
Another great advantage is that starting up on a steep hill goes very easily with an E-MTB.
With an E-MTB, it is really fun going uphill as well as you feel safe going downhill. Especially since the center of gravity is much lower because of the electric motor in the crank.
Recomended: ANCHEER Electric Mountain Bike 350W
On the other hand, E-Mountain bikes are more expensive as well as their battery and they are a bit heavier than casual mountain bikes.
There is no doubt that mountain bikes are created for mountain terrain, also they can handle all types of routes. MTB trails pass through mountainous terrain, on which a road bike with galoshes would probably fall apart.
Mountain routes are much more challenging than road routes, as there are many hills with difficult terrain (sometimes well-muddy).
The most important features are suspension, wheel size, frame material, gears, and brakes.
Last but not least, make sure that the bike is adapted to your requirements. It is best to check it in person directly at the bicycle shop. The next time you plan a trip to the hills choose your mountain bike wisely.
Also Read,
Best Road Bikes Under $300 In 2020 | Review & Comparison
How Much To Rent A Mountain Bike? Your Bike Renting Guide
Do Bicycles Have a Weight Limit? And How Much It Can Hold
Are Electric Bikes Good for Fitness? Here's What We Discovered