While it is not usually advised or even allowed to take Zumba class barefoot. It does not mean you cannot do Zumba barefoot. In fact, practicing barefoot is better for control and response.
Many of us use such a bad shoe we feel kind of relief being barefoot. Zumba is all about fun, twists and turns dancing on the floor for clear health benefits.
Being barefoot helps with your body mechanics thus helping relieve mild pain. It supports hips, knees, and core. When barefoot, our brain simply receives a greater amount of sensory feedback from our feet.
This resulting in improved motor control and response rate of your feet; not to mention subsequent brain growth.
Homunculus is the part of the brain where our body is mapped out; in proportion to the sensory neuron density. When we use a particular body part; it strengthens the homunculus capabilities for that particular body part.
So, in a way you are not just having pleasant sensations for rough, smooth, hard, soft, fine and coarse surfaces. But also training your brain as you perform Zumba barefoot.
Additionally, being exposed to air it won't sweat and so will not stink. Ideally, feet will sweat a lot inside shoes giving opportunities for fungus and bacteria to grow.
But what haves so many goods it also has a few disadvantages; the ones that really make it kind of compulsory to buy Zumba shoes.
Learn Why Shoes Are Required For Zumba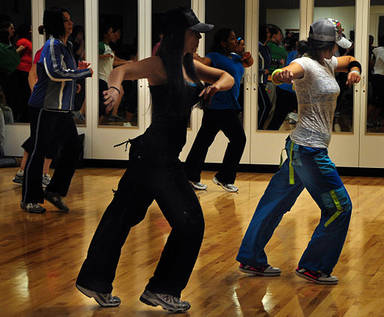 Thanks to its funky workout techniques and energetic instructors; it becomes a great way to tone your body. It's more of a Latin dance fitness phenomenon with music and fun.
Zumba requires you to slide, glide, jump, twist, and turn with the beat. Sometimes it is fun while at other its kind of tricky.
Overall it requires a great deal of effort and concentration. If you lose your focus the chance of an accident is imminent. This is where a shoe came into play.
While dancing barefoot you might have an advantage in control and response. But there is a greater risk of accident or an injury.
Not to mention how long it can take some time to recover. If unlucky you might need to say goodbye to Zumba for your lifetime. That is why it is rightfully said "its better safe than sorry". No matter what a brand says for itself.
But there is one thing that I can say for sure; Zumba shoes greatly reduce the risks of muscle pain and related injuries.
While a wrong move can break your toes or cause pain; having the right shoe will make you go for hours.
I personally knew you are struggling to figure out; whether to go barefoot or to have a Zumba shoe. There are other benefits too of having a good Zumba shoe for practice; it's hygienic, makes it easy for you to glide, has built-in ankle support and helps with flexibility.
And sometimes it just common sense to wear proper shoes; when you are aware of the challenges in the workout you're doing.
I hope by now you must understand why it asked always to attend Zumna classes in proper shoes. Afterall its all about your health and wellbeing.
Till When It Is Okay To Do It Without Shoes?
The simple answer to this question would be; its safe till you are away from the hard or slippery surface and your instructor is allowing you to.
Zumba classes involve quite many moves than any regular exercise. You simply cannot keep up with strain on your feet for long barefoot.
So the ideal way to do it would be to do it at home barefoot on a carpet or pad. You can use anything as your surface as long as its quite soft on your feet.
You can also try them outside in fields with grass cover acting as a cushion. When barefoot try not to do the trickest of moves to stay away from injuries.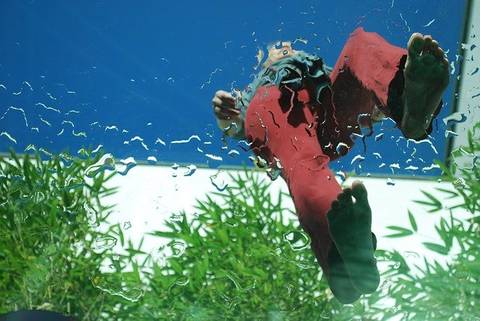 Many a time your instructor would be kind enough to arrange special classes for Zumba without shoes. Our team member "Selena Vogel" has experienced it first hand. Maybe that is the best way to do it barefoot as you are safer under consideration of your instructor.
Unless you have special Zumba shoes for classes; you should always try simples moves back at home.
It is because a running or regular shoe does not provide that much support and control; as you would need with Zumba.
Yes, you can still do it with any cheap or old shoe of yours; but only a dedicated Zumba shoe works better as they feature circular pivot points on the sole.
What Kind Of Shoes Should You Wear For Zumba?
Wearing a shoe automatically minimizes the chances of getting injured. But whether it would support with your Zumba activities or not; depends on shoe characteristics.
While any shoe can be comfortable to wear and will protect from most injuries. But it needs more than that with such training sessions involving; moves such as glide, jump, twist and turn.
So you need a shoe which not just provides protection, easy to wear, comfortable but also supportive of your workout.
Some of the key features of a Zumba shoe is; Upfront pivot section, Plenty of control, Versatile design, breathable, lightweight construction, flexible and ankle security.
The one thing that sets these dedicated Zumba shoes apart is their circular pivot points on the sole.
Zumba class is quite active and thus requires shoes that match up to the expectations. That is why you would hear about the dance and Zumba shoes on day one of your class.
Some of the well-known name when it came to Zumba shoes are:
RYKA Women's Influence Cross-Training Shoe
Zumba Energy Boom Dance Training Sneakers
RYKA Tenacity Cross-Trainer Zumba Shoes
ASICS GEL-190 TR Cross-Training Shoe
Bloch Split Sole Dance Sneakers
Zumba Women's Flex Ii Remix Dance Shoe
Capezio Women's DS11 Fierce Dansneaker
PUMA Women's Tazon Cross-Trainer Shoe
Reebok Women's Pilox 1.0 Dance Shoe
Zumba Fly Fit Women's Sneakers
Before buying do check their reviews online. You will not just know about each shoe in detail, but also analyze the pros and cons of each shoe. So make an informed decision knowing what's best in your interest.
General Disclaimer: This article is for general information only and does not intended to replace an informed medical opinion. You should not use this information to diagnose or treat a health problem. Always consult your doctor before changing your diet, sleep habits, dietary supplements, or a new exercise routine.
Also Read,
Top 6 Water Bottle That Keeps Water The Coldest
11 Effects of Regular Cycling on Body Shape
Does Running Shoes Make A Difference?