If you love bike riding and you have a pet dog, then you have landed in the right place. Taking your pet dog on a ride can sound quite interesting. However, you might be wondering How to Take Your Dog on a Bike Ride?
In case you have an elderly big dog or cute pug we have a solution just for you. After all, you don't want your pug to run along with you while riding— this can be unsafe if you don't have large trained dogs.
Another possible solution for your dog's protection is to use leash attachments for bikes. So, now let us look at some of the options for riding your bike with your dog.
1. Ride Along With the Dog
One of the best ways to take your dog on a bike ride is to ride along with your furry mate. It is an excellent option even for untrained & elderly dogs.
But you need to be careful, start slow, and with practice, your dog will develop a pace to ride along.
You must also well-train and socialize your pet to ride along with your bike without risking your dog or other people on the road. It is highly advisable to walk your pet on a loose leash, and you, too, must know how to ride along with the dog.
I'd recommend Walky Dogs Plus Hands-Free Dog Bicycle Exerciser Leash ( Check Price On Amazon ); it is a great product that helps pet owners who want to ride along with their dogs.
The leash length is advisable, making it perfect for all dogs' sizes and efficiently handling even the largest dog breed. It comes with a complete setup for easy mounting.
2. Let Your Dog Rung Alongside Freely
Instead of purchasing a bike trailer, if you want to let your dogs run along with you, it's highly recommended to make sure your dog is fit or active enough for running.
You can also make use of Canicross if you want to run along with your cute doggy — it's better than taking the risk of making your dog run along with you while you are riding.
It's essential to be aware of some rules or precautions before taking your pup to run along with you on a bike ride. First of all, make sure that your dogs are trained sufficiently to run alongside you.
Before making your dog exercise, it's imperative to make sure to get your dog checked by a vet. Besides this, your dog should be well-disciplined enough to walk properly on a loose leash.
Go slow for the first few days until your dog learns to trot alongside. Take your dog to the trails for a fun adventure, which even they'd love — the fresh breeze and scenic views as they run.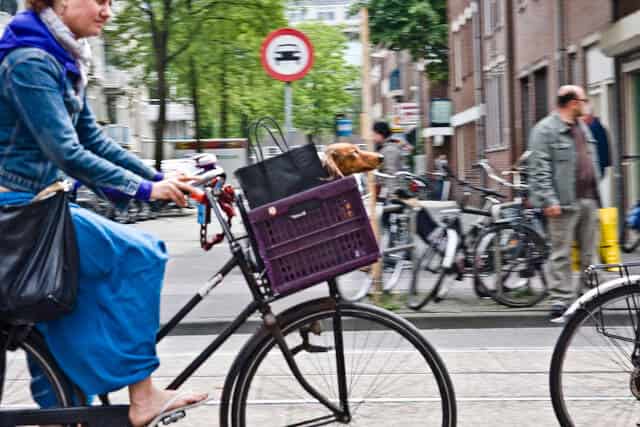 3. Carry Them In Large Basket
It is an excellent option for those who don't want to leave their dogs alone when they go bike riding. No doubt, there are chances that your dog gets injured while running alongside.
Are you looking for a pet basket for small dogs? Consider purchasing a Petsfit Safety Dog Bike Basket; it features side pockets so that you can store any accessories.
The basket can be easily connected as well as disconnected from the bike. This basket's base is relatively stable, ensuring your pet feels comfortable.
It features a clasp for your dog's collar; this will ensure the safety of your pet.
4. Use Dog Carrier and Trailer
Enjoy the fun of riding with your pup by using a dog carrier or trailer. Purchasing a dog trailer will make dog lovers' lives so much more convenient.
Choose the trailer size following your dog's size. Also, note that there should be sufficient space in the trailer for your dog to switch around a little comfortably.
And, ensure that the pet trailer is firmly hooked up to your bike. With so many options for trailers in the market, choosing the right one fits your purpose is a challenge.
To help you out, I would suggest you can check an excellent product known as PetSafe Happy Ride Steel Dog Bike Trailer, available to Amazon.
I have personally been using it for the last six months for my elderly dog. I really liked the three pockets present on the outside of the trailer; you can keep water bottles, poop bags, etc.
The cushion is washable as well as removable.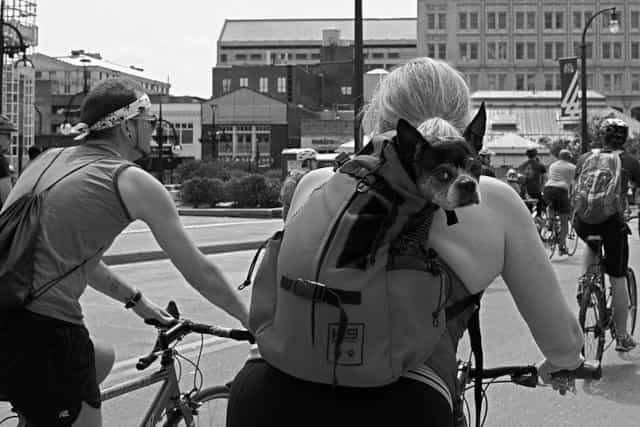 5. In Purse or Carrier Backpack
For all those who don't want to leave their dogs behind, buying a carrier backpack will be a favorable option. Nowadays, dog backpacks are very durable, and they offer great comfort to your dog.
Also, these bags are very stylish. If you love to carry your pet everywhere you go, then the K9 Sport Sack | Dog Carrier Backpack is the most adorable and keeps your pet safe ( Check Price On Amazon ).
It is the best product for those who have small and medium-sized pets.
This bag has been designed to ensure your little pup's full safety and comfort. Overall, this backpack is relatively easy to use and comes with more than five safety features.
It provides dual side pockets that are adjustable. The shoulder straps are very elastic. The backpack can be conveniently used during traveling.
With this backpack, you'll be able to enjoy adventurous rides with your dog. Note that the sides of this backpack are fully ventilated for proper airflow.
6. Using A Cargo Basket In Trike
It is yet another way of carrying your dog along with you on a cycle. You can purchase a bike or bicycle that comes with a cargo area in front. Buying a bicycle with heavy frames will be very beneficial for a smoother ride. You can choose a bicycle depending on your budget.
Initially, short trips will be perfect (don't overdo anything as some dogs may be hesitant initially, however slowly, they will become more sociable).
Looking for an adult tricycle, sixthreezero is a fantastic option for you. The frame material used is aluminum. It features seven different speeds and a rigid suspension.
The best part about this tricycle is that it offers ergonomic comfort to the rider. This bike comes with a collapsible basket where you can carry your doggy. The style and appearance of the bike are quite impressive.
Recommended: sixthreezero Body Ease 26 Inch 7-Speed Adult Tricycle
Why Cycle With Pet Dogs?
It is an interesting question, and most riders know it very well. To experience the thrill and enjoy it, There is no doubt that going on a bike ride along with your cute doggy can be so exciting and fun.
Of course, who doesn't want to see their pet companion enjoying it to the fullest? I will help you and your dog to be physically more active. Exploring new activity
If you want to discover the fun of a new activity, you should go for a bike ride with your dogs (that feeling will be like never before-a whole other unique experience).
Going to the same park with your dogs every day without discovering new exciting places can be tedious. Also, your dog will be able to socialize better if taken to new places. Overall, bike riding with dogs will benefit your and your dog's health. But, before starting any new exercise or training for your dog, always consult a vet.
These Pets Love to Ride on Bike
The types of dog breeds that will enjoy a ride on a bike include a small breed, calm, easy to socialize, and easy to train. Here are the best dogs breed for bikers:-
Bichon
Shih Tzu
Pug
Cavalier
Havanese
Maltese
Yorkie
Labrador Retriever
Maltese breed, weighing seven pounds, is easy to carry on a bike trailer and basket. German Shepherd and Dalmatian are rated as the two fattest dog breeds, making them perfect for riding along freely with leashes.
The English and French bulldogs are most disciplined to ride-along freely, as they don; 't pose any risk to the passerby on the road.
Conclusion:
We highly advise you to carry fresh water for your doggy while you go bike riding.
In case you are unable to carry water along with you, you can also take water from any public place (where water is accessible for pets and humans).
In addition to this, to ensure safety, you should stay away from reckless bike riding and never take abrupt turns. We highly recommend you to ride your bike at a moderate speed, thus ensuring a safe, secure, and comfortable ride along with your pup.
Most of the vets suggest that it's better to avoid going for a bike ride along with your dog on a warm sunny day (as extreme heat can be harmful to your dog's health).
Take your dog out for exercise only during the early morning (in summers).
Also Read,
Best 3 Speed Commuter Bikes To Buy in 2022 | Review & Buyers Guide
Is it Illegal to Ride a Bike with No Hands?
Is it OK for a Man to Ride a Step-through Bike?