Does Running Shoes makes a difference? Yes, it does when it comes to stability, support and protection. But is it necessary to wear running shoes to run? No, technically you can run barefoot if you want and still feel better control as your feet respond directly to the ground.
But if you are one of those who likes to run barefoot; you should stop immediately. The real purpose of a shoe is to protect you against injuries that you might get running barefoot.
Everything else that a shoe offers; agility, support, flexibility, speed and cushioning is all secondary.
A new runner often get advice from his or her friends/family about buying new shoes. Buying a new shoe is good but a better running shoes is the best way to avoid pain and possible injuries.
I love to run and had used many shoes in past. The unique feature of a running shoe is that it allows you to run painlessly even when you don't follow the best running technique.
So, Yes having a running shoes gives you a clear advantage over others. After all running is hard on your joints and muscles. A running shoe is lightweight, flexible, well cushioned, durable and quite stable with injection molded arch. All that upgrades and features later add up to more comfort and protection for your feet.
What Does All Running Shoes Have In Common?
What does these shoes have in common that makes them good for running? Companies around the world invest large sum of money and time in research that; conduct a gait analysis of your running pattern.
Its basically a detailed study of your bio-mechanics.
It study the effects of a particular shoe design on your feet movement, how it affects pronation, heel and the way your toes land on floor. These complicated study help them understand how to came up with shoe designs; that help with running in general.
That is why in the world of running shoes we find a similar set of features across all brands. They all have an excellent cushioning, breathable upper, lightweight modern design with extra support and padding.
Moreover they all have a low top shaft from arch with imported rubber sole and responsive soft foam midsole.
That all made it quite durable, robust and supportive. Even some design work on better arch support, wide feet, flat feet design etc. Overall they all work to provide you a comfortable fit with enough grip and traction. Thus it makes it easier for our body to interact positively with the ground.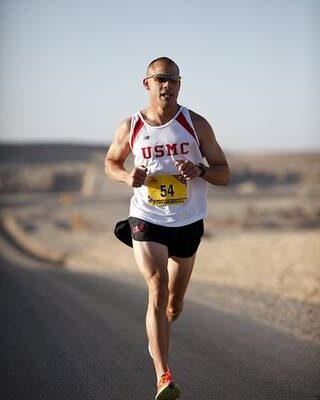 Advantage Of Using Running Shoes
A right running shoe let us worry less for the elevations, ground type or climate; and see more of natures beauty or feel the experience. While a wrong running shoe can have us blisters, pain, injuries or simple sprain.
So yes a shoe has lot to do with your well being and experience than you think.
When there is a huge investment on advertising advantage of a particular running shoe over other. There is no trouble understanding why most runners; invest a heavy time and money on buying the right running shoe both online and offline. Some of the advantage that made them so desirable are:
1 ) Stability
Honestly speaking; You need not a running shoe to run injury free for a short time. But if you are some one who takes running seriously or have neither the skills or right foot type; a running shoe will help you get started.
While most people consider to have just the right foot. The truth is many have too high arches, flat feet, pronation or supination.
For you to run injury free and have better stability on your own; you need to have a neutral foot with moderate arch and know how to run efficiently.
But thanks to development of science in shoe types; running shoes helps us run as long as we want irrespective of our body type. Moreover you need not to be a pro to run efficiently and injury free.
To help with stability running shoes have thick foam between 0.8-2 inch under the arch. The ones with 0.8 to 1.2 inch foam are minimalist and lightweight.
While the one having more than 1.2 inch thick foam are relatively heavier. But these shoes work well for people with over pronation or extra body weight.
2 ) Cushioning
There is more cushioning in a running shoe than normal and that is for a reason. The fact is when you run there is much greater force exerted on your feet; specially your heel and forefoot.
Now the only way to dampen the effects of such force is to have more cushioning. That is why running shoes always tends to have more cushioning than a walking shoe.
The most used cushioning in inexpensive running shoes are of soft foam type. They are quite lightweight and is generally intended for common people with little to none pronation issue.
In case you have moderate pronation or other pain issues; you need to go for more stable shoe options for running. As they use a little heavier dense cushioning.
Furthermore generally the comfort level increase with the amount of cushioning used. So better comfort go for more cushioning and so expensive running shoes.
As being a regular runner what i feel well suite me is little to moderate cushioning. As many just like myself start to face other negative issues with too heavy cushioning.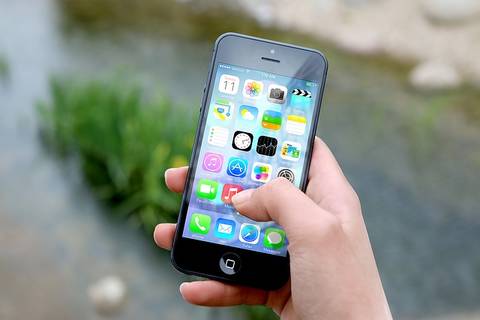 3 ) App-Integration
One of the biggest advantage of technology is that it enables us to reach out limits. Whether its your work or exercise it help us being more efficient. These days when we have everything that connects to our local device; why not a smart shoe for the same.
When most of us already use motion sensors to track our steps, calorie burnt and progress on our iPhone or Samsung's Note. There is nothing wrong in buying a running shoe that tracks all that for us with built in sensors; and later suggest and help us with our progress.
Premium and advance shoes such as Under Armour Gemini 2; is equipped with such inbuilt tracker. That both analyze and present you with most accurate running metrics.
As you finally know exactly what you need to do to succeed in your goal or progress.
4 ) Less Injuries
You may find many articles and research with or against the point that running shoe prevent injuries. But at least all of them recognize the importance of it in reducing the risks for possible injuries.
After all running shoe is not a guaranty for injury prevention; but rather a precautionary things which helps avoid most of the running related injuries.
It able to do so by allowing your natural feet movement while adjusting itself to provide suitable comfort and support. Comfort and cushioning are the two important features affecting most foot injuries. A shoe which is not well cushioned or comfortable; generate stress, pain and some time lead to minor/major injuries.
Since comfort, cushioning and support are the three key features of a running shoe; they are considered to be the safest of all when it comes to injury prevention.
Being scientifically engineered to help us run they are more of an advantageous tool than a necessity.
In my experience the main culprit of most injuries are impact forces. So as long as your shoe provide sufficient protection and cushioning against that; you are good to go!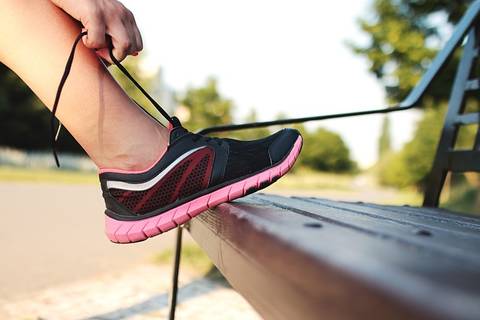 5 ) Heel Height & Flare
You might not even care but running shoes are specifically designed with built-up heel. While walkers don't use their feet differently over different trains; their shoes are mostly with lower heel to toe drop.
Being a runner you had to adjust your feet position and running pattern; quickly based on the terrain, speed and ground condition.
Now in the process you may start to land on your forefoot but end up being on upper forward heel or the mid foot section. Different people have different landing position and their variations. So most running shoes came in a variety of heel to toe drop variations. You should pick the one which most comfortable to you.
Generally the higher build up heel the better will be stability and control. To provide extra support when you strike your feet to ground; many running shoes also includes heel flare.
It redistribute impact forces evenly as you strike on your forefoot or at the midsection. In case you are nor an frequent runner; just avoid one with both heel flare and higher heel to toe drop.
6 ) Flexibility
The last thing a person want desperately from his or her running shoe is adequate flexibility. Most specialist believe your running mechanics has more to do than your shoe type; when it comes to preventing injuries.
And to allow good running movement your shoe must be flexible enough to allow unrestricted natural movement.
Your shoe need to be flexible at your arch, forefoot and midsection. But since most runners strike first on their forefoot; usually running shoes have better flexibility are the forefoot.
You can check that by pressing down on the toe and see the easy bending of the shoe. If it doesn't bend at all or too hard to bend its not fit for running.
One should pick the right shoe type with more flexibility at front, mid or at arch based on his or her natural feet movement. But runners with acute problem of over-pronation or collapsed arches; tends to bargain on motion control and comfort for the much needed flexibility.
As the more motion control shoe it is; its gonna be less and less flexible.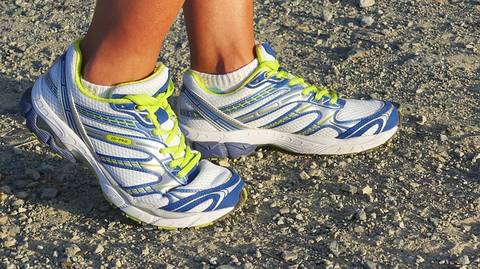 7 ) Motion Control
If you have prior injuries, more than moderate pronation, collapsed arches, too high arch or suffering from shin splits; a normal running shoe isn't for you. A normal running shoe might be light and flexible but can not provide proper support and care that your feet need under the condition.
If you go by the all running shoe types available in the market; the ones with motion control are the best suited for pronation. These shoes have dense foam cushion that run from front to back.
Overall they allow your shoe to compensate for your pronation and help with running.
But motion control also have its down sides; heavy weight, less flexibility and lack of advanced energy burst midsole that helps with faster start. Overall if its a good shoe to have that takes care of your leg pains, protect and support weak parts recovering from injuries and with pronation.
Recommended: Mizuno Men's Wave Creation 20 Running Shoe
Conclusion
Let's face it any shoe can be used for running just as any car can be used to take you from point A to B. But since all runners like me have their own feeling about anything to do with running; especially our shoes it must be personal, comfortable and should not just be light but also breathable.
You might discover many shoes and their brands but the best shoe is the one that just fits well and take less time to break in. Make sure its adequately stable, well cushioned, flexible and has a good heel to toe drop. And don't forget to buy the best color you like; it helps with motivation!
General Disclaimer:This article is for general information only and does not intended to replace an informed medical opinion. You should not use this information to diagnose or treat a health problem. Always consult your doctor before changing your diet, sleep habits, dietary supplements, or a new exercise routine.
Also Read,
Why Do Arch Support Hurts My Feet?
10 Best Shoes For Walking On Treadmill
Do Stiff Cycling Shoes Really Make a Difference?