Looking To Plan Fun Biking Route With Google Map? Well, I had done some research during my own bike trip and will share key points that I learn to create and plan bike routes using Google map.
Traveling with your special one on an unknown road is always a great experience for cyclist. I understand the happiness of finding a fantastic dedicated biking lane and patting your back for discovering a new route.
Despite being a pleasurable experience and sometimes a hectic one, especially when you have to face heavy traffic or get on a blocked route, it is not always the best idea when you are in the state of making a fun ride.
Well, in this case, Google Maps comes to the rescue by providing you an absolute overview of the biking route even before you start your ride.
It would be absolutely fair to say that one of the best things that google maps offer is biking lanes.
Biking is fun with maps on your fingertips so that you can plan your excellent bike ride in advance. Here is how you can plan and create a fun biking route with google maps:
Plan Your Bicycling Routes With Google Map
Get ready and set your helmet to experience a known yet unknown and adventurous bike ride. All you need is to go through these easy steps in order to plan your bike ride.
Select Your Destination
Setting your destination is the topmost priority before doing anything else. Nevertheless, you should explicitly know your stop point before you start biking.
For this, search for the destination in the search bar and tap on the directions section.
Once you get the rows determining your location and destination, it is the right time to set up each one of them according to your decision.
For instance, you are currently at Riverside Park, and you aim to go to Queensbridge Park, then set your current location to Riverside and destination to Queensbridge Park.
You can add some more destinations by taping the add bar at the left down below. Google Maps will show you several routes along with the distance and time needed to traverse through your bike.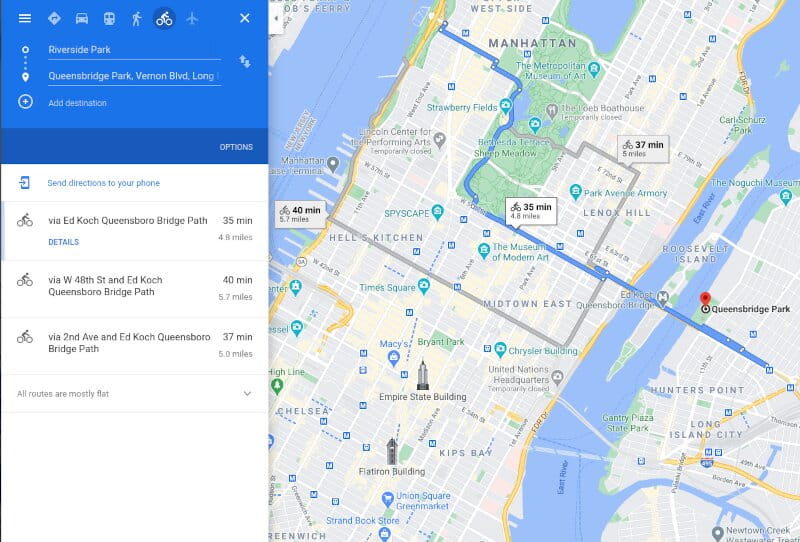 Set Waypoints
Waypoints are the absolute way to organize your biking route. You need to arrive at the starting location at the end of the ride, where you are going to have a rounded trip where your starting and endpoint are the same as some waypoints.
These waypoints are the places or parks where you want to wait for a moment, breathe, gaze at the beauty of the surroundings to explore something new.
For setting the waypoints, tap the left below directions icon, and voila, google maps is ready to plan your route. The next step involves adding the waypoints just after setting the cycling mode at the right place.
For instance, in between Riverside Park and Queensbridge Park, you can add several waypoints for Rockefeller Center and Museum of Arts selecting the most appropriate route through all these places.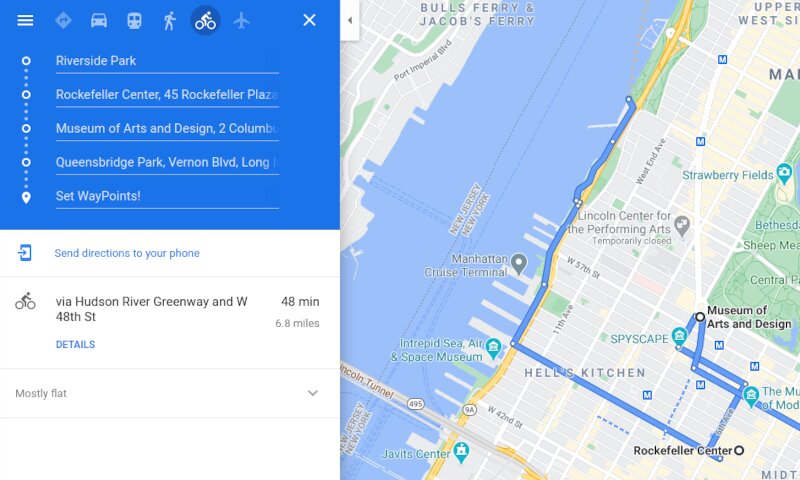 Activate Bicycle Map View
You are already aware of the train, car, and walking features of google maps that show the distance and time taken by each mode of transportation.
The exciting thing is that google maps offer a dedicated biking route that is made just for biking lovers like you. To activate bicycling mode on maps, tap the menu icon in the form of three little consistent lines.
From there, select the bicycling mode available at the seventh position. You will get the updated map as soon as you transfer to the biking mode. All the lanes, roads, and trails that are bike-friendly will be at your fingertips besides knowing the distance and traffic.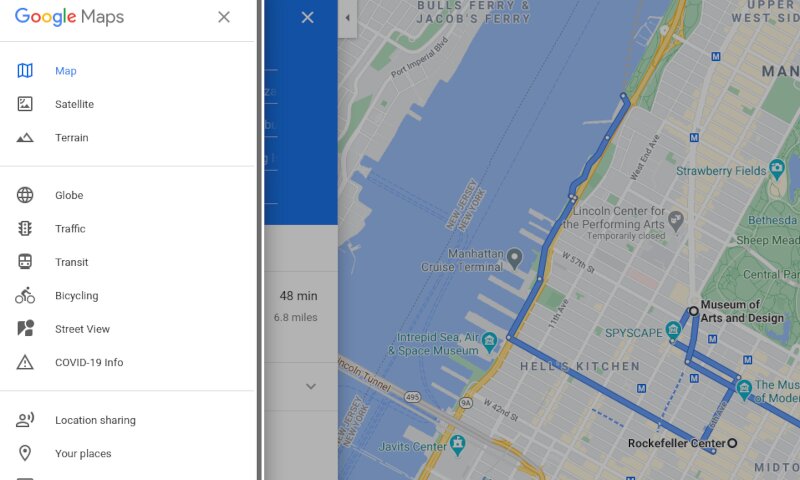 Adjust Your Route
Since you have moved ahead of all these above steps, it is high time to reinvest your time adjusting the route. Google maps show several routes, and the best one, according to google maps considering traffic and road, is highlighted. But, this is you who have to choose the best route according to your preference.
Tap on the route that fits all your waypoints and all those unsaid environments that you would love to encounter and cherish. Tap and hold for a second on the route that you would live to traverse and drag it, be it on the trail or some dedicated biking lane with natural surroundings.
Your route would be drastically changed as you drag it, and google maps will show you updated distance and hills and highs you might face during your ride on that particular route.
Lookout For Long Green Lines On Map ( It Represent dedicated bicycle lane )
The long green lines on google maps are more than love for me. It would be best to put extreme attention to it as there may be an absolute bike-friendly trail or even every biker's dream, a dedicated bicycle lane.
All the green lines are, in a way, green signals to you so that you can ride without any worry and enjoy your biking ride. Please note that the dotted line in google maps is for usual roads that are bike-friendly.
On the same side of the boat, the dashed lines denote roads that are either not traveled or are dirty to take a ride. But, as we know, relying on a single source is not the right option for us in the long run.
That's why you must consider viewing other options.
These green lines may sometimes be blocked and have the board under construction. You need not get stressed at all and move back your bike with a fun and loving ride.
But, if there's a dedicated lane, then there are high chances that your ride is going to be peaceful and, as decided, wonderful.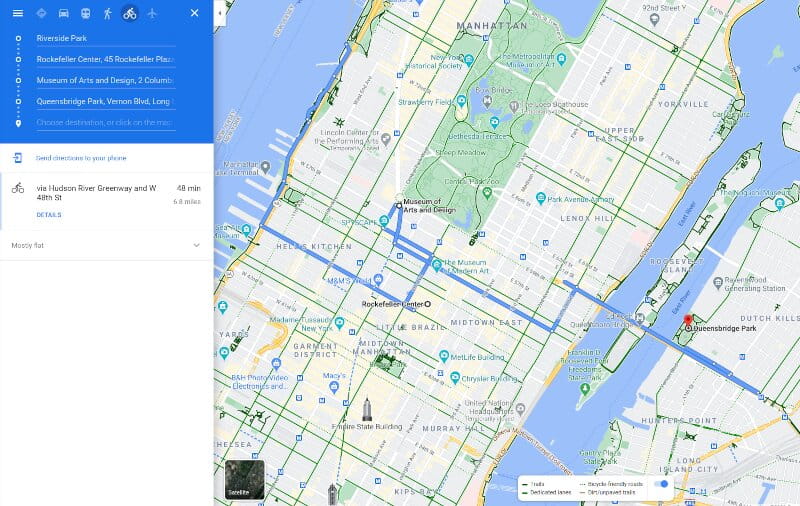 Watch Out For Bicycle-Friendly Roads
Bicycle-friendly roads come at the second stop of my preference list since I am not that fond of roads but love the trails and lanes, and your taste can be completely contrasting to it still; I respect it. The dotted lines are made to denote the bicycle-friendly roads, and you usually can encounter one of these two types.
The first one has peaceful buildings along both sides and seems like you are traveling in a neighboring space. The traffic is low, and I literally mean it.
You can soulfully enjoy your peaceful ride, and it is going to be an incredible experience if you want to have a calm yet long ride.
You can interact with familiar people, and nothing wrong with starting a convo with some gentleman stranger to know more about the place, be it the history and why it is so, and so on.
The second type of bicycle-friendly route involves the roads and cars, and everything that is bound to make you feel like a real road that is not at all for bike riding yet has been declared to be "friendly".
Sometimes when you are in the state of making an adventurous ride and traveling to a busy space, then this is your right fit.
Exploring Fun Bike Routes
Google maps are yet to fix many things, so you cannot trust them completely. But, many hidden tools are not at all hidden, but you can use them for your purpose while deciding your ride.
My favorite is Satellite mode. I know there's nothing new in there but believe me, I've often found many fantastic routes using satellite mode that are not at all available on google maps.
You can also check for the hills and highs as if google maps is showing a moderately flat route or something that may require several ups and downs and thus the incessant efforts.
You can try to get some underneath the path or some short version of the street.
But, before getting ahead, make sure that you have checked the satellite view and street mode to get a 360-degree overview of that particular place.
I would love to choose some greenery and parks along my way, and for that, I am always ready to go for the more extended version. Sometimes, the tables do turn around, and I feel like exploring the shortest possible route or something that has yet to be discovered.
Other Mapping Tools For Cyclist ( Apps and website )
Tools are the weapons that can reasonably simplify your ride and assist you in many situations. Here are three mapping tools for cyclists that can help you get a clearer picture of your ride.
1. BikeRoll
It is helpful while finding out the weather of that particular place, which forecasts the winds and weather changes. The scale used for grading comes with some elevation charts so that you can get an accurate picture of the location and plan according to it. ( Check On Google Playstore )
2. RideWithGPS
Don't you feel it would be better if you could define and create your own landmarks? This mapping tool allows you to perform the same besides several bells and whistles as you get automatically following roads.
In case if you get back and turn it off, you can also go from the declared spot to the other. The customer service is instant, and you would fall in love with this tool. ( Check on Google Playstore / App Store )
3. Bikely.com
This site can help you get an extra mile on your way to discovering something new as it counts the bike routes already mapped by different users to give to the distinct idea of the world flowing around you.
Conclusion
Biking is fun when you plan and organize it in such a way that you know all the upcoming hurdles (you love it sometimes, I also) and get to your destination at the decided time.
Well, the room for experimenters is never closed. You can go ahead and explore some of the routes that are yet to be discovered, maybe waiting for you. Keep a note of all the essentials before you begin the ride so that you can have as much as your best ever ride had.
Also Read,
Best Electric Bikes For Seniors in 2021 | Review & Comparison
Are Giant Bikes Good? What You Need To Know Before Buying!
Giant vs Schwinn Bike Brand Comparison | Which One is Better?
Are Electric Bikes Dangerous? 6 E-Bikes Risks To Know And Avoid