Imagine the thrill of riding along the mountains and finally reaching the top of the mountain. You will be floating on cloud nine, right!! But can electric bikes go uphill like any mountain bike?
Peddling to reach your desired destination gives you a taste of achievement, fills you with enthusiasm, and encourages you to do more things that you love.
But, This cannot be everyone's cup of tea as ascending and descending a mountain on a bike requires a strong desire, a lot of effort, along with some powerful tactics.
The process can be painful and a little tricky for many riders.
But what if you can ride off effortlessly, I mean…! what if you get that Extra power to ride off alone and reach your destination in no time.
Well, electric bikes made this possible as these are designed to boost the peddling power with less pressure and they have every equipment that you need to pull off the show adventurously.
If that's something that interests you, keep reading as we are going to explore every single detail that you need to know about electric bikes along with 3 incredible bikes that we jolted out after tremendous research.
Climb Uphill With Your Electric Bike
Despite how ruff and bumpy the terrain is with an E-bike you can Smoothly climb the mountains. The E-bike helps in minimizing the efforts of a rider and makes it easy to reach the top of a hill.
Electric bikes comes with a motor that increases and backups your pedaling power and makes it easy to go on a longer ride.
With an E-bike, one can have complete control over how much energy he/she is willing to spend on peddling and dealing with hurdles in the way of climbing a mountain.
Speaking of "control", the motor of an E-bike usually comes in three modes which you can set according to your travel requirements
If you switch to the turbo mode, you can complete climbing the hill in no time as the motor works to its fullest and reduces your energy usage
If you choose the second mode then you might have to put in a little effort to reach your destination.
Finally, if you happened to switch to the last mode of the motor then you have to work hard on climbing the mountain.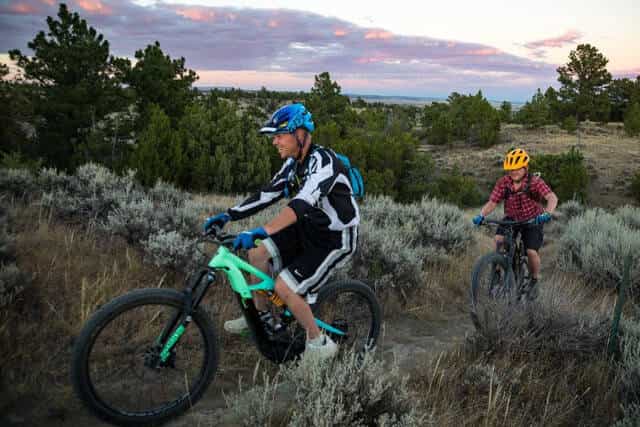 What Electric Bikes To Choose For Hills?
The whole market is flooded with numerous options and every E-bike comes with its specialties.
Motor power is one of the crucial parts to consider as this improves the quality of your ride by providing the required speed to drive on tuff roads.
Usually, A E-bike comes with either a hub-drive motor or a Mid-drive motor.
A mid-drive motor is located in the center part of an E-bike.it gives a perfect balance to the rider and the pedal-assist for this motor works very naturally.
On the other hand, The hub-drives motors are located in the rear wheel and this motor gives a push to move the tires so the rider feels a sense of pushing or pulling while peddling the E-bike
With a mid-drive motor, you can easily change the wheels but with a hub-drive, it becomes hard as the motor itself is located on the wheels.
However, the E-bikes with the hub-drive motor are affordable than the mid-drive motors. Despite the type of motor, any motor with good power drains the battery faster.
So, it is necessary to have a good battery. A Typical battery takes 3-5 hours to get completely charged So if you are planning to go on a long ride of 30+ miles take a charger as a backup.
But, Some E-bikes come with dual battery usage. with these E-bikes, you can ride with pleasure without worrying much about the charge.
If one battery drains the other battery will act as a backup. if your E-bike doesn't allow two batteries at once, you can get some extra batteries and replace your drained battery with the fully-charged one.
Speed Up Hills: Go Fast And Fresh
Uphill with no sweat!! with an E-bike, one can overcome the fear of climbing the mountains as it adds the extra power and confidence to take your adventure to the next level.
An E-bike encourages the rider to take the ruff landscapes by reducing the gradient of the mountains.
The key factor that you have to keep in mind while climbing a mountain is to concentrate on the peddle pattern and maintain momentum without distracting.
This is made easy by E-bike as they help you maintain momentum while peddling.
All you have to do is to pedal at normal speed and the mortar will take care of the rest many riders are switching to E-bike as they are quick, easy, and flexible to use.
How To Best Use Your Bike
To get the most benefits out of your E-bike, you need to take care of your bike.
To put it in perspective, follow some bike set up rules regularly
So, what are E-bike set up rules? Let me tell you,
Never ride your bike with flat tires as it not only makes it hard to ride but also damages the quality of your ride. So, always fill up your tires before hitting the road.
If you have an e-bike with a chain you must lubricate the chain to make your ride smoother and faster.
Lastly, how often are you charging? Well, if you are not then go ahead and charge. I know it may sound pretty obvious but most riders kind of neglect this
Going downhill
Going downhill can be nerve-racking for any cyclist. however, there are some parameters you can use to ace the game of descending.
Relax, introspect and reflect, yes!! Before going into action take a deep breath and make yourself comfortable and free your shoulders, neck, hands and legs, and then carefully start riding.
Choose to ride slow, begin your ride with minimal speed, and then pick the speed along the way
Keep your hands on the break, always make sure to take control of the break and use whenever you feel stressed and needed.
Shift the gears carefully, as said before start slow and pick up the speed by shifting the gears throughout the way
Top 3 Mountain Bikes To Conquer The Hills
1. Mongoose Tyax Comp Expert Adult Mountain Bike
The mongoose tyax comp expert adult mountain bike is for the fun lover and action taker in you. This incredible bike comes in 5 different colors and 3 unique styles.
The bike also comes in three sizes varying from small to large and it comes in a tectonic T2 aluminum frame which affirms the stiffness and it is super lite in weight.
The wheels of the bike are also available in different sizes ranging from 29″ to 27.5″ to provide a smoother ride on any uneven surface.
This bike is specially designed for beginners who never compromise on the equipment.
The bike comes with a 142mm rear hub spacing that adds extra stability and the internal cable makes maintenance easy. Coming to the brakes, this bike has tektro HD-M290 hydraulic disc brakes which give you a good hold on the bike.
To top all these features this bike also has a Kraton lock-grip which gives complete control and comfort.
Mongoose Tyax Comp Expert Adult Mountain Bike: Check Its Price On Amazon!
2. Diamondback Overdrive Hardtail Mountain Bike
Shift the gears like never before; the diamondback overdrive hard tail mountain bike has 24 speeds to choose from, 3 gears in the front, and 8 gears in the back which makes your ride much faster and smoother.
However, this bike comes in a single colour and the height of an ideal rider should be around 5'7″ to 5'10".
Coming to frame, the frame of the bike is made of 6061-T6 aluminum alloy which enhances the support and riding experience.
This 32.2 pounds lite weight bike comes with a 27.5 inches wheel size by which you can overcome any kind of obstacle on your way.
The bike also has a four-inch Sun tour suspension fork and powerful disk brakes which gives a strong and comfortable grip and ultimate control over the bike.
This bike fits right in your budget and gives you a supreme riding experience.
Diamondback Overdrive Hardtail Mountain Bike: Check Price On Amazon!
3. Mongoose Mountain-Bicycles Argus Sport
This stunning rigid bike has a classic frame made of a Tectonic T2 aluminum frame which cuts down the weight and doubles the strength.
This bike comes with 10 speeds which you can leverage to make your ride more fun and interesting.
This bike has a rigid wheel and 95mm ID rims that are paired with a 135/190mm hub or 150/197mm hub which makes your peddling a lot easier.
This bike is perfect for snowy and sandy conditions as it comes with large 4.8″ tires that minimize friction.
Since the bike has an internal cable you don't have to put in any extra effort in cleaning the bike.
Finally, the Hydraulic disc gives you complete power over stopping the bike without causing any trouble.
Mongoose Mountain-Bicycles Argus Sport: Check Its Price On Amazon!
Conclusion
To sum it up, in this article we talked about the power of Electric bikes and how they made inclining and declining a hill easier and fun.
We have also discussed all the factors that you need to consider before getting an E-bike along with the key highlights that you can use to get the most out of an E-bike.
Next, we jumped into the steps that you need to keep in mind before climbing and declining a hill with no sweat!!
Finally, we explored all the three amazing Electric bikes that you can pick now to make your ride comfortable and enjoyable.
Also Read,
Best 3 Speed Bikes To Buy in 2021 | Review & Buyers Guide
Are Mountain Bikes Good For Touring? Yes Here's Why!
How To Take Your Dog On A Bike Ride ( 6 Easy Methods )